As a hairstyling enthusiast, I always look forward to trying out new flat irons, whether it's from a positive online review or a friend's personal recommendation. There are a dizzying number of options so it's hard to sift through and find something that truly fits your hair needs. A flat iron that caught my eye is this this cutting edge digital flat iron from the brand AbsoluteHeat. In this Absolute Heat Flat Iron review, we'll see if this hair straightener is worth the purchase.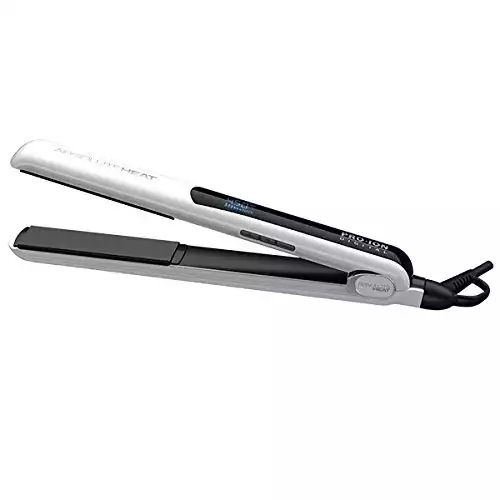 Things to Consider Before Buying a Flat Iron
Before buying a flat iron, these are the things I check to ensure I get a high-quality product that's durable and easy to use.
Hair Type and Plate Material
Before anything else, consider your hair type. Is it thick or thin, coarse or fine? Does your hair need a lot of heat to straighten or are you sensitive to heat damage? Then, choose a material that suits your hair. Ceramic and tourmaline plates are better for compromised hair because they use gentle, even heat. For hair damage prevention, use a flat iron with ionic functions or infrared heat technology. If your hair is resilient or hard to straighten, a titanium straightener is a good buy because it transfers heat well.
Adjustable Heat Settings
The ability to control the temperature of the flat iron is crucial for preventing hair damage and overdrying your locks. It's best to start at a low setting to test out the straightener before adjusting the heat.
Ergonomic Design and Easy to Use Controls
Even if the flat iron heats up efficiently and glides on the hair, it won't matter if it's too difficult to use. Make sure the handle is easy to hold with a grippy, slip-resistant design. The controls should be clearly marked and placed in a convenient location. A good display or digital panel is a bonus, as well as an automatic shutoff timer.
Cost and Warranty
Another thing to consider is the value you're getting for the price. You don't have to spend a lot to get a good flat iron but with additional costs come additional features or higher quality materials. Decide if that's worth the splurge. Also, check the fine print and warranty for peace of mind in case you encounter defects down the line.
Absolute Heat Flat Iron Review
The Absolute Heat Pro Ion Digital Flat Iron is made by a US-based company that crafts hair tools made from high quality, surgical-grade materials backed by a lifetime warranty.
The flat iron has a digital LCD display for precise styling and a temperature control ranging from 140°F to 450°F. The beveled floating plates are an inch wide and made from a fusion of quick heating titanium, ceramic, and tourmaline. These cutting edge materials make for a flat iron that transfers heat efficiently, naturally emits negative ions, and uses far infrared heat.
The flat iron uses AbsoluteHeat Grid Technology and Trifect Fusion to evenly distribute heat without damaging the hair. The floating plates prevent snags from pulling on delicate strands.
The flat iron is made for all hair types and comes with an automatic shutoff timer and a professional-length swivel cord. It's priced reasonably and its shape and size make it suitable for curling hair as well.
The AbsoluteHeat Digital Flat Iron is for people who have fine to coarse hair from short to medium lengths. This is not for long, thick hair because of the 1-inch plates. Beginners will appreciate how user-friendly this straightener is. If you are concerned about heat damage, this is one of the best flat irons at this price point.
Pros
Comes with multiple heat settings and beveled floating plates made from a fusion of quick heating titanium
Prevents heat damage through even heat distribution, negative ionic output and titanium far infrared heat
Has an ergonomic grip, clear LCD display for precise control, and long rotating cord
Comes with an auto shut off timer for safety and dual voltage for worldwide use
Has styling versatility as it can be used as a curling flat iron and is made for all hair types
Cons
There are no details on the warranty of this flat iron
The auto shut off switches on even when using the flat iron
Not the best for straightening thick or long hair as the plates are narrow
Features & Benefits
Plate Components
The AbsoluteHeat Pro Ion Digital Flat Iron has plates made of a fusion of quality, surgical-grade titanium, ceramic and tourmaline. This is called the brand's Trifect Fusion which makes for a quick heat up period and even heat distribution to prevent hot spots and heat spikes.
Titanium has excellent heat transfer capabilities so it heats up rapidly, meaning you don't have to wait until the flat iron is ready. Titanium also recovers heat quickly.
The plates in this AbsoluteHeat Pro flat iron are also made of ceramic and tourmaline which produce negative ions that tames frizz for sleek, healthy-looking hair.
Overall, the plates of the AbsoluteHeat Pro flat iron heat up evenly and efficiently so you can straighten your hair without hassle.
The floating plates are 1-inch wide so it can easily straighten locks of small to medium lengths of all hair types. However, due to the narrowness, this isn't the most time-efficient flat iron for thick and long hair.
The beveled floating plates protect you from snagging or pulling out your hair. They help grip your hair so you can clamp down on it securely. That ensures you don't get uneven straightening as the plates can get close enough to each other and distribute heat directly on your strands.
Heat Settings and Performance
The flat iron has precise temperature settings ranging from 140 to 450 degrees F. The digital controls are on the side of the barrel near the handle so it's easy to access while the flat iron is in use.
Because of the exceptional materials, it takes seconds to heat up. Since it can go as hot as 450 degrees Fahrenheit, it can straighten even the most stubborn hair. The temperature range is wide enough to accommodate fine or damaged hair types because it can go as low as 140°F.
Using this flat iron will be simple and straightforward because you have several heat setting options to choose from and fast heat recovery. For peace of mind, the flat iron comes with an automatic shutoff feature. It reduces energy consumption and prolongs the life of your flat iron.
While I appreciate this safety feature, especially on days when I forget to unplug my straightener, the auto shut off works almost too well as it turns the device off even when in use, according to some users.
However, this may be due to a manufacturing defect so make sure you avail of the extensive warranty coverage if you stumble upon this hiccup.
Ionic Technology and Infrared Heat
This flat iron uses AbsoluteHeat Grid Technology that minimizes hot spots, ensuring every strand gets and equal amount of heat.
The plates of the flat iron emit negative ions and use far infrared heat to warm up the hair. These features prevent the flat iron from damaging your hair and keep your locks healthy and shiny.
The negative ions, care of the tourmaline, neutralize positive ions that cause frizz and static. The ionic function of the flat iron keeps hair healthy and gives a smoother end result.
The AbsoluteHeat Pro flat iron uses far infrared heat, which means it heats the hair from the inside out, thereby protecting the coating on your hair strands which is prone to frizz and damage.
Overall, I like the features that come with this flat iron because it ensures you don't fry your hair to a crisp when you straighten it. It will give you consistently flawless, silky smooth locks.
Design and Build Quality
This flat iron has a minimalistic and ergonomic design with a slim profile. The digital LCD display is convenient because it helps you keep tabs on the temperature of the flat iron throughout the styling process.
Because it's so lightweight and has an ergonomic grip, it's easy to hold and doesn't slip. It's not too thick or thin so it reduces strain on your wrists.
It comes with a professional length rotating cord that helps with maneuverability and ease of use. However, the rotating cord tends to be quite stiff but I do like how long it is, which eliminates the need for an extension cord in case you're away from a power socket.
Portability
At only 12 oz, the flat iron is incredibly light and portable. It even has dual voltage (100-240V,50/60Hz ) which is great for intercontinental travel.
Cost and Warranty
The flat iron has amazing specs for a reasonable price. AbsoluteHeat provides a lifetime warranty for all their products, as stated on their website, but there are no details on the warranty of this digital flat iron.
Best for
People looking for a lightweight flat iron with complete features
People with short to medium length hair and hair that's hard to straighten
Beginners who want an affordable and easy to use flat iron
Social Proof
The following are some rave reviews on the Absolute Heat Pro Ion Digital Flat Iron penned by satisfied users. These detail their personal experiences with the straightener, all of which are largely positive.



Alternatives
Looking for flat irons similar to the AbsoluteHeat Pro? Here are my top 3 recommendations.
HSI Professional Glider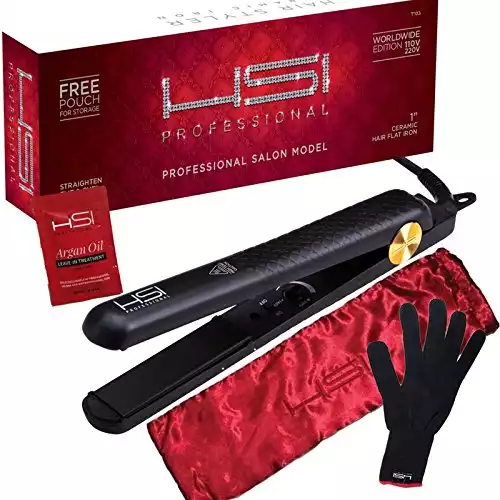 This HSI flat iron can straighten and curl your hair for a fraction of the price of the Absolute Heat flat iron. It has ceramic plates with microsensors for temperature regulation and even distribution. The tourmaline infusion keeps your hair frizz-free and smooth with less damage. Like the Absolute Heat Pro, it has dual voltage and adjustable heat settings from 140 to 450 degrees Fahrenheit, making it suitable for all hair types. This has 1-inch floating plates that glide on the hair without snagging and it comes with a heat protective glove and argan oil, as well as a 1-year warranty.
An affordable flat iron with adjustable heat settings
Has 1-inch floating plates
1-year warranty
Professional-length swivel cord and several add-ons
Remington 8510 Anti Frizz Therapy Hair Straightener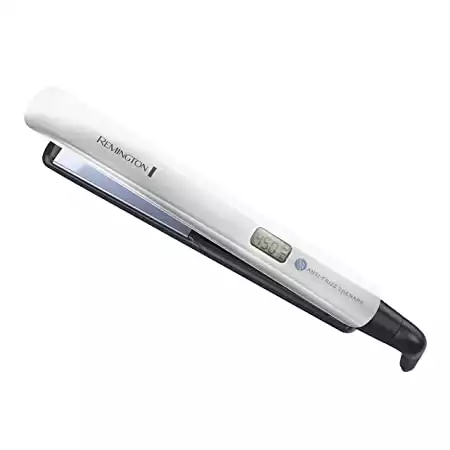 This is the flat iron to consider if you have frizzy hair. It has 1-inch ceramic floating plates fitted with anti-frizz technology (microconditioner infusions in the plates) that tamp down hairs that stick out. The flat iron has a rapid heat up time and the temperature can reach a maximum of 450 degrees Fahrenheit. The heat setting is adjustable and it has a digital LCD display for precise temperature control, like the one found on the Absolute Heat Pro. It also comes with an auto shutoff timer and a swivel cord for safety and convenience. Best of all, it's more affordable than the Absolute Heat Pro flat iron.
Has 1-inch ceramic floating plates
Uses anti-frizz technology
Has adjustable heat setting with a maximum temperature of 450 degrees Fahrenheit
Has a swivel cord and automatic shutoff
NITION Professional Salon Hair Straightener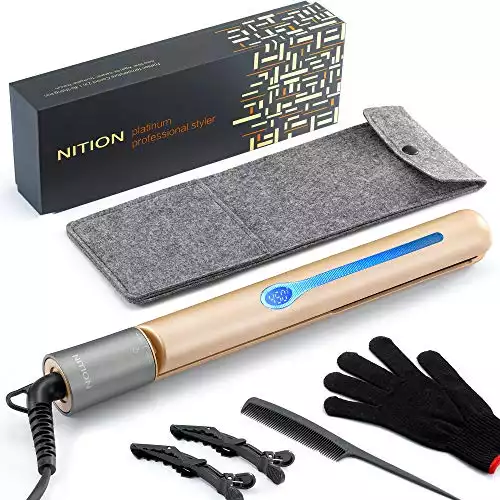 This higly-rated flat iron is a good pick if you're looking for a dual purpose flat iron that curls and straightens. It has a rounded barrel and 3D floating plates. Operating is easy because it's buttonless. The temperature is adjustable through a twistable dial and the heat can go as high as 450 degrees Fahrenheit. The 1-inch ceramic coated plates are also infused with titanium and tourmaline which produce negative ions that condition the hair. This is also a great travel flat iron because it has dual voltage capabilities. Aside from a 9-foot long swivel cord and automatic shutoff, you'll get a bunch of add-ons such as clips, a glove, and a carry case.
1-inch ceramic-coated floating plates
Buttonless operation with adjustable heat settings with a maximum temperature of 450 degrees Fahrenheit
Uses negative ion technology for healthy hair
Has dual voltage, a professional-length cord, and auto shutoff
Conclusion
To wrap up this review, I think the Absolute Heat straightener is one of the best flat irons if you're looking for an effective and lightweight flat iron that's easy to use. The AbsoluteHeat Pro Ion Digital Flat Iron absolutely nails the basics of effortless hair straightening.
While it's not exactly the most affordable flat iron, the high quality materials ensure the tool's longevity. The precise temperature settings and beveled floating plates minimize the risk of damage.
The surgical-grade and quick heating titanium and ceramic tourmaline components uses ionic and far infrared technology for fast, efficient styling. The device is a breeze to use with a clear digital readout, clicky buttons, an auto shutoff feature and an ergonomic grip.
If you're looking for a flat iron that can do it all and then some, check out the Absolute Heat flat iron here.
Leah Williams
Leah Williams is the founder of Lucky Curl and has been in the hair care and styling industry for the last 15 years. Since then, she has developed incredible expertise and a deep understanding of how to treat and style the most difficult hair types and is passionate about sharing her knowledge with the readers of Lucky Curl.