When you're traveling and on the go, packing your heat styling tools can be inconvenient. The wires and adapters twist up, not to mention the added weight that goes with them. That's why I love bringing a cordless hair curler. It's lightweight and a breeze to use⁠—no more plugging or unplugging or worrying about dual voltage!
Here are the top 3 best cordless curling iron models you should consider if you are in the market for a cordless curler.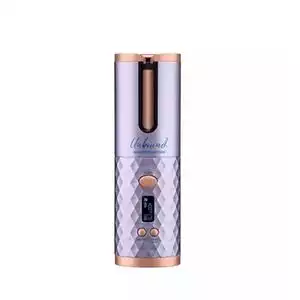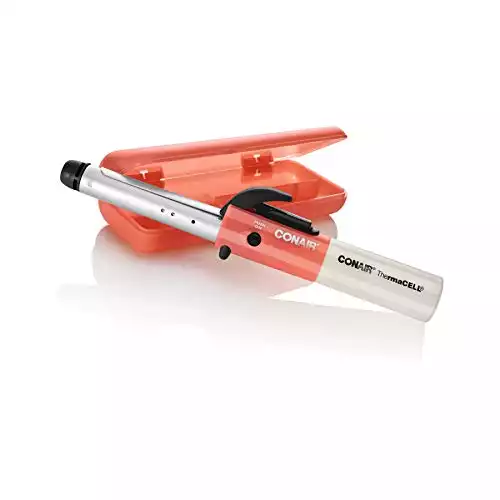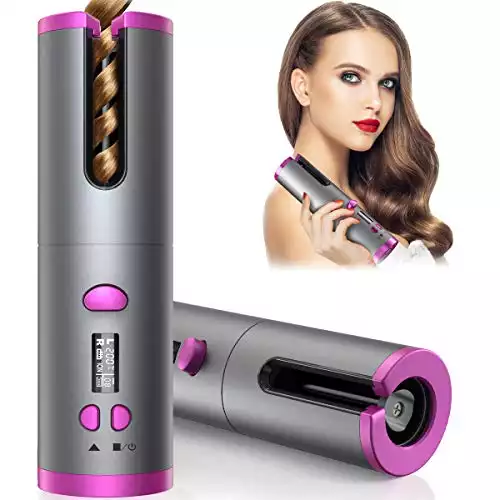 The Top 3 Must-Try Cordless Curling Irons for Your Hair Care
Unbound Cordless Auto Curler From Conair
The Conair Unbound Cordless Auto Hair Curler is great for beginners because it's straightforward. All you have to do is insert your hair into the curler, and it does the work for you. There's no learning curve with this one and no risk of burning your hands.
It has a rechargeable battery that gives up to 60 minutes of use on a full charge, depending on the settings you choose and your hair type. There's a battery indicator that helps track your energy consumption.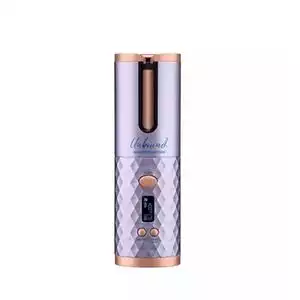 This curling iron can reach 400F, powerful enough for all hair types. You can choose from 3 heat and 4 timer settings for precise curling. This creates all kinds of curls, from loose waves to tight coils. On the higher heat and timer setting, you'll get tighter waves.
The ceramic barrel gives off even heat, so it's safe to use even on fine hair. There's also an anti-tangle feature making curling painless and straightforward. The curling iron can also change the curl directions automatically (left, right, or a combination), so you get effortless casual waves.
The cordless curling iron comes with a 15-minute auto shutoff for safety and battery life preservation. It has a clear LCD display with battery, timer, heat setting, and curl direction indicators. This comes with lithium-ion batteries chargeable through a removable micro USB cord.
The charge time varies depending on the power source and adapter. Unfortunately, this curling iron doesn't come with a wall adapter, so you have to purchase one that works with the curling iron. The cordless curler needs to be charged regularly, even daily, depending on your usage, and it can't be used while it's charging.
There's also a small risk of extra hair feeding into the curler and getting stuck.
Pros
Lightweight and compact at only 1 lb
The curler has a ceramic barrel for even heat distribution
Variable heat and temperature settings reaching up to 400F
Rechargeable battery gives up to 60 minutes of styling time
Automatically curl your hair with an option to switch curl directions
Comes with an automatic shutoff timer and LCD display
Cons
No wall adapter provided for the micro USB cord
Some hairs can get stuck into the curler
Needs regular charging and can't be used when charging
ThermaCell by Conair Compact Curling Iron
The Conair Compact Curling Iron is a butane-powered curler that's only 9 inches long. It's a genuinely compact curler good for travel and everyday use.
It comes with a replaceable Thermacell butane cartridge and a storage case. The Conair Thermacell is a 3/4-inch curling iron with a ceramic-coated curling barrel that heats up in 2 minutes, making styling on the go quick with reduced waiting periods. This material is gentle on damaged or fine locks.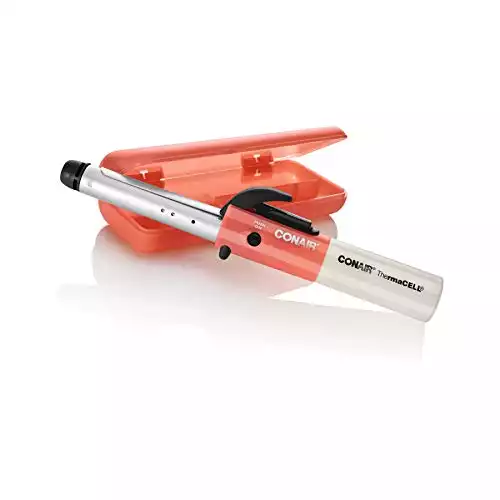 The Thermacell by Conair compact curler comes with a cool tip to prevent burns. The iron glides through the locks for frizz-free and effortless curling. It can produce high heat levels, so it's better for coarse and difficult-to-curl strands.
The 3/4-inch ceramic barrel also has a clamp to hold your hair in place, making styling easy. The Conair Compact Curling Iron interface is simple, with an on and off switch, a start switch, and an automatic curl release button. It also comes with a protective heat shield for safety.
The Thermacell by Conair Compact Curler is super lightweight, weighing only half a pound, which is just the thing to take with you when you travel.
However, with its tiny 3/4-inch ceramic barrel, this auto curler is not for long or thick locks. It's also not suitable for creating loose curls due to the barrel. But it's a handy and powerful travel curler for quick touch-ups and on-the-go styling without a nearby power source, thanks to the Thermacell butane cartridge.
Note that the Conair Compact Curler cannot be taken in your carry-on luggage and has to be checked in without a spare cartridge.
Pros
Comes with a powerful and replaceable Thermacell butane cartridge
The ceramic curling iron is small and lightweight (9 inches long and 0.5 pounds), great for travel
3/4-inch cordless curling iron with a ceramic coating
Heats up in 2 minutes
Has a clamp, curl release button, a case, and protective heat shield
Cons
Not for long or thick strands
It will not give you loose curls
Melophy Cordless Hair Curler
This cordless curling iron can be used one-handed with an automatic curling function. After feeding your tresses into the heating chamber, you only need to hold down the side button until the beeping stops. Inside the curler is a smart induction motor that prevents tangling and pulling.
The heating chamber has a ceramic coating infused with nanosilver and tourmaline, giving you a rapid heat-up time. The tourmaline injects negative ions into the strand, making your mane look healthy and shiny. Thanks to its ceramic technology, though it's efficient, it won't burn your strands.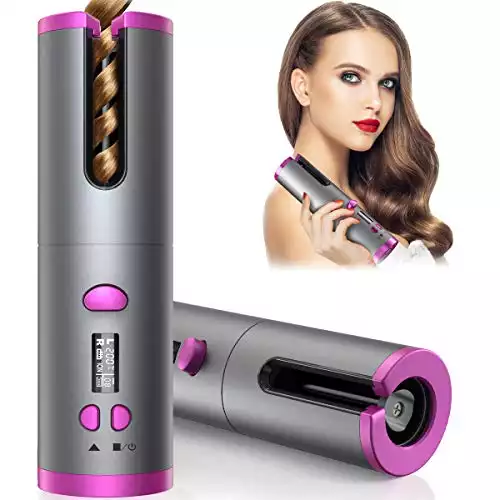 There are 11 timer options and 6 heat settings up to 390 degrees Fahrenheit. It's safe to use on damaged hair and powerful enough to style coarse hair.
The smart curling iron can create a variety of wave sizes, from loose tendrils to tight curls. It automatically powers down when left idle for 10 minutes for enhanced safety.
The inner heating chamber of the Melophy has an anti-scald construction for painless curling. The cordless design ensures a tangle-free operation.
The curling iron is only 7.5 inches long, perfect for traveling. It has a large 5000mAh rechargeable battery and comes with a USB cable. However, it doesn't come with an adapter.
Other add-ons include clips, a comb, and a pouch.
Unfortunately, this curling cannot be used while charging. Charging takes 3 to 4 hours, which is quite long. Some users have also reported that the battery life is short. It's not the best cordless curling iron option for curling thick or long hair because of the poor battery life.
Pros
Easy to use and compact smart cordless curling iron that's good for travel
Has an anti-burn design with an intelligent induction motor to prevent tangling
The heating chamber is made of ceramic, nanosilver, and tourmaline; it heats up quickly due to the ceramic technology
Has 11 timer settings and 6 heat settings up to 390F
Comes with an auto-shutoff, USB charging cord, clips, a comb, and a pouch
Cons
Takes 3 to 4 hours to charge
Users have noted that it has a single charge drains fast
The adapter is not included, and the curling iron can't be used while charging
Buying Guide for the Best Cordless Curling Iron
What is a cordless curling iron?
Cordless curling irons look like regular hair curlers but without a cable. It curls the hair without the inconvenience of wires. What makes this possible is the power source of the curling iron. It runs on batteries or a butane cartridge.
What are the benefits of cordless curling irons?
Compact and Rechargeable
You can style your hair anywhere and anytime with a cordless curling iron. When charged, it does not require direct electricity. So even if you don't have a socket available, you can be glammed up. This tool is convenient for touch-ups whether you're at work and want to look presentable for a meeting or at the gym and want to refresh sweaty locks.
Travel-friendly
Cordless curling irons are compact and lightweight, making them an ideal hairstyling companion for your travels. You won't have to worry about bringing adapters or choosing a curling iron with dual voltage when traveling internationally. A cordless curler only needs to be charged through USB adapters or butane batteries.
Rapid-Heat Up
A cordless curler conducts heat efficiently, which minimizes waiting time. It's energy-efficient with little heat resistance. Plus, cordless ceramic curlers have good heat transfer; they warm up quicker.
Safe
Cordless curlers are safe to use since they don't connect to an external power source. In effect, there is no risk of electrocution, even if you use it after a shower or bath.
Tangle-Free Hair Care and Easy to Use
The beauty of a cordless curler is that you have more freedom of movement when styling because you don't have to worry about cords tangling. You also won't need an extension cord or a power socket next to you when curling your hair.
There's also no risk of catching fires because there's nothing to unplug. And since a cordless iron is compact and lightweight, it's less tiring to use. You won't strain your arms and wrists during lengthy curling sessions.
How do I choose the best cordless curling iron?
Power Source
You can buy a cordless curling iron with a butane battery or a rechargeable battery.
Butane curling irons are powered by the butane gas that burns inside the cartridge. You can find similar cartridges in stoves and lighters. The cartridge is replaceable, but the costs can add up when buying new cartridges.
You also need to find the correct cartridge for your curling iron, and there's a risk that you won't easily buy one abroad if you take the cordless curler with you. Even worse, the manufacturer may stop making the cartridge at some point, which renders the curling iron useless.
Butane curling irons are beneficial as they take up little room and can be pretty hot. These curling irons do not need a cable to be powered at all. So in a sense, they're the genuinely cordless type of curling iron as battery-operated curling irons still need to charge through USB. These curling irons don't require charging, which makes them very convenient.
Battery-operated cordless curling irons are usually rechargeable. It's less of a hassle to top up the battery than butane cartridges. You can recharge through a USB or mains charger. A single charge gives you around 30 to 50 minutes of use. If you're traveling abroad, it's better to bring a USB charger because it eliminates the need for dual voltage and an adapter. Unfortunately, a rechargeable curling iron doesn't last long on a single charge because of its size. If you have long or thick hair, the battery can even die before you've finished curling.
Battery Life
Before buying, check how long the charging time for the curling iron is and how long a full charge lasts. These characteristics are essential to consider if you have thick or lengthy hair. These hair types need a battery that can last longer or can be recharged quickly. Go for a product that has a short waiting time.
Barrel Material
The barrel material for curling irons is usually ceramic, titanium or tourmaline, or even a combination of all of these.
Ceramic is popular for giving off even heat without hot spots.
Tourmaline is also a good choice because it emits negative ions that seal the cuticle and enhance shine.
Titanium is another barrel material that's great for coarse hair because it transfers heat efficiently and recovers temperature rapidly.
Clamp or Clamp-Free
This criterion is up to the user. Some people are more comfortable with a curling iron with a clamp, while others prefer a curling wand.
However, cordless curling irons tend to have a short barrel because the irons are small. In this case, it may be more convenient to have a clamp that can hold down the hair. Some clamps are removable if you want some flexibility when styling.
Maximum Temperature
A cordless curler doesn't get as hot as a regular curling iron, so it's essential to know the highest level of heat it gives off. Choose one with a high heat capacity, at least 375 degrees Fahrenheit if you have coarse or hard-to-tame hair.
Case
Before buying, check if the curler comes with a heat-proof case. That will come in handy when traveling because it allows you to store the curler even when it's hot without damaging your clothes or the lining of your bag.
What's the best way to curl your hair with a cordless curler?
It's easy to use a cordless curler. First, make sure you've prepped your hair. Dry it until it's at least 80 percent damp, then detangle your hair with a wide-tooth comb.
Apply a heat protectant, concentrating on the ends of your hair.
Next, turn on the curler and wait for it to heat up. Make sure it can power through your entire curling routine. Set your desired temperature but don't start with scorching heat right away.
Divide your hair into sections for easier styling. Take a small selection of your hair, around 1 inch or so, then wrap the locks around the barrel of the curling iron. Wait a few seconds and release.
Repeat for the other sections. Switch the direction of your curling every time for a natural tousled look.
After curling, brush out your hair gently. For additional hold, spritz hairspray on the lengths.
Conclusion
Any of these products will be great for travel and touch-ups, but the best curling iron on the list is the Thermacell by Conair. The energy source lasts longer than the other products, plus you don't need to charge it at all. The only inconvenience is getting cartridge backups, but since it's a popular product, procuring them will be easy.
The 3/4-inch curling iron uses ceramic to create lustrous, healthy-looking curls without damaging your locks. It heats up fast, which is what you need when you're touching up your mane in the car, the gym, or wherever life takes you.
I love that hair curling technology has come this far, and the Thermacell cordless curler is my pick for the best travel curling tool, hands down.
Leah Williams
Leah Williams is the founder of Lucky Curl and has been in the hair care and styling industry for the last 15 years. Since then, she has developed incredible expertise and a deep understanding of how to treat and style the most difficult hair types and is passionate about sharing her knowledge with the readers of Lucky Curl.