I tested 11 top-rated products and found the Beachwaver Co – Beachwaver PRO 1 Inch to be the best curling iron for beach waves.
As a professional hairstylist, I am always looking for the best styling tools to create different looks for my clients. Beachy waves are among one of the most popular and requested for those with medium-long hair. When it comes to achieving loose waves, it all comes down to the right tools. With this in mind, I have rounded up the best curling irons to create beautiful beachy waves.
While there is a standout curling iron for beach waves, I have included reviews on other top-rated hair curlers for creating this look.
In this list, you are sure to find one of the best curling tools to try on your curls, depending on whether you prefer the old-school design with clamps or one with just the barrel to wound a section of your curls. So, if you are ready to learn more about the best curling irons on the market, then let's get started!
What is the Best Curling Iron For Beachy Waves?
12/07/2023 07:00 pm GMT
11 of the Best Curling Irons for Beach Waves
1. Beachwaver Co – Beachwaver PRO 1 Inch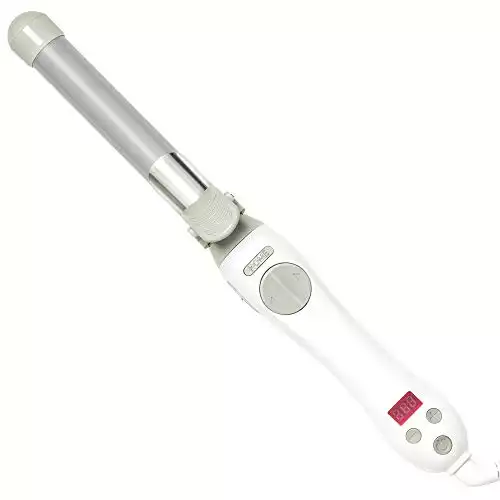 It's hard to talk about creating perfect beach waves without mentioning the Beachwaver PRO Curling Iron by celebrity hairstylist Sarah Potempa.
This hair tool has a lot of unique features. Still, most notably, it's known for automatically rotating (both left and right) to seamlessly create stunning waves. It does take a while to get used to the rotating function, but the result is effortless curls in no time.
Another reason to love this automatic hair curling tool is the 6.5″ protective ceramic rod and barrel of tourmaline infused with gold powder to provide uniform heat.
The curling iron has variable temperature settings from 310º F to 450º F, making it perfect for all hair types.
Other noteworthy features of the styling tool include a customized clamp for no kinks, a 360-degree swivel cord, 30 minute shut off and a LED digital temperature screen.
2. Mermade Pro Hair Waver – 32MM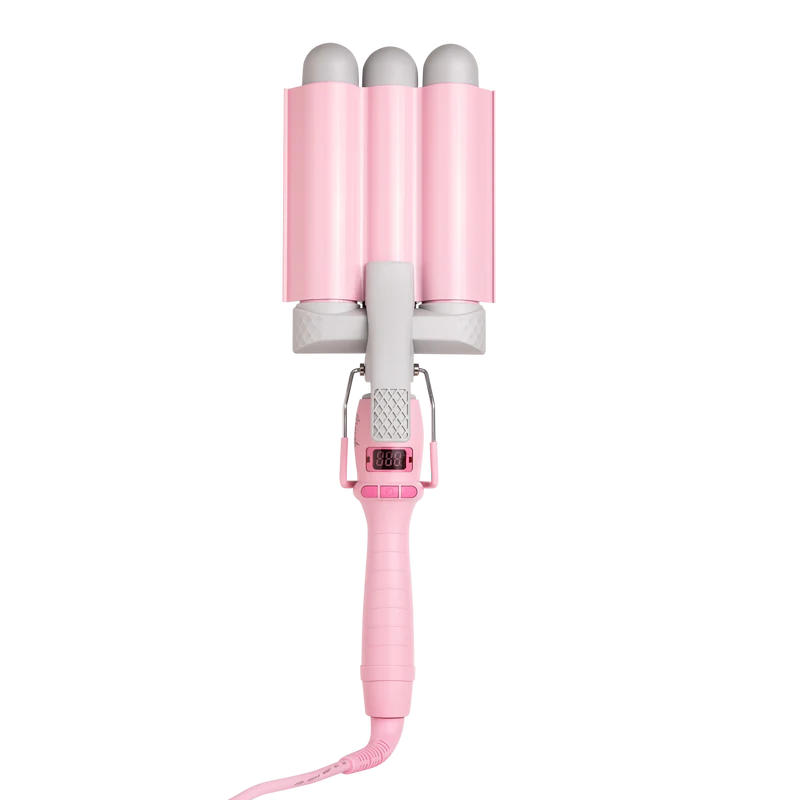 When it comes to creating perfect beachy waves, we would expect nothing less than an amazing hair tool product from the best-selling brand, Mermade Hair.
Loved by celebrities like Khloe Kardashian, the professional-grade hair waver will give you salon-worthy waves at home. With advanced ceramic barrels and rapid heating technology, this waver is designed to give you beautiful, long-lasting waves in just minutes. The exclusive crimp-free design means you'll never have to worry about your waves looking unnatural or "crimped," and the soft-touch handle ensures that you'll always have a comfortable grip while styling. 
With three XL barrels, it's one of the largest waver barrels on the market and can quickly and effortlessly create big and bouncy waves on medium to long hair types.
Other features of the Mermade Pro Hair Waver we love are the heat-resistant soft-touch handle that makes it easy to style your hair and the multiple heat settings that let you choose the perfect temperature for your hair type. 
3. BaByliss Nano Titanium Spring Curling Iron
If you are looking for a versatile, all-around curling iron, one that's packed with cool features and a perfectly sized barrel for loose curls, you will love the BaByliss Nano Titanium Spring Curling Iron.
High heat is key to lasting curls, and the BaByliss Nano's chunky 1.25-inch Sol-Gel nano titanium barrel conducts and retains heat for beach curls that last. The curling iron barrel is also ceramic-coated, so it applies healthy, consistent high heat evenly. This device comes with 50 (that's not a typo) heat settings that go as high as 450°F (heat protectant non-negotiable!). The BaByliss Nano has a button for turbo boost and ultra-high, far-infrared heat that penetrates the hair shafts for lasting curls with zero damage and frizz.
The BaByliss Nano Curling Iron is suitable for most hair types, and it delivers perfect results every time. I love how this curling iron combines the following features: the heat conduction of titanium, the even heat distribution of ceramic, and the ultra-high heat of far-infrared heat technology.
This curling iron is best for those with thick, naturally wavy, or hard-to-manage hair. It can be too hot for users with delicate or fine hair. If you style your hair regularly or if your tresses are prone to heat damage, apply a heat-protective serum, so your hair stays healthy and shiny despite the high heat.
4. Bed Head Curlipops Clamp-Free Curling Wand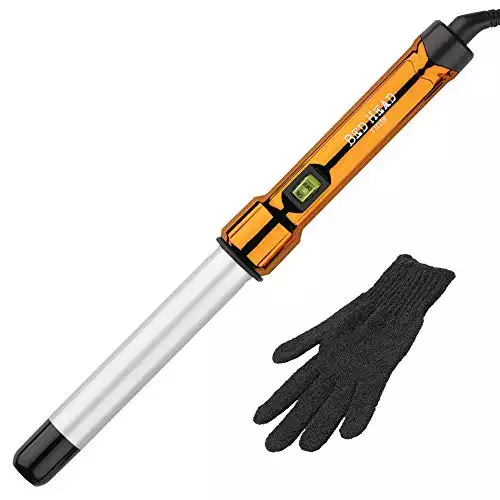 With the Bed Head Curlipops Curling Wand, you can get frizz-free beachy waves with massive shine. The tourmaline and ceramic barrel provide even heat distribution for consistent results, while the clamp-free design makes it easy to use.
The high heat settings allow you to style all hair types, and the included heat protective glove ensures safer styling. The lightweight wand is perfect for travel and comes with a dual voltage option for use anywhere in the world. 
5. Bed Head Wave Artist Deep Waver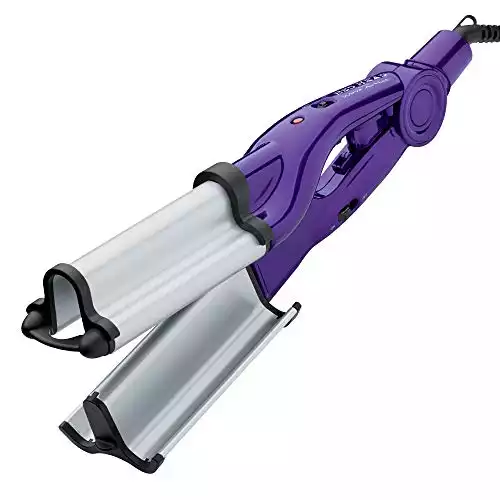 Looking for a way to add some extra curl and wave to your hairstyle? The Bed Head Wave Artist Deep Waver is the perfect tool for you! This waver features a double dose of tourmaline ceramic technology for massive shine and frizz-free, long-lasting results. With multiple heat settings, it is ideal for all hair types, from thin to coarse.
The advanced design features a plate-locking switch for easy storage in less space and a tangle-free swivel cord that makes it easy to style. The deep barrel design quickly and easily waves the hair with High Heat up to 400˚ F, while instant heat recovery ensures consistent heat. Plus, it comes with worldwide dual voltage, so you can take it wherever your jet-setting heart desires.
Get the look by starting at the roots, lightly clamping a small section of hair between the barrels and holding for a few seconds. For continuous waves, match the outermost wave and continue until all hair is curled.
6. BIO IONIC Long Barrel Styler
If you are after loose, wavy, or curly hair, the Bio Ionic Long Barrel Styler is for you. Two inches longer than ordinary curling irons, the Bio Ionic extra length gives you more styling options to consider regardless of whether you have short or long hair. Regular curling irons do not have enough room for you to maneuver, especially when working on the back of your head, but this one does. That extra length definitely makes a huge difference. 
Aside from the extra length, the Bio Ionic curling iron also features a unique combination of Nanonioc MX, and Moisturizing Heat lock-in moisture. What this combination does is that it styles and nourishes your hair strands so that you end up with beachy curls. This curling iron seals the cuticle, thus preventing breakage from happening, and helps in prolonging the curls too. The unique heat technology also makes this one of the best curling iron tools for those with fine hair.
The Bio Ionic Long Barrel Styler also features a cool touch fingertip, so you don't end up burning your fingers while styling your hair. It also has a digital temperature control feature, so you will see what the current temperature is. No need to second guess by touching the barrel whether it is hot or not. This article will allow you to determine whether it is appropriate for your hair type, which is a plus. 
Another feature that is worth noting here is the auto shut-off mode of the Long Barrel Styler. If you forgot to turn off your curling iron or left it idle for an hour, it would automatically shut off. This way, there won't be any incidents of burns happening in your home while you are away. This is a useful feature to have for any styling tool.
7. INFINITIPRO BY CONAIR Tourmaline Ceramic Curling Wand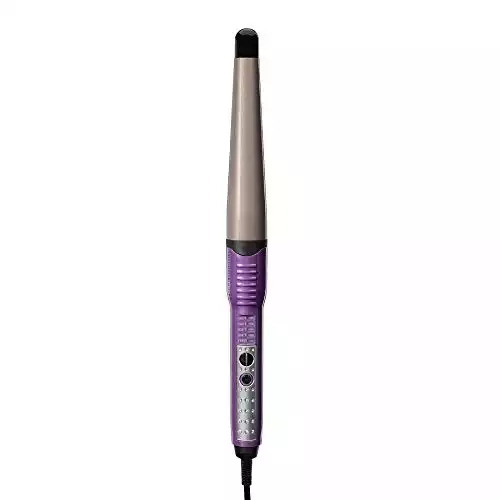 Thanks to Conair's Infinity Pro, it has never been easier to create soft, beachy waves. The clampless wand design may look simple, but the Infinity Pro gives you maximum control over your curls. The 3/4 to 1 1/4-inch tapered barrel allows you to create tight or loose curls, whatever you prefer! For beachy waves, just wrap a wide section of hair around the thick part of the barrel for a few seconds, then release. Loosen the curls with your fingers for perfectly tousled tresses, and you're good to go.
The tourmaline-ceramic barrel ensures precision styling without hair damage. Healthy heat is distributed evenly on every hair section. Hence, your curls are not only long-lasting. They're shiny and frizz-free. The Infinity Pro comes with a fast-heat feature and uniform heat recovery for instant styling. I love how this curling iron heats up so fast, meaning I can save a lot of time in the morning.
Speaking of heat, the Infinity Pro comes with 5 heat settings and heats up to 400°F. The device also comes with light indicators so you can check the temperature at a glance, a handy feature if you have fragile or damage-prone hair. I also love the auto shut-off feature; it makes the Pro such an easy-breezy, worry-free curler.
How many times have you burned your fingers while curling your hair? Too many to count, in my case. The kit comes with insulated thermal gloves so you can curl your hair without burning yourself in the process.
Overall, the Infinity Pro is a dependable curler that comes with practical features for easy styling. I wish there was a built-in clamp, so curling is even more fool-proof, but that's easy to overlook considering the Pro's reliability. The cool tip is small, so it won't keep you from using the heat-protecting gloves that come with the curler.
8. Hot Tools Gold Curling Iron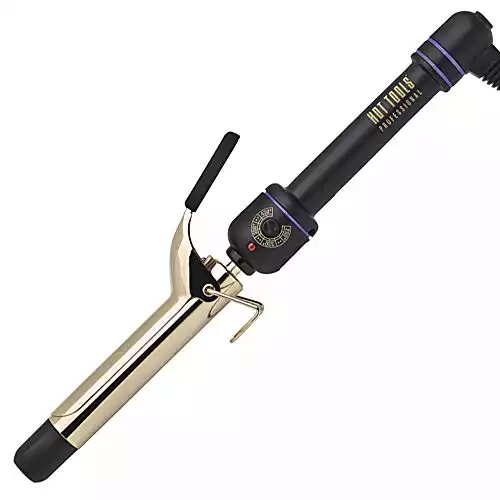 The Hot Tools Gold Curling Iron promises long-lasting, beachy curls and cutting-edge technology, all wrapped up in shiny 24-karat gold. From looks alone, you know that the Hot Tool Gold curling iron will be the prettiest hair styling tool that'll ever grace your vanity. With this curling iron, you could create romantic beachy waves and fabulous twists.
The secret to Hot Tools curling iron's exceptional performance is the golden barrel, which has a unique styling surface that produces and conducts heat evenly and efficiently. Your hair will be pampered with healthy heat, so your curls stay consistent and long-lasting. The device also comes with Hot Tools' proprietary Pulse Technology to prevent momentary temperature drops. Sensors within the curler shift and immediately restore the heat, so the temperature is ideal throughout the styling process.
The Hot Tools curling iron has 10 heat settings to cater to all hair types and textures. The device could reach the maximum temperature of 430°F so you can curl the most stubborn tresses in no time at all. However, the Hot Tool curler is slower to heat up than other styling tools in this list. But once the ideal temperature has been reached, you get beautiful curls.
I wish it came with a separate on/off switch just to turn the device off with just a push of a button. The temperature dial is quite small, too, so the readout is harder to see when you're curling your hair. The gold barrel is undoubtedly beautiful, but those who are huge fans of tourmaline and/or ceramic curlers might doubt the curler's ability to minimize heat damage.
9. Conair Double Ceramic Curling Wand
Looking for an affordable way to achieve beachy waves? Check out the Conair Double Ceramic Curling Wand.
This 1" curling wand is great for creating free-flowing waves with no kinks or creases. It features recessed buttons to prevent accidental shutoff, plus double ceramic technology for even heat and long-lasting results. The conical barrel creates loose, natural curls and waves, and it's clamp-free design puts less stress on hair and reduces damage.
With 30 heat settings and instant heat up to 400 degrees Fahrenheit, you'll be able to find the perfect temperature for your hair type. Plus, the Turbo Heat boost is excellent for difficult-to-style spots. The cool tip allows for safe, easy handling, and the wand automatically shuts off after 60 minutes of use.
10. T3 SinglePass Curl 1.25" Professional Ceramic Curling Iron
If you're looking for a curling iron that will give you perfect curls every time, look no further than the T3 SinglePass Curl 1.25″.
This professional ceramic curling iron has been enhanced with digital T3 SinglePass technology, which ensures that your hair is polished and curled in just one pass.
A smart microchip continually monitors and adjusts power to minimize heat fluctuations and maintain a consistent temperature, while high-performance ceramic heaters ensure even, consistent heat without any hot spots.
The 1.25-inch barrel is made from a custom blend of ceramic materials that glide smoothly through your hair, creating a frizz-free, shiny finish that will last all day. The curling iron has five adjustable heat settings (260-410°F), so you can find the perfect setting for your hair type. It also features a lightweight body and sleek design for easy handling and a truly effortless styling experience.
11. Remington Pro Ceramic Curling Wand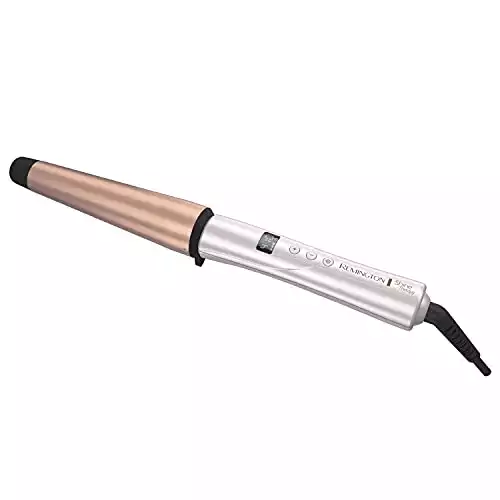 The Remington Pro Curling Wand features a tapered 1"-1½" barrel for creating lustrous medium curls with a luxurious finish. This curling iron comes with many great features, including a patent-pending ceramic pearl technology that boosts hair brilliance while eliminating frizz and dryness. Crushed pearl is a popular skincare ingredient in Asia. The same nutrients that keep the skin luminous and youthful also improve hair health.
As the curling wand heats up, the hair-giving nutrients of crushed pearl are activated, giving you vibrant, lustrous curls that last. The crushed pearls also boost hair resilience, making the hair resistant to damages caused by everyday styling.
The ceramic-coated barrel distributes heat, so you get professional results every single time. There is a choice between the 1-inch and 1 ½-inch barrel, so you get lots of styling options to boot. If you want luscious beachy curls, then opt for the bigger barrel. The Remington Pro comes with 10 heat settings and digital controls. It heats up to 410°F, taming stubborn tresses with relative ease. A large digital display set near the base of the device lets you read the temperature at a glance.
Other features worth mentioning include the rapid heat-up feature, Auto Shut Off, swivel cord, and temperature lock. The temperature lock feature is useful because it lets you set the ideal curling temperature for your hair type. The next time you curl your hair, the temperature has been customized for you. The only downside for me is that the Remington Pro gets too hot while in use. To avoid burning yourself, wear the heat-protecting gloves that come with the set!
Is a curling iron or wand better for beach waves?
There's no right or wrong answer to this question – it all depends on your personal preferences! A curling iron can give you tighter, more defined curls, while a wand can create looser, more natural-looking waves. If you're not sure which one to go for, we suggest trying both and seeing which style you like best. And remember, regardless of which tool you use, always apply a heat protectant before styling to keep your hair healthy and protected from damage.
What size curling iron is best for beach waves?
A 1-inch curling iron is typically the best curling iron barrel size to create beach waves. It will work best on those who have short to medium-length locks because you can quickly wrap a section of your hair around the barrel. 
On the other hand, the 2-inch barrel can give you that voluminous waves or blow out because of the barrel's diameter. Which one should you choose? It will depend mostly on your hair's length and the style you want for your curls.
We believe that a 1 to 2-inch barrel-sized curling iron or wand is best for creating beach waves. However, other sizes may provide you with different types of curls. This way, you can decide what kinds of curly hair you want to achieve that will suit you best.
Guide to Curling Iron Sizes
Different hair goals will have different needs. What's the best curling iron barrel size for creating beach waves?
| | | |
| --- | --- | --- |
| | | |
| | | |
| | Classic curls, defined waves | |
| | Loose waves, voluminous curls | |
| | | |
¾ Barrel Size
This barrel size is best for individuals with short hair or users who want tighter curls. This barrel size is perfect for creating corkscrew curls. If you're going to make a vintage look, this is the barrel size to get.
1 inch Barrel Size
This is a versatile barrel size, so it's the most popular of all standard barrel sizes. It's a great size for creating classic curls and defined waves. Curling irons with a 1-inch barrel are best suited for anyone with short to medium-length tresses.
1½ inch Barrel Size
If you want to create tousled curls, loose waves, and voluminous curls, this is a great size to use. This size is quite chunky, so it's an excellent choice for individuals with thick, coarse, wavy, or stubborn hair. This barrel size is also perfect for people with long hair. Compared to curling irons with a 2-inch barrel, a curler with a 1-inch barrel creates a more defined curl.
2 inch Barrel Size
This is the largest of the standard barrel sizes and is designed specifically for creating large curls and loose waves. And yes, it's the best beach waves curling iron size because the barrel is big enough to add volume from roots to tips. Since the barrel is big, it won't work for people with short hair length. A curler with a 2-inch barrel is made for individuals with long, thick hair.
The Bottom Line
Now that you read our review for the best curling irons, you might be wondering which one ranks high among the rest when it comes to nailing beautiful, beach waves.
With that in mind, we found the Beachwaver Co – Beachwaver PRO 1 Inch to be the best curling iron for beachy waves.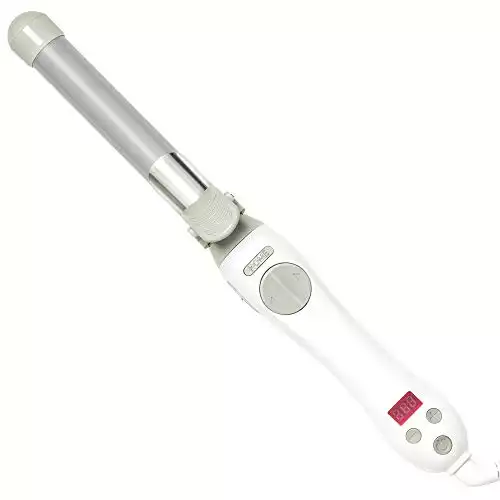 Leah Williams
Leah Williams is the founder of Lucky Curl and has been in the hair care and styling industry for the last 15 years. Since then, she has developed incredible expertise and a deep understanding of how to treat and style the most difficult hair types and is passionate about sharing her knowledge with the readers of Lucky Curl.