Flyaways and frizzy hair can make your mane look unkempt. You can use serums to tame the frizz, but sometimes all you need is the best deep conditioner to reveal smooth strands. Hunting for such a product is easier said than done especially when there are plenty of options to choose from. Let's find out how to choose the right one for you.
Best Deep Conditioner – 5 Options for Hair Repair
Finding the best deep conditioners to use on your mane can be tricky especially when there are several options for you to go through. But if you want to narrow down your choices, you can start with the following products:
Hydrating Argan Oil Hair Mask and Deep Conditioner
Start your hair treatment with a professional-grade hair mask that will leave your strands looking better than ever. This Hydrating Argan Oil is designed to repair, restore, and even revitalize color-treated hair so that it will go back to its natural healthy state. This deep conditioning mask detangles, hydrates, and revives dull and dry mane which means that you'll enjoy that full, gorgeous hair once more. What makes this one of the best deep conditioning treatments out there? It makes use of high quality cosmetic grade argan oil in order to deliver the best results no matter what condition your hair is in.
Treat your damaged hair by using a professional-grade deep conditioner that gets into the heart of the problem to fix it. You will love how your usually dull and dry curly or natural hair can transform into this glorious looking mane that is full of life and shine with this product. It is a must-have for anyone who wants to give their mane its much-needed TLC.
Pros:
Professional-grade hair mask designed for all hair types.
Cosmetic grade Argan oil is its key ingredient that nourishes, revives, and revitalizes.
Repairs damage, color-treated hair.
Cons:
It may not be appropriate for those who have sensitive skin.
Smell is too strong.
The effects only last until you wash it out but not during styling.
BIOLAGE Ultra Hydrasource Conditioning Balm

Dry hair can be tricky to style since it will be prone to damage due to its brittle state. At this point, you will need to find a way to bring your mane back to life and it is here where BIOLAGE Ultra Hydrasource conditioning balm can help you out. The inspiration behind this deep treatment masque is the aloe vera which is known for its hydrating properties. Using this conditioning balm means that your strands will achieve proper moisture and conditioning so that it will be soft, smooth, and shiny once more.
Treat your dry mane to this luxurious conditioning product where you will find that it instantly nourishes and moisturizes dry strands. Among the vital ingredients that are used here include aloe leaf juice, apricot kernel, and cupuacu butter where they work on enveloping your strands with moisture to beat back dryness, split ends, and frizz. Once you apply this product to your mane, you will find that your natural, curly, or coarse hair will feel more refined and smooth to the touch. Not only that, you don't have to worry about having to deal with split ends since this is specially formulated to strengthen strands as well.
Pros:
This dry hair solution delivers moisture and nourishment to your mane.
Aloe leaf juice, cupuacu butter, as well as apricot kernel are among the top ingredients used.
It can be used on natural, curly, or dry mane.
Cons:
This product appears to be thin and doesn't have any hydrating properties.
The smell isn't that good at all.
It may not work well on extremely dry hair.
Redken All Soft Heavy Cream Super Treatment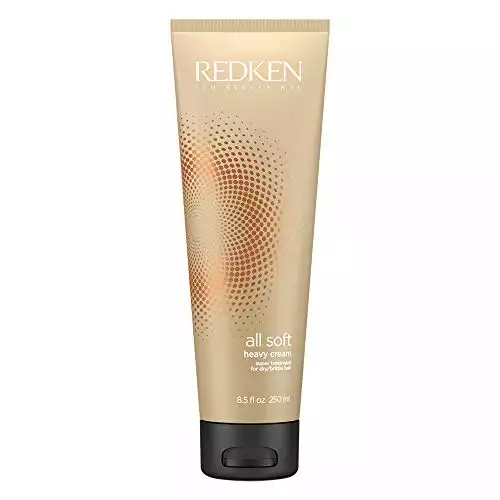 Another option that you can try to save your fine hair, natural hair, or even curly hair from dryness, frizz, and even split ends is by using Redken All Soft Heavy Cream Super Treatment. This product is specially formulated to bring back the natural shine and softness to your otherwise dull and chemically treated strands. No need to worry about the frizz that has been plaguing your mane since this will tame even the most stubborn flyaways. If you have been suffering from dry strands for some time now, get this treatment as soon as possible to get your hair back to its natural state.
What makes Redken a great option as a deep conditioner? It makes use of Argan Oil as one of its active ingredients which is known to nourish, hydrate, and moisturize dry strands. You don't have to wait that long to have your mane moisturized and revitalized. Once you have conditioned it with this product, you will no longer have to worry about split ends, frizz, and the dreaded dryness. This is one styling product that you don't want to go on without.
Pros:
Deeply cleans and conditions dry and brittle strands.
Tames frizz, split ends, and flyaways every time you condition it.
Argan oil plays a huge role in repairing and revitalizing strands that have been damaged by lack of moisture or because it has been heavily treated by dyes.
Cons:
It doesn't give that much boost to dry hair even when shampoo and conditioner.
Strands feel drier compared to before.
It doesn't have a nice smell to it.
Nexxus Keraphix Conditioner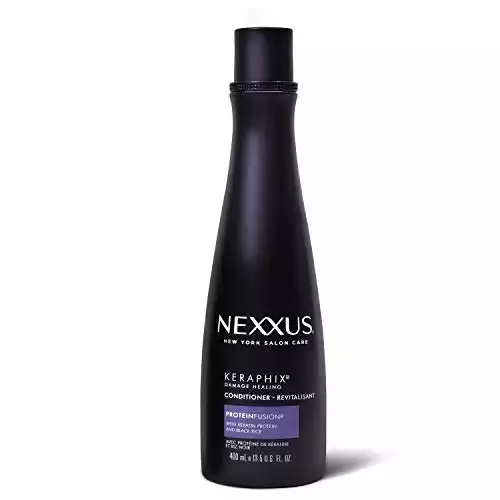 Nexxus Keraphix Conditioner can help you deal with signs of damage without you having to leave the comforts of your home. This product is designed to penetrate your strands deeply where it is needed the most to deliver nourishment to correct the damage as soon as possible. And when you use this deep conditioner repeatedly, it will help make your strands more resilient to pulling and being heated up. What you will end up is with soft, smooth, and shiny strands with no signs of damage.
What makes this product work well is the fact that it contains Black Rice and Keratin Protein that are known to repair, revitalize, and enhance hair structure. It has its own technology called Proteomics that delivers protein to strands to make them stronger and less prone to breakage. If you are in need of a deep conditioner that guarantees beautiful and gorgeous strands, this is definitely one of the best out there.
Pros:
Get salon-like results when you deep condition with Nexxus Keraphix
Makes strands more resilient to pulling, styled, and dyed with regular use.
Correct damage to strands so that there will be no frizz or flyaways to worry about.
Cons:
The results are the same as other cheap conditioners.
Some may experience irritation on the scalp.
It cannot be used regularly by those who have fine hair.
It's a 10 Haircare Miracle Deep Conditioner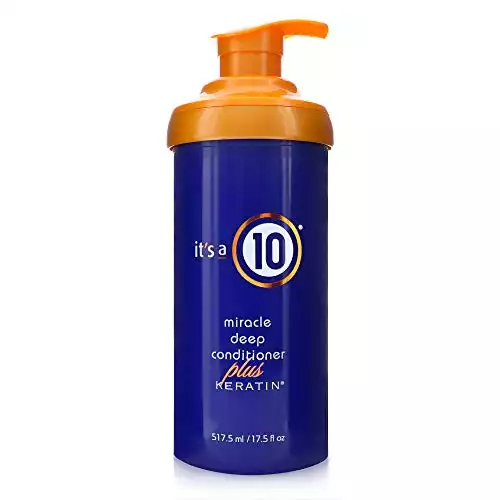 All it takes is 10 minutes of your time to make this Haircare Miracle Deep Conditioner work. This product is specially formulated to revitalize, repair, and enhance your damaged strands so that your mane will look healthy, shiny, and smooth to the touch. You don't have to worry anymore that your strands are stringy, dry, and brittle because this 10 haircare miracle deep conditioner gets the job done with results similar to that when you go to the salon. Add this to your haircare routine and see how easy it is to manage your mane now that it is smooth and shiny.
What else is there to like about this product? It does offer some protection against the heat and even styling tools which means that you can style your mane to your heart's content. Even when you have color-treated strands, this product is quite safe to use and can even improve its overall condition. Only natural ingredients are used here such as keratin and aloe vera which makes it the perfect solution for those whose hair needs saving.
Pros:
It only takes 10 minutes for this product to deliver quality results.
Transforms dry, color-treated hair to smooth and shiny strands.
Provides protection from the sun and heat from styling tools.
Cons:
The effects aren't noticeable even after repeated use.
The bottle is not full and has a tendency to leak.
A bit pricey.
Does Deep Conditioner Actually Work?
Most of us use regular conditioners to make our hair strands become soft, smooth, and more manageable. These hair products are typically lightweight as they need to be rinsed off after a few minutes. However, in the case of deep conditioners, these will feel heavy on your hair, especially for the first time. This may be off-putting for some, especially those who do not want their mane to be bogged down with products, but you might be surprised to find that deep conditioning can help fix damaged hair.
What are the effects of deep conditioner on your hair? Well, here are a few worth mentioning.
Transforms your hair from frizzy to smooth without even going to the hair salon after.
It replenishes the lost moisture on hair strands so they will not become dry and brittle.
A deep conditioning mask will still continue working even when the hair styling tool has vanished completely. This means that you will still see the effects of the product for days.
You can supplement your hair masks with regular conditioners to help make your strands more malleable. It would be better if you do your deep treatment once or twice a month based on what your strands need.
Tips for Choosing the Best Deep Conditioner
Skipping deep conditioning treatment is not recommended since your hair is constantly exposed to the elements and various styling products causing it to become dry and brittle. But with the available options for a deep treatment, how will you know which one to get?
The ultimate goal when using a deep conditioner is to remove impurities while replacing your lost nutrients and moisture. This product serves as a balancing tool to revive damaged hair. So, what factors should you look for?
Protein
For those whose hair needs a bit of structure, you need to look for a deep conditioner that contains high amounts of protein. However, this should only be used on those who have a limp or flat mane. This nutrient is an essential part of our body and one that needs to be replenished throughout the day. By using a conditioner that comes with protein, you will be able to revive flat and lifeless strands.
Moisture
The best way for your strands to receive moisture is when there is water present in your mane even after you have dried your hair completely. If you want to ensure that your strands will receive proper moisture, choose a deep conditioner that has the ability to hydrate and moisturize your hair. A good tip here is to only use this type of product if you find your hair to be brittle or are starting to break since they need enough moisture to heal itself.
Penetrating
The best deep conditioners should be able to penetrate deep into your hair and scalp where it is needed the most. That said, the product should contain ingredients such as water, hydrolyzed protein, glycerin, olive oil, castor oil, avocado oil, and the like. These ingredients can help deliver the much-needed protein to your hair to ensure that it will be soft, smooth, and can be styled into different hairstyles without worrying about breakage, frizz, and other hair problems.
Emollients and Humectants
What else is there to consider if you are hunting the best deep conditioner? Well, you should look for emollients and/or humectants that can help with the narrowing of the throat. This product should provide a protective seal around your mane thus preventing the onset of dryness. Additionally, these ingredients can also be used to seal in the moisture to revive and deal with damaged strands completely.
Tips for Deep Conditioning Your Hair
Deep conditioners are useful for reviving and revitalizing one's hair. But for those who will be using it for the first time, things can get tricky. Here are a few tips that can help your dry hair, natural hair, or even curly hair, come back to life.
Deep condition your hair after you have finished shampooing it.
Use a steamer or even a hooded dryer on your mane for about half an hour. This will help open the hair shafts so that more moisture will be able to penetrate them.
Afterwards, rinse your mane with cold water in order to seal it.
You can now prepare styling your hair.
Regardless of your hair type, treating your mane to deep conditioning is the best way to revive it or at least enhance the texture, increase moisture, and even tame those frizz quickly.
Wrap Up
If you are in need of a repair deep conditioning mask that will not take long, you should get the It's a 10 Haircare Miracle Deep Conditioner. As the name suggests, this one will only take 10 minutes of your time to reveal smooth, shiny, and healthy strands. This treatment masque is guaranteed to alleviate dry and damaged hair completely and with repeated use, you will see that your mane looks as beautiful as it was before.
Leah Williams
Leah Williams is the founder of Lucky Curl and has been in the hair care and styling industry for the last 15 years. Since then, she has developed incredible expertise and a deep understanding of how to treat and style the most difficult hair types and is passionate about sharing her knowledge with the readers of Lucky Curl.