If you have pressed that snooze button one too many times, you're probably scrambling out the door with no time to style your hair. Fortunately, the best dry shampoo can actually save your morning by keeping your yesterday's hair intact and ready for another adventure with minimal touchups. If you haven't tried this multitasker yet, now is the time to do so.
Is Dry Shampoo Good for Your Hair?
Dry shampoos are good for your hair if you use them correctly. Too much, and you will end up damaging your hair and your scalp too. What makes this hair product a great item to add to your arsenal? Here are a few benefits to consider.
If you have spent money on your new hairstyle, you probably don't want to waste it by washing your hair for the next few days. Applying dry shampoo on your hair and scalp can help extend your look for a few more days without needing to be washed.
Prevents Hair from Becoming Too Dry.
Our scalp produces natural oils to keep our hair soft and shiny. However, for those who have curly or kinky hair, the oils may not reach the ends of your strands. That buildup can all settle on your scalp that can be removed easily by the right dry shampoo.
Air drying your hair takes time, and although some are not bothered by it, there are those who need to be able to style their hair before leaving their homes. One of the quickest ways to get this done is to simply use a dry shampoo instead of washing your mane, especially when you are in a hurry. No need to fret about your looks because it is ready to go.
Did you know that spritzing some dry shampoo on the roots of your hair before blow-drying it adds volume? You can get that beautiful, bouncy hair with this product, especially when you have fine hair.
How to Choose the Best Dry Shampoo?
One thing that you should know about dry shampoos is that they are not all the same. It can be overwhelming when you search for this hair product online since there is quite a selection out there. There are a few factors that you can take into consideration if you are planning on getting one for your hair.
Smell
What's great about dry shampoo is that it leaves that nice, clean scent to your hair and scalp. But you might want to test them out first because some may have too strong a smell to it.
Spray or Powder
Dry shampoos can come in powder or spray form so you will need to consider which you prefer using. Powdered dry shampoo is best for those whose hair is a bit fine since it will give it that nice lift to it for added volume. On the other hand, if you prefer a convenient way to apply it to your locks, then the spray version is worth trying out.
Read the Fine Print
Another thing that you should consider when looking for a dry shampoo to use on your hair is what goes into it. There are those that may contain harsh ingredients such as butane, isobutane, and others. Fortunately, there are other products that come with safe content that you can use.
Price
An expensive dry shampoo doesn't automatically mean that it will be the best quality. There are cheaper products that can give the best results. This is why you should go over available dry shampoos in the market to see what you will find.
Check Tutorials
If this is your first time to use dry shampoo, it would help if you review tutorials on how a certain brand is used. This will give you a much better idea of how to apply the product to your hair and scalp to achieve the best results. Ask your stylist for any advice on how this hair styling product works as well.
Hair Type
You should also consider your hair type when shopping for dry shampoo to get one that is compatible with your curly hair, kinky hair, straight hair, or even fine hair. The same goes true if you have colored hair. It would be a good idea to look for one that is designed for chemically treated strands.
These are just a few factors that you should take into consideration when shopping for dry shampoo. There are tons of options out there which is why you need to learn to choose the right one.
Best Dry Shampoo – 5 Top-Rated Products Reviewed
Don't know where to begin with your search for the best dry shampoos? I understand that this task is easier said than done which is why I rounded up a few brands that you can start with.
Batiste Dry shampoo – Clean and Classic
We earn a commission if you click this link and make a purchase at no additional cost to you.
Batiste dry shampoo is a good option to consider if you need help with your hair in between washes. It is efficient in removing grease, dirt, and oil which helps revive your dull and dry strands. This is easy to use too since you only need to spray before or even after you style your mane. You will notice that your hair will get more volume afterward. If you tend to press your snooze button several times, this may come in handy in keeping your hair like it is freshly washed.
To use this product, position the bottle about 10 to 12 inches away from your hair then spray lightly. Massage the solution into the roots and leave it on for a couple of seconds. You can proceed with brushing and styling your hair and you're ready to hit the road. What you'll like about this dry shampoo is that it has a nice clean scent to it which is a combination of musk, powder, and lavender giving your mane that subtle smell of freshness.
Pros:
It can remove dirt, grease, and oil quickly.
It adds more volume to your hair.
Fresh clean scent is a mixture of lavender, musk, and powder.
Cons:
It leaves a white residue on the scalp.
The results aren't that impressive.
It can make your hair appear dull if you use too much of the product.
Oribe Dry Texturizing Spray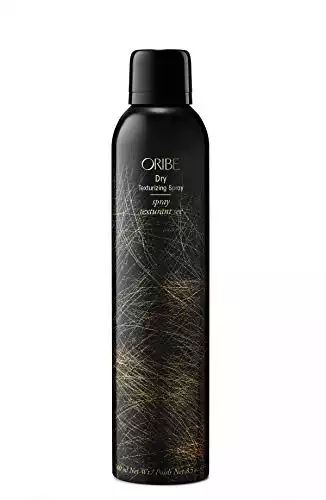 We earn a commission if you click this link and make a purchase at no additional cost to you.
If you want to achieve that gorgeous looking second-day hair, you should try Oribe dry texturing spray. What I like about this product is that it is an invisible dry shampoo that doesn't leave that white residue common in other brands. Their patented polymers are the ones responsible for absorbing excess oils on your hair and scalp, thus giving your mane additional texture. Among the key features of this dry shampoo include protection against oxidative stress and photoaging. It also comes with antioxidants as well as vitamins that help keep your hair nourished.
What else is there to like about this dry shampoo? It is ideal for all types of hair, especially those that need additional volume. It is easy to use. Simply shake the bottle and spray it on your hair. Then plump it up for that added volume and thickness. You can add heat too from your styling tools to give it more texture if you like. This product helps hold your style for hours which is a plus.
Pros:
An invisible dry shampoo that helps revive your second-day hair without leaving any traces.
Patented polymers absorb excess oils, dirt, and dust.
Ideal for all hair types which makes it useful for everyone in the house.
Cons:
It doesn't hold the hairstyle very well.
The smell is quite strong.
It is a bit overpriced for a dry shampoo.
Klorane Dry Shampoo with Oat Milk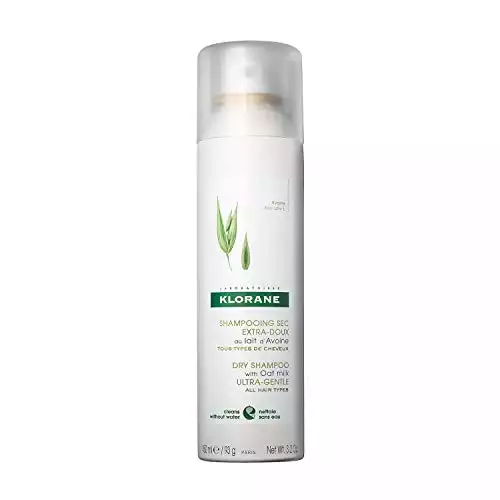 We earn a commission if you click this link and make a purchase at no additional cost to you.
Klorane is a specially formulated dry shampoo with oat milk that aims to soothe as well as protect your hair and scalp. It is gentle on your mane while getting rid of dust, dirt, and excess oils. What you will get is a hair that looks and feels like newly washed with its gentle fragrance. It doesn't leave any residue on your hair plus it is easy to blend to give your strands the extra boost. What I like about this dry shampoo is that it doesn't come with any harsh ingredients like parabens, preservatives, silicone, and even sulfates.
It is not difficult to use even. You just need to shake the bottle and position the nozzle a bit away from your hair then spray lightly. Leave it on for 2 minutes or so before removing excess powder. You can do this by hand, by brushing your strands or using a blow dryer. It is perfect for all hair types since it is made from gentle ingredients. Even when your hair is too thin or that you have a sensitive scalp, you will find that this product will work well in preserving your strands in between washings.
Pros:
Soothes and dries oily scalp and strands
Doesn't leave any visible residues on your mane.
Free from harsh ingredients like parabens, sulfates, preservatives, and silicone.
Cons:
Some users had to use a lot just to achieve the results that they wanted.
It is expensive for a dry shampoo.
One customer complained that her mane remained limp even after using it.
Living Proof Perfect Hair Day (PhD) Dry Shampoo

We earn a commission if you click this link and make a purchase at no additional cost to you.
Another brand of dry shampoo that caught my attention is from Living Proof. This product does the job of eliminating any grease, dirt, and buildup from the scalp and strands. With its Triple-Action Cleaning Technology, you will feel that your mane is like newly washed. It quickly absorbs sweat and oil that you won't even remember that you have forgotten to wash your mane this morning because the strands feel soft and bouncy. If you are worried about the smell of sweat, don't be. This dry shampoo can neutralize any odor which is amazing.
If you are worried that this will come with harsh chemical ingredients, don't be. Living Proof guarantees that there are no phthalates, parabens, and sulfates included in its manufacturing. Even if you have color-treated strands, you will still be able to use this without worrying about any side effects. You will find that your mane feels clean and fresh throughout the day thanks to its unique technology. It's easy to use and it does deliver results as it has promised. Even if you skip washing your mane, with Living Proof, you will have a product that will revitalize your strands quickly as it absorbs oil with ease thus removing that greasy look.
Pros:
Gets rid of any sweat, oils, or dirt efficiently so your mane will look fresh and clean.
Neutralizing capabilities eliminate the smell of sweat.
Safe for color-treated strands.
Cons:
The smell was too strong that many refused to use it regularly because of it.
This dry powder tends to feel heavy on the strands.
Gives strands that gummy and dirty feel.
amika – Perk Up Talc-Free Dry Shampoo

We earn a commission if you click this link and make a purchase at no additional cost to you.
For those who wash their mane every other day, you might want to add amika to your list of dry shampoo to consider using. This is the next best thing to washing your strands on a daily basis. It is a talc-free dry shampoo that absorbs more than just oil, it can also get rid of sweat and dirt too. What makes this an interesting choice for dry shampoo is the fact that it uses rice starch instead of talc to eliminate excess oils, dirt, and sweat without leaving the telltale signs of residues in its wake.
Amika knows what their customer needs, as this dry shampoo comes with a nice fragrance to it that gives the impression that your mane is newly washed. Using it gives that cool and clean sensation that is not found in other dry shampoos out there. It naturally cleans and adds volume too which means that you can style your mane to your heart's content.
Pros:
It is free from talc which means that it doesn't leave any residue.
Even if you have skipped wash days, using this amika will be able to revive your dull, limp strands quickly.
Gets rid of any oil, sweat, and dirt to give that fresh clean look.
Cons:
Some users had to use more of it just to eliminate the greasy feel to their strands.
One user complained that her head started to itch after a few hours.
It can weigh your strands down.
Conclusion
If you want the best shampoo that will help your mane look and feel as if it was washed, then go with Living Proof. It is effective in eliminating the signs of lack of washing such as sweat, oil, and even the dirt building up on your strands. You don't even have to worry about the smell of sweat too as this product can easily neturalize it. This volumizing dry shampoo is a great addition to your arsenal.
Leah Williams
Leah Williams is the founder of Lucky Curl and has been in the hair care and styling industry for the last 15 years. Since then, she has developed incredible expertise and a deep understanding of how to treat and style the most difficult hair types and is passionate about sharing her knowledge with the readers of Lucky Curl.