Let's face it, most men aren't known for using hot tools on the daily but no matter the gender, we all want to look good. And with a straightening tool, it's so easy to style and straighten the tresses. Men with dry, rough hair that won't stay put need a flat iron that could reach the ideal temperature to tame the tresses.
You might think that men's hair is more resilient than women's hair but it's quite the opposite. Men's hair is more prone to damage so a gentle flat iron is paramount to styling damage-prone tresses. It helps if the styling tool comes with useful features that would extend the life of the hairstyle. In this guide, we've sourced and tested 4 top rated products to find the best hair straightener for men.
Best Hair Straightener for Men – 4 Top Flat Irons Reviewed
BaByliss PRO Nano Titanium Mini
This small plated iron is perfect for those with short hair styles and is travel-friendly.
We are starting our review strong with an old favorite, the BaByliss PRO Nano Titanium Mini Straightening Iron. As a huge fan of the PRO nano line, I can tell you that the range really lives up to its promise. The mini version features the same high-quality titanium plates that its larger siblings have but in a shorter and narrower design. This makes the Pro Nano Mini so effortless to tote around.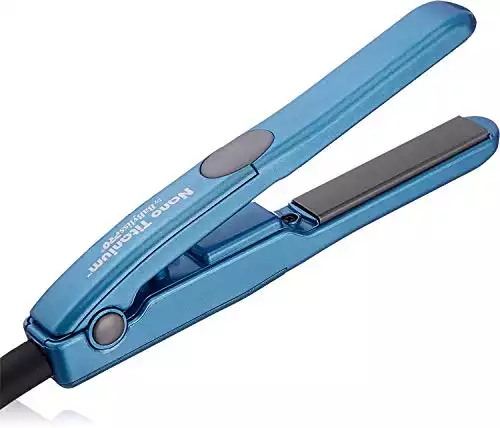 The Pro Nano Mini is best for men with stubborn hair, those who have curly hair that refuses to cooperate as well as thick, unruly tresses that are prone to frizz. The titanium plate produces negative ions that polish every hair strand, boosting shine and brilliance.
The straightener is sized just right for ironing out kinks and for faster hair styling. It's dinky so it doesn't take much room in your counter or bag. Overall, great design, fantastic performance, and excellent price point. However, use it with care if your hair is thin. Titanium is notorious for heating up too quickly.
CHI Original Flat Hairstyling Iron
This 'all-in-one' hair styler allows you to flip, curl and style for professional results.
CHI Original is the hot tool that puts the CHI brand on the map. This is a professional, salon-quality hairstyling iron that features a pair of ceramic plates, which are smooth, giving you snag-free, breakage-free styling. You know me and my love for ceramic hot tools, this one leaves my tresses so soft and silky smooth and I have very stubborn hair!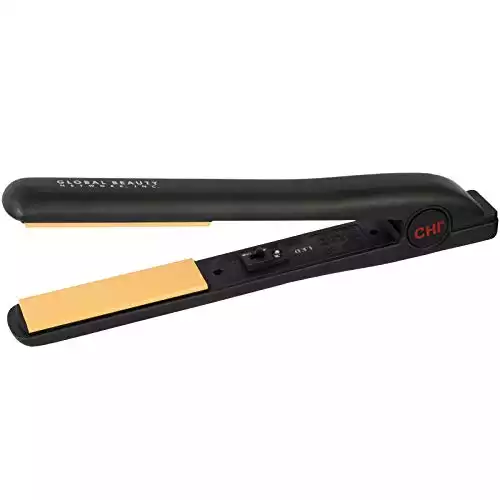 Men aren't used to waiting around for their hot tools to heat up in the morning. The CHI Original will reach the maximum styling temperature in just a few seconds so you can style your hair and head out without missing a beat. This is a great device for men whose hair is prone to frizz. It will straighten the tresses quickly and the life of the hairstyle will last from day to night. This device is also recommended for men with thin or thinning hair.
I'd say the CHI Original is pricier than most hair styling tools but the quality of the product itself is fantastic. This device will last you years so I think it's worth the splurge. 
KIPOZI 1 Inch Pro Nano-Titanium Flat Iron
Foolproof, travel-friendly and time saving, this flat iron is a perfect hair styler for men.
Check out this golden beauty! The KIPOZI Pro Nano-Titanium Flat Iron promises to straighten the tresses, boost hair shine, and leave the hair feeling healthy and silky with its advanced PTC ceramic heater. The plates are smooth as butter and less damaging to the tresses. It's a great styler for men who have delicate hair or thin hair.
It's compact and ergonomically designed so you have optimal control over the device. The KIPOZI Pro Nano produces negative ions that enhance the hair's natural brilliance. With this tool, you'll get salon-worthy results without drying your tresses.
Other features that are worth mentioning are the automatic shutoff feature, the sizable LCD, and the quick heat-up feature. I love the adjustable temp settings; there are 3 modes with 3 different temperatures. It's a versatile tool for men who want a high performing styling device that could work for all hair types.
BED HEAD Groupie Mini Straightener
The 1/2 inch plates make this an ideal hair straightener for men's hairstyles. Plus ceramic technology for healthy looking hair.
We are rounding up our list of the best hair straightener for men with the Groupie Mini Straightener. Don't let its compact design fool you, this zesty little tool is perfect for men with short hair, for quick touch-ups, or for traveling folks who want to look their best anywhere in the world.
Bed Head Groupie 1/2" Mini Straightener
Our Groupie Line is perfect for the On-the-Go person
1/2Inch Straightener is perfect for touch up, shorter layers and bangs
Buy from Amazon
We earn a commission if you click this link and make a purchase at no additional cost to you.
The ceramic heating surface offers smooth, snag-free styling. The material produces negative ions that tame even the most stubborn tresses. The Groupie Mini Straightener gives you straight hair without leaving the tresses dull or dry. Far infrared heat penetrates deep within every hair strand, ensuring long-lasting results every single time.
As far as the features go, the Bed Head ceramic straightener is a pretty basic styling tool. It's a great one to get if you need a budget, travel, and user-friendly hot tool. It's a little small if you have long hair but for men with short hair, this is a no-nonsense device that will give you a gorgeous finish! I don't recommend this product for users with curly or thick hair because the device is not designed for hard to manage tresses.
Frequently Asked Questions
What are the Advantages of Using Mini Hot Tools?
On the search for hot tools that work perfectly for men's short hair? Mini-size styling tools are perfect for anyone with short hair. These hot tools could smoothen kinks, tame frizz, and straighten the tresses easily and quickly. The small size means you can control the hair straightener easily, allowing you to perfect your hairstyle without straining.
Because the size is quite compact, it's space-efficient. You can take your mini hot tools with you on the go and your hair will look its best anywhere in the world. 
Why Should Men Use a Hair Styler?
Curious about hot stylers? Men don't use the hairstylers as often as women do but you'd be surprised at how beneficial these devices are when taming the tresses!
You should use hair straighteners if:
You have curly hair that you'd like to straighten
You are prone to frizz
Your hair is kinky
Your hair is hard to manage
You love the look of straight hair
​How to Use a Hairstyling Tool on Men's Hair?
Regardless if you are using a mini size or a standard-sized hot tool, it's important to start with completely dry hair. Unless the device is designed to work with damp hair, you'll ruin your hair if it's still damp prior to using the hairstyling device.
Apply your favorite protective hair products using your fingers. Don't scrimp, make sure that the products are applied evenly for optimal protection from damage. Divide the hair into sections. Wait until the straightener is hot enough then work on each section, starting near the base of the hair strands. If the device is not hot enough, it will take several passes to tame the tresses, which can be quite damaging to the hair. Once you're done, apply your favorite finishing products and that's it!
How to Find the Perfect Flat Iron for Mens Hair
There are certain factors that you have to consider when shopping around for hair straighteners. You want to make sure that the device is sized just right according to your hair length. The plates of the hair straightener should be made with the right material so you don't end up damaging your tresses.
Men with short hair should get a styling tool with a narrower and shorter clamp. Mini flat irons would work wonderfully for short hair length. These hot tools are much easier to control so you can really straighten near the base of every hair strand. For those with long hair, opt for a hair straightener with wider plates. The plates should be preferably an inch in width so you can work on larger hair sections much faster.
The temperature setting is also something that you should look into when shopping around for a hair straightener. Opt for a flat iron with adjustable heat settings so it will work on all hair types. Be sure that the hair straightener is a breeze to control and user-friendly so you're not wasting time tinkering with the device as you style your hair.
The plate material is also important especially for men with delicate or thin hair. If your hair has thin hair strands, if it's prone to heat damage or is naturally delicate, choose a gentle flat iron material like ceramic or ceramic-tourmaline. These materials apply gentle heat on the tresses while boosting hair shine, and promoting better hair health without causing dryness, brittleness, or dullness.
If your hair could take the heat, go ahead and choose a titanium hair straightener. The titanium material heats up quickly and it applies even heat with zero hot spots. The life of the hairstyle is much longer using a titanium hair straightener. However, titanium can be damaging if used improperly. Opt for this material if you have coarse, curly, thick, and unruly hair. That said, titanium flat iron is more expensive than a ceramic or even a ceramic-tourmaline flat iron so expect to pay a premium for this kind of material.
The safety features are also important when hunting for the perfect flat iron for men. It's easy to forget to turn off your hot tools if you are always rushing in the morning that's why it pays to get a hair straightener that shuts off automatically after an hour on idle. Thankfully, most hot tools come with auto-shutoff features and are not necessarily expensive.
Conclusion
Looking stylish and perfectly groomed is easy with the right hairstyle! Men are definitely not exempted from using a hair care device. If you are on the search for hair stylers for men, don't forget to check out the products we've reviewed! With this guide, I hope that we've inspired you to find the best hair straighteners for you. 
Leah Williams
Leah Williams is the founder of Lucky Curl and has been in the hair care and styling industry for the last 15 years. Since then, she has developed incredible expertise and a deep understanding of how to treat and style the most difficult hair types and is passionate about sharing her knowledge with the readers of Lucky Curl.