I tested 7 products and found the Dyson Airwrap Complete Styler to be the best hair dryer brush for getting sleek or curly hair with minimal effort.
With more than a decade's experience in the styling industry, I know a thing or two about vetting styling tools for quality. I've handled hair dryer brushes for all types of hair, from hot air brushes for fine hair to coarse and curly strands.
That's not to say that I haven't experienced damaged hair. Keeping hair healthy is my top priority and I've researched the best hair dryer brushes for effortless styling without compromising the state of your mane.
The Dyson Airwrap Complete Styler is my pick for best hair dryer brush because it's a modern take on the traditional hot air brush. The interchangeable barrels provide a variety of looks. It has an intelligent temperature sensor to prevent heat damage. The bristles are of high quality and gentle on the scalp.
Everyone has different hair types, concerns and budgets so I've included a few reviews of other equally appealing options.
Up ahead are the best hair dryer brushes you need to try.
Best Hair Dryer Brush – 7 Products for Quick Styling
Best Overall – Dyson Airwrap Complete Styler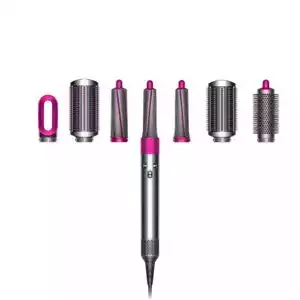 Key feature: Versatile hairstyling without damage
Temperature Settings: 4
Cold shot: Yes
Maximum Temperature: 150 degrees Celsius
Add-ons: storage case, non-slip mat, filter cleaning brush, five brush heads and barrels
This blow dryer brush is a splurge, no doubt, but with the increase in price brings a slew of top-of-the-line features you won't find in a regular hot air brush.
It cares for your hair by maintaining a temperature below 150 degrees Celsius so there's a reduced risk of singeing.
The award-winning and cult fave styler also comes with both a smoothing brush and volumizing barrel, allowing you to achieve a variety of styles for any occasion.
You can smooth, straighten or curl your locks with this versatile tool. It uses air primarily, meaning it doesn't need to reach high temperatures to achieve the desired effect.
The Airwrap barrels can rotate clockwise or counter-clockwise so your waves look even on both sides. It makes for natural-looking hair that doesn't look too "done".
The brush heads have ball-tipped bristles that gently massage the hair and scalp, instead of raking through your head.
The brush help you fake a salon-quality blowout. The styler even comes with a dryer attachment, ideal for hairstyling prep when your locks are sopping wet.
The biggest caveat to the Dyson blow dryer brush is its cost. It comes with plenty of brush heads and barrels but not everyone may need these.
Best for All Hair Types – REVLON One-Step Hair Dryer And Volumizer Hot Air Brush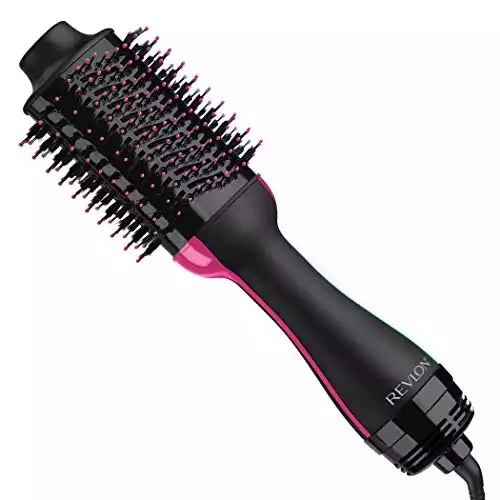 Revlon One-Step Hair Dryer And Volumizer Hot Air Brush
Style, Dry & Volumize Your Hair in One Step.
Unique Non-Detachable Oval Brush Design for Smoothing the Hair, while the round edges creates volume.
3 Heat/Speed Settings with Cool option for styling flexibility.
Buy from Amazon
We earn a commission if you click this link and make a purchase at no additional cost to you.
11/13/2023 02:30 am GMT
Key feature: Volume-boosting and static-reducing hot air brush
Temperature Settings: 3
Cold shot: Yes
Maximum Temperature: Not indicated
Add-ons: none
The Revlon One-Step Hair Dryer & Volumizer Hot Air Brush is a bestselling product that comes at a budget-friendly price.
It has a simple vented design with a non-detachable brush head. The oval barrel has wave-shaped slats that allow air to pass through. It's fitted with a combination of nylon pin and tufted bristles for detangling and volumizing.
The shape of the brush head makes it easy to give the roots a lifted look and flip the ends of the hair.
Multiple heat settings prevent heat damage while the swivel cord is gentle on the wrists. It also comes with advanced ionic technology for glassy and frizz-free hair.
The vents distribute air evenly across the mane while boosting its volume. Whether your hair is curly, straight or anywhere in between, you will get great results from this brush dryer.
The learning curve when using the Revlon One-Step Hair Dryer is minimal. I like the cool tip which prevents burning your neck or hands, something you may be prone to in amid the morning rush.
The blow dryer brush is lightweight and comes with a grippy handle. Unfortunately, the brush is single voltage (120V USA outlets) so it's not travel-friendly.
Best for Frizz-Prone Hair – HOT TOOLS Professional 24K Gold One Step Dryer Volumizer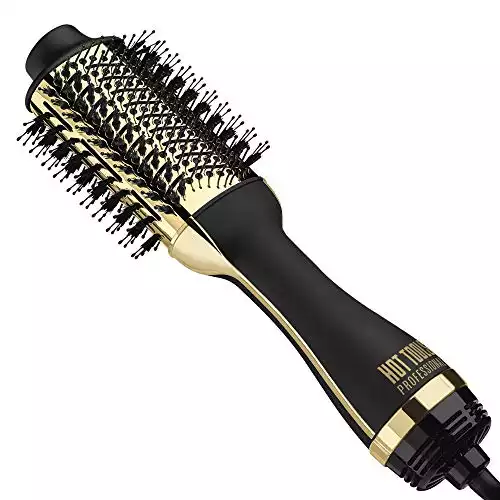 HOT TOOLS Professional 24k Gold One-step Blowout Styler
Charcoal-Infused Bristles are perfect for refreshing 2nd day hair
24K Gold styling surface for even heat distribution and consistent results for all hair types
3 Heat / 2 Speed Settings for styling versatility
Buy from Amazon
We earn a commission if you click this link and make a purchase at no additional cost to you.
11/11/2023 09:30 pm GMT
Key feature: Charcoal infusion and gold-plated body
Temperature Settings: 2
Cold shot: Yes
Maximum Temperature: Not indicated
Add-ons: none
Many of my clients struggle with frizz and have found that hairstyling exacerbates it. With a frizz-reducing brush dryer, you can straighten your hair safely without drying it out.
The Hot Tools Professional hot air brush has a surface that uses 24K gold technology that applies heat evenly to the hair shaft. You can adjust the temperature and speed through a rotating band on the base of the handle.
The Boartech bristles are infused with activated charcoal, helping to cleanse and refresh second-day hair.
The vented brush head dries hair fast while the 8-foot swivel cord prevents tangling and constant brush repositioning.
The brush boasts of Direct Ion Technology, a bane for frizzies. This neutralizes the positive charge on damp strands, enhancing the hair's luster and shine.
The Hot Tools blow dryer brush makes styling easy and safe with its soft touch handle and ALCI safety plug.
The brush is not dual voltage so you have to check if it's suitable for your region. It's also quite large, so it may place undue pressure on the wrists, especially when styling the back of the head.
Best for Short Hair – INFINITIPRO BY CONAIR Titanium Ceramic Hot Air Brush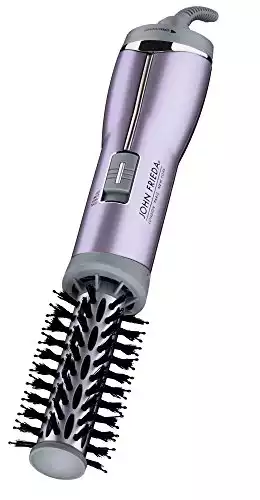 Key feature: A small 1-inch titanium ceramic-coated barrel
Temperature Settings: 2
Cold shot: Yes
Maximum Temperature: Not indicated
Add-ons: none
The slim barrel of the Infinitipro by Conair hot air brush is excellent for styling short hair. It's only an inch large, so it can wrap around strands with ease. You can make small flips, curls or waves and can even get close to the roots.
In one step, this blowout brush can give an at-home blowout at a price that won't break the bank.
Since the barrel is made of titanium and ceramic, it has excellent heat distribution without hot or cold spots, thus minimizing heat damage.
The brush has nylon and ball-tipped brustles that detangle the hair gently. It has an ion generator that tamps down frizz and seals the cuticle for healthy shine.
Despite the small build, the hair dryer brush runs on 500W. It also has a rear filter which helps to prolong the life of the device.
A small detail that would improve its usability would be a better temperature control switch and a longer cool tip.
Best Rotating – BaBylissPRO Nano Titanium Rotating Hot Air Brush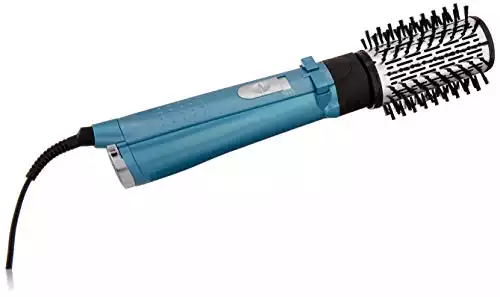 Key feature: Multidirectional rotating barrel
Temperature Settings: 2
Cold shot: Yes
Maximum Temperature: Not indicated
Add-ons: none
Rotating hair dryer brushes are notoriously finicky at first because of the learning curve. However, once you get the hang of it and resist the urge to twirl the brush yourself, you'll be pleased with how effortless styling can be.
The BaBylissPRO Nano Titanium Rotating Hot Air Brush is one of my favorites because of its multidirectional barrel. With a push of a button, the brush can move backward or forward so your curls look naturally tousled and even.
It's two inches wide which lets you tackle more sections at a time and create big, beautiful waves. You also have the option turn off the rotation if you want straight and sleek hair.
The brush helps you achieve a polished look with its ionic technology and anti-static bristles. Far infrared heat speeds up drying and styling and locks in your style, minimizing touch ups.
Users note that this brush made their hair super smooth, shiny and full of volume. However, it leaves a lot to be desired for lefties because of the placement of the controls.
The bristles are also quite soft, so it may not be good for coarse or thick hair.
Best for Dry & Damaged Hair -Drybar The Double Shot Hot Air Brush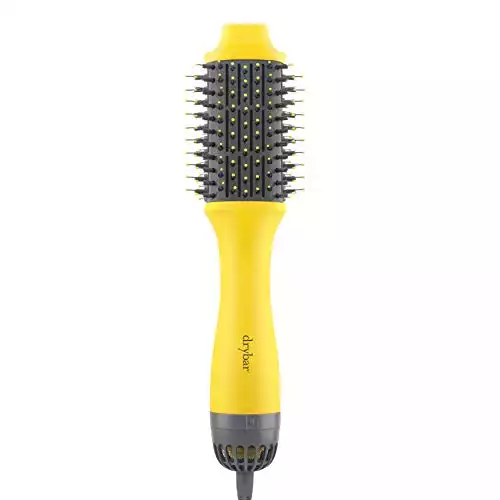 Key feature: Good for blowouts and damage-free styling
Temperature Settings: 2
Cold shot: Yes
Maximum Temperature: Not indicated
Add-ons: styling serum
The Double Shot Hot Air Brush is another yellow-hued creation from the blowout experts at Drybar. It has a vented round brush with yellow-tipped nylon and tufted bristles.
The big oval brush adds plenty of volume and body to lifeless locks. The placement of the vents maximize airflow to cut down on drying time.
You can choose from high, low or cool, depending on the condition of your hair. The cool shot locks in the style after the blowout is finished.
This blowout brush is also equipped with ionic technology for a lustrous finish. Negative ions reduces frizz by sealing the hair cuticle. This enhances shine while preventing moisture loss from heat styling.
The Double Shot Hot Air Brush comes with a silicone-free styling serum to protect the hair from heat up to 450°F and smooth down frizz.
Because of its size and shape, it's difficult to style the roots of the hair with this hot air brush. It's not as pricey as the Dyson Air Wrap but it costs more than the other options on the list.
Best for Volume – Bed Head One-Step Hair Dryer and Volumizer Hot Air Brush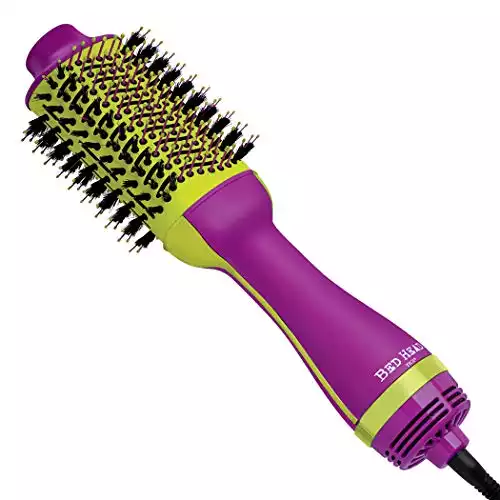 Key feature: tourmaline ceramic barrel with mixed pattern bristles
Temperature Settings: 3
Cold shot: Yes
Maximum Temperature: Not indicated
Add-ons: none
If you're after voluminous locks in one step, the Bed Head Blow Out Freak One-Step Volume Booster Dryer has your back. The brightly colored electric round brush has a built in ionic technology, thanks to its tourmaline ceramic components. It reduces frizz and static and removes dullness.
The Bed Head hair dryer and volumizer brush is a touch lighter and smaller than the Revlon hair dryer brush and also comes with a 1100-watt motor. They look and feel very similar, except for the colorways.
The head of the brush has an oval design which gives you more control when styling. It also enhances volume with the mixed pattern bristles.
The width of the brush is ideal for taming coarse and thick hair without creating frizz. It's easy to use with a fast heat up time.
The 6-foot swivel cord improves the styling experience but the handle needs to be more ergonomic. The hair tool is a little heavy and the handle is chunky, which makes it harder to hold.
The results, however, speak for themselves. This is a good addition to your hairstyling kit if you want quick styling.
A Guide to Buying a Hot Air Brush
Benefits
The hot air brush, or hair dryer brush, is steadily growing in popularity because of its convenience. It combines the drying power of a hair dryer with the styling prowess of a hairbrush. It can straighten, flip, and even curl the hair. Rotating hot air brushes are a cutting edge iteration of the traditional dryer brush. This is even more convenient because you don't have to twist the barrel yourself.
Types
Most types of hot air brushes are static, meaning they can't rotate. You have to wrap the hair around the barrel and comb it through yourself. However, the fixed hot air brush presents an advantage over rotating versions because the risk of tangling is vastly reduced.
Hot air brushes usually have a round brush barrel, which is convenient for gently curling the hair and flipping the ends.
These can also come in the form of a paddle brush but this form factor offers a limited number of hairstyles. It's only good for achieving sleek and straight hairstyles so if you're someone who prefers a blowout, a round barrel is the better pick.
Things to Look for in a Thermal Brush
Materials
The heating elements may be made of ceramic, tourmaline, titanium or a combination of these. The teeth omay also be made from these materials. These conduct heat effectively without burning the hair.
Some dryer brushes also have ionic technology which reduce static and frizz. They can also be made of aluminum, a more affordable material. Aluminum heats up quickly but has a higher risk of damaging the hair.
Barrel Size
The manufacturer usually indicates the diameter of the product on the website or label.
A wider round brush will produce bigger curls and add body and lift. Slim round brushes, around one inch wide or smaller, are best for short hair or creating small ringlets.
The best barrel size for volume is about two inches, but this is only suitable for people with shoulder-length hair or longer. If you have hair that doesn't reach your shoulders, choose a barrel that's 1.5-inch thick or smaller.
Bristles
The bristles can be heated or non-heated. If you prefer heated bristles, make sure they are of high quality and can withstand the heat without melting.
You also have to consider the spacing and size of the bristles on the brush. If you have long or thick hair, wide-spaced and longer bristles are better. If you have short or fine hair, it's better to opt for short bristles that are more tightly-packed.
Heat Settings
Multiple heat settings are a must when styling your hair. These can be preset or have variable temperature that you can adjust yourself.
For people with less experience, preset heat settings are more convenient. Variable temperature settings give you more room to experiment but in less skilled hands can be a recipe for disaster.
A cool shot is also a good feature to have, as well as intelligent temperature sensors that limit the heat emitted by the brush to protect your hair from damage.
Dual Voltage
A heated hair brush with worldwide voltage compatibility is a safe choice to take with you on trips. It also eliminates the need for a converter.
Hair Dryer Brushes FAQs
Are brush hair dryers bad for your hair?
All heat styling tools carry a risk of heat damage, especially when used improperly. To reduce the chance of damage, apply a heat protectant before styling and use a suitable heat setting for your hair type.
Limit how many times you use a hair dryer brush (around two to three times a week) to prevent split ends, dryness or breakage. Everyday usage is a no-no, in my book.
These heated hairbrushes can be safer to use than flat irons or curling tongs because they don't press the hair on hot plates. Hot air is its main heat carrier.
An ionic function and gentle material like ceramic also drastically reduces the risk of heat damage.
How do you clean a hot air brush?
To keep your dryer brush in excellent shape, remove hair that has clung to the barrel, as well as any product build up. Wiping it with a cloth every few uses can help keep it clean.
Wrap Up
A hair dryer brush is a two-in-one tool that speeds up styling without sacrificing results. It eliminates the hassle of sectioning hair and uisng a curler or flat iron to clamp down on strands.
The best hair dryer brush for you depends on the condition of your hair. For most people, the Dyson Air Wrap Complete Styler is my no-brainer recommendation and it's the complete package for all styling needs.
Leah Williams
Leah Williams is the founder of Lucky Curl and has been in the hair care and styling industry for the last 15 years. Since then, she has developed incredible expertise and a deep understanding of how to treat and style the most difficult hair types and is passionate about sharing her knowledge with the readers of Lucky Curl.