In an ideal world, we'd all wake up with perfectly tousled hair with shine and volume without lifting a finger. In reality, though, bedheads are a constant and hair requires upkeep. If you want hair that looks effortless, get a hair dryer that takes the brunt of the work for you. Here are some options if you want the best hair dryer for blowouts.
Best Hair Dryer for Blowouts – 5 Options for Salon Quality Styling
1. BaBylissPRO Ceramix Xtreme Dryer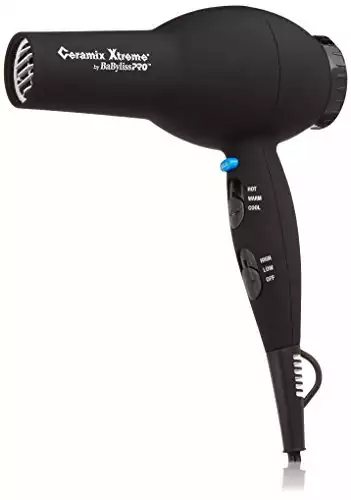 BaBylissPRO Ceramix Xtreme Dryer
Combines Ceramic and Ionic Technology
6 Heat / Speed Settings
Lightweight
2000 watts for ultra-fast styling
Uses far infrared technology
Buy from Amazon
We earn a commission if you click this link and make a purchase at no additional cost to you.
This isn't called the Ceramix Xtreme for nothing. It has the power to blow you away with 2000 watts under the hood. Even if you're not a professional, you'll feel like one with the extra mileage this will give you.
You get a blow dryer with a polished ceramic coating. It will give you even heat as you brush and shape your mane to a flawless blowout. This is gentle so it's safe to use on damaged locks. As it warms up your mane evenly, you also get a shot of negative ions cut drying time as it tones down static. This is what blowout dreams are made of.
The extended barrel is narrow for concentrated air power. Choose from the six heat and speed settings. Don't forget to seal it in with the cold shot button.
To intensify the air further, you also get a concentrator nozzle for a sleek finish. Sadly, there's no diffuser which can be a bummer if you have curly hair.
This hair dryer has a soft, rubberized handle so it's easy to hold. It's even fitted with a 9-foot long cord to help you maneuver the hair dryer easily. Last and not least is the removable filter that helps maintain the strong AC motor.
Just be careful not to drop this one because it will crack. It's a small disadvantage but at this price point, not a huge dealbreaker.
Pros
Has a 2000W motor
A ceramic blow dryer that's affordable and gentle
Great for damaged locks
Has ionic technology
Has a narrow extended barrel
Comes with a concentrator nozzle
Has an anti-slip handle
Comes with a long cord and removable filter
Affordable
Cons
BIO IONIC 10x Ultralight Speed Dryer
If you're serious about getting a powerful blow dryer with a build that's tough as nails, this is one of the best options.
The out-of-the-box design is a treat for the eyes and feels good on the hand. It weighs less than a pound which is surprising considering how it looks.
But the real star is the Bio Ionic dryer's 1800W brushless motor. They call it the EcoDrive. It's 50 percent more powerful than the average dryer and if you're power conscious, you'll be pleased to know it uses 75 percent less energy. It claims to dry hair in less than 10 minutes but that depends on how thick and long your mane is.
The brand has equipped the blow dryer with Volcanic MX, its own mix of volcanic rock and mineral complex. This heats the locks while adding moisture to your blowouts. You get a lustrous, glassy mane in less time because it seals the cuticle.
This dryer uses far infrared heat that dries strands from the inside so you don't spend an eternity waiting for your locks to dry. You also get adjustable speed and heat settings and a cold shot with this blow dryer which is what you'd expect from a dryer in 2020.
The cord length is more than enough at 9 feet, giving you more flexibility as you style. Best of all, this comes with a 10-year warranty which should appease any complications down the road.
The only downside with this one is the price but if you're dedicated to getting a salon-quality blowout, it's worth it.
Pros
Lightweight
Has an 1800W brushless EcoDrive motor that's more powerful than standard blow dryers
Uses less energy
Contains volcanic rock and mineral complex that moisturizes locks
Dries strands quickly with far infrared heat
Has adjustable heat and speed settings plus a cold shot
Comes with a 9-foot long cord
Has a 10-year warranty
Cons
VAV 1875W Professional Hair Dryer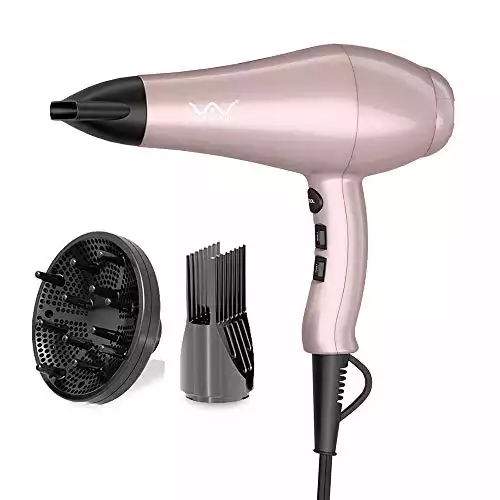 If you want to feel like a pro, this one gives the complete salon blowout experience for an affordable price. It's a complete package, starting with 1875W AC motor that's powerful enough to dry your entire head in minutes. This ceramic hair dryer gives off far infrared heat. The rays promote blood circulation on the scalp that stimulates the hair follicles. If hairfall is an issue for you, this is one of the best hair dryers to reduce breakage.
You also get a boost of negative ions that smooth down the hair strands and seal in moisture. To control the heat and airflow, choose from the 2 speed and 3 heat settings. Seal it all in with a cold shot.
The switches are conveniently placed on the front of the handle. You get three attachments with this hair dryer: a diffuser, concentrator, and comb. Use a combination of the concentrator and comb to separate hair into sections and focus the heat on one area at a time. I'm gonna warn you ahead though, these attachments fit very snugly on the hair dryer so it's difficult to change nozzles.
You also get a 2.65 meter long cord and an ALCI safety plug. There's also a double isolation rear end cap for cleaning.
Pros
An affordable hair dryer with a complete set of tools
Has a powerful 1875W AC motor
Gives off far infrared heat that reduces hair loss
Emits negative ions for smoothness
Has adjustable heat and speed settings with a cool shot
Switches are located in a convenient place
Comes with three attachments
Has a long cord and a safety plug
Fitted with a rear end cap
Cons
The attachments fit tightly and can be hard to remove
Revlon 1875W Infrared Hair Dryer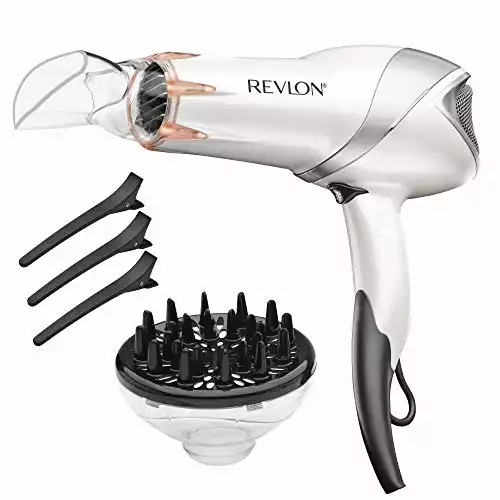 If your hair is damaged and you don't want to risk overdrying it, this hair dryer by Revlon is one of the best hair dryers for the job.
It uses infrared heat that penetrates deep into the core of the hair shaft so that your hair dries from within. It's less abrasive and cuts down drying time. This is a ceramic tourmaline blow dryer that helps prevent heat damage.
The triple coated ceramic barrel plus the natural ionic technology from the tourmaline work effectively to give you shiny, healthy blowouts. It will tamp down frizz and flyaways so they don't cramp your style.
You can choose from two heat and two speed settings and there's also a cool shot button included. It's a bit bare bones as far as temperature controls go but if you have damaged hair, you don't need to go as hot as possible, especially with a 1875W motor.
You'll also get a concentrator and diffuser to customize your blowout even more. On the handle are professional rocker switches that are accessible and secure.
This blow dryer is reasonably priced but if I were to nitpick, I wish the weight was more evenly balanced. It feels quite heavy and the handle is not comfortable to grip, plus the switches are located in an awkward place.
Pros
A great hair dryer for hair that's damaged
Uses far infrared heat that's gentler on hair
The ceramic tourmaline prevents damage and smooths hair
Has adjustable temperature and speed plus a cool shot
Comes with a concentrator and diffuser
Has rocker switches
Affordable
Cons
A bit heavy and the handle is not ergonomic
Drybar Buttercup Blow-Dryer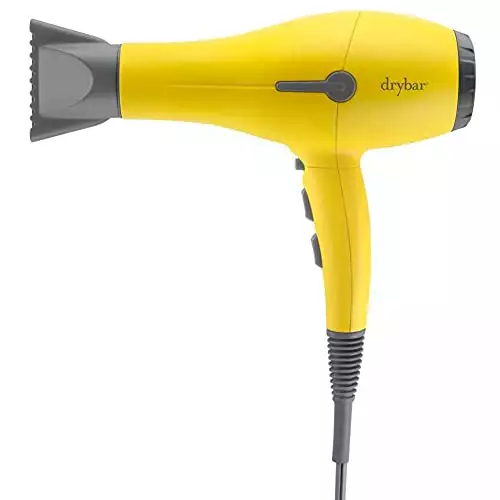 If you want to recreate the Drybar experience at home, the Buttercup is the perfect tool. This one is created specifically for blowouts and that's no surprise since the Drybar salon chain is known for their blowouts.
The Buttercup has an ergonomic design, making it easy to hold and maneuver. The 1875W motor fuels even marathon styling sessions comfortably. It gives fast results, cutting down dry time by 20 percent.
For that sleek look, you get an ionic function that reduces frizz and adds shine. The technology is accentuated by a wave heater that distributes heat evenly throughout your locks. You've got 3 heat and 2 power settings to personalize your blowout.
To sweeten the deal are not one but two concentrator nozzles with different widths. One is wider to tackle large sections of hair and dry thick hair fast. The other is a narrow concentrator for precision styling which is best for sleek styles.
You also get a professional length cord that's 9 feet long.
A small con with this product is its weight. It's heavier than standard hair dryers.
Pros
A hair dryer created for the best blowout
Has an ergonomic design
Equipped with a powerful 1875W motor
Contains an ionic function for eliminating frizz and adding shine
Has a wave heater for even heat distribution
Has adjustable heat and power settings
Comes with two concentrator nozzles
The cord is 9 feet long
Cons
It's heavier than average
Choosing a Hair Dryer for a Jaw-Dropping Blowout
A good hair dryer lays the foundation for the perfect blowout. Just as a craftsman needs the right tools, you need to be armed with a capable hair dryer. The best hair dryer will give you shiny and volumized hair that lasts all day. But with so many options on the market, how do you even begin? Consider this a cheat sheet to buying the best hair dryer for a chic, runway-ready blowout.
What hair dryer do salons use?
Hair stylists have their own preferences when it comes to hair dryers so it's hard to name a single brand that they all flock to. What they all have in common though is durability and high wattage. Salons invest in high quality professional hair dryers because they attend to hundreds of clients. Dryers that last a long time with powerful motors are essential.
What are the advantages/benefits of a hair dryer vs a hot air brush?
A blow dryer's main purpose is to dry the hair. When used in conjunction with a round brush, you can use it to shape hair, create flicks and add volume. This is a two-handed affair and you need to get your technique right if you want to replicate the results you get from a salon.
A hot air brush is a hybrid tool that promises to cut down on your styling time and create volume in the hair. This is amazing for nearly effortless styling because the air brush gives off hot air as it combs through the locks.
However, hot air brushes don't get as hot or powerful as hair dryers, meaning it will take a long time to dry your hair. It's also recommended to pre-dry your hair before using a hot air brush.
How to choose the best hair dryer for the perfect blowout
Is ceramic or ionic hair dryer better?
Ah, the age old hair dryer question. These terms aren't just marketing ploys but I understand it can be confusing when scanning the choices in the nearest store or trusted website.
Ceramic is not just for dinnerware. It's used as coating on the inner part of a blow dryer. A popular, cost-effective choice, it heats hair evenly. When using heat in styling you want consistent temperatures, which a ceramic hair dryer provides. It ends up being more gentle on the hair, making it ideal for thin and fine hair.
Ionic hair dryers, on the other hand, emit negative ions which break up water molecules. Water has a positive charge so they cancel each other out. Ionic dryers also seal in moisture in the cuticle, that is the outer shell of your hair strand. This feature helps tamp down frizz, giving you smoother results.
Thankfully, you don't necessarily have to choose between ionic and ceramic because many blow dryers are a hybrid of the two.
How easy is it to use?
The buttons or switches should be clearly labeled and clicky. They should ideally be located in an unintrusive location that's easily accessible but not too accessible that you accidentally click on them when using the blow dryer.
Also look for a long cord so you don't unplug the device when you raise the dryer over your head when styling. A lightweight blow dryer with an ergonomic handle will feel better on the hand.
Are there temperature and speed controls?
The ability to switch between different heat and air settings is a must. A cold shot button is great for setting your blowout.
How fast can it dry the hair?
Wattage tells you how powerful the hair dryer is. More wattage means you spend less time drying your hair. Experts recommend at least 1800 watts, especially if you have thick hair. Less time spent drying means less damage.
Does it come with any attachments?
A concentrator nozzle is best for a sleek blowout. These focus the hot air on small sections of the hair which straightens the hair quickly.
Diffusers are useful for dispersing the heat evenly on the hair which adds bounce and definition to curly hair.
What is the best hair dryer for damaged hair?
If you have damaged hair, go for a gentle blow dryer made of ceramic, or better yet, ceramic tourmaline. These have even heat distribution and emit negative ions which dries hair faster with less heat, which is also good if you have fine hair. Definitely stay away from titanium because it can be too harsh.
What other features are good to have in a hair dryer?
A removable air filter can prolong the life of your hair dryer and makes it easy to clean when lint and debris build up. A quiet hair dryer is underrated but makes a difference in ease of use.
What's the best way to use a hair dryer for blowouts?
After you shampoo and condition, dry your locks thoroughly, removing excess moisture. Detangle your already damp mane with a wide tooth comb or brush. Next, use a heat protectant on the lengths. This serves as a barrier for the cuticle that prevents heat damage.
Then, set your dryer to a low or medium heat and blow dry as you run your fingers through your locks. Continue until hair is at least 60 percent dry.
Attach the concentrator nozzle to the hair dryer and prepare your brush of choice (boar bristle and round brushes are best). Section your strands with clips to make the process more manageable. Brush down each section with the dryer pointing down the strands. Repeat until you've finished all the sections.
Once you're done, don't forget to apply a finishing cream or oil to dry hair to lock in moisture and keep your mane shiny.
For a more in-depth look on how to do an at-home blowout, watch this video.
Final Thoughts
These hair dryers prove that you too can achieve a salon-quality blowout at home. Not only is this friendlier to your beauty budget but it's convenient. You can style your hair with one push of a button.
The best one of the bunch is the Bio Ionic 10x Ultralight Speed. It nails down the basics. It feels good on the hand and lightweight without sacrificing build quality. It has a powerful brushless motor that uses less energy. The dryer uses far infrared tech to dry the strands from the inside, which is the best feature if you're short on time. Probably the best part is its generous 10-year warranty. All in all, it's an amazing deal for the blowout aficionado.
Leah Williams
Leah Williams is the founder of Lucky Curl and has been in the hair care and styling industry for the last 15 years. Since then, she has developed incredible expertise and a deep understanding of how to treat and style the most difficult hair types and is passionate about sharing her knowledge with the readers of Lucky Curl.