Hair dryers for men aren't a novel thing. They've been in use since the 20th century when long flowing locks ala Farrah Fawcett were all the rage and both men and women sported voluminous hair. Now, even short hair dos can benefit from the transformative powers of a blow dry. Here are some candidates for the best hair dryer for men, so you don't have to share one with your girlfriend.
Best Hair Dryer for Men – 5 Top-Rated Dryers Reviewed
1. Dyson Supersonic Hair Dryer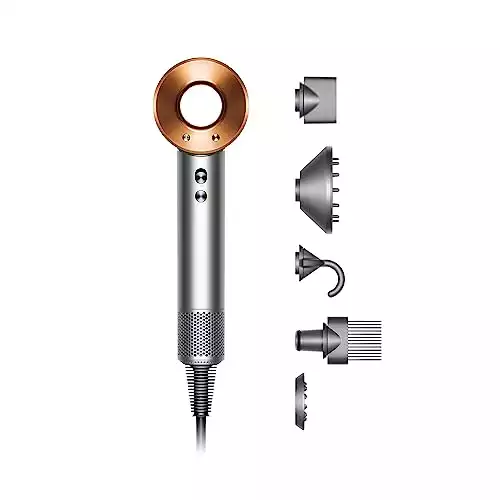 Dyson Supersonic™ Hair Dryer
Built with powerful Dyson V9 motor and patented Air Multiplier Technology for less heat damage
Comes with magnetic styling attachments
Designed with negative ions to reduce static and frizz
Suited to all hair types
Buy from Amazon
We earn a commission if you click this link and make a purchase at no additional cost to you.
09/09/2023 05:30 pm GMT
This hair dryer is one of the best hair dryers for men who enjoy the finer things in life. If you want a state-of-the-art gadget slash grooming tool and are willing to pay a pretty penny, you won't go wrong with the Dyson Supersonic. It has an elegant, minimal look that screams premium.
This tiny but mighty hair dryer is equipped with a powerful V9 digital motor that blasts high velocity air. It's amazing for hectic mornings when you just want to head out the door fast. There's also an intelligent heat control that monitors the temperature 40 times per second, going the extra mile to ensure your hair is protected from heat damage.
The high quality hair dryer is lightweight and good to hold. It feels balanced because the motor is housed in the handle, instead of the barrel. At the push of a button, you can change the speed and heat settings. Use the cold shot after you style for a blast of cold air to set your hair.
There are three attachments included, including a diffuser, and they all click on magnetically to the dryer. The Dyson Supersonic hair dryer gives off negative ions to ward off static in the hair. Even at its highest heat setting, it stays cool to the touch with the heat shield technology.
A minor quibble is the bulky cord attached but it can resist tangling due to the thickness. A more pressing concern in the hair dryer's price. If you can justify it, you'll get one of the most modern hair dryers on the market.
Pros
Has a powerful V9 digital motor
Equipped with intelligent heat control to prevent heat damage
Ergonomic and lightweight
Has adjustable heat and speed settings with a cold shot
Comes with three magnetic attachments
Produces negative ions for static-free hair
Stays cool
Cons
Has a bulky cord
This is an expensive hair dryer
2. ghd Hair Dryer, Powerful 1600W Professional Strength Blow Dryer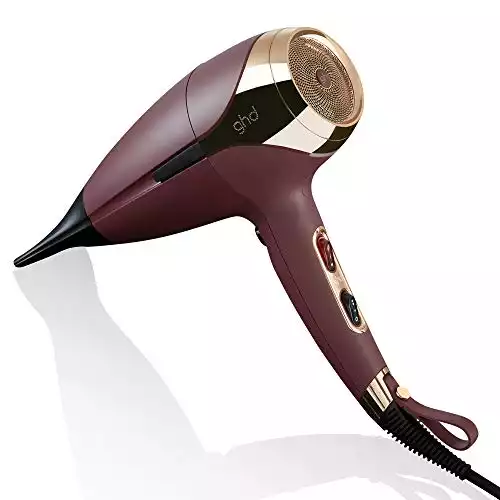 This hair dryer by ghd, which stands for good hair day, is powerful and well-built. This is perhaps one of the best hair dryers for men with all the essentials you'll need at a price that's lower than the Dyson.
It has 1600 watts of power that's able to tackle even the most stubborn coarse hair. The stylish body houses a professional-strength motor so you can be assured this is a keeper. You won't have to shell out for premature replacements down the road.
It even has ionic technology which cuts through water molecules, so you can dry your hair faster while it banishes frizz. It's sleek design will be a wonderful addition to any countertop while that ergonomic handle makes it pleasant to hold, even if you're left handed.
You get the usual heat and speed settings with a cold shot for a well-rounded hairstyle that stays in place. The cord is 2.7 meters long so you don't have to worry about unplugging it accidentally when you stray too far from the power outlet. The ghd Hair Dryer is priced reasonably for the quality.
A downside with this one is its weight. Some users report it to be a bit heavy but if you're not making complicated styles with it, you won't have to carry it for a long time anyway. It also
Pros
Contains 1600W of power
Has a professional strength motor
The hig quality hair dryer is sleek and stylish
Has ionic technology that emits negative ions
The handle is ergonomic, made for both right and left-handed users
Has customizable heat and speed with a cold shot button
Has a long power cord
The price is reasonable
Cons
It's a heavier hair dryer
3. Conair 1875 Watt Ionic Ceramic Fast Drying Lightweight Hair Dryer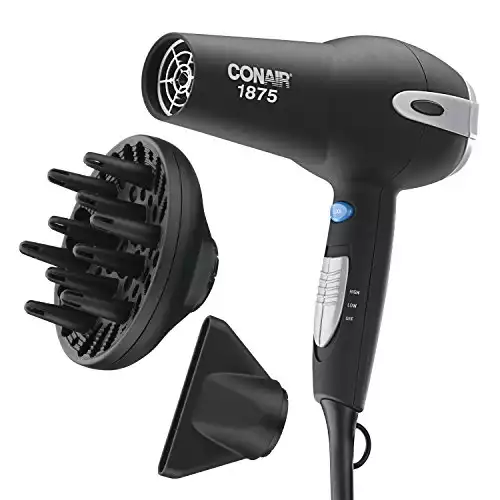 This hair dryer is perfect for low maintenance men who just wants a hair dryer that gets the job done. If you use a hair dryer sparingly, this get you through most hair sessions.
It's a well-reviewed dryer that's affordable, perfect for those on a budget. It's a 1875 watt tourmaline ceramic hair dryer so it's both powerful and gentle. Drying your hair quickly won't be a problem, even if you have thick hair. The tourmaline conditions hair and prevents heat damage so your locks look lustrous and healthy.
The hair dryer is lightweight, possibly because it has a DC motor, instead of AC. It weights less than 2 pounds. You can choose from 3 heat and 2 speed settings. The cold shot button is nice to have at this price point. You also get a diffuser and concentrator for both sleek and curly hairstyles.
The handle is comfortable to hold and designed not to slip. The 5.5 foot power cord is a welcome feature. You can also access the filter on the rear cap so you can clean and lengthen the lifespan of the hair dryer.
That said, the build quality is what you'd expect from a hair dryer at this price range. It's not made of premium materials, just plastic. The coating also has a tendency to rub or peel off.
Pros
An affordable hair dryer with great reviews
Contains 1875 watts of power
The tourmaline ceramic naturally generates negative ions and drys hair quickly
Lightweight
Has multiple speed and heat settings with a cold shot button
Comes with a diffuser and concentrator
Easy to hold anti-slip handle
Has a substantial power cord length
Has a filter for easy cleaning
Cons
The build quality isn't the best and the coating peels off
4.Remington D3190 Damage Protection Hair Dryer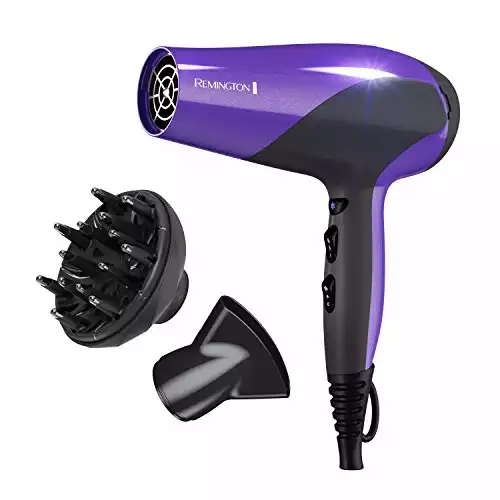 This is one of the best hair dryers for men who want damage protection because it's made of ceramic tourmaline and contains an ionic function. This is also one of the best hair dryers for men hesitant to splurge on a hair dryer or are on a limited hair budget.
This hair dryer keeps your hair healthy while you blow dry. It does this through an advanced coating technology and microconditioners. Drying your hair until it's nearly fried can cramp your style in the long run so it's best to prevent it through gentle drying.
This hair dryer may be affordable but its power is nothing to shrug at. It will dry hair fast with 1875 watts of powerful air. The ceramic tourmaline is a natural ion generator. The grill is made from tourmaline while the body is ceramic which gives off even heat. This hair dryer is the best tool for cutting down frizz and flyaways if you want that sleek look.
You can control the heat with three heat settings and two speed settings. Adjust accordingly to your hair type and remember to use the low heat setting if you have fine hair. There's a cool shot button, handy for a gust of cold air after you style to set your hair in place.
You'll also get a concentrator and diffuser for precise styling. A plus for the price is the hang loop and removable filter.
The hair dryer is lightweight but it's a bit cumbersome to use because you can accidentally press the buttons while drying your hair.
Pros
One of the best hair dryers for protecting hair from damage
The ceramic tourmaline heats hair gently
Has an advanced coating technology and microconditioners
Affordable and lightweight
Powerful with 1875 watts
Emits negative ions for eliminating frizz
Has three heat settings and two speed settings with a cool shot
Comes with a concentrator and diffuser
Has a hang loop and removable filter
Cons
Buttons are located in a place where you can click them by accident
5. MHU Professional Salon Grade Hair Dryer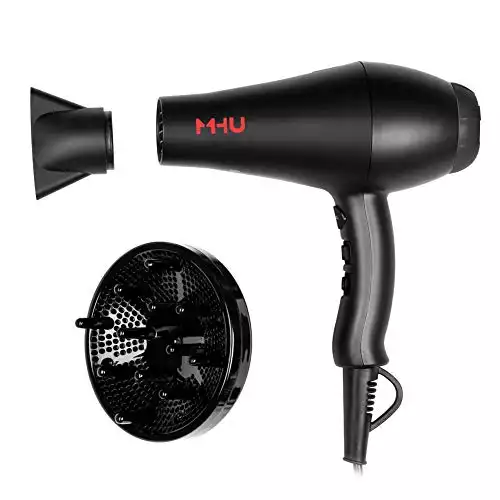 This is one of the best hair dryers for men who want a midrange hair dryer with professional features. It's especially suited for men who want dry hair fast.
The salon-grade hair dryer has an 1875 watt AC motor with low noise. It doesn't rumble so you don't wake the neighbors, your spouse or your dog. It gives off strong gusts of air which you can control with 2 options for speed and 3 heat settings. There's also a button to activate cool air.
The hair dryer uses a combination of far infrared heat and ionic technology. Far infrared heat goes deep into the hair strand, gently warming up the hair from the inside to cut down on hair drying time. You'll get shinier and smoother hair, something all hair types can benefit from.
The negative ions produced by the hair dryer will break down water droplets in the hair for an even faster dry. If you have curly hair, the diffuser will be a go-to. For sleek styles, use the concentrator. All hair types should use a priming product before styling.
Other good features include an ergonomic handle, a removable lint filter, an extra long heatproof cord and a hook for storage.
The hair dryer weighs less than a pound but it's not a compact hair dryer. If you're looking for a hair dryer for travel, this will take up a lot of space.
Some users also report that the nozzles don't fasten well to the lip of the hair dryer. If you're going to be using the attachments regularly when you dry your hair, this might be a dealbreaker.
Pros
The best hair dryer for a midrange budget
Equipped with an 1875 watt AC motor
Noise level isn't high
Has three speed settings and three heat settings
Uses far infrared heat for fast drying
Emits negative ions
Comes with a diffuser and concentrator
Easy to hold with a long cord
Has a lint filter and hook
Cons
It's light but big
The attachments fall off easily
How to Choose the Best Hair Dryer for Men
Not all hair dryers are made the same. Some get the job done better than others. Here are a few things to consider to make sure you buy the best hair dryer for you.
Power
More power means faster hair drying time. You get more power the higher the wattage of the hair dryer. There's no magic number for the perfect wattage. Something with at least 1300W is a nice start but if you have thick hair, you may want to push it to 1850W or higher.
Material
This refers to the component in the body of the blow dryer. The most common ones are ceramic, tourmaline and titanium. Ceramic is gentle on hair and delivers consistent heat, meaning no singeing. Tourmaline is a precious stone that emits negative ions, which break up water droplets, giving you a quicker dry. This is best for thick, coarse hair. Titanium is the most heavy duty because it transfers heat exceptionally well and can get very hot. This isn't for thin or damaged hair.
Ease of Use
Trust me when I say you'll want a lightweight hair dryer. It's simply easier to use and places less strain on your hands and wrists. Look for an ergonomic handle that fits the palm well.
Heat Settings
The ability to control temperature on your blow dryer is a must so you don't end up with heat damage. Choose a low heat if you have fine hair and higher heat for thick hair.
Cool Shot
Hair dryers often have a button that blows cool air. This is meant to be used after you style your hair to set it.
Cord
For convenience, get a swivel cord with a length sufficient enough to reach your power outlet from the place where you style your hair.
Attachments
These are great add-ons to reap more benefits from your hair dryer. A concentrator nozzle is excellent for achieving a sleek finish while you dry your hair. A diffuser is essential for men with curly or wavy hair.
What's the best/easiest way for guys to use a hair dryer?
Preparation is key before you dry your hair. Make sure you start with towel dried hair. Sopping wet locks are vulnerable to damage. Use a heat protectant to prime your hair for styling. Apply it all over your mane.
Reach for your styling product of choice and distribute it through damp hair. This is so your hair is frizz-free and smooth. Then you can start blow drying.
Don't start with the high setting. Let your hair slowly warm up to the heat. Be gentle and keep the dryer a good distance from your scalp. If it's burning your head, you're doing it wrong.
Once you're done brushing and drying your hair, now's the time to use that cool shot button. Seal in your hard work with a blast of cold air. To lock your 'do further, spritz hairspray for an all day hold.
Watch this in action by clicking on this link for a how to video.
Conclusion
Add some pizzazz to your hair by stepping up your styling game with these hair dryers. These are something you won't realize were missing from your arsenal until you try it. I'm not saying you need hair dryers to complete your life but you definitely need them to elevate your hairstyle from drab to fab.
Of these five hair dryers, I recommend the ghd hair dryer, a product that's a nice entry point to the world of heat styling. You don't need expensive hair dryers but you do get what you pay for. This product will last you a long time with its excellent build quality. It's powerful so you can dry your hair quickly without too much fussing. I like that they designed this for both left-handed and right-handed people. Best of all, that ionic technology may sound like mumbo jumbo to you but they work. You can thank me later.
You can't go wrong with any of the hair dryers mentioned here but if you're totally clueless about what you need and what you don't, the ghd has everything you'll ever need as a modern man.
Leah Williams
Leah Williams is the founder of Lucky Curl and has been in the hair care and styling industry for the last 15 years. Since then, she has developed incredible expertise and a deep understanding of how to treat and style the most difficult hair types and is passionate about sharing her knowledge with the readers of Lucky Curl.