There are many reasons why your hair is dry. It could be a result of  chemical damage, over styling or simply using the wrong products. Whatever your reason, a moisturizing shampoo is a great way to start helping your hair recover from dryness. It's important to look for ingredients that provide added moisture (think: coconut oil, Abyssinian oil and shea butter). By staying clear of sulfates (detergents that strip hair of moisture) and petrolatum (an ingredient that's known to suffocate the hair cuticle) can also help with improving hair hydration.
We've done the work for you and reviewed 5 amazing products to find the best shampoo for dry hair.
Best Shampoo for Dry Hair – 5 Products for Hair Hydration
Finding the best shampoos for hair strands that are quite dry or are heavily damaged is going to be a challenge especially when you don't know what to look for. I understand that it can frustrate you for not landing the right one, so I made a list of options that you can start with.
Oribe Shampoo for Moisture & Control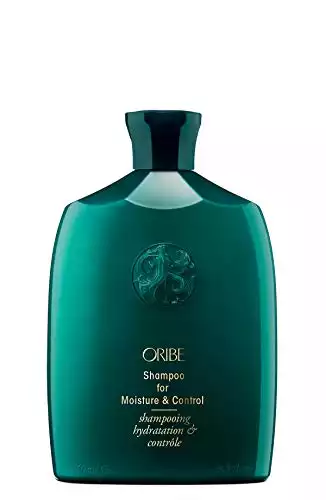 We earn a commission if you click this link and make a purchase at no additional cost to you.
If you are looking for a shampoo that is best for curly hair, kinky hair, or thick hair even, Oribe Shampoo is just the thing for you. Aside from its gorgeous bottle, I was impressed with the fact that it can help with the devolumization issues that those who have kinky, thick, or curly hair tend to deal with. By lessening the volume, this shampoo gives you more control over your tresses which is essential to damaged hair. It nourishes the hair while remaining sulfate free so you can breathe easy knowing that this product will not make your brittle strands worse.
If you take a look at the label, you will find that its key ingredients are Lychee, Watermelon, and Edelweiss flower extracts which are chosen because of their ability to protect your hair from oxidative stress. Even when you have color treated hair, you will find that this shampoo does help lessen the damage and stress on your mane which is quite pleasant given that your colors will stand out even more.
Pros:
Can be used on kinky, curly, and even thick hair.
Key ingredients include Edelweiss flower extract, watermelon, and lychee.
Protects strands from oxidative stress.
Cons:
It is expensive for just a shampoo.
Some users complained that the product made their hair worse.
It may not nourish dry strands well.
Olaplex No.4 Bond Maintenance Shampoo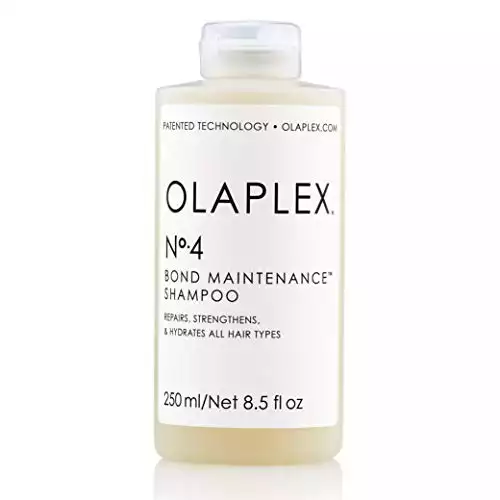 What hair care should you give your dry and damaged mane? If you have split ends because your hair has become dry and brittle, Olaplex' shampoo may just be the one you need. For starters, this product can be used even for those who have color treated hair. It is designed to help revive dry and damaged strands using ingredients that are safe on both scalp and strands. You don't have to worry about harsh chemicals like sulfates, phthalates, and parabens. This shampoo is very much safe to use on your own mane.
It does sound promising when it says that it can repair split ends, frizz, and even any damage to your mane. It does deliver plenty of moisture which, when used regularly, may help rejuvenate your strands until they become healthy and well protected from the elements. As the name suggests, this shampoo will bond your hair's cuticle to keep it from lifting or breaking.
Pros:
Ideal to use even on color treated hair.
Doesn't contain harsh ingredients like phthalates, parabens, and sulfates.
Can tame frizz, flyaways, and damage to the ends of your mane.
Cons:
One user noticed that her hair became dryer after using it.
May have some side effects on those who have sensitive skin.
It can cause itching and dryness on the scalp.
Davines Momo Shampoo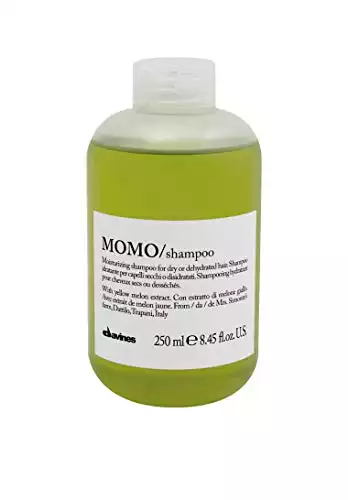 Davines Momo Shampoo is worth checking out if you need help with your rough and brittle strands. That straw-like strands can make your overall look a bit dull and uninspired but Momo Shampoo may help. What makes this item a good option is that it offers deep moisturization which is clearly needed by brittle and rough textured hair. It comes with a melon extract which has been found to boost your hair's overall health while the rest of the ingredients are sourced from high quality farms.
It does have a gentle cleansing property which can be attributed to the natural ingredients used in this shampoo. You will find that it foams rather quickly, but it will not weigh your mane down. Once you have rinsed your strands, you will notice that it is lighter, fresher, and more manageable too. Your dehydrated strands will look better after washing them with this shampoo, that's for sure.
Pros:
It offers deep moisturization properties that make it a good option for those whose hair is rough and prone to breakage.
It foams quickly so a little goes a long way.
It cleanses hair and scalp gently.
Cons:
One user noticed that it left a residue on their hair.
Another commented that it did not help with the condition of their mane.
It may be too strong for some users.
Bumble and Bumble Hairdresser's Invisible Oil Sulfate Free Shampoo

We earn a commission if you click this link and make a purchase at no additional cost to you.
Hairdresser's Invisible Oil Shampoo by Bumble and Bumble can also be considered if you are looking for the best hair product that can alleviate the dryness of your strands. What piqued my curiosity was that it was designed for all hair types. This may mean that I don't have to buy different products at home for the family as this will do already. What's the secret behind this product, you ask? Well, it makes use of six types of oils that are lightweight so they can moisturize damaged strands without weighing them down.
This moisturizing product can help tame any frizz, knots, flyaways, and split ends too when used regularly and in conjunction with its conditioner. What else is there to like about this hair product that is free from sulfate? It adds a layer of protection to your hair and scalp thanks to anti UV radiation features. I think this will come in handy since too much heat can also get rid of the moisture found in your scalp and strands.
Pros:
Can be used on all hair types.
Makes use of different types of oils that nourish the scalp and strands.
Offers heat protection coming from the sun and styling tools.
Cons:
One user complained that it dried her hair too much.
The price is a bit steep.
There is not much difference with regular hair cleaning products.
John Frieda Frizz Ease Daily Nourishment Shampoo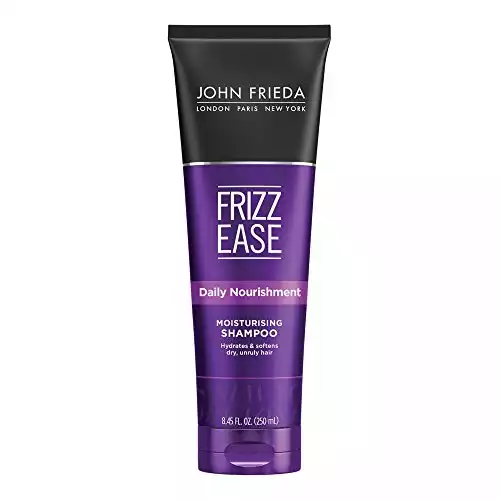 Worried that your brittle strands have become way too frizzy for your taste? It appears that John Frieda's frizz ease really does the work of taming any frizz and flyaway strands. You can even use it if you have colored your hair which is a treat, given that dyed hair requires moisture to help revive it. And it doesn't just nourish your moisture-starved strands, it also provides a layer of protection around it to prevent heat from affecting it even further. If you are worried that your rough strands are going to get worse because of the wrong hair product, John Frieda has got you covered.
What you'll love about this nourishing product is that it will help repair and revive your brittle and rough strands regardless of whether you have fine hair, kinky, or thick strands even. This Frizz Ease Daily Nourishment contains ingredients such as green tea extract, vitamins A, C, and E just to name a few. These nutrients aim to help repair brittle and damaged strands so you can be more confident with the way your mane looks.
Pros:
Takes care of frizz and flyaways with ease.
Nourishes and rejuvenates brittle and rough strands.
Protects mane from further damage caused by intense heat from the sun or styling tools.
Cons:
One customer complained that the smell was too strong.
It feels heavy causing the hair to get weighted down.
It's a bit sticky when applied and it doesn't do much nourishing too.
How to Choose the Best Shampoo for Dry Hair?
Not all shampoos that are designed for dry hair can deliver results. There are those that come with alcohol ingredients that can make your strands look worse than normal. The question now is, how will you be able to find the right shampoo for dry hair?
Scalp Type.
First things first, you need to figure out what your scalp type is. If you have an oily scalp, you will need to skip using shampoos that do not contain moisturizing, hydrating, or even good for those with curly hair because they already contain too much moisture that can only worsen your scalp's condition. On the other hand, if your scalp is dry, itchy, and flaky, then a shampoo that has hydrating properties is worth getting.
Moisturizing and Hydration.
Since we are talking about dry and brittle hair, another factor that you should look for in a shampoo is its moisturizing and hydrating properties. A shampoo that contains moisturizing properties can help nourish your strands so they will not look frizzy and wild.
Sulfate Free Shampoo.
Check the label of the shampoo and see if it contains sulfate. If it does, look for something else that doesn't have this ingredient. The problem with sulfates is that they can remove natural sebum on your scalp which can lead to further dryness which you are trying to avoid.
Low pH Levels.
Another factor that you need to consider is to go for a shampoo that comes with low pH levels. A high pH level can cause further damage to your already brittle strands. Stick with those that have moisturizing properties because they usually have low pH levels.
Skip Volumising Shampoos.
It is quite tempting to use volumizing shampoos just to give your dry hair that extra lift, but experts do not recommend this. One reason behind this is that the chemical components of volumizing shampoos tend to be too harsh on your mane that they will do more harm than good.
Oil is Important.
What other factors should you consider when shopping for a shampoo based on your hair type? For dry hair, using shampoos that contain oils like coconut and essential will be helpful to your strands. They will help attract more moisture on your scalp which can help solve the dryness.
Check Ingredients.
There are some ingredients in shampoos that you should look for if you want to save your damaged hair. Among these are hemp seed oil, jojoba oil, and tea tree oil. These three are known for their nourishing effects which can save your strands from further damage. Keep in mind that you need ingredients that will help deliver more moisture to your already thirsty strands.
Use the Right Conditioner.
Conditioning your already brittle hair is one of the steps that you will need to do to rejuvenate your strands. That is why it is best that you look for a conditioner that has nourishing properties to help lock in the moisture on your hair after you wash your mane with shampoo. Remember to concentrate on this product on the ends of your hair rather than the scalp.
Consider Organic.
If you are unsure which shampoo to use on your rough hair, start with the one that doesn't have too many harsh ingredients. A good option is here is to go organic. These are typically made from organic ingredients like essential oils so they are quite safe to your dry mane.
Final Thoughts
Which of these options are ideal for rough, damaged, and brittle strands? I think the Davines Momo hair product is a good product to start with. It is lightweight, it foams quickly, plus it leaves your strands feeling fresh. The ingredients are carefully chosen for their functions and the melons were sourced from farms. I think you will not find a fresher place to source your ingredients than on a farm.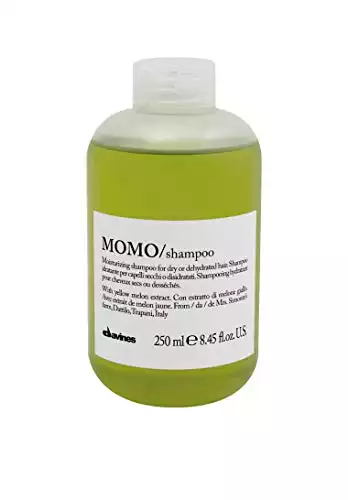 Leah Williams
Leah Williams is the founder of Lucky Curl and has been in the hair care and styling industry for the last 15 years. Since then, she has developed incredible expertise and a deep understanding of how to treat and style the most difficult hair types and is passionate about sharing her knowledge with the readers of Lucky Curl.