If you're experiencing hair loss, know that you're not alone. It's an issue that affects millions of men and women. Experts recommend a holistic approach for treating thinning locks but a good shampoo can support scalp health, which is the foundation of healthy hair. Read on to find out my pick for the best shampoo for hair loss, as well as tips and tricks.
Best Shampoo For Hair Loss – 5 Options for Thinning Hair
PURA D'OR Hair Thinning Therapy Biotin Shampoo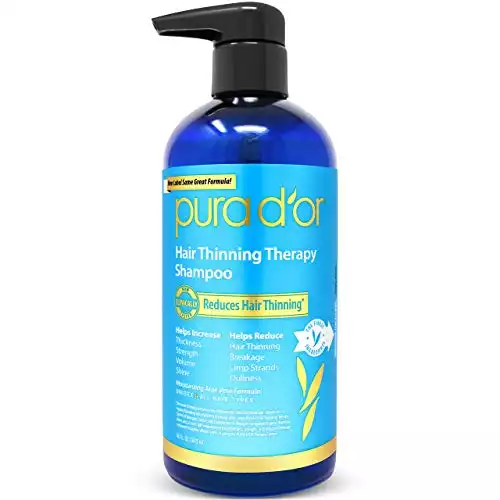 Tackle the root cause of hair loss with a densifying shampoo that contains DHT blockers and biotin, like this Pura D'Or Hair Thinning Shampoo.
This is one of the best shampoos for thinning hair because it's a workhorse product that increases strength, volume, and shine. It contains fifteen active ingredients including saw palmetto, he shou wu, and nettle extracts.
The hair regrowth shampoo cleanses the scalp and removes product buildup that hampers hair growth. It stimulates the hair follicles and reduces breakage and dullness.
The plant-based formula of this hair strengthening shampoo includes herbs and extracts like black cumin seed and tea tree oils. Combined with argan oil, this blend replenishes lost hair moisture and protects your hair from dryness.
The shampoo purifies your scalp without overstripping by using moisturizing aloe vera and plant oils. It also contains biotin, niacin, rosemary oil, and green tea which help to reduce hair loss and breakage, thus making hair look thicker & fuller.
The hair growth shampoo is vegan and cruelty-free and isn't made with harsh chemicals. It's color-safe and gluten-free so all hair types can use it.
The shampoo is stored in an easy-to-use pump bottle. However, you do have to be generous with the amount of shampoo to get a satisfying lather.
Pros
Contains DHT blockers and biotin
Has a blend of 15 active ingredients
Removes product buildup and cleanses gently to promote scalp health
Uses a plant-based formula with moisturizing aloe for thicker, fuller hair
Helps to prevent hair loss due to breakage
Cons
You have to use a lot to get a good lather
OGX Thick & Full + Biotin & Collagen Volumizing Shampoo for Thin Hair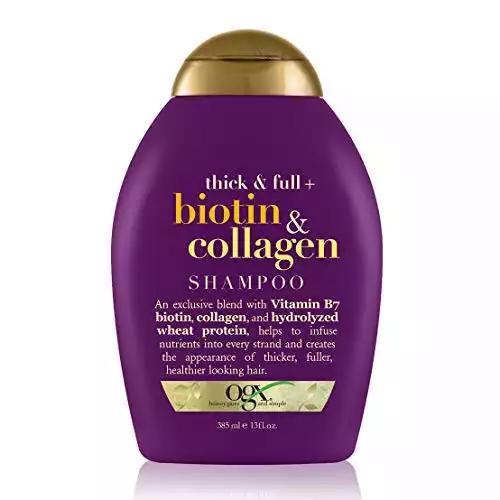 Another shampoo for thinning hair you need to consider is the OGX Thick & Full Biotin & Collagen Shampoo. This volumizing shampoo uses a gentle cleansing action to remove impurities without drying out hair.
The Biotin & Collagen Shampoo contains biotin, a B vitamin that contributes to the growth of healthy skin, hair, and nails. Supporting that is collagen, which is essential for the formation of new hair.
The OGX Biotin & Collagen Shampoo is one of the best shampoos to use if you want to create the appearance of fuller hair using hydrolyzed wheat protein which strengthens strands and reduces breakage. It polishes and plumps up the strands, helping to beef up thinning hair.
The nourishing shampoo has a color-safe formula that gives a frothy lather. It's free of SLS and parabens so it's a gentle cleanser.
I only wished they toned down the fragrance of the shampoo. Some users think it has a strong, lingering scent, which may be a drawback if you have a sensitive nose.
Pros
Free from SLS and parabens
Contains biotin for healthy hair growth
Collagen and hydrolyzed wheat protein help volumize and reduce breakage
Color-safe
Gives hair a fuller look
Cons
Kerastase Densifique Bain Densite Bodifying Shampoo
This shampoo has quite a name but if you're after bodacious, dense locks, the Kerastase Densifique Bain Densite Bodifying Shampoo is one of the best hair loss shampoos for you.
It contains thickening and hydrating ingredients that revive lifeless, limp strands. Hyaluronic acid is one of its key actives. It draws moisture into the hair cortex which lends the appearance of thickness to thinning hair.
The shampoo contains gluco-peptides which seep into the strand and help enhance your hair's smoothness for a healthy look. Ceramides and other nourishing ingredients restore the health of your hair and prevent hair breakage. The shampoo has a gentle and lightweight formula that cleans without stripping.
That being said, it's not the best option if you have color-treated or dry hair because some users have noted that it made their hair feel a bit dry. The price is also a bit expensive for the amount of product in the bottle. However, the strengthening shampoo a solid investment made by a trusted name in the hair care industry so I think it's worth the splurge.
Pros
Thickens hair using hyaluronic acid
Contains gluco-peptides which smoothen hair
Ceramides help to maintain the health of your hair
Gentle and lightweight
Good for all hair types
Cons
Not for color-treated or dry hair
A bit expensive
NatureLab Tokyo Perfect Volume Shampoo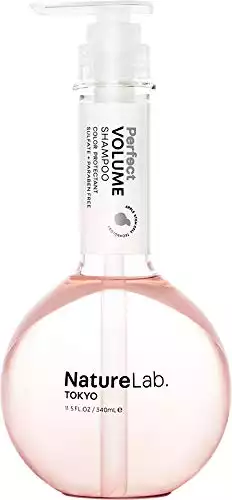 We earn a commission if you click this link and make a purchase at no additional cost to you.
This shampoo for thinning hair has been clinically proven to improve hair volume in just thirty days, making it one of the best shampoos in this category.
I like the NatureLab Tokyo Shampoo's clean laboratory-like bottle and the pump mechanism but the good stuff is what's in the formula. The shampoo contains a bunch of hair goodies that restore the health of your hair.
Apple stem cells take care of the scalp and hair follicles while rice protein moisturizes without weighing the locks down. The shampoo is color-safe, too, because it contains sakura extract which helps with color protection.
To reduce breakage, the shampoo also contains soy protein so hair grows thicker. This helps with hair loss by lifting residue that can contribute to a limp look and exacerbate the appearance of thinning hair.
This strengthening shampoo is also sulfate-free and made with NatureLab's proprietary botanical technology. I really like that it achieves all this with a reasonable price point.
However, if you're a fan of an intense shampoo lather, you have to look for more sudsy products because this one does not bubble up that much.
Pros
Affordable shampoo for thinning hair
Clinically-proven to increase volume
Easy to use bottle
Contains apple stem cells, soy protein, and rice protein
Color-safe, thanks to sakura extract
Cons
Bumble and Bumble Thickening Volume Shampoo
We earn a commission if you click this link and make a purchase at no additional cost to you.
Are you looking to give your hair a deep clean but don't want to make it look frail and parched? Try this thickening, nourishing shampoo.
The Bumble and Bumble Volume Shampoo may have a minimal ingredients list but minimal doesn't mean low-quality. It contains panthenol, wheat protein, and aloe vera gel.
Panthenol treats inflammation, a common cause of thinning hair. This ingredient also draws in water molecules so hair looks thicker. It hydrates and smoothens hair so your mane appears shiny and healthy.
This is a unisex shampoo made without parabens, phthalates, and formaldehyde and it's safe to use on color-treated hair. It is a bit expensive for 8 ounces of product so it's not for those on a strict budget.
The shampoo also does not grow back hair, nor does it claim to as it's a strictly volumizing shampoo. It's best to use this as part of a well-rounded approach to treating hair loss.
Pros
Simple and lightweight
Contains panthenol, an anti-inflammatory ingredient
Hydrating and smoothening
Also contains wheat protein and aloe vera gel
Unisex and safe to use on color-treated hair
Cons
A bit pricey for the amount of product you get
Not for hair growth
Shampoos for Hair Loss: How to Choose Products that Restore Hair Fullness
What's causing my hair to fall out?
It's normal to lose 50 to 100 hairs every day. Hair growth slowly decreases as we age, which is a common cause of hair loss.
Aside from genetic issues and aging, there are a lot of overlooked factors that contribute to meager strands.
When your hormones are imbalanced, your scalp may be affected. Hormonal distress may be caused by using or stopping oral contraceptives, having a baby, menopause, PCOS, and thyroid issues.
And then there's good ol' stress. Stress causes the rise of androgen levels, which affect the production of hair.
Another common hair loss culprit is diet and drastic weight loss. You may not be consuming enough vital nutrients such as iron and B-12. A drop in the scale can also affect hair growth.
Hair fall can also be caused by inflammation. When your scalp is riddled with flakes, dandruff, and other signs of irritation, it can lead to falling hair. You need an exfoliating shampoo to restore the health of your scalp.
If you're not sure about what's causing your hair to thin out, it's best to consult a doctor to address any underlying issues.
Do hair loss shampoos really work?
It's difficult to tell effective products from those peddled by snake oil salesmen. You need to be wise enough to navigate through false marketing claims and dubious reviews. To sift out the truth, you need to go to trusted brands and read genuine reviews so you ensure you're getting the real deal.
A shampoo made for hair thinning should have ingredients backed by scientific study.
Look for shampoos that contain hydrocortisone, ketoconazole, and minoxidil. Products using ingredients such as zinc pyrithione, B-vitamins, amino acids, ginseng, saw palmetto, and vitamin E may also help with hair loss.
You may also experience good results with strengthening shampoos that contain keratin, antioxidants, argan oil, and vitamins.
What are the benefits of hair growth shampoos?
It's important to note that shampoos for thinning hair are not cure-alls. They help with hair loss by improving scalp health and strengthening the locks. They can also make thinning hair appear fuller.
A good hair growth shampoo will deposit vitamins and nutrients that make hair grow thick and lustrous. They also fight inflammation by removing scalp buildup and unclogging hair follicles so they can absorb nourishing ingredients better.
A shampoo for hair loss prevents further damage by fortifying your locks. Dehydrated, brittle strands are vulnerable to breakage, which can contribute to sparse hair. A hair growth shampoo may stimulate your scalp to sprout healthier strands through active ingredients.
How to Choose the Best Hair Loss Shampoo
Find out the cause of the hair loss.
Before you buy, make sure you have figured out the underlying issue that's causing your hair to fall out. This helps you find the best product that will target the problem whether it be a biotin deficiency or a hormonal imbalance. After determining the culprit, you're on your way to hair growth.
Check the ingredients list.
The hair loss shampoo needs to contain an active ingredient proven to help with hair loss. You have to check the label and read user reviews to see if the shampoo has something to back up its marketing claims. Ingredients like ketoconazole (common in anti-dandruff shampoos) and other DHT blockers such as caffeine and saw palmetto show promise in promoting healthy hair growth.
Stick with one product.
Once you've chosen a hair loss and thinning shampoo, you need to use it consistently for at least six months for best results. Pair it with a complementary conditioner for extra nourishment.
Whatever you do, don't give up when you haven't seen a change in just a week. Even the best shampoos won't work overnight! These things can take time so be patient and stick with it.
How to Use a Hair Loss Shampoo Effectively
Once you see more hairs clogging the shower drain and other signs of thinning hair, it's time to use a hair loss shampoo. But how exactly do you use a densifying shampoo?
To start, massage the product on wet hair, just as you would a normal shampoo. Make sure you've covered the lengths of the hair and the scalp. A scalp massage stimulates the hair follicles and is good for blood circulation.
Let the shampoo soak before rinsing it off. This helps active ingredients penetrate better. Rinse well and use a conditioner afterward.
Check the instructions on the label to verify how frequently you should be using it. Some hair loss shampoos, such as an anti-dandruff shampoo, can only be used two to three times a week. In this case, you can alternate it with other hair fall shampoos.
Reading the instructions carefully is essential so you prevent more damage. You should also make sure you're not allergic to any of the shampoo ingredients. Follow the steps indicated or consult a doctor.
Final Thoughts
If you're after a shampoo for thinning hair, any of the products in this lineup will do but the best one is the Pura D'Or Hair Thinning Therapy Biotin Shampoo. It uses a powerful plant-based formula that contains biotin and a blend of 15 active ingredients for hair growth.
It's a hair loss and thinning shampoo that cleanses the scalp and uses moisturizing ingredients like argan oil for healthy hair from root to tip. I love that it contains DHT blockers, meaning it tackles the root cause of hair loss.
It's one of the best picks if you're looking for a hair loss shampoo, plus it's color-safe and vegan. The only catch is the price but if you're serious about addressing hair thinning, I think this nourishing shampoo is well worth it.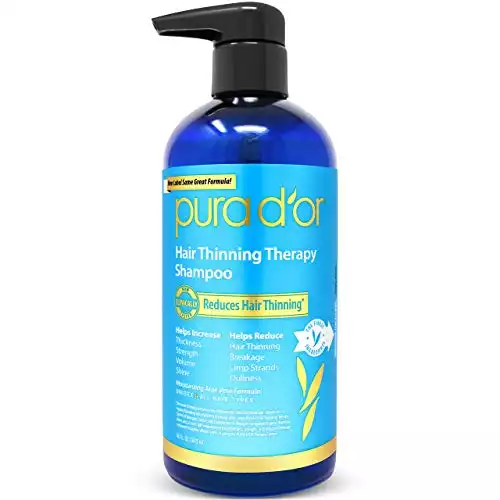 Leah Williams
Leah Williams is the founder of Lucky Curl and has been in the hair care and styling industry for the last 15 years. Since then, she has developed incredible expertise and a deep understanding of how to treat and style the most difficult hair types and is passionate about sharing her knowledge with the readers of Lucky Curl.