If you have oily hair, you know how tiring it is to wash your hair in the morning only to get greasy roots by the end of the day. Dry shampoo tones down shine but sometimes, it just doesn't cut it. The best shampoo for oily hair balances the scalp and cleans strands without overstripping your natural oils. I've compiled the most highly-rated shampoos that will give you the cleanest, most luscious locks.
The 6 of the Best Shampoos for Oily Hair
L'Oreal Paris Elvive Extraordinary Clay Rebalancing Shampoo
If you like mud masks for your face, you'll love clay for the hair. As clay removes excess sebum from the face, so will clay shampoos remove grease from your hair. This is one of the best shampoos for chronically oily locks.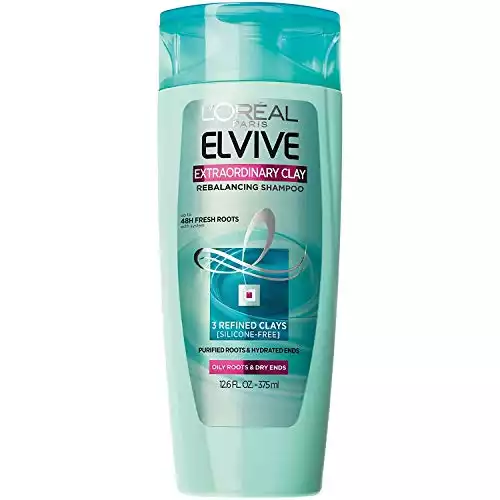 We earn a commission if you click this link and make a purchase at no additional cost to you.
This rebalancing shampoo does what it says on the label, that is, tackles oily roots while keeping your ends hydrated. It contains kaolin clay and salicylic acid which purify and exfoliate the hair and roots. Who knew these popular skincare ingredients work for hair, too?
The shampoo sops up grease with every wash. It feels creamy but when worked into the hair, produces a frothy lather. This shampoo keeps your oils at bay for up to 48 hours. It won't overstrip your locks and won't leave your hair feeling parched, especially on the ends, which is a common byproduct of harsh cleansing shampoos. The silicone-free formula uses three types of clay and it's been clinically tested for efficacy.
This clay shampoo is part of a line of haircare products, so if you want a comprehensive solution to your greasy hair needs, this is a good shampoo for you.
This shampoo contains sulfates, which isn't the best ingredient if you have color-treated greasy hair or a sensitive scalp.
Pros
A clay shampoo that purifies an oily scalp
Keeps ends moisturized
Contains exfoliating salicylic acid
Can keep your hair oil-free for up to 48 hours
Silicone-free and clinically-tested
Cons
Has sulfates so it's not for colored hair and sensitive scalps
Neutrogena Anti-Residue Clarifying Shampoo
If you have hair that never feels totally clean, you need a shampoo that rinses the gunk out of your hair and crown completely. This is one of the best shampoos for deep cleaning your mane and minimizing oil production.
This shampoo by Neutrogena is meant to be used only once a week–it's that powerful. It removes excess oil and residue, whether it's from your frequent dry shampoos, styling products or dirt from your commute. This unclogs your hair so it feels lighter and bouncier.
Despite its clarifying benefits, it won't strip your hair and scalp with its ultra gentle formula. This is good for all hair types. By getting rid of the buildup in your roots, you'll get a boost in volume because your hair won't be weighed down anymore.
Use this once a week to complement your regular shampoo. It makes your daily shampoo work better because it gives it a clean slate to work with.
This gentle shampoo is free from artificial dyes and colorants. Even color-treated hair can tolerate this, just make sure to follow it up with conditioner because the shampoo can be drying. It can even be irritating because of the deep cleaning it gives, so be careful if you are sensitive.
Pros
A deep cleaning shampoo for weekly use
Deep cleans the hair and roots
Boosts volume
Won't strip the hair
Free from dyes and colorants
Cons
You have to condition afterward because it's drying
Not for sensitive scalps
OGX Hydrating + Tea Tree Mint Shampoo
This purifying shampoo is a good balance of cleaning and moisturizing ingredients. You get a dose of hydration from milk proteins while Australian tea tree oil and micro-infused peppermint balance and strengthen.
The sulfate-free shampoo is gentle enough for daily use. It targets rough hair and split ends so your hair looks healthier from roots to the tips. This keeps hair soft while giving that satisfying clean feel.
Using this shampoo is a treat for the senses because of its invigorating scent. It smells herbal and minty. The light green gel shampoo is thick and foams up well. As you rub it in, you'll get a cooling sensation on the scalp.
With regular use, your hair will be smoother, stronger and healthier. The formula is gentle on colored hair. This shampoo isn't for fine hair because it can leave you with lots of tangles after washing.
Pros
A hydrating shampoo with cleansing ingredients
Moisturizes with milk ptoreins
Contains tea tree oil and peppermint oil for removing greasy shine
No sulfates
Tingly mint sensation on the scalp and smells refreshing
Cons
Not for fine hair because it causes tangling
Bumble and bumble Sunday Clarifying Shampoo
This bestselling shampoo from Bumble and Bumble is specifically made to treat oiliness. It's a once a week deep cleansing shampoo that removes buildup and lifts residue and sebum.

We earn a commission if you click this link and make a purchase at no additional cost to you.
It contains ginseng root extract which is an astringent for the hair and scalp. It also has rosemary extract and sage leaf extract that both support and nourish the scalp and hair. Sage is an all-natural cleanser while rosemary has antimicrobial and anti-inflammatory benefits.
This shampoo is best for deep cleaning fine to medium hair and all kinds of hair textures from straight to curly. The cruelty-free shampoo does not contain any parabens, phthalates, SLS or SLES.
While this shampoo is very effective at taming grease, it's not for the faint of heart. You shouldn't use this if you have dry or damaged hair, especially if it's been color-treated. After shampooing, always use a deep conditioner or hair mask afterward.
Pros
Made for oily hair
For weekly use as a deep cleaning shampoo
Removes dirt and pollutants, as well as oil
Contains ginseng root, rosemary leaf and sage leaf extracts
Best for fine to medium hair
Paraben-free
Cons
Too harsh for dry or damaged hair
Aveeno Scalp Soothing Apple Cider Vinegar Blend Shampoo
This scalp-soothing shampoo from Aveeno is oat-based. Oats are nourishing and moisturizing, which is good for oily hair that needs some TLC. The colloidal oatmeal extracts rebalance the scalp so it's ready for cleansing.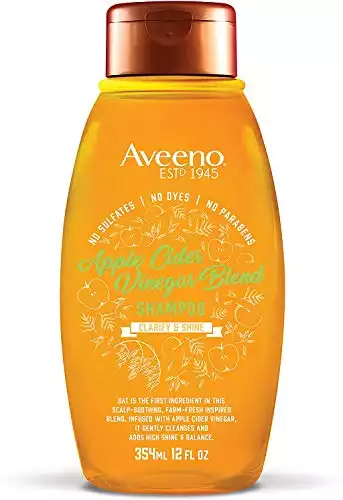 We earn a commission if you click this link and make a purchase at no additional cost to you.
The shampoo also contains apple cider vinegar which is responsible for clarifying the hair. It removes sebum and dirt while adding shine. The vinegar also restores the scalp's pH, exfoliates dead skin cells, and stimulates the follicles for hair growth.
This formula is best for oily hair but it can be used by normal hair that is frequently styled and has product buildup. If you're afraid of smelling like apple cider vinegar, you don't have to worry because the shampoo has a fresh, non-offensive scent.
The shampoo has a gel consistency which means it doesn't flow as quickly as liquid shampoos do. Some users have had complaints with the packaging. It's hard to squeeze out product from the bottle and the packaging tends to crack. The shampoo is affordable so some people may overlook this flaw for its hair benefits.
Pros
Contains colloidal oatmeal extracts which rebalance the scalp environment
Contains apple cider vinegar which removes buildup and adds shine
Best for oily hair and hair with product buildup
Doesn't smell like apple cider vinegar
Sulfate and paraben-free
Affordable
Cons
Paul Mitchell Shampoo Two
This is a deep cleaning shampoo from the famous hairstylist brand. It's meant for once or twice a month use, but you can use it weekly if you use hairstyling products regularly.

We earn a commission if you click this link and make a purchase at no additional cost to you.
This deep cleans your hair and tamps down oil and product buildup. It rinses away residues that make hair look dull and lifeless. It leaves hair squeaky clean yet voluminous. It's safe to use for color-treated hair. This shampoo has a refreshing lemon scent, making it a pleasure to use. It also contains wheat-derived conditioners that add shine.
With regular use, this shampoo minimizes sebum production so your hair is less oily over time. It pairs well with deep conditioning treatments because it allows their nourishing ingredients to penetrate the hair better.
The formula is vegan and paraben-free, great for ethically conscious shoppers and people switching to more natural products. It's also a unisex shampoo, so you can share it if you have a partner.
If you're sensitive to scent, this shampoo may not be for you because it has a strong lemon fragrance that may be offputting to some people.
Pros
A clarifying shampoo that's to be used once or twice a month
Removes residue and buildup and controls excess oil
Safe for colored hair, vegan and paraben-free
Contains shine-enhancing wheat-derived conditioners
Allows conditioners to work better
Cons
The Verdict
Having greasy locks can be a bane. Luckily, there are ways to manage it so your mane looks fresh and healthy with a natural shine.
One of the best things to use is a shampoo formulated for oily tresses. Of these 6 highly rated shampoos, my top pick is the Neutrogena Anti-Residue Shampoo.
This is a simple, no-frills product that gives your hair a deep clean. It won't leave any residue, as the name suggests. Despite its powerful cleansing, it's gentle enough, even for color-treated hair. It will leave your hair feeling lighter and bouncier.
With regular weekly use, sebum production will be regulated. It's a minimalist essential that does the job with no gimmicks. That's really all you'll need to control waxy tresses.
A Guide to Buying a Shampoo for Grease-Prone Hair
Why is Your Hair Oily?
You wash it too much.
Though it seems counterintuitive, you shouldn't wash your hair too much. Overwashing causes your epidermis to compensate for all the sebum you stripped by producing more oil.
You have straight hair.
Straight hair is more likely to be oily because the surface of the strand has less texture and curl, making it easier for oil collect on it. Oil is also more apparent on straight hair than other hair types.
You're going through hormonal problems.
Your hormones may be going through some changes due to puberty, pregnancy, menopause, and thyroid issues. These fluctuations send signals to your oil glands to produce more sebum.
It's in your genes.
Some people are born with oily tresses. It's written in their genetic code and maybe their parents have oily locks, too. In that case, don't despair because there are ways to manage your mane.
How Do I Stop My Hair from Being So Oily?
Pick a good shampoo and conditioner.
You need to choose your hair products well. Avoid anything that's meant for dry hair or a shampoo that has moisturizing, glossy effects. These products will only exacerbate the greasiness.
Clean up your diet.
Avoid saturated fats, which can lead to more oiliness. Limit your dairy intake. Add more foods rich in B vitamins which have been shown to fight oiliness. You can get this from beans, meat, poultry, fish, and some vegetables.
Skip shampoos.
Not washing your hair everyday is one of the best ways to manage oily strands. It takes a while to adjust to infrequent washings so get your dry shampoo ready and find creative ways to hide the initial oiliness (headbands and hats are my faves).
Use a clarifying shampoo.
Clarifying shampoos have more cleaning agents than regular shampoos. They give your scalp a deep clean which is helpful because the scalp can be the source of your greasy hair woes. Use clarifying shampoos sparingly, a few times a month to a once a week at the most.
Apply conditioner only on the tips.
Conditioner is only meant for the ends of the hair. Distributing conditioner higher than your ears only makes your hair oilier. You only need a small amount to hydrate your ends so use your conditioner wisely.
Benefits of a Shampoo for Oily Hair
Shampoos made for oily locks don't have as much moisturizing ingredients in their formula, if at all. Clarifying shampoos prevent excessively shiny locks by removing the build up that accumulates on the scalp. They often have ingredients that cut down on shine.
Shampoos for oily locks don't weigh down the hair and they remove excess sebum from the hair and roots. These shampoos your hair in better condition so it feels soft to the touch and clean without feeling stripped.
How to Choose a Shampoo for Oily Hair
Check the Label.
Stay away from shampoos that are marketed as hydrating, moisturizing, smoothing and for curly hair. These tend to be packed with oils and moisturizers that will weigh down your mane.
Labels that indicate that the shampoo is volumizing, strengthening or balancing are better for greasy strands. One of the best shampoos for oily hair is a clarifying shampoo but most of them aren't for daily use.
Read the Ingredients List.
Ingredients that can be helpful for oily locks are peppermint, tea tree, and rosemary, which are naturally clarifying. Avoid very harsh formulas which stimulate overproduction of oil. You may also try sulfate-free and paraben-free shampoos. Shampoos with exfoliating ingredients like salicylic acid are worth a shot.
Don't Fear Sulfates.
Though some people have gotten good results with sulfate-free formulas, sulfates aren't bad. Sulfates are cleansers that foam up and cleanse the hair. Since they're effective at removing dirt and oil, some people with sensitive scalps or colored hair avoid them. However, shampoos without sulfates just don't have the cleaning power that sulfate shampoos have, which means more sebum and gunk can be left over on the roots.
How to Use Shampoo if you Have Oily Tresses
You may be shampooing your hair incorrectly. The best way to shampoo is to use a small amount and distribute it to the roots evenly. Work it in without using your nails, which can be too harsh on the strands. Overscrubbing can lead to irritation and sebum overproduction.
You don't need to shampoo the ends of your hair. Focus on where oil builds up. When you rinse the hair, the shampoo will naturally flow through the tips of the hair. Make sure to rinse your hair thoroughly.
Try spacing out washes and see how your hair fares. Some people do need daily shampooing but others have reported good results with washing every other day or two.
Leah Williams
Leah Williams is the founder of Lucky Curl and has been in the hair care and styling industry for the last 15 years. Since then, she has developed incredible expertise and a deep understanding of how to treat and style the most difficult hair types and is passionate about sharing her knowledge with the readers of Lucky Curl.