Straightening your hair with the best tourmaline flat iron is one experience you will not forget. Tourmaline can emit negative ions which have been shown to tame frizzy hair. Most of the time, tourmaline is combined with ceramic since the latter is known for heating up the iron evenly. The question now is, which tourmaline flat irons will work best for you?
Best Tourmaline Flat Iron – 5 Top-Rated Products Reviewed
Since you are looking for the best tourmaline straightening iron to invest in, you might want to consider the following brands. Each one of these names is worth checking out because of the features that they have. So, let's get started.
HSI Professional Glider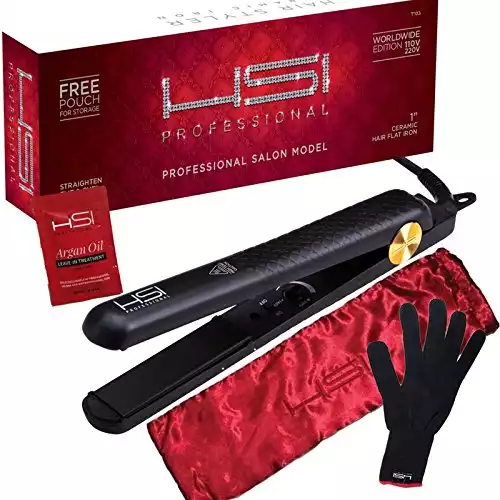 The HSI Professional glider definitely lives up to its name as it produces salon-quality straight hair even if you have coarse hair. The flat iron plates are made from ceramic as well as tourmaline crystals to give them that gliding effect. The combination of ceramic and tourmaline in HSI professional helps make your hair shinier and healthier. To achieve that long and straight hair, the HSI Professional comes with a temperature dial that lets you adjust the amount of heat the iron is producing which is between 140 degrees Fahrenheit and 450 degrees Fahrenheit.
It is a dual voltage type of styling tool which makes it handy since you will be able to bring it with you everywhere you go. What makes this brand stand out is that it comes with microsensors that tell the flat iron to bring the heat down or increase it to straighten your hair quickly. The temperature dial can help you figure out the right temperature for your type of hair.
Pros:
Fewer passes thanks to the combination of ceramic and tourmaline.
It comes with temperature settings to better control the amount of heat to protect your hair.
Cons:
You will need to squeeze the plates as hard as you can manage.
There is no auto shut-off feature.
Furiden – Professional Hair Straightener
If you are looking for a professional flat iron, why don't you take a look at Furiden's professional hair straightener? It has a new and improved look with a one-step adjustable temperature at the bottom of the handle. You can achieve that salon-straight mane with just a single push of the button. What you will like about this product is that the plates can heat up quickly so you can get started with straightening your strands. With this tool, you will be able to save energy, speed up the styling process, and achieve professionally done sleek hair.
Other notable features here include floating plates that move as you do, plus a swivel cord to prevent you from getting tangled up as you work on each section of your mane. The curved edges of the floating plates adjust themselves with the way you straighten your hair. The plates can glide smoothly and remove the tangles too. This way, you will end up with a straight mane that is less frizzy because there are no snags happening. You can find a heat resistant glove included in the package as well as other hair essentials.
Pros:
Adjustable temperature settings give you complete control over the heat.
Floating plates with curved edges adjust themselves according to the angle of your hands.
Speeds up the styling procedure.
Cons:
The grip of the straightening tool is not that good.
There is not enough heat being generated.
INFINITIPRO BY CONAIR Tourmaline Ceramic Flat Iron
INFINITIPRO by Conair has certainly caught my attention because of its features. For starters, it comes with 30 heat settings with the temperature reaching up to 455 degrees Fahrenheit. This tourmaline ceramic can withstand high temperatures thanks to the tourmaline, but also ensure that there are no hot spots to worry about as well. This is perfect for those who want to have a gorgeous straight mane even at home. It doesn't matter what hairstyle you are after, whether you want to give more emphasis to your curls, this flat iron will do its best.
Conair has certainly upped the ante by giving people the chance to beautify their hair. Its unique feature is its longer flat iron plates which can certainly cut the time being wasted when straightening or curling your mane. The tourmaline ceramic coated plates should not be taken lightly because they do help prevent frizz from happening. The best part? It also helps to lock in the moisture on your strands to make them look pretty.
Pros:
It can reach up to 455 degrees Fahrenheit.
This ceramic tourmaline flat iron heats up evenly while the tourmaline prevents frizz from occurring.
Longer plates ensure that more hair is caught between to speed up the styling process.
Cons:
Some users found that their hair tends to stick on the plates.
The coating tends to flake off after a few weeks of use.
The handle tends to get hot as well.
NITION Professional Salon Hair Straightener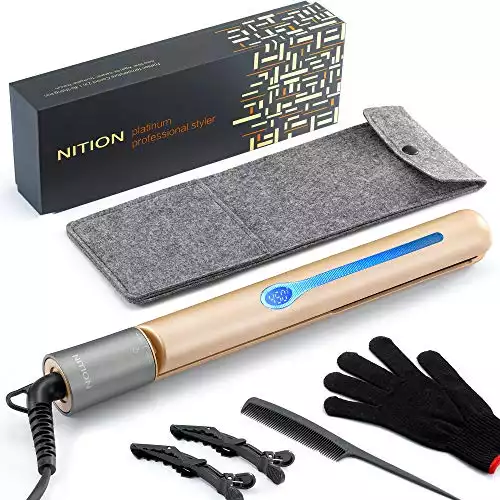 Innovation is the name of the game as NITION professional salon hair straightener sports 5-in-1 ceramic coating plates that lock in the moisture on your strands as you glide this tool on your strands. There are no buttons to bother you because you only need to twist the bottom portion of the handle to turn it on by rotating clockwise. You can rotate the bottom to your desired temperature or twist counterclockwise to reduce temperature or to turn it off. The sleek design of the body ensures that you won't be toggling any unwanted buttons. Just turning the bottom of the handle will give you the desired temperature appropriate for your hair type.
What else is there to like about this product? Well, it does come with longer plates which means that there will be more hair contact for faster drying and styling. You can even use this styling tool to create waves and curls on your mane easily. It is worth mentioning that this product comes with an auto shut-off feature which is a welcome relief especially when you have forgotten about it and had to rush off. If you haven't turned it off, within 60 minutes, the device itself will power itself down.
Pros:
A smooth and sleek styling tool that doesn't have any buttons that you can toggle accidentally.
Rotating bottom lets you choose what temperature to use on your children's hair.
It has longer plates too which means that you can style more hair in one go.
Cons:
The plates tend to snag on hair strands.
There is too much static going on that it leaves you with frizzy mane.
INFINITIPRO BY CONAIR Tourmaline Ceramic Flat Iron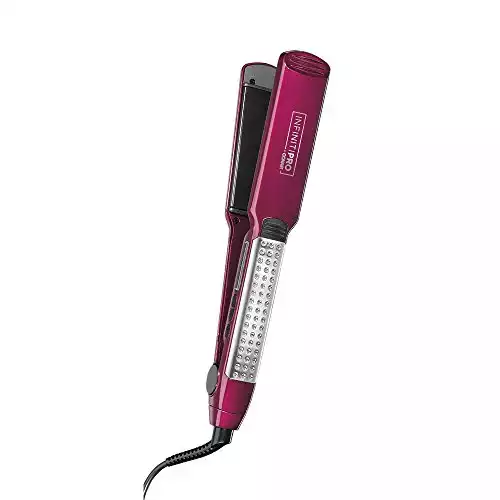 Another INFINITIPRO by Conair that you should get is this tourmaline ceramic flat iron that comes with a 1 1/2 inch floating plate to have a better grip on your hair. The tourmaline ceramic styling tool combats frizz so you will end up with a long, shiny, and frizz-free mane. It also features that True Ceramic Heater that is the one responsible for heating up the plates in just 15 seconds. The plates heat up evenly so you don't have to worry about dealing with hot spots as you style your mane.
It comes with 5 heat settings with the highest reaching up to 455 degrees Fahrenheit. It also comes with an auto shut-off feature which will come in handy since it protects your place. It is such a treat working with this tool when straightening your hair because, with just a single pass, you will see a big improvement over your mane.
Pros:
A longer floating flat iron is certainly an improvement over-drying and styling time.
It can heat the plates up in just 15 seconds or so.
There are no hot spots to worry about on the flat iron.
Cons:
The steam coming from the flat iron and hair can have a smell after.
It doesn't last more than a year or two.
The plates have a tendency to grab the hair.
Benefits of Tourmaline Flat Irons
A lot of people are considering getting a tourmaline flat iron as their hair straightener, but why is this so? Well, it appears that using a straightening iron that is coated with tourmaline comes with numerous benefits. Among these are:
Consistent Heat.
The grounded Tourmaline gemstone that coats the ceramic plates of your flat iron ensures that the heat remains consistent as you straighten your strands. This helps you in achieving smoother and sleeker straight hair. And thanks to the even heat that you are exposing your mane too, there is less tension happening between your strands and the plates hence less frizz to deal with.
Pricier but Worth It.
Although tourmaline flat irons won't be exactly cheap, they are considered a good investment, especially when you see the results. Aside from expecting professional results, the flat iron is also known to be durable, which means that you will have a hair styling tool that will last you years.
Ideal for Regular Use.
Another plus to using a flat iron that is coated with tourmaline is that this tool can be used on a daily basis. This is because you don't have to worry about damaging your strands with repeated exposure to heat.
Features to Consider in Tourmaline Straightening Iron
It is understandable that you will want the best flat iron with tourmaline as part of your styling tools. However, this is easier said than done especially when there are literally dozens of options to consider. Fortunately, there is a way to narrow down your choices by considering a few features that should be present in any hair straighteners like the ones with tourmaline and these are:
Material.
Yes, the plates of a tourmaline flat iron will come coated with tourmaline. However, there are other factors to consider such as how the plates were constructed and what other materials are infused in them as well. This is important since buying the wrong straightening tool can damage your mane.
Technology.
It helps to consider what technology the flat irons with tourmaline will have. Will it have an ionic technology that can help tame frizzy strands while delivering plenty of moisture at the same time? Or do you prefer one that comes with infrared emission technology wherein the strands are heated up from within to reduce the damage on the outer portion of your hair? Regardless of what tech you prefer always make sure that it will be appropriate for the hair type that you have.
Size.
Aside from knowing what materials are used for the plates, you should also consider the size of the plates too. The size tends to vary but it would help to keep in mind that if you have long hair, you should opt for one that has wider plates. This is to ensure that each section of your hair will fit into the plates as you straighten them out. If you have shorter hair, a more compact flat iron will suffice.
Heat Control.
Although some flat irons with tourmaline can reach up to a certain temperature, without a temperature control button you will not be able to straighten your hair properly. This is important because fine hair will require less heat while those with thicker stresses need a stronger styling tool. If you have fine or even thin hair, the recommended temperature for your hair is between 200 degrees Fahrenheit up to 350 degrees Fahrenheit.
Price.
You can also factor in the price as one of the features to consider when you need the best flat iron to purchase. As a rule, a flat iron that is sold at a high price doesn't always mean that the item you are looking at is efficient. You will find affordable versions of flat irons that can straighten your hair in no time.
Who Can Use Hair Straighteners with Tourmaline?
If you want to protect your hair when styling it, you should look for straightening flat irons that come with tourmaline. Who can use one, you ask? Well, this iron can easily style your hair regardless of its short, long, wavy, or curly even. Of course, you will need the best flat iron with tourmaline to style your hair even. You just need to figure out which design and materials are appropriate for your mane. If you are not having any luck finding the right flat iron for your mane, you can start with the ones that we have listed below.
Final Thoughts
Which of the tourmaline flat irons mentioned above is the best, you ask? Start with Furiden Professional Hair Straightener. This tourmaline flat iron provides you with more control over the heat so there will be less frizz to deal with regardless of your hair type. Speeds up the styling process since it can heat up in just a few seconds. The plates glide easily across your mane without any pulling or tagging. This is definitely a good place to start.
Leah Williams
Leah Williams is the founder of Lucky Curl and has been in the hair care and styling industry for the last 15 years. Since then, she has developed incredible expertise and a deep understanding of how to treat and style the most difficult hair types and is passionate about sharing her knowledge with the readers of Lucky Curl.