Is it possible for you to straighten your wet hair? With the right flat iron, you can! You might have tried this at the point, especially when you are in a hurry, but straightening your strands at this point can be damaging. However, with the best wet to dry hair straightener, this won't be a problem at all.
Wet to Dry Hair Straightener – 5 Best-Selling Flat Irons
There are several wet to dry straighteners available nowadays that it may be a bit tricky finding one that will work best for you. That said, here are the top five options to use on your damp hair that will save you from blow drying your hair before styling it.
BaBylissPro Nano Titanium Straightener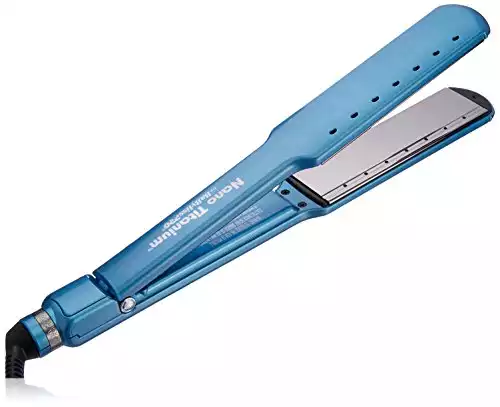 Don't let damp hair stop you from styling it especially when you have BaByliss Pro Nano Titanium Straightener. The first thing that you will love about this tool is that it is easy to use. A single pass, even on damp hair, will give you straight strands quickly. This is because the titanium plates glide over your hair while releasing the moisture from the strands through the vents found in the body. And because it makes use of an advanced titanium plating technology, you can expect that your hairstyle will last you a few more days.
Why choose this product? It is 5 inches longer compared to other flat irons that it is capable of clamping down on thick strands for faster heating. The plates are resistant to corrosion so that, even when exposed to damp hair, they will not deteriorate quickly. It also comes with 50 heat settings to match any type of hair making this quite the versatile tool that is nice to have around in your home. The highest temperature that it can reach is 450 degrees Fahrenheit which means that even if you have a thick mane, you will still be able to straighten it out quickly.
Pros:
It straightens your hair with just a single pass.
Advanced nano titanium plates help prolong your hairstyle.
5 inches longer than ordinary straighteners.
Cons:
The plates do not clamp down on hair completely.
The power button is poorly placed on the handle and gets toggled off by accident.
Missing a temperature indicator.
Remington S7901 Wet2Straight Flat Iron
Another option that you should consider when you are in need of a wet dry flat iron is from Remington. Using a blow dryer to dry your strands can leave them vulnerable to breakage, especially when you apply additional heat to it from the flat iron. This won't be a problem if you stick with what Remington has to offer. With its uniquely designed vents, this hair straightener helps release the steam from your damp hair in order to protect them from damage. This is a good feature to have in dry hair straighteners. This is because it prevents additional heat from damaging your hair completely. You can now dry and style your mane with this tool.
How hot can this Wet2Straight Flat Iron be? Remington has set its highest temperature at 400 degrees Fahrenheit, but it comes with 26 heat settings so that, regardless of your hair type, you will find the right amount of heat to work on your hair. The ceramic tourmaline plates can clamp down on your mane, heat your damp hair while styling it at the same time. What else is there to like about this product? Well, you'll be happy to know that it has a wet/dry styling indicator. No need to guess whether the temperature setting is ideal for wet or dry hair. Pay attention to the indicator built into the device.
Pros:
Unique vents placement helps steam to be released as the plates clamp down on your hair.
It can reach up to 400 degrees Fahrenheit in just a few seconds.
Ceramic titanium plates not only dry and style strands, but they also ensure that your hair is evenly heated up without damaging them.
Cons:
The vents prevent hair from becoming straight.
It doesn't dry and style damp hair as promised.
Not ideal for those who have fine hair.
Remington S7310 Wet 2 Straight Hair Straightener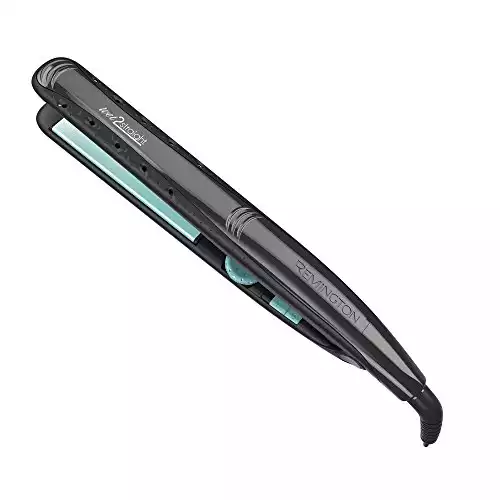 Another Remington model has made its way into this list which is not surprising given that this brand is one of the trusted in the market today. This wet2straight hair straightener is equipped with 1″ ceramic titanium plates which are known to protect your mane from the harsh heat while being dried and styled at the same time. This is due that both ceramic and titanium are known to evenly heat hair strands to minimize damage. Will this work on wet hair? Only if you have removed a good amount of water from your tresses and that it is slightly damp to the touch. You don't want to use this on sopping wet hair as it can have a negative effect on your hair.
How will you know if your Remington Wet 2 straight iron is ready to use? Check its indicator light. If the light has turned green, it means that its current temperature is appropriate for those who have a damp mane. On the other hand, if the light has turned into amber, it means that your straightening tool will work best on dry hair. This tool can reach up to 420 degrees Fahrenheit and it comes with 30 heat settings too. That's how amazing this straightening tool is.
Pros:
1″ ceramic titanium plates heat up evenly while protecting strands at the same time.
It comes with an indicator light to tell you if the current temperature is ideal for wet or dry hair.
30 heat settings give you control over styling your strands.
Cons:
You will need to use a blow dryer to dry your strands a bit.
It doesn't work well compared to flat iron.
It is not that great to use on thin or fine hair.
INFINITIPRO BY CONAIR Wet/Dry Hot Air Brush Styler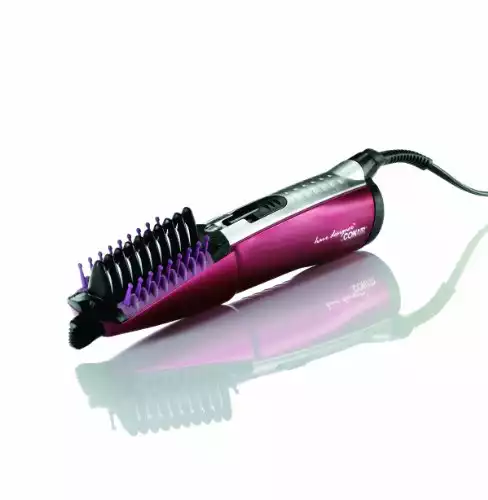 INFINITIPRO BY CONAIR Wet/Dry Hot Air Brush Styler
Straightens, shines, and controls frizz with a Triple Action Styling System
Safely dry + style damp hair to create smooth results
Features tourmaline ceramic technology
Infrared energy protects hair's natural luster creating silky, shiny hair
Includes a 2 speed slide switch, and a cool shot button to lock in styles
Buy from Amazon
We earn a commission if you click this link and make a purchase at no additional cost to you.
09/22/2023 07:30 am GMT
The INFINITIPRO by Conair deviates from the usual wet to dry flat irons in this list because instead of those plates that will clamp down on your hair, this one comes in a brush design. Its key feature is its Triple Action Styling System which ensures that your hair will become straight without making your strands become frizzy. Also, this hot air brush styler leaves your hair shiny with every brush stroke.
Just like with wet to dry hair straighteners, this hot air brush styler by Conair helps speed up your styling time since you don't need to blow dry your hair anymore. It does work on damp hair too so you can get straight hair faster without waiting for your mane to be completely dry. How does this brush achieve that? It makes use of tourmaline ceramic technology that can get hot quickly while evenly distributing the heat. It also comes with a far infrared technology that helps maintain the natural shine to your strands. It has 2 slide speed switch and it also has a cool shot feature which blasts your strands with cold air to lock in your style.
Pros:
The brush design makes it easier to straighten your strands.
It comes with far infrared technology that helps keep your mane smooth and shiny.
Tourmaline ceramic technology helps heat up the brush quickly while ensuring that heat is evenly distributed.
Cons:
The wattage is a bit low that it barely heats up the brush as it should do.
It doesn't last long.
It may not be ideal for those with long thick hair.
PARWIN PRO Flat Iron 1 1/4 Inch Wet Dry Hair Straightener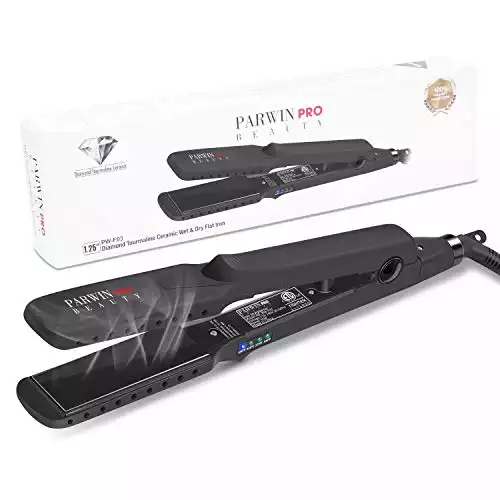 If you want to straighten your hair without having to use other heat and styling tools, then this wet dry hair straightener by Parwin is worth checking out. What you will love about this hair straightener is that it works on both wet hair and dry hair too. Plus, you can use it on your mane regardless of your hair type. This equipment is designed to accommodate even thick hair so no one gets left behind when it comes to straightening one's hair. The plates heat up quickly and they do glide smoothly on your mane. Even a single pass of the plates can yield impressive results.
The Parwin flat iron makes use of 1.25 inch thick ionic ceramic-tourmaline floating plates that can reach its highest temperature in a jiffy. With this tool, you don't have to worry about ending up with frizzy or damaged mane because the plates are designed to evenly heat your strands. It doesn't matter whether you will be using it on dry or wet hair because this will take on any task easily. It comes with 8 feet of swivel cord which prevents the cable from getting tangled around you.
Pros:
Ideal for both wet and dry strands.
The ionic ceramic-tourmaline floating plates work like a charm on various hair types.
It doesn't cause frizz.
Cons:
It leaves that burnt hair smell when in use.
The large plates prevent you from curling your strands.
It may not work well with those who have thick hair.
A Guide to Buying a Wet to Dry Hair Straightener
Pros and Cons of Wet to Dry Flat Iron
If you came across a styling tool that lets you dry and styles your strands at the same time, you'll most likely wonder what are its pros and cons. Well, here are the pros and cons of using a wet to dry straightener.
Pros:
It speeds up your routine since it combines the function of a blow-dryer with a hair straightener.
It doesn't damage your strands but rather keeps them soft, shiny, and can last for a few days or until your next bath.
It fends off the appearance of frizz in your strands because of its static absorption capabilities. Also, since moisture is reduced via steam, the cuticles of your hair seal themselves thus protecting your mane every time you use this tool.
It works extremely well during humid days when the excess moisture can make your strands are raised. Using this tool can help lock in the hairstyle longer than traditional flat iron.
It can work even on dry hair just like a normal flat iron. No need to switch straighteners based on your hair's current state with this one.
Cons:
You still need to dry your hair up to 85% before you can start using this. This means that you will have to blot the excess water on your strands before this equipment becomes useful.
You will need to follow the instructions on how to use this wet to dry straightener as it can cause damage when you do not.
It may deliver some minute traces of electric shock, especially when used on wet hair.
Features to Look For in Hair Straighteners for Wet to Dry Hair
How will you be able to find the best wet to dry straightener? It would help if you consider a few features that your wet dry straightener should have. Among these are:
Vents. There is one way to differentiate the regular flat iron from a hair straightener for wet to dry strands and that is the latter is typically equipped with vents. This is an important feature as it lets the steam vent out from the plates thus protecting your mane at the same time.
Material. The material of your wet to dry flat iron should also be considered. Just like with the regular flat iron, you will find ceramic, tourmaline, ceramic-tourmaline, titanium, nano-titanium, and titanium-ceramic just to name a few. Experts recommend, however, that you go with those that have titanium since it can heat up faster and evenly than ceramic. It would also help if the flat iron contains tourmaline because it helps keep your hair smooth and soft.
Wet/Dry Indicator. Another feature that you should look for in a wet dry flat iron is an indicator light that will tell you if the current temperature is appropriate for wet or dry hair strands. Instead of second-guessing your equipment on whether it is at the right temperature, you only have to check the wet/dry signal light instead.
Floating Plates. Floating plates adjust themselves to ensure that the section of your hair is receiving the right amount of heat from start to finish. The floating plates make sure that you will get the most out of the equipment every time you give each section a pass with it.
Quick Heating. Aside from the desire for a tool that can handle wet to dry hair, another feature to consider is how fast it can heat up. The best wet to dry straightener will usually take only 20 seconds to reach the desired temperature.
The Verdict
Which is the best wet dry hair straightener on this list? I would recommend BaByliss Pro Nano Titanium Straightener. It comes with longer plates that are made from titanium that glide on damp or dry hair with ease. The five inch plates actually work better if you have longer or thicker hair since it is designed for that. Additionally, it has 50 heat settings and can reach up to 450 degrees Fahrenheit when set to max. The vents on the body let the steam pass through to prevent your hair from getting damaged further.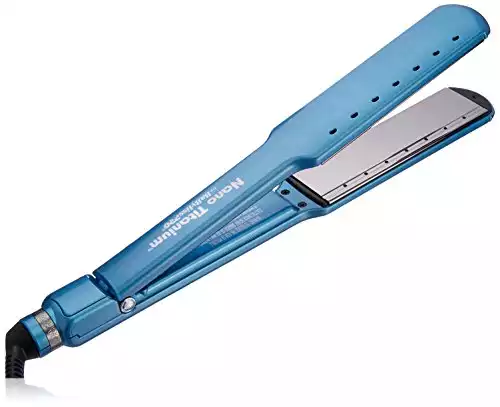 Leah Williams
Leah Williams is the founder of Lucky Curl and has been in the hair care and styling industry for the last 15 years. Since then, she has developed incredible expertise and a deep understanding of how to treat and style the most difficult hair types and is passionate about sharing her knowledge with the readers of Lucky Curl.