I tested 5 CHI hair dryers and found the CHI Ceramic Hair Dryer to be the best overall.
A good hair dryer can make all the difference when styling your hair and when it comes to great hair dryers, CHI is the gold standard of styling tools.
As a hairstylist, I am always looking for products that anyone can use at home to produce salon-quality results. With this in mind, we look at five of the top selling CHI hair dryers and explore which one is right for you. Find out what each model has to offer and read about our favorites.
After careful consideration, the CHI Ceramic Hair Dryer was a clear winner for best all-rounder hair dryer. This was based on several factors which I will detail below.
That said, there are always products which work better for different hair types and uses. I have noted this in my roundup.
Keep reading to see our CHI hair dryer reviews.
CHI Hair Dryer Reviews – 5 Options for a Salon-Quality Blow Dry
Best Overall: CHI Ceramic Hair Dryer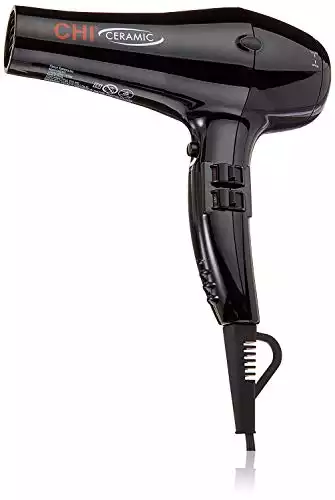 This CHI hair dryer topped the list for a number of reasons, but mainly because of its ceramic heater. Ceramic works to distribute heat evenly, meaning less intense heat than other dryers. This makes ceramic hair dryers suited to most hair types without causing unnecessary damage.
The Ceramic Hair dryer uses CHI's signature ceramic heater, plus tourmaline ceramic components. This combo enhances shine and minimizes frizz. It heats the hair gently yet effectively. Plus, the hair's health is protected with the CHI hair dryer's negative ion and infrared heat technology.
Other great features include the 1875-watt DC motor for fast airflow and reduced heat damage. Despite the immense power under the hood, the hair dryer is actually lightweight, so it's great for travel.
The Ceramic Hair Dryer comes with multiple speed and temperature settings and a cold shot button to seal it in for extra hold. It's fitted with a 7-foot swivel cord so you can style at whatever angle tangle-free. This comes with a hang loop for storage and an anti-slip bumper for user safety. There are also 2 attachments included with the CHI Ceramic Hair Dryer, namely a concentrator nozzle and a diffuser.
This CHI hair dryer can suit all hair types and the price point is quite low for a ceramic hair dryer. A downside to this product is the lack of extensive heat controls. You also have to hold down the cold shot button when locking in your hairstyle. The build quality needs to be improved but for the price, I think most people will be satisfied with it.
Pros
Has a 1875-watt DC motor
Uses a tourmaline ceramic material for healthy and even heat distribution
Emits negative ions and uses far-infrared heat
Has multiple heat options and a cool shot
Add-ons included 2 attachments, an anti-slip bumper, and a 7-foot swivel cord
Cons
The temperature settings are limited
You need to hold down on the cool shot button
Best for Fine Hair: CHI Rocket Hair Dryer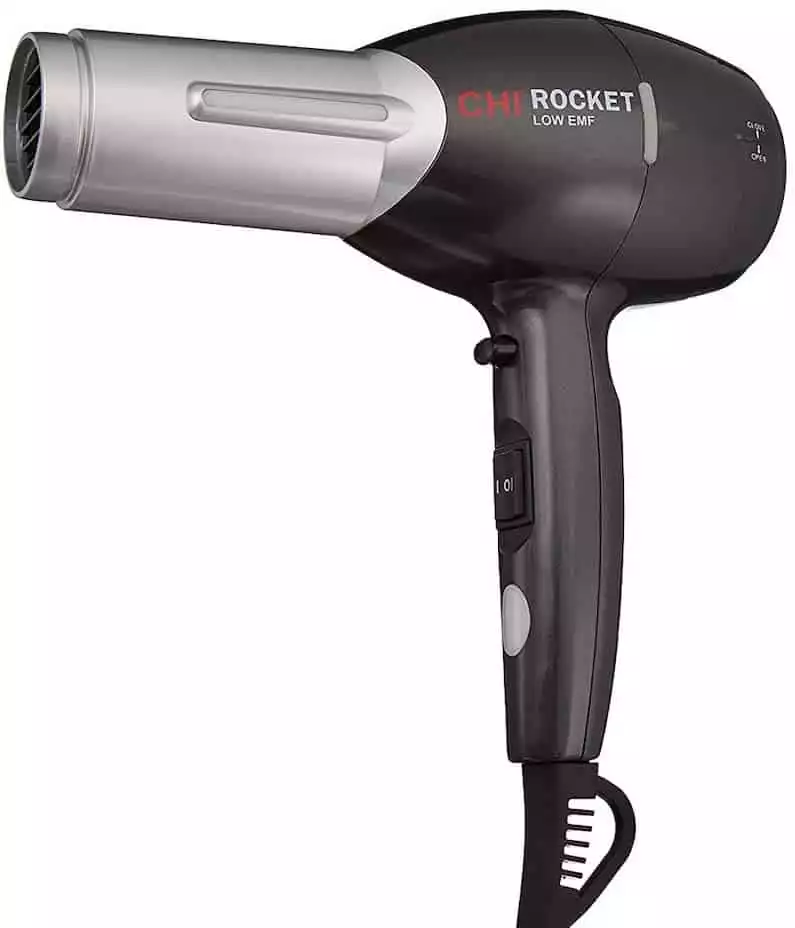 Blast off in style with the professional-grade CHI Rocket Hair Dryer. This award-winning gizmo is a quiet operator, allowing you to dry your hair while being kind to your ears.
The CHI Rocket Hair Dryer uses ceramic heaters which reach optimal temperature faster. It gives off moist heat so your hair looks healthy and lustrous. The CHI Rocket has been shown to dry hair 40 percent quicker.
For a dose of extra hydration, the hair dryer produces negatively-charged ions for a frizz-free finish. It also emits ionic positive energy which adds moisture to the hair shaft.
There's an infrared light indicator on the CHI Rocket ceramic hair dryer that lets the user know when the blow dryer is using ionic and infrared technology. Infrared heat cuts down on drying time and reduces hair damage. Along with the ceramic hair dryer's even heat distribution, this keeps your locks looking lustrous even with frequent styling.
The 1800 watt motor assures me that this will stay powerful and style your hair quickly so you can move on to the next steps in your routine.
This CHI professional hair dryer has a low electro-magnetic frequency output so you reduce your radiation exposure while using your trusty hot tool. It comes with a concentrator nozzle and a comb attachment for more versatility.
For ease of use, there's an 11-foot power cord and a hang loop. However, this isn't a swiveling cord, so that may limit your movement a little. It weighs over 2.2 pounds so it feels substantial in the hand but it may be too heavy for some people.
The build quality of the CHI Rocket feels premium which assures me that the product will last a long time and can sustain rough handling. The cold shot button works great and doesn't need to be held down so you can save your energy when drying your hair. I do wish there were more temperature settings though.
Pros
Has a 2-year warranty
Uses gentle ceramic heaters that deliver moist heat
Comes with an ion generator that gives off positive and negatively-charged ions for healthy hair with less frizz
Has a 1800W motor and 2 speed and heat settings
Low electromagnetic output and comes with 2 nozzles and a salon-length power cord
Cons
Quite heavy
The cord doesn't swivel
Heat and speed settings are limited
Best for Fast Styling: CHI Touch 2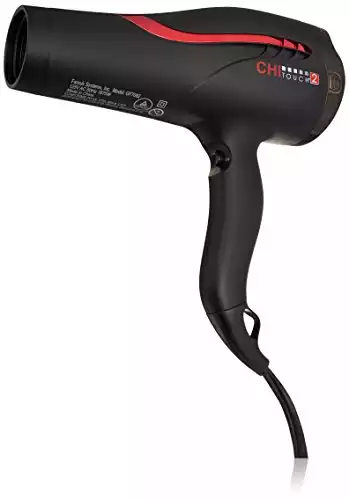 This is a refresh of the first CHI Touch Hair Screen Dryer and it's even better. The CHI Touch 2 has touch controls with options for 39 heat, speed, ion, and cold shot settings. That's 39 settings for each feature! It's above and beyond what you'd expect in a hairdryer.
The touch screen on the CHI Touch 2 is a 2.4-inch color display with clearly labeled details. To adjust the settings, you just swipe through the speedometer dials–no need for endless clicking.
This touch screen hair dryer is easy to use, partly due to its ergonomic concave handle. Gripping this CHI professional hair dryer is straightforward and the soft-touch rubber finish prevents slips. The hair dryer can be used hands-free because the back of the barrel r is flat, allowing you to prop it up. It blows hot air at an angle in this position so you have full control of your brush as your hair dries.
The 1875-watt hair dryer uses a heater made of which dries evenly and effectively. It also emits negatively charged ions for a frizz-free finish.
The CHI Touch 2 Hair Dryer is not cheap by any means but it's reasonably priced because of the spectacular build quality. However, that also means the hair dryer can be quite heavy. The touchscreen also can't be used with wet fingers. It's a bit hard to change the settings as you're using the hair dryer because the controls are on the back of the product.
Pros
Has a touch screen control with a 2.4-inch display that's clear and easy to read
Has 39 settings for heat, speed, ion, and cold shot
Has an ergonomic and soft-touch handle
Can be used hands-free
Fitted with an 1875-watt motor with a ceramic heater
Cons
A bit heavy
The touch screen can't be used with wet fingers
Hard to change settings when the hair dryer is in use
Best for Frizzy Hair: CHI Classic 2 Ceramic Hair Dryer
The CHI Classic 2 Ceramic Hair Dryer has all the trademarks of the CHI brand with a couple of freebies included. Inside, there's a 1875-watt DC motor that delivers powerful airflow. The heater is made of ceramic that heats while retaining hair moisture.
The negatively-charged ions the CHI professional hair dryer emits condition the strands and seal the hair cuticle. These eliminate frizz and leave hair looking lustrous and feeling silky.
The tourmaline ceramic components also use infrared heat so hair dries quicker with less damage. There are 2 speed and 2 temperature settings, which is quite limiting. However, you do get a cold shot button to maximize hold.
For nozzles, you can choose between a diffuser and a concentrator. That should cover all kinds of hair types from straight to curly.
The CHI Classic 2 hair dryer also comes with a nylon bristle round brush, a trusty companion for bombastic blowouts. It makes the price tag even more reasonable.
You also get a drawstring pouch so you can store the hair dryer while on the go. When at home, you can take advantage of the hang loop and the anti-slip bumper.
The Classic 2 is backed by a 2-year warranty which is long by hair dryer standards.
A downside to this product is the length of the nozzles. It's awkwardly long and doesn't feel balanced when you're holding it. It will tire out your arms, especially if you lack strength or have mobility issues. The button placement is also questionable. It's too easy to click the buttons accidentally while using the hair dryer, particularly the cold shot button.
Pros
Has a 1875-watt DC motor
The heater emits negatively-charged ions and infrared heat
Comes with 2 speed and 2 heat options, plus a cold shot button
A diffuser and concentrator is included, along with a round brush, a bumper, and a pouch
Backed by a 2-year warranty
Cons
The nozzle is too long for the hair dryer and is hard to use
Buttons can be clicked accidentally while using the hair dryer
Best for Dry or Damaged Hair: CHI 1875 Series Hair Dryer
Don't let its looks fool you: the CHI 1875 Series Professional Hair Dryer is a powerful machine. It's one of the best hair dryers in the CHI line because it's small but mighty. It carries an eponymous 1875-watt DC motor in its small body. The airflow is impressive considering how tiny the hair dryer is.
As always, you get a good dose of negatively-charged ions as the air passes through the ceramic heater. The generated ions give hair a shine boost and speed up the hairstyling process, so you reduce its exposure to heat.
The hair dryer weighs just a pound and has a 6.5-foot long cord attached, removing the need for an extension cord. It makes for an excellent travel companion, especially if you've had enough of hotel room dryers.
This comes with 3 temperature and 2 speed settings so it fits most hair types. Of course, the dryer also includes a cold shot so your masterpiece doesn't crumble mid-day.
In the attachment department, this has you covered, as well. It comes with a concentrator and diffuser to whip up various hairstyles depending on your mood.
The cherry on top is CHI's Rapid Clean Technology. The LED lights are antimicrobial to inhibit the growth of bacteria inside the hair dryer.
The nozzles are a bit short, which is a disadvantage if you have long or thick hair as it can take a longer time to style it. That being said, if you're making your first foray into CHI heat styling tools, this is undoubtedly the best place to start and well worth the money.
Pros
Lightweight but has a motor with 1875 watts
Emits negative ions for healthier hair
Has a 6.5-foot long cord and uses Rapid Clean Technology
Has 3 heat settings and 2 speed options, with a cool shot
Comes with a concentrator and diffuser attachment
Cons
The attachments are short and not good for drying long or thick hair
A Guide to Buying Your Next CHI Hair Dryer
What technology does the CHI brand use?
CHI's approach to haircare is science-based. CHI aims to transform your hair into its best version: silky, manageable and smooth.
At the forefront of the CHI Transformation System is the use of ceramic heat and negatively-charged ions to bring back moisture and seal the hair cuticle. In fact, they were the first brand to combine ceramic heat and negative ion technology. A CHI hairdryer is typically made of ceramic components, which is one of the brand's signature trademarks.
Ceramic is wear and abrasion-resistant and conducts and retains heat excellently without dehydrating the hair. Far infrared heat enhances the capabilities of the ceramic in CHI products, thereby improving the hair structure.
Silk as a heating component
Did you know that CHI also uses silk in their professional hair styling tools?
CHI professional tools use hydrolyzed and powdered forms of silk in various molecular sizes. Silk carries a positive charge, which counters the negative charge in hair. This results in improved elasticity, strength, and shine.
Silk is a great addition to hot tools because it can hold moisture up to three times its weight. When it penetrates the hair strand, it strengthens the hair from the cortex (the innermost part) to the cuticle (the outermost layer).
CHI innovations
Other reasons why consumers love CHI products are because of their performance, durability, and consistent innovation.
CHI is a pioneer in ceramic heat, infrared technology, and touchscreen component and it continues to improve upon this legacy.
How do I choose the best CHI hair dryer?
Power
The first feature to check out before you buy a CHI ceramic hair dryer is its wattage. A higher wattage translates to a more powerful airflow. This lets you dry your hair quicker. A good benchmark is at least 1800 watts. If you're using your hairdryer frequently, consider splurging on one that's 2000 watts or more.
Attachments
The number of attachments depends on the price of the hairdryer but it's helpful to have at least one nozzle for free. The most useful hair dryer attachment, in my opinion, is a concentrator nozzle, especially if you like styling your hair straight. For curly-haired gals, a diffuser is your best friend. Make sure you get the most bang for your buck with your hairdryer purchase.
Heat and Speed Settings
Hair dryers usually have separate controls for heat and speed. With speed settings, one for high and one for low is enough for most people. Heat controls can be limited to two in budget hair dryers but you ideally want at least three to choose from for versatility. More temperature settings also mean a lower chance of frying your hair.
Cool Shot
You should definitely get a blow dryer with a cool shot, also known as cold shot, button. It's a game-changing feature that I think should be mandatory at this point. This button shoots a burst of cool air that will set your hair in place. Plus, it can make your strands look shinier, which I won't say no to, ever.
Power Cord
Look for a lengthy and sturdy power cord when buying a CHI Pro hair dryer. At least 6 feet is ideal but try to get a longer one if you style far away from a power socket. This eliminates the need for an extension cord and gives you so much freedom to twist and turn the blow dryer without fear of pulling out the cord.
Ergonomic and Durable Design
A blow dryer should be easy to use and feel good in the hand. An ergonomic handle does wonders for usability, as does a lightweight feel. Soft-touch or grippy blow dryer handles are also a plus.
Preferably, go for a CHI Pro hair dryer that feels like it can withstand a drop. Lightweight doesn't necessarily mean a flimsy plastic build. A somewhat weighty and solid construction gives peace of mind and ensures longevity.
Noise Level
If you're living with a partner or children and you have to do your hairstyling before they wake up, it will be helpful to have a quiet blow dryer. Even if you're living solo, it's still beneficial to get a hair dryers with a low noise level, just to be kind to your eardrums.
Cost
Last and not least, set a budget before buying your CHI Pro blow dryer. It's easy to get carried away when you see just how many CHI hair dryers there are. Go with a price range in mind so you don't get overwhelmed or have buyer's remorse.
Do ceramic hair dryers work better?
Ceramic hair dryers work better for some hair types, but not necessarily all hair types. Personally, I would always recommend a ceramic styling tool as it distributes heat evenly, meaning less damage to the hair which makes it a great universal option.
It's important to note that the technology of the hair tools in conjunction with the material also matters. You likely see terms thrown out there like Ionic, Tourmaline, Far-Infrared and Nano Technology in product descriptions. By understanding the technology can also help you decide whether the product is right for you.
The Verdict
As you can see, there is really something for everyone when it comes to CHI hair dryers. However, the best all-rounder hair dryer in my opinion is the CHI Ceramic Hair Dryer.
It combines CHI's signature ceramic heater with negative ion and infrared heat technology and an 1875-watt DC motor for unmatched hair drying quality.
Leah Williams
Leah Williams is the founder of Lucky Curl and has been in the hair care and styling industry for the last 15 years. Since then, she has developed incredible expertise and a deep understanding of how to treat and style the most difficult hair types and is passionate about sharing her knowledge with the readers of Lucky Curl.