This is a review of the Chi Original Flat Iron where you will learn what makes it a great ceramic hairstyling iron to invest in.
I am always on the lookout for the best hairstyling iron that creates silky shiny hair instantly. After all, speed is the key in my profession, but so is quality. Not only that, I want to be able to recommend to my clients which brand and model to go for if they are in need of a straightener that works to their satisfaction so they will be able to style their mane on their own and still get salon-like results.
I have done my research and read reviews about the Chi Original 1 inch flat iron to learn what I can about this hairstyling iron that has been generating plenty of buzz in the hairstyling industry. I love to try out these types of hot tools myself to see if hair styling with these products will be to my liking and whether it is all that others have said it would be.
From what I have gathered, the Chi Original 1 ceramic flat iron is a professional salon model hair straightener that promises silky shiny and frizz free gorgeous mane each time you use it. The one inch ceramic plates glide smoothly on all hair types which makes it a versatile product to invest in. Not only that, but it does more than just iron out the kinks in your hair, you can also use it to flip and curl your strands too meaning that this is a tool that lets you get creative with your hairstyle. It makes use of the latest innovative technology where the ceramic plates are combined with Far infrared to not only tame frizz but also to reduce static from the strands to minimize flyaways. This is due to the Far Infrared technology directing the heat within the strands where they will not get damaged by exposure to heat.
What can you expect in this Chi Original flat iron review? You will learn the features that this flat iron has to offer and how they will work to your advantage. You will also find possible alternatives to the CHI brand in case you want more options to choose from. With this review, I hope that I will be able to answer your questions on whether the Chi Original 1 inch flat iron is the right one for you.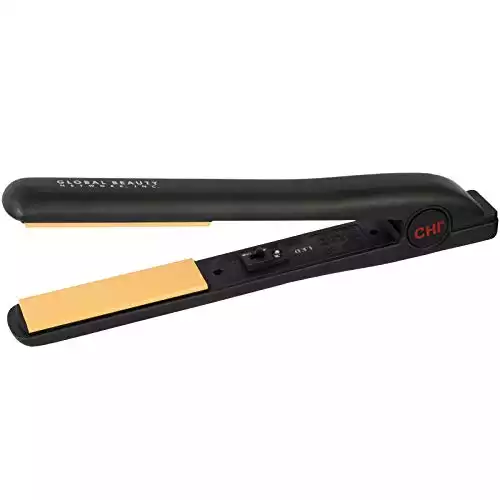 CHI Original Flat Iron Review – Lucky Curl Tested
The Chi Original 1 inch flat iron comes with flash quick heating that takes only 30 seconds for the plates to heat up to the desired temperature. It is easy to use and creates silky hair instantly too. If you are looking for a styling tool flip curl and straighten your mane this is it. The Chi Ceramic Original Flat iron comes with an ergonomic design and uses negative ions to reduce the frizz on your mane while leaving your strands silky smooth and shiny too. It features an auto shut off after an hour of not in use plus it has an 11 ft swivel cord that lets you be more mobile while attending to your mane.
What makes the Chi Original 1 hair straightener a good choice? It is a versatile styling tool flip and curl and straighten your mane minus the frizz. It uses advanced ceramic technology wherein the plates are heating up to 392 degrees Fahrenheit in just 30 seconds. Although there is no temperature setting here, it is still a great buy for those who are just starting out with this styling tool and wants to learn the ropes. Beginners will waste no time trying to figure out this flat iron since it has all the basic features and functions that will make you feel comfortable using it on your mane.
Aside from having an ergonomic design and use
The dual voltage is also one of the perks of using this straightener since, with the aid of an adapter, you will be able to bring it with you wherever you go. The Chi Ceramic flat iron comes with a 2 year limited warranty.
Product Features
What makes the Chi Original Ceramic Hairstyling Iron a popular choice? It all boils down to the features that it boasts of such as:
1″ Ceramic Floating Plates
The Chi Original 1 inch floating plates are known to deliver silky shiny hair instantly. It makes use of advanced ceramic technology to create frizz-free straight or curly strands. The floating plates are designed to clamp down on each section of your hair no matter the angle to provide you with sleek straight mane.
Combining technology to create silky smooth hair with even heating, you can expect the 1 inch plates to heat up the strands evenly so there won't be any hotspots that can burn and damage your mane. The ion technology helps produce moist heat that reduces the risk of damaging your strands making it a good tool for those who have thin or fine hair strands. The iron Chi original one ergonomic design makes it easier to hold and straighten or curl each section of your hair which makes it easier to achieve that salon like results in the comforts of your home.
Additionally, the plates on this ceramic hairstyling iron is squeeze sensitive meaning that you can clamp on your coarse hair tighter to really heat up and straighten the strands to achieve the desired look. For those with fine to color-treated hair, easing up on the pressure minimizes the damage caused by high heat to your already thin strands.
Far Infrared Technology
This versatile all in one hair straightener sports Far infrared technology where instead of heating your hair strands outside, it directs the heat within instead. This is much safer for your hair since it doesn't leave the strands brittle and prone to breakage, particularly in those who have fine to fragile mane.
Flash Quick Heating
If you want to enjoy a frizz free hair instantly, you will love the flash quick heating feature of the Chi Original 1 inch Ceramic Hairstyling Iron. In just 40 seconds, the plates can heat up all the way to 392 degrees Fahrenheit which is its maximum temperature. Although this model doesn't have any temperature controls, it remains a versatile all in one hairstyling iron since it can still be used on various hair types. This feature is useful for those who love to style their mane but don't want to wait more than one to two minutes just so the plates will reach their desired temperature.
Swivel Cord
Fortunately, this ceramic hair straightener from CHI works even better thanks to its 11 ft swivel cord. Unlike other flat irons out there that only has about 8 feet of cord attached to it, this model does it even better by installing a longer swivel cord to improve your mobility. You can stand, sit, or even style your mane while in the kitchen preparing your breakfast without worrying about the cord getting all tangled up. There are several reviews that point to this feature which appeals to many users because it lets them move around better.
Dual Voltage
Another feature worth noting on this flat iron Chi Original is that it has a dual voltage to it. This comes in handy if you are the type of person who travels in and outside the country. What this means is that you only need to purchase an adapter to convert the voltage of this flat iron and it will be safe to use after. This way, regardless of what location you are in, the silky hair instantly flash heating will be at your disposal.
Alternatives
The CHI brand certainly knows how to deliver silky shiny hair instantly with just a single tool, but are there any other flat irons that are not only easy to use, but can provide different hair styling outputs with just a single tool?
To answer that, I have gathered a few more options that you can use in place of the Chi ceramic brand to create silky shiny mane in the comforts of your home.
HSI Professional Glider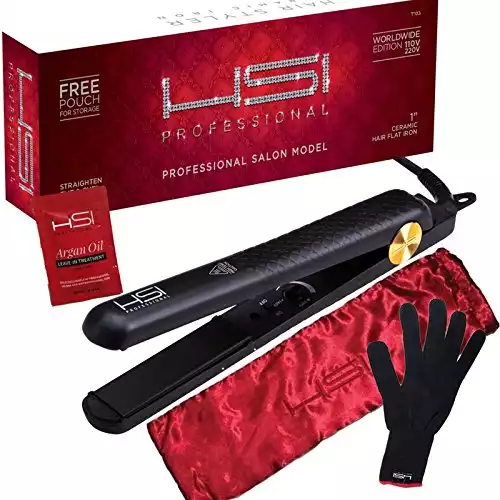 Just like CHI, the HSI professional glider also flips, curls, and straightens mane and it works on all hair types too. Its high quality ceramic plates make use of 8 HeatBalance micro-sensors that assist in keeping the device at an even temperature to minimize damaging your hair strands. And talking about the plates, this one makes use of ceramic and tourmaline crystals that creates silky shiny hair in no time. Also, the plates contain Argan oil that helps add moisture and shine, plus a variety of vitamins, so that your strands will be healthy and strong. It sports an adjustable temperature setting that ranges from 140 degrees F to 450 degrees F so you will have complete control over your hair styling needs depending on your hair type. This product also sports dual voltage very much like the CHI brand which is quite useful especially when you want to have a styling tool with you. Also, you will enjoy using this flat iron since it has a 360 degrees swivel cord at the bottom so you won't have to deal with a tangled cord all the time.
HOT TOOLS Signature Series Ceramic Digital Flat Iron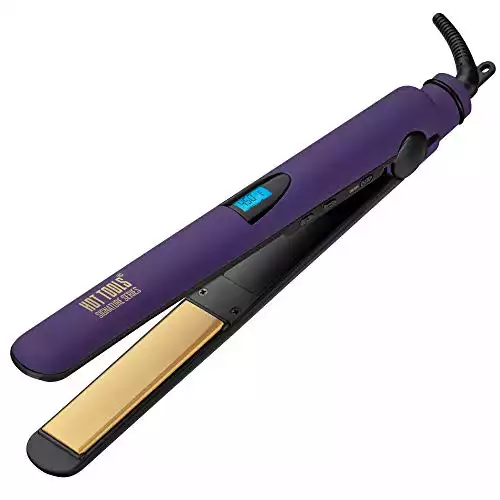 Aside from the Chi Original professional salon model, another option that you can look into that also creates silky shiny hair is the Signature Series Ceramic Digital Flat Iron from HOT TOOLS. Just like the flat iron CHi original one ergonomic design, this product also boasts a rounded edge with a sleek body that is comfortable to use. What makes it stand out is that it also makes use of ceramic technology since this material is known for even heating and creating sleek and shiny mane too. You will find that the Micro-Shine plates are multi-directional so that the plates can clamp down on your strands better for faster styling. And if you want to give your mane an added twist to it, take advantage of the rounded edges to add a bit of a curl at the end of your hair. The Signature Series Ceramic Digital Flat Iron also comes with Pulse Technology wherein the temperature is sustained from start to finish without any hotspots happening on the plates. The temperature can be controlled on your end with the maximum temperature available is 450 degrees F. Take advantage of the custom heat settings so you don't have to second guess what temperature is appropriate for your hair type. This is one of the advantages that you will get here since the Chi Original flat iron lacks this feature. Additionally, you won't have to wait long for you to start using this styling tool since it will only take 30 seconds for the plates to reach the desired temperature. Of course, I am happy to say that this also has an auto shut-off feature (thank goodness!) where it automatically shuts down after an hour of being in idle mode. And don't forget, this is a dual voltage type of flat iron so it can be part of your traveling too which is a plus.
Remington S9500PP Pearl Pro Ceramic Flat Iron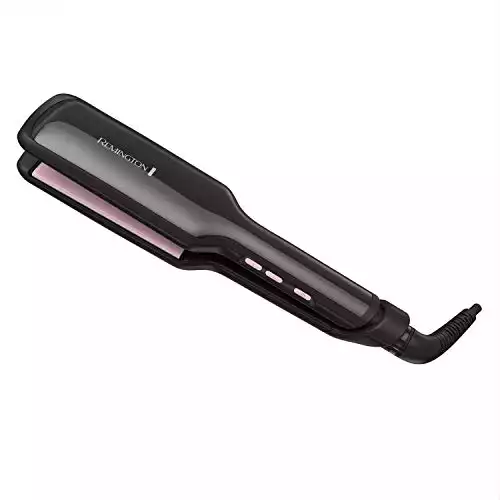 Remington Pearl Ceramic Flat Iron
450°F Salon High Heat - Achieve professional results with the Remington flat iron at home with the 450°F salon high heat.
30 Second Heat Up - Style almost instantly with the rapid 30 second heat up feature.
1" Floating Plates - The 1" ceramic floating plates give you full styling control while staying in constant contact with your hair for a smooth, effortless glide.
Pearl Pro Ceramic Technology - Ceramic with real crushed pearls for a smooth, easy glide.
Auto Shut Off - The 60 minute auto shut off gives you added peace of mind with every use.
Buy Now
We earn a commission if you click this link and make a purchase at no additional cost to you.
11/25/2023 04:30 pm GMT
If there is one thing that you will say about the Remington S9500 PP Pearl Pro Ceramic Flat Iron is that, right off the bat, it is a professional salon model grade that is worth investing in. What caught my eye about this product is that the one inch plates contain real pearls to achieve that smoother and faster glide to minimize heat damage which is a problem with many flat irons out there. It comes equipped with ionic heat to ensure that your hair strands will remain smooth and shiny and without any frizz to mar your mane. Thanks to the floating plates, hair styling is a breeze since you will have more control over each section of your mane. It heats up real quick too since it only takes half a minute to reach the desired temperature which means that you can get right on straightening or even curling your hair with this tool. The digital controls installed in this flat iron gives you full control over the straightener so that you will be able to pair it with your hair type while the LCD display informs you of the current temperature that your flat iron is. Take note that it also sports a temperature lock where you won't have to worry about accidentally toggling the temperature buttons up or down while ironing your strands. I love that it also comes with an auto shut off feature which, I have said time and time again, is important when it comes to hot tools since you do not want to end up with accidents.
Final Thoughts
I would recommend the Chi Original Ceramic Hairstyling Iron since it is a no-fuss type of flat iron that will work well with those who are just starting to use this type of tool on their mane. CHI flat irons use advanced ceramic technology in order to have the plates glide smoothly on your hair without snagging your strands in the process which is exactly what you can expect from its original hair straightener. It works well with various hair types, but it works best on oily, dry, and normal hair strands. Still, it is a versatile tool that not only straightens your mane but can also flip and even curl your tresses too.
It comes with flash quick heating up to 392 F wherein you only need to wait up to 30 seconds at least before you start ironing out your hair. Talk about speeding up the styling time on your end! I love that the iron Chi original flat iron combines the latest ceramic technology with even heating in order to produce more negative ions that essentially tame frizz quickly. Let's not forget that it also has Far Infrared technology that helps reduce static so no need to worry about ending up with flyaways.
I would like to highlight the fact that this product comes with an automatic shut off feature after an hour of inactivity, and that it is also a suitable tool to bring with you in your travels since it has dual voltage too. It definitely has one of the longest cords I found in the market which I think is handy if you need to move around while you are styling your mane. With a 2 year limited warranty in place, I would consider this product a good buy already.
You can purchase the flat iron here.
Leah Williams
Leah Williams is the founder of Lucky Curl and has been in the hair care and styling industry for the last 15 years. Since then, she has developed incredible expertise and a deep understanding of how to treat and style the most difficult hair types and is passionate about sharing her knowledge with the readers of Lucky Curl.