This is a review of the Conair Double Ceramic Flat Iron.
I style hair for a living and I am obsessed with trying out styling tools off-duty. With 15 years of experience as a stylist, I have used both excellent and terrible flat irons.
This is the fruit of my research on the Conair Double Ceramic Flat Iron. The variant I will be reviewing has 1 inch plates and a white and rose gold casing.
I found the Conair flat iron to be a wonderful hair straightener at its price point. It's best for fine to normal hair and has extra long plates for wider coverage.
You can also choose from 5 preset temperature settings. The plates heat up quickly and the straightener has a built-in lock for storage.
There are a few downsides to the Conair Double Ceramic, which may or may not be dealbreakers for you and your hair type.
This in-depth review will cover the salient features of the straightener and what their benefits are. I'll also discuss the pros and cons, as well as some alternatives to the product.
Let's get started.
Introducing the Conair Double Ceramic Flat Iron

The Conair Double Ceramic Flat Iron features the brand's Double Ceramic Technology. The ceramic-coated plates have double the amount of ceramic, a material favored for its gentle, even heat distribution.
The plates are housed in a premium-looking white body with rose gold accents. It looks more expensive than it actually is. Budget-friendly doesn't mean that this lacks features. The straightener has long floating plates, a quick heat up time, even heat distribution, and an automatic shutoff feature.
This Conair iron pulls above its weight. However, its usability is affected by the somewhat short power cord and limited heat settings. It also doesn't reach a high temperature and the plates require some force to clamp down on the strands fully.
If you have fine to medium hair, this is a good dual-purpose straightener on a budget. However, it will test your patience if you have thick or very long locks.
Notable Features of the Conair Double Ceramic Flat Iron
Plates
Material
The plates of the Conair Double Ceramic are made of the brand's proprietary "double ceramic" coating. This means double the smoothness so the straightener can glide through the locks.
I love ceramic in flat irons because it styles without causing excessive thermal damage. The higher ceramic content means the straightener will produce and transfer even and gentle heat.
The double ceramic coating also makes this a more durable straightener than if it were made of a single layer. It will be more resistant to drops and take a beating without worries.
Size
One inch plates are a perfect medium for styling all types of hair. The Conair Double Ceramic Flat Iron is also a versatile hair styling tool because it has rounded edges that make curling hair easy. If you're someone who wants an easy to use all-rounder straightener, this is a good option.
The 1-inch plates are also extra long which allows you to straighten wider sections of hair at a time. That means fast styling and therefore, less heat exposure for your strands. It's a win-win, in my book!
Floating Plates
The flat iron has floating plates, a mechanism that allows the plates to move with your hair, letting you style at different angles yet still maintain full contact with the plates. With more control, you can get sleek and straight hair without pressing the plates very hard.
However, some users have noted that the plates don't press together completely. You have to press it tightly together as you swipe it down the lengths of the hair. This may not be an issue for you if you you don't have arthritis or mobility issues. Still, it's something to note, just in case you are dealing with these problems.
Temperature Settings and Performance
You can style your hair fast with the flat iron's rapid 30-second heat up. Some reviews even say it heats up in half the advertised time. If you're someone who hates waiting for the plates to reach temperature, this is a flat iron to consider.
There are 5 LED temperature settings. You can change the heat setting by pressing the plus and minus buttons beside the power button. The temperature options are 410°F, 374°F, 338°F, 302°F and 266°F.
While it doesn't reach a very high temperature, it drastically reduce the risk of heat damage since it won't get searing hot. If you have hard-to-curl hair or rebellious ringlets, you'll need more passes. This is best for straight to wavy hair types.
The higher ceramic content delivers even heat distribution and the heat recovery system ensures that you can get right back to straightening in between sections with no lag time.
Ease of Use
Straightening your hair with the Conair Flat Iron is a simple, straightforward process. It's lightweight and easy to use. It comes with an ergonomic handle. Holding it is comfortable and the design gives you more styling control.
The downside is the short swivel power cord, which is only about 5 feet long. You have to stay close to a power outlet when styling. This limits usability and range of motion somewhat.
Safety and Storage
The flat iron has an automatic shutoff feature for worry-free hair styling. It's hard to explain how important this feature is if you're not a regular use of styling tools. You will inevitably forget to plug it off and this feature adds peace of mind and protects your home and belongings.
Another feature I like in the Conair straightener is its handle lock feature. When switched to the lock position, it stays clamped for hassle-free storage. This protects your flat iron from chips and saves on space.
Warranty
Another feature for extra peace of mind is the warranty. The Conair Double Ceramic Flat Iron is backed by a limited three-year warranty, which is generous at this price point. This offers great value for money and is a lifesaver if your flat iron encounters any malfunctions down the line.
Alternatives
KIPOZI Pro 1 Inch Flat Iron Hair Straightener
This KIPOZI flat iron has 1-inch floating ceramic plates and a quick heat up time. It has an even wider temperature range than the Conair Double Ceramic hair straightener, namely 180℉ to 450℉. It can be used to curl or straighten hair and is capable of dual voltage, which makes it a better option if you're looking for a travel flat iron.
HSI Professional Glider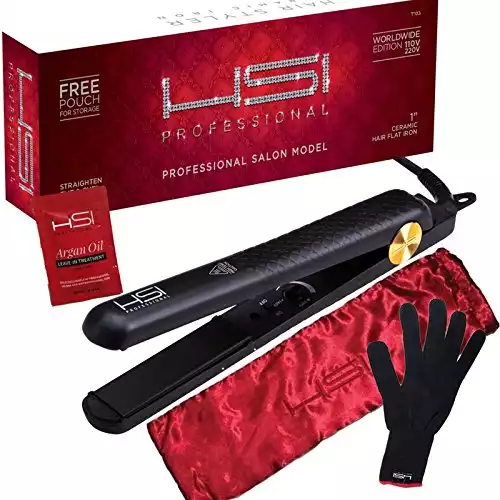 Another good budget friendly flat iron for curling and straightening is the well-loved HSI Professional Glider. It's suitable for someone with a damaged hair type because of its tourmaline ceramic plates. It has adjustable heat settings from 140 to 450°F and dual voltage compatibility. With its long swivel cord and lightweight build, it's easy to use but sadly, it lacks an auto shutoff feature.
REVLON Perfect Straight Smooth Brilliance Ceramic Flat Iron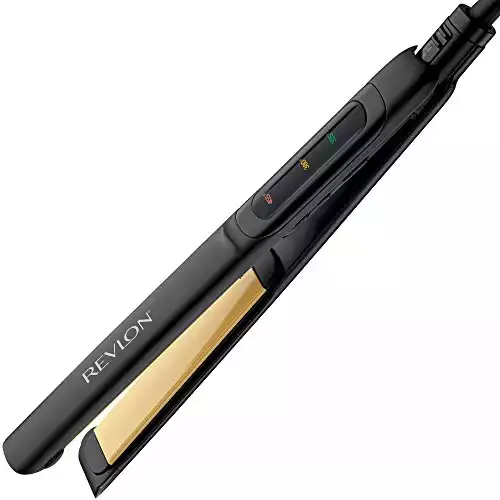 This Revlon flat iron is made with tourmaline ceramic and equipped with ionic technology for a frizz-free finish. The budget-friendly product reaches a maximum temperature of 455°F, ideal for coarse and curly hair. It has 1-inch gold true-grip floating plates for faster and easier straightening and 10 variable heat settings to give you optimum temperature control. This flat iron feels lightweight and even comes with an auto shutoff for peace of mind.
The Verdict
I recommend the Conair Double Ceramic Flat Iron for people who want a multipurpose flat iron and have low-maintenance hair that's easy to straighten. It heats up quickly and retains its temperature but its maximum heat may be too gentle for coarse hair types.
This review shows what a terrific deal it is for its price category, from its chic build to its double ceramic composition. It has its shortcomings but its other features make up for them, such as its automatic shutoff and storage lock.
I would classify this flat iron as above average model in the budget category. It will be a good option for anyone except for the hair textures mentioned above.
You can purchase the Conair Double Ceramic Flat Iron and find out more details at this link.
Leah Williams
Leah Williams is the founder of Lucky Curl and has been in the hair care and styling industry for the last 15 years. Since then, she has developed incredible expertise and a deep understanding of how to treat and style the most difficult hair types and is passionate about sharing her knowledge with the readers of Lucky Curl.