This is a review of the Infiniti Pro by Conair Ionic Steam Flat Iron.
One of the best parts of my job is being able to test various hair styling tools. A few months ago, I was presented with the chance to try out the Conair Steam Flat Iron and was excited to see if the steam improved the straightening process at all.
From what I have gathered about the Ionic Steam Flat Iron by Conair is that it works by delivering more moisture to your strands to prevent them from getting all tangled up. It protects your strands from too much heat plus it comes with a removable water reservoir too which, I have to say, is the first time that I have encountered one. Other features that you can expect from Conair are 2 stage styling and advanced technology to minimize burnt hair and retractable detangling combs to get rid of the tangled knots on your mane.
What can you expect in this review about the Infiniti Pro by Conair? You will learn more about the features that it comes with and figure out how they will benefit you. I love that this flat iron also comes with a detangling comb that can separate all the knots that may have formed on your mane. Of course, you should be aware that the straightener can only do so much without you wielding it. There are other features that made me curious as to how you can replicate salon-like results in the comforts of your own home.
Read on for my expert review.

We earn a commission if you click this link and make a purchase at no additional cost to you.
Conair Steam Flat Iron Review
Conair's Infinity Pro does seem like a promising styling tool that relies on ionic steam to iron out the kinks in your mane. It has an ionic technology that makes use of heat and ions to calm any frizz that is threatening to pop out. You will notice that it comes with a removable water reservoir so you can get rid of excess water in a jiffy. It can be used by anyone regardless of their hair type which comes in handy too in the long run. Among the unique features that you will find on this product includes retractable combs, a temperature display, 30 second heat up feature, plus a long swivel cord that prevents you from getting tangled while using it.
The ionic technology that the Infiniti Pro has helps tame frizz and flyaways since there is less static happening in your strands. What this means is that your hair will become more manageable which I like. Then there is the automatic multi-level steam function that steams your hair to achieve that sleek and stylish straight hair minus heat damage. It provides hair with healthy moisture and shine too so you can get salon results even while you are at home.
Is this ionic steam flat iron by Conair any good? I would say that yes, it does the job of styling your mane easier and without exposing your strands to high heat even. It comes with several features including retractable combs for removing tangles and then there is the ionic technology that produces negative ions to counter the positive ions to minimize the appearance of frizz.
The plates are coated with Nano Silver as well as Tourmaline Ceramic technology which makes them sturdy, durable, and capable of heating up evenly so there won't be any hotspots to worry about. The maximum temperature that it can reach is at 395 degrees Fahrenheit. It is highly versatile and convenient to use which is one of the reasons why I believe that this is worth investing in if you are looking for a straightener that will straighten and style your mane without ruining it at all.
The Features
For those who are new and inexperienced when it comes to flat irons, it would help if you familiarize yourself with its features first. This way, you will know what to expect from it and how it will benefit you too. That said, Conair's ionic steam flat iron comes with a few impressive features such as:
2-Stage Styling and Advanced Technology
The first thing that you will love about this flat iron is that it makes use of a 2-stage styling process for sleek straight hair. The first step is that the Nano Silver infused plates glide smoothly across each section of your mane, while the Tourmaline Ceramic covering protects the strands against damages.
Using this tourmaline ceramic hair straightener will first infuse your strands with steam filled with conditioning components while the second step is locking in all the moisture to your mane using the heated plates. What you will get after are pin-straight silky smooth strands that look like you have just been to the salon. One of the benefits that you will enjoy here too is that you will be able to enjoy that look for hours.
The Nano Silver Tourmaline Ceramic plates are a joy to use. Not only are they durable, but they can also withstand high heat without causing the plates to crack or get damaged. You won't have to worry about your hair getting snagged or pulled at which is certainly a relief. A lot of people found that the Infiniti Pro works great for their hair because of it, plus they are easy to maintain too.
Retractable Combs
Another feature that is worth noting here is the 3 position retractable combs that are designed to detangle even the most stubborn knots. As you glide the plates on a section of your hair the combs will slowly detangle them so you don't have to worry about your hair getting snagged. These retractable combs come in different heights too which are high, low, and off. These options let you choose one that is appropriate for the type of mane that you have.
Additionally, the retractable combs are covered with Nano Silver Tourmaline Ceramic which means that your hair will glide smoothly so that there won't be any tangles to bother you anymore. Once you have detangled your mane, you will notice that it is smoother, shinier, and more manageable as well.
Hydro Silk Ionic Steam Mist
The hydro silk ionic steam mist is the one responsible for delivering more moisture to your hair strands so that they will look healthy and shiny. This multi-level steam feature leaves your mane straight while smoothing the cuticles of your strands to keep your style locked in for hours.
How to use this flat iron hydro silk feature installed in the Infiniti Pro? Fill up the removable water reservoir and put it back for around 20 minutes of steaming your mane with it. You can turn this off if you like or adjust how much steam you want to use for your hair. Take note that if your mane is a bit thick or coarse, choose the highest setting for the steam to help with getting your tresses ready for straightening.
Ionic Technology
Yes, the ionic steam infuses strands with more moisture, but it is the ionic technology that helps tame frizz and flyaways. What this technology does is lessen the amount of static being produced to make your hair more manageable compared to before. This ionic steam straightener comes with a true ion generator that can produce up to 2 million ions. Now when you combine this feature with the hydro silk ionic steam, what you will get is a device that will not have any difficulties in achieving the smoothness and shine to your mane just like when you are in the salon.
Temperature Control
The reviews that I have come across also touted the temperature control that is used in the Infiniti Pro. One of the things that you will love about this product is the fact that it can reach high heat in no time. The highest temperature setting is up to 395 degrees Fahrenheit which is ideal for those who have a thicker mane. Do not use this setting if you have fine or fragile strands.
If this is your first time using this, make sure that you start with the lowest setting first then gradually increase the temperature to avoid damaging your strands. There are five heat settings that you can choose from with the lowest recommended for those who have fine to brittle strands. On the other hand, if you are dealing with thick and coarse mane, you can go for the maximum temperature which is at 395 degrees Fahrenheit.
What I like about using a hair straightener with temperature control is the fact that you are able to control the amount of heat you are exposing your hair to. Unlike other straightening tools that only have one heat setting, Conair's styling tool gives you different choices to protect your strands from getting damaged.
Swivel Cord
The hydro silk ionic steam hair straightening tool won't be effective if the cable is short hence Conair has seen it fit to equip this device with a 9 ft 360 degrees swivel cord so you won't be hampered by getting tangled into the cord. This way, you will be able to walk around while straightening your stuff plus you don't have to contort yourself just to reach the back of your head.
Alternatives to the Infiniti Pro Steam Flat Iron
The flat iron hydro silk tool by Conair does come in handy as it infuses hair with enough moisture to help detangle strands plus it straightens my hair just like when I am in the salon. But what other product can you purchase that will give you the best results? Here I have gathered three options that you, as the customer, will want to check.
Remington Wet2Straight Flat Iron
Remington Wet 2 Straight Flat Iron
Ceramic plates
Heats up in just 30 seconds
Steam Vents - distinctive steam vents allow you to start styling right out of the shower
Salon-Quality heat - provides up to 420 degrees of professional-grade heat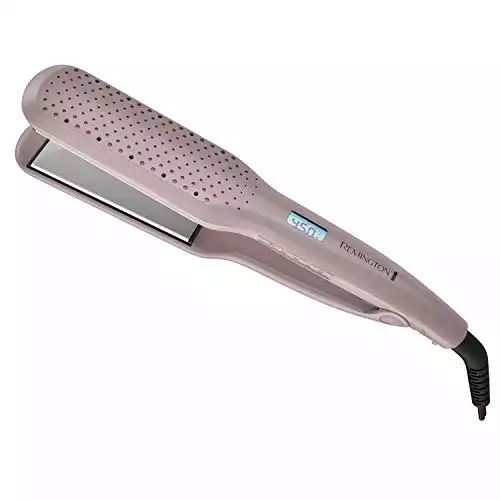 We earn a commission if you click this link and make a purchase at no additional cost to you.
As the name suggests, this product is designed to be used even on wet hair which is quite different from what Conair has to offer. It is useful for those who are often on the go since you don't have to wait a long time before your hair becomes dry enough to iron it out. How is this possible? Well, the Wet2Straight straightening tool comes with 1 3/4 plates that can hold on to more hair compared to others. Unlike before when you have to use a blow dryer prior to straightening the strands out, this tool can be used safely even when your mane is still wet. Since heating up wet hair can cause damage to the strands, Remington has created a unique design by adding steam vents that help remove excess water so that you will be able to straighten your mane at the same time. I am happy to report that this brand of straightener can reduce damage by up to 60%! There are 30 heat settings installed making it a useful device when it comes to straightening your mane. No need to guess what temperature will be appropriate for based on your hair style because you can start at the lowest temperature then gradually make up for it by raising the temperature. It is also worth noting that there is a wet/dry indicator so you won't have to worry about burning your mane. The maximum temperature for this unit is set at 420 degrees F which is high enough to be able to help those with coarse to thick mane.
FURIDEN Steam Hair Straightener
We earn a commission if you click this link and make a purchase at no additional cost to you.
If you are looking for a hair straightening tool that will work on all hair types, the FURIDEN steam hair straightener gets the job done. The first thing that you will notice here is that this product also makes use of steam to iron out your mane much like what you do with the Conair brand. With just a single pass of the plates, you will see a huge difference between your unstraightened hair and after running the plates on each section of your mane. There are 38 heat settings installed here which means that you are in complete control over the heat that you can use on your mane. This feature actually helps with protecting your strands from high heat. If this is your first time to use it, go with the lowest setting first then adjust as needed. Going back to the steaming properties of this product, you will find that your mane will look better than ever because the combination of steam and hot plates help drive the moisture to your hair and lock it in place. The best part is that it is compatible with all hair types too, so you don't have to worry about missing out on the amazing benefits of FURIDEN.
xtava Steam Flat Iron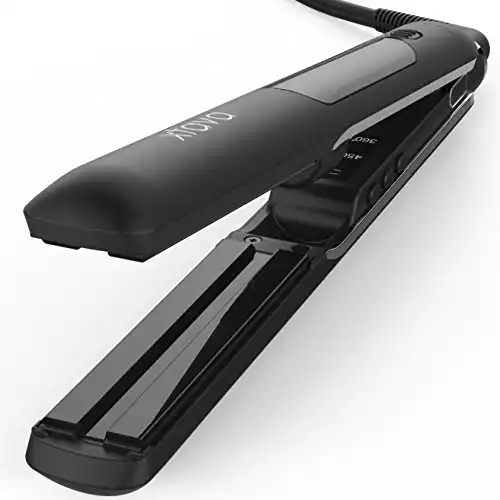 We earn a commission if you click this link and make a purchase at no additional cost to you.
The xtava Steam Flat Iron ranked one of the best flat irons in the market and with good reason. This product also comes with a water reservoir that you can fill up to create the right amount of heat to steam your strands. The 1 inch plates are made from nano ceramic as well as tourmaline not only to make them durable, but also to generate even heating. Now combine this with the concept of steam heating and you will find that it is easier to achieve that salon-like results in the comforts of your home. Just like with Conair, simply refill the removable bottle with water and choose the amount of heat that you want it to generate and that's it. Fortunately, the xtava is quite simple to understand since there is only two heating options present with the highest capable of reaching up to 450 degrees Fahrenheit which is recommended for those who have thick and coarse strands. It comes with an auto shut-off feature too which I am quite fond of since I don't want to end up worrying too much about forgetting to unplug my device. All in all, I would say that this is also a good alternative to what Conair is offering since it also makes use of steam to style your mane. Not only that, but the design isn't bad either because it has all the features placed strategically on the barrel.
Final Thoughts
The Conair Ionic Steam Flat Iron was specially designed for professional hairstylists but later on, they had sold it in stores nationwide. What made this unique is the fact that it makes use of steam to take care of your strands safely. You choose how much steam you are going to use for your mane with the highest setting reserved to those who have thick, coarse hair so you will be able to straighten it just like a professional stylist would do. Of course, the ionic technology has also played a part here wherein it reduces the amount of static present in your mane so that you won't have to deal with frizz all the time.
What surprised me about this product is that it comes with retractable combs that help with detangling your hair while straightening it. The combs come with nano tourmaline coating for less frizz which is a plus especially to those who have curly, thick, or even coarse hair. What this means is that as you glide the plates on a section of your hair, you won't have to worry about snagging a portion of it between the plates but rather that they will be detangled gently.
Like it was mentioned before, the Conair brand is one of the best in the market because aside from being versatile, it also infuses hair with its much-needed moisture to tame frizz and flaways. It may not be able to dry and style your mane like the others, but you will find this tool to come in handy in giving you the best salon-like results right in the comfort of your home. It is also worth mentioning that it has a long swivel cord that lets you move around freely without worrying about causing the cord to get all tangled up as well.
If you are looking for the best straightening tool to use on your mane, grab the Infiniti Pro by Container right this minute. You can purchase the product here.
Leah Williams
Leah Williams is the founder of Lucky Curl and has been in the hair care and styling industry for the last 15 years. Since then, she has developed incredible expertise and a deep understanding of how to treat and style the most difficult hair types and is passionate about sharing her knowledge with the readers of Lucky Curl.