What's the difference between a curling wand vs curling iron? The first thing that you will notice about a curling wand is that it doesn't have any clasp on it which makes it a good tool for creating natural waves. On the other hand, a curling iron comes with a clasp and is typically used to create more detailed curls or ringlets.
Both these hot styling tools come in handy when creating different kinds of waves and curls but which one is better? Which one will fair better between the iron vs curling wand?
I have used different hair styling tools in my profession as a hair stylist which includes using both a curling iron and a curling wand. I am leaning towards traditional curling with the aid of a curling iron since I am more familiar with it, but with the curling wands getting more attention these days, I thought it would be best to compare the two to see which ones works better.
My research on these hot tools includes determining their pros and cons as well as what features to expect from each one. After all, as a hair stylist, it is part of my job to know how a styling tool works, what features does it have that sets it apart from the other, and whether it is worth investing in.
What can you expect from this article? My goal here is to provide you with useful information when it comes to a curling wand vs curling iron. Here you will learn:
The difference between a curling iron and a curling wand.
Advantages and disadvantages of both styling tools.
How to use them correctly.
Hopefully, understanding the subtle differences between these two tools will be able to give you the information that you need to make a smart choice if you are in the lookout for the best styling tool to use on your mane.
Curling Wand vs Curling Iron – What's The Difference?
Like I mentioned before, I have been using both the curling wand and curling iron when styling my clients' hair. Of course, I have my personal preference, but this doesn't mean that I don't like using the other. As a matter of fact, both these tools are great for creating various curls easily. But for those who have encountered the wand version, I am sure you are hesitant to try it out since it is new to you. So, let me explain how these two vary from one another by discussing their features. Let's get started!
Features of a Curling Iron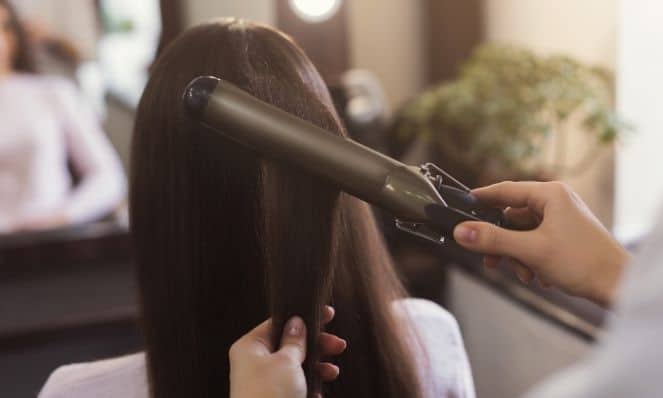 The curling iron has been around for quite some time now that people are quite adept in handling it. Among the features that you can enjoy with it are:
The barrel takes a few minutes to reach the desired temperature in order to create more defined curls.
It comes with heat settings that lets you choose the right amount of heat you want to use on your mane.
There are three heating plates that are frequently used for this kind of styling tool and these are: ceramic, tourmaline, and any ordinary metal. The latter is suitable for those who want to straighten their mane. The ceramic and tourmaline materials, on the other hand, are stronger, generates heat even, and reduce frizz and flyaways too.
The size of the barrel is a good indication on how big or small the curls you can make with it are.
There are some models that let you interchange the barrel as you see fit so you don't have to invest on a different styling tool.
Features of a Curling Wand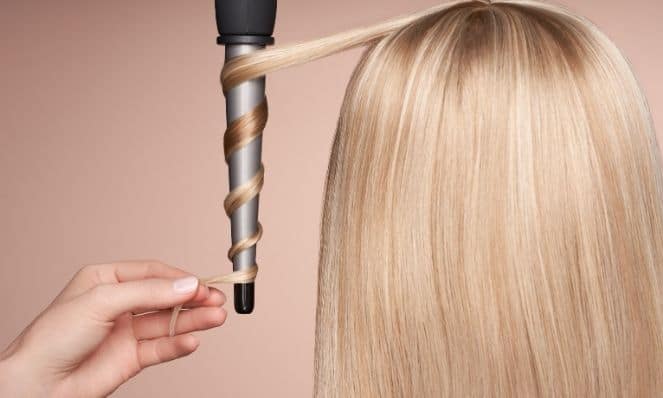 The heating process will only take at least half a minute to a full minute depending on what triggered in the first place.
The design of the barrel is more tapered to the end. You can use this to create ringlets that are more loose for the beach wavey strands.
Since the clamp is removed from the design, what you will end up with is a tapered barrel which makes the ends of your mane tighter and curlier than others. Additionally, the missing clamp actually removes the instances where lines on your strands are more prominent.
The curls that you create with this wand last longer compared to others.
Benefits of a Curling Iron vs Curling Wand
Transforming your normally straight hair into a celebrity hairstylist approved look will require you to head to the salon for a more detailed handling of your mane. But thanks to the appearance of the curling iron and the contender, curling wand, it won't be difficult to find the appropriate styling tool for you. But which one will work best for you?
To better understand these styling tools, let us find out the benefits associated with them, as well as their disadvantages, so you can have a much better idea on which one to get:
Curling Iron
Pros:
If you want to have gorgeous looking mane, then you will know that you need to grab your curling iron too.
It can withstand heat without burning through your hands.
It clamps down on each section of your mane to speed up the process and to avoid burning your head even.
It comes with multiple settings so you will have more options to choose how high the heat is.
It has an auto shut-off feature for safety reasons.
Cons:
The time it takes to heat the barrel is quite long.
It can be confusing on how you want to rotate each section of your strands to achieve the look that you want.
Curling Wand
Pros:
You get to experiment with different hairstyles thanks to the barrel size. You can create loose beach waves or you want corkscrew nails.
There won't be any tell-tale signs of ironing your strands because there is no tell-tale sign on your mane.
The styling time is shortened because of the ease in which the wand is used.
Cons:
Since there is no clamp included in the design, you might burn your fingers especially when you are checking if the plates are cold or warm.
It takes some time getting used to since you need to wrap your hair around the barrel and hold for a couple of minutes.
How to Use Your Curling Iron or Curling Wand the Right Way
Switching from a curling iron to a curling wand won't be easy, especially when you are used to a clamp holding your hair in place. This is why, it would be better if you know how to use these tools the right way so that, when you switch to one equipment to the other, you won't make any mistakes that will ruin your hair.
How to Use a Curling Iron
If you are aiming for more detailed curls, then the curling iron is your best bet to style your hair with. Fortunately, curling irons do come with a clip that functions just like a clamp so that you will be able to curl each section of your hair from the roots all the way to the tips. Compared to the curling wand, you will need to keep a section of your hair rolled on the barrel for about 10 seconds for them to heat up.
Since curling irons come with clips, you don't have to worry about using a heat protection glove to test your strands out. The clamp will keep your hair in place as you style it. Your curls may feel a bit flat because of the curling iron and that the area where the the clamp is attached to may have a bit of a line on it. Luckily, this doesn't take away from the gorgeous curls that it will create for you.
How to Use a Curling Wand
What about curling wands? What is the right way of using them? This is going to be a bit tricky since the design doesn't include a clamp to it. This means that you will have to hold each section of your mane by your fingertips. Here's how to use this styling tool correctly.
Hold the handle of the curling wand with one hand.
Make sure that you are wearing the heat protection glove included in the box to protect your hand from getting burned while holding a section of your hair to be curled.
Now wrap your hair starting from the roots all the way to the tips around the barrel or wand. Hold this for about five seconds.
Pull the wand from your hair gently.
Which One Should You Get?
Choosing between curling irons and curling wands is easier said than done as both of these tools are efficient in creating a variety of curls for all hair types. That said, let me just reiterate the benefits of using these curling tools.
Curling wands are perfect for those who want to make their hair curly or wavy in a jiffy and want to make them last throughout the day. If you don't mind that your mane will look a bit dull afterwards, then this is the right tool for you.
Curling irons are best for special events or days that you want to look your best with shiny and smooth curls that are more detailed. Although you will need more time with this tool, the results are amazing since your curls will look better because they are more defined.
Just a quick recap here, the curling iron and curling wand may have the same objective, which is curling your hair, but how they get this done is different. For most of us, we grew up with the curling iron, yes, the one with the clip, which is easier to use given that we don't have to touch our hair when curling it. This is typically used for creating more defined curls and works great even on those who have thick hair. Nowadays, curling irons come in a variety of sizes and styles, including temperature settings, so you will be able to choose the right temperature for the type of hair that you have.
Curling wands, as the name suggests, have a body that resembles that of a wand where one edge is tapered off. This tool is typically used for creating loose or beachy waves. I like that you can curl all the way to the tips but, for firs timers, this will be a bit tricky especially when there is no clamp that will hold your hair against the barrel. Yes, this means that you will be the one hold the strands in place hence the need for gloves.
I hope that, with the information that you have here, you will be able to discern which of the two will be ideal for your use. On my part, both have their pros and cons, and in my profession, they do work well for me.
What are you waiting for? Grab a curling iron or curling wand to add to your styling tools to get those stunning curls you have always wanted and share with us your experience!
Leah Williams
Leah Williams is the founder of Lucky Curl and has been in the hair care and styling industry for the last 15 years. Since then, she has developed incredible expertise and a deep understanding of how to treat and style the most difficult hair types and is passionate about sharing her knowledge with the readers of Lucky Curl.