As someone who's very particular about hair styling tools, I have a complete arsenal to help me get ready for any occasion.
A versatile flat iron is one of the best tools to have if you want to straighten your hair and get a wave or curl without reaching for two separate tools.
In this Drybar Flat Iron review, we take an in-depth look at this dual-purpose iron that promises to straighten, curl, smooth, and shine. Discover our favorite features and what makes this hair straightener unique.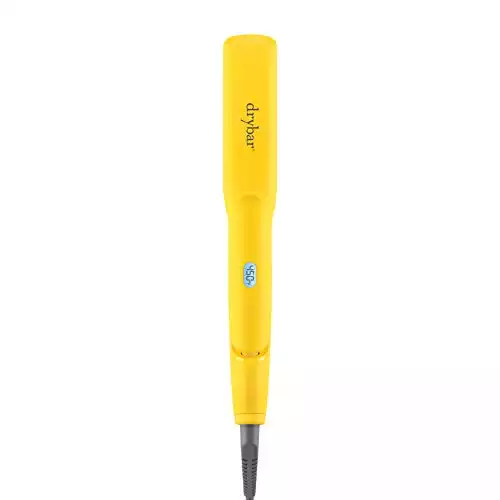 Things to Consider Before Buying a Flat Iron
Before you buy a flat iron, make sure you check out if it's a high-quality product that will fit your hair type and needs. These are some of the things I look at before buying a flat iron. Hopefully, this helps make shopping easier.
Material
Pick a plate material that will be effective for your hair type. For example, if you have fine hair, you won't need that much heat to get a good curl or sleek look. Ceramic flat irons offer even heat distribution, making them ideal for fine or damaged locks.
Alternately, if your hair is hard to straighten or curl, go for a flat iron with a high heat capacity like titanium.
Plate Width and Barrel Shape
You should also consider the size of the plates. A wider plate will be able to straighten more hair at a time, thereby halving the time you spend styling. This is useful if you have long or thick hair.
However, if you're also using a flat iron as a curler and want more intricate waves, you should go for a narrower plate width. The bigger the plate, the greater the curl. If you have thin, fragile hair, exposing your hair to a wide plate means more heat exposure, which may be destructive to your locks.
Temperature Control
When looking at flat irons, try to get one with adjustable temperature control which will help you adjust the temperature to your hair type to help maintain healthy locks
Technology
Key plate technologies to look for are far infrared heat and negative ionic functions.
Far infrared technology dries your hair from the inside, a far gentler approach than applying heat directly to the outside of the strands.
Negative ions help dry hair faster by countering positive water molecules. Ionic technology seals the cuticle for less frizz and static.
Floating Plates
Floating plates make a straightener easier to use because these plates can move with the hair and have full contact with the surface. This makes for even straightening and helps prevent dreaded snags and pulls.
Ergonomic Design and Intuitive Controls
Lastly, what adds pleasure to the styling experience are good controls and a grippy handle. The settings should be labeled clearly and located in an accessible place. A swivel cord helps with maneuvering the flat iron and lessens strain on the hands when you're styling the back of your head or twirling the straightener away from your face.
Drybar Flat Iron Reviewed
The Drybar Tress Press Straightening Iron is a versatile flat iron that can get hair to straighten and curl or flip its ends. You can wrap strands around its rounded edges for crease-free waves and curls.
The 1.25-inch floating plates ensure full contact as the flat iron glides down on your hair. The flat iron is equipped with titanium and far infrared technology and a digital temperature control. It also features an automatic shutoff, dual voltage and a long swivel cord.
This flat iron is for people looking for a curler and straightening tool in one product. It's best for fine to thin hair that doesn't need high temperatures to curl or straighten. It's not the best option for those with coarse, curly or frizzy hair because it will take more passes to get good results.
Pros
Fitted with 1.25-inch titanium plates, the right-sized barrel for waves and curls
Has rounded edges that are ideal for curling
Floating plates reduce snags
Uses far infrared heat and titanium technology
Comes with an automatic shutoff and a long swivel cord
Cons
Feels delicate and the build quality needs improvement
Some users say it stops working after a few months
The paint flakes or peels off
Features & Benefits
About Drybar
The Tress Press Straightening Iron is made by Drybar, a brand that started as a blowdry bar in California and quickly evolved into a multi-location salon and a hairstyling line. People know them for their fantastic blowouts and since branching out into consumer products, you can now get the Drybar experience at home.
The Tress Press is their flagship flat iron. It comes in 1-inch and 1.25-inch plate widths. You can also get its mini version, the Tiny Tress Press, for on-the-go touch-ups.
Plates
Drybar is a fan of titanium plates and it's what they use for the Tress Press Styling Iron. Titanium heats up rapidly, retains heat well and requires fewer passes to straighten hair. It efficiently transfers heat so your 'do sets and stays.
The Tress Press styling iron is good for smoothing out stray hairs and achieving sleek styles. And since it has rounded edges, it doubles as a curling iron, too.
The beveled edges are better than blunt ones for adding movement and flips to the ends. You can easily wrap hair around the barrel to create luscious, defined curls without crimps or creases.
The floating plates provide constant contact with the hair sections from start to finish so your strands are heated uniformly. The plates move with the hair so it doesn't get caught in the edges, nooks or crannies.
Heat Settings
The Tress Press comes with multiple heat settings up to 450°F/232°C so it should fit all hair types, in theory.
You do have to be careful with titanium if you have damage-prone hair because it can be too much way too soon. That being said, the Drybar styling iron doesn't actually get too hot and is better suited for fine, normal, or thin hair.
Some users have noted that it struggles to straighten coarse, wavy, or curly hair. It will probably not straighten in a single pass or easily get the desired result for these hair types and it may expose hair to more heat than it needs.
I do like that it comes with intuitive controls with a digital readout display. Inside the handle, you will find the power switch and buttons for adjusting the temperature.
Technology
The Drybar Tress Press uses far infrared which hastens the styling process by penetrating the hair strand and drying it from the inside. This minimizes heat damage and retains moisture in the hair shaft so it's a far less destructive way to straighten and curl the hair.
This also has ionic technology, which means it produces negative ions. These ions carry a negative charge which cancels out the positive charge found in wet hair.
Hairstyling is made easier with negative ions because they tone down frizz and static and make your hair look smooth and shiny. Plus, it reduces styling time. It's a little thing that makes a big difference.
Design and Ease of Use
First off, I love this buttercup yellow color on the Drybar flat iron. It's a brand signature and it makes this tool stand out in a sea of boring blacks and silvers.
Aside from the eye-catching color, the styling iron has other good design elements such as the swivel cord. This will allow you to easily reach the back of your head and point the iron at any angle you like.
The controls are clearly labeled and the digital display lets you know how much heat the plates are giving off. Floating plates make straightening a pain-free experience.
Got no extension cord? It's no sweat since this styling iron comes with a 9-foot cord, which is truly amazing, above and beyond what comes with most flat irons I've seen.
That being said, a lot of users say the yellow paint peels or flakes off, probably due to the heat. While it's more of an aesthetic concern, it may be an issue for some people.
I also think they could have made the build a bit more sturdy. I feel like the styling iron isn't resistant to drops so you have to be careful when handling it. This shouldn't be a problem if you don't have slippery fingers.
Other Features
I also love that the Drybar Tress Press has a 60 minute automatic shutoff for safety. There have been so many times that I've left the house forgetting to unplug or turn off my straightener. You will also enjoy the dual voltage capability of the Drybar straightener. You can take it with you when traveling so you always looking Insta-ready, even without a converter on hand.
Social Proof
Still on the fence about the Drybar straightener? I found some reviews detailing users' experiences with the Tress Press and they look quite promising! Here are some excerpts.


Alternatives
It may be helpful to compare the Drybar Straightening Iron with other similar products in its category. Here are 3 good options that may catch your interest.
HSI Professional Glider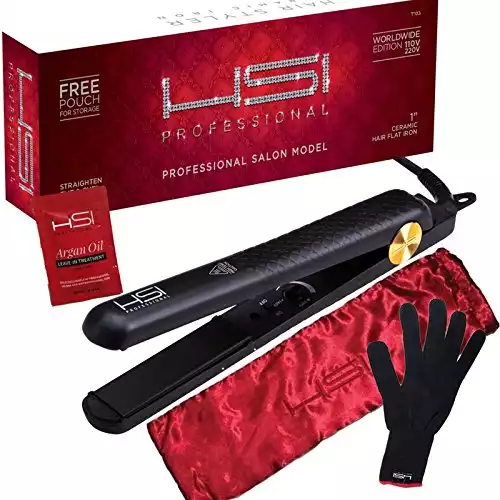 The HSI flat iron is, like the Drybar straightener, a multipurpose flat iron that can curl, straighten or flip the hair. Its ceramic plates are teeming with microsensors that regulate heat. They are also coated with shine-enhancing tourmaline that naturally emit negative ions. It has a temperature range of 140 to 450°F to reduce heat damage. It also has dual voltage, all in a very budget-friendly package
Ceramic tourmaline components
Adjustable heat settings
Dual voltage
Multipurpose hair straightener
CHI Original 1″ Flat Iron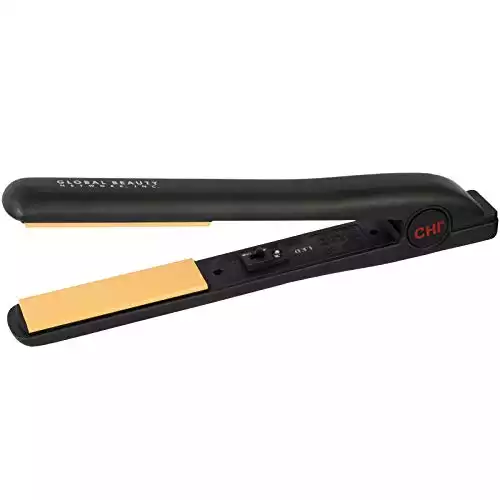 The CHI Original is another versatile styling tool to consider. It can flip, curl, or straighten and comes with 1-inch ceramic plates that use far-infrared heat and ionic technology. A feature called flash quick heating allows it to reach up to 392 degrees Fahrenheit. Sadly, there are no adjustable heat settings but it makes up for it with a swivel cord, dual voltage, and an ergonomic design. The price also doesn't hurt–it's half the price of the Drybar straightener.
Has 1-inch ceramic plates
No adjustable heat settings
Has dual voltage and a swivel cord
Can flip, curl and straighten
KIPOZI Pro Flat Iron
The KIPOZI straightener offers gentle heating with floating ceramic plates. It has a temperature range of 180℉ to 450℉, which can suit all hair types. It has curved edges that's good for curling and flipping the hair. It also comes with dual voltage and an automatic shutoff. It's a great affordable and versatile straightener but some users have noted that it takes a while to heat up
Ceramic floating plates
Adjustable heat settings
Can be used to curl or straighten
Dual voltage and automatic shutoff
Conclusion
So, is the Drybar Tress Press Straightening Iron worth the buy?
It's made by a trusted name in the industry which makes me have faith in the product, despite the somewhat fragile build. It uses titanium plates, far infrared heat and ionic technology, the building blocks of a solid, effective hair straightener.
For versatile styling, it has floating plates with rounded edges that make curling and flipping your hair easy. What seals the deal is the extra long cord, dual voltage and automatic shutoff.
The price is nothing to scoff at and I wish their quality control was better, but you'll be covered with a generous warranty should there be any hiccups down the line.
Check out the Drybar Tress Press flat iron if you're in the market for an all-in-one styling tool.
Leah Williams
Leah Williams is the founder of Lucky Curl and has been in the hair care and styling industry for the last 15 years. Since then, she has developed incredible expertise and a deep understanding of how to treat and style the most difficult hair types and is passionate about sharing her knowledge with the readers of Lucky Curl.