This is our Furiden Steam Hair Straightener Review.
With 15 years of experience as a hairstylist, I know the ins and outs of keeping hair healthy while using hot tools. I've had troubled locks myself because of excessive heat styling and I've learned my lesson. I hope to help you avoid the pitfalls of hairstyling and find the best products for your hair texture and lifestyle.
Steam hair straighteners, like the one I will be reviewing shortly, are good for the hair because they reduce damage from heat styling. The Furiden Steam Hair Straightener Flat Iron caught my interest because of its extensive heat settings and budget-friendly price.
Refilling it with water is painless and straightforward and the plates heat up quickly. The styling iron doesn't dry out the hair and can tame curly locks effortlessly.
In this review, I'll discuss the pros and cons of this product. We will do a deep dive into its features and what it means for you, the user. I'll also suggest some alternatives to the Furiden Steam Hair Straightener to help you make your decision.
Let's get right to it. Keep reading to find out more.
We earn a commission if you click this link and make a purchase at no additional cost to you.
Furiden Steam Hair Straightener Review
The Furiden Steam Hair Straightener Flat Iron is equipped with 1-inch plates made of ceramic. It has dual voltage capability and a digital display.
Inside the plates is a refillable water compartment which turns water into a steam mist when you press the spray button, leaving your hair straight and smooth while retaining its natural volume.
The easy-to-use steam flat iron is a good option if you want less damage because it uses steam instead of a heater to warm up the plates. You will get similar results from this straightener compared to a regular flat iron. However, hot spots are reduced when using the Furiden Steam Straightener because of its heat source.
A downside is the weight of the device. It can be tedious to hold for a long time if you have long or thick hair. The water container is small so you have to top it up, as well. Sadly, there is nothing to alert you if the flat iron is running out of water.
The flat iron softens hair, even stubborn curls, and heats up fast. While it does add a bit of shine, the flat iron struggles with controlling frizzy hair.
If you straighten your mane one small section at a time, it will work well. For the price, it's a good alternative to a flat iron especially if you use one regularly.
Features and Benefits
Design: Display and Buttons
The variant I'm reviewing is the white version with black accents. It looks chic and minimalist with 2 buttons at the side and rolling temperature control. The rotating mechanism is easy to use than buttons because you don't have to press repeatedly to get the desired heat setting.
The digital LED display makes changing the temperature simple –you don't have to guess which setting you're on.
There is also an indicator light that flashes while the flat iron is heating up. Once it reaches the desired temperature, it stops so you know when to begin straightening.
The flat iron weighs almost 2 pounds so keep this in mind if you have very long or thick hair.
Swivel Cord
This steam hair straightener has a 360-degree rotating cord which prevents tangling and allows better control of the flat iron. No matter which angle you go, you have freedom of movement.
Plates
The Furiden Hair Straightener has ceramic plates which are 4.3 inches long. Ceramic is a material which is much gentler than titanium, although some ceramic products don't last longer than titanium. This feels like a flat iron geared towards damaged hair because of its composition.
The hair straightener makes for full coverage and smooth straightening. It has precision engineered floating plates which ensure full contact with every pass. This makes for a uniform look, with no sticky out hairs or lumpy sections.
The high gloss finish of the plates enhance shine with every pass and helps the hair straightener glide through the mane effortlessly.
The plates have gently curved edges but the barrel of the flat iron is boxy so it isn't good for curling, in my opinion. Furiden does make a steam flat iron that doubles as a curler so you may want to check that out instead of this item if you want a dual purpose steam straightener.
The plates of the hair straightener lack detangling bristles which some steam flat irons have. The small teeth on the edges comb the locks before they are heated by the steam and plates and is good for straightening curly hair.
Heat Settings
This flat iron can handle all types of hair because it has extensive heat settings. You can choose from 38 temperature options. These are preset settings, meaning you can't input a specific temperature. However, the settings are quite accurate and go up in increments of 5°F.
The heat range is from 265°F to 450°F. This will be indicated on the digital display. I recommend not going beyond 420°F no matter what your hair type is to prevent irreparable damage.
This heavy duty styler can straighten all hair types from fine to coarse. Even African-American hair is no match for this straightener as the steam function makes flattening easier.
The MCH heaters of the Furiden Hair Straightener heats up in just 15 seconds so there's no lengthy waiting time. Heat recovery is just as quick as well. Whether this cuts down on overall styling time depends on how long your hair is because the water may run out mid-session.
I only wish that Furiden included ionic technology. Negative ions helps with frizzy hair and static, leaving hair looking polished and moisturized.
Water Tank and Steam Technology
The Furiden Steam Flat Iron uses a heat steam technology that keeps hair sleek and touchably soft without heat damage. This will keep your hair straight for days, making it a low-maintenance option for people who don't want to constantly straighten their hair.
This Furiden Hair Straightener works just like standard steam hair straighteners. You fill up a removable water tank with purified water (oils are a no-no) and lock it in place. Once you press the spray button, steam is released from within the plates.
The placement of the heat steam vents is optimal for straightening because the vapor is evenly released on the locks, as opposed to flat irons that use vents positioned on the ends of the plates. In-plate steam vents apply moisture to the entire section of the hair strand you are straightening with no uneven bumps or creases.
Straightening hair with moisture is just like ironing your clothes with a steamer. The strands are more pliable and easier to straighten with steam because of the moisture it imparts. Do note that a steam iron like the Furiden will still use a heating mechanism from its plates. This heater will absorb the moisture from the steam or water vapor and keep your hair smooth for longer.
The water tank has a bigger size with this steam straightener but the water holding capacity isn't indicated. Ideally, this should be at least 30 mL.
Furiden says the straightener has a jet time of up to 30 minutes. This may be less than ideal if you have long or thick hair. You'll have to top up mid-styling, which can be inconvenient since you have to wait for the plates to cool down.
Since the water tank is not transparent, it's hard to gauge the water level and whether it's about to run out. With some trial and error, though, you should be able to approximate the time it takes to straighten your hair in one top up.
A good thing with the Furiden Steam Straightener is that it can also be used without the steam mechanism, meaning just like a regular straightener. Whether you use it with or without steam, though, you should never apply heat on wet hair. Straightening wet or even damp hair will not be as effective.
The Furiden hair styling iron avoids wasting steam because the vapor only comes out once it has reached the desired temperature. This gives you enough time before straightening to adjust the locks or clamp the iron down on a section of hair. Though a simple feature, it minimizes how often you have to refill.
This device is best for damaged, dry, fine, or African-American hair. It will give identical results to a regular straightener when used on these hair types. It straightens coarse hair, as well, but it will require more passes and even then, some users say that their hair still looks puffy. Others also comment that it doesn't banish frizz. If you have no issues with frizz or have a normal to fine hair texture, the Furiden is a good pick.
Safety Lock
Are you tired of storing your flat iron without it taking up too much space because it just doesn't stay closed? A flat iron without a safety lock isn't only a storage issue, it can possibly be detrimental to the plates and internals of the straightener.
The Furiden Straightener comes with a safety lock that keeps it shut when not in use. This simple mechanism saves space when storing it at home or in your luggage, and is a must for all flat irons, in my opinion.
Auto Shut-off
After leaving the house, I sometimes question whether I've turned my flat iron off and it sends me into a mini-panic. Thankfully, I have no issues with the Furiden Straightener because it's equipped with an auto shut-off feature. It powers down the flat iron after 60 minutes of non-use. Disaster, averted.
Dual Voltage
The Furiden flat iron is only 12 inches long, a size that's travel-friendly. Another reason why it's a go-to for trips is because it can support dual voltage (110-240V AC) so you can style your locks wherever you are in the world. With a worldwide voltage, you don't need to pack a converter because it automatically switches the voltage for you.
The Furiden flat iron comes with a US charging plug so if you are traveling outside the US, you will have to bring a power adapter.
Other Perks
The Furiden Straightener comes with a dropper bottle for refilling the water tank. The box also includes a storage case and hair styling clips.
Warranty
There is no warranty information on the site or product page.
Alternatives
Still confused about whether the Furiden steam ceramic flat iron is the one for you? Check out these similar steam straighteners.
DORISILK Ceramic Tourmaline Vapor Steam Flat Iron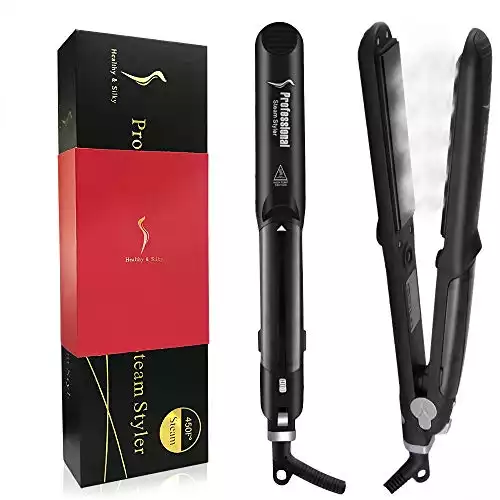 We earn a commission if you click this link and make a purchase at no additional cost to you.
This tourmaline ceramic flat iron has 1 1/4 inch floating plates and uses 5 conditioning steam vents. These vents can be adjusted to a medium, high, or off setting. The curved barrel makes this ideal for curling and straightening. The LED digital display makes it easy to switch between temperature options. There are 6 temperature settings from 302 to 455F. This can smoothen all hair types from fine to coarse and straight to curly.
It comes with an auto shutoff, safety lock, dual voltage, swivel cord and cool tip. However, the stated heat up time is 1 minute, which is much longer than the Furiden steam straightener, not to mention the fewer heat settings.
xtava Steam Flat Iron Hair Straightener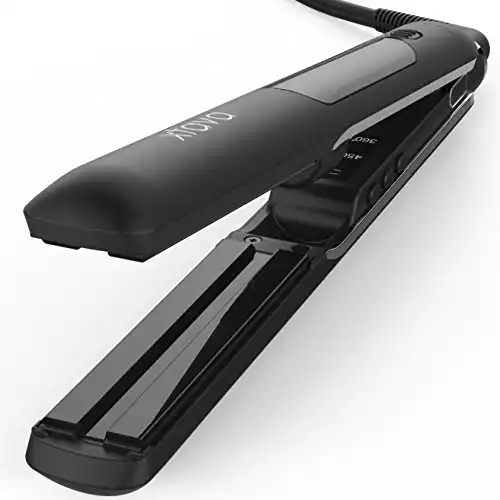 We earn a commission if you click this link and make a purchase at no additional cost to you.
The xtava Steam Hair Straightener is another well-loved device in this category. Its 1-inch plates are made of nano ceramic and tourmaline which prevents heat damage caused by overdrying the hair. The plates glide easily over the mane without snagging or pulling so straightening is pain-free. The 8 foot swivel cord is a nice touch, as is the removable water tank. The flat iron also sports a dual voltage capability, a heat-resistant rubber handle, and an automatic shutoff feature. The adjustable temperature settings are limited to 2, 360F or 450F, which is a bit of a downside. The flat iron is backed by a 2-year warranty plus a money-back guarantee which gives the customer peace of mind in case defects are encountered after the purchase.
Remington Wet2Straight Flat Iron
Remington Wet 2 Straight Flat Iron
Ceramic plates
Heats up in just 30 seconds
Steam Vents - distinctive steam vents allow you to start styling right out of the shower
Salon-Quality heat - provides up to 420 degrees of professional-grade heat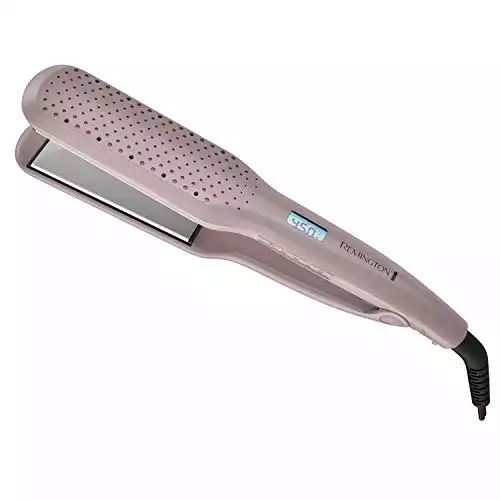 We earn a commission if you click this link and make a purchase at no additional cost to you.
The Remington steam flat iron has chunky plates that are good for straightening wide sections of hair. This affordable flat iron heats up in 30 seconds and can be used on dry or damp hair. There is also an indicator that shows you whether the heat is better for straightening dry or wet hair. The flat iron can get very hot, up to 420°F. There are 30 temperature options, which should cover all types and textures of hair. It comes with an automatic shutoff function for safety. The flat iron is single voltage only (120V) but is lighter than the Furiden straightener. It's also backed by a 2-year warranty.
Summing Up
I recommend the Furiden Steam Hair Straightener for people looking for an alternative to standard hair straighteners that press down on hair with searing plates.
Women with damaged hair or hard-to-curl hair will get good results out of this flat iron. Expect this to straighten the hair with volume intact, not pin-straight tresses. If you want the latter though, you might be better off by finishing with a regular straightener or sticking with your old flat iron.
Thick hair will take longer to straighten because the plates are narrow and the water tank can only sustain up to 30 minutes of jet time.
The Furiden hair straightener has impressive, user-friendly features. The design and steam technology feel and look premium and the extensive temperature settings mean less damage when styling. It heats up quickly and is filled with useful features such as a dual voltage and a safety lock.
Take the Furiden Steam Hair Straightener out for a spin if its features appeal to you and fulfill your styling needs.
We earn a commission if you click this link and make a purchase at no additional cost to you.
Leah Williams
Leah Williams is the founder of Lucky Curl and has been in the hair care and styling industry for the last 15 years. Since then, she has developed incredible expertise and a deep understanding of how to treat and style the most difficult hair types and is passionate about sharing her knowledge with the readers of Lucky Curl.