Do you ever wonder what is the healthiest brush for your hair? You're not alone. With lots of options in the market, brushes that can be used wet or dry, boar bristles, nylon bristles, and improvements, finding the right hair brush can leave you overwhelmed.
No need to worry, though, our lovely Curlies! We at Lucky Curl tap into our haircare experience to bring you the definitive guide on the healthiest hair brushes to make your tresses shine. There's a brush for all hair types, and all of them are vouched for by hair stylists. Read on to know more. 
What is the healthiest brush for your hair?
There is no single answer to this question, as choosing a brush depends on several factors. A brush that works wonders with thick hair may not do the same for fine hair.
Some brushes are meant for dry hair only, while others work on wet or dry hair. Others have flexible bristles that glide through thick or curly hair, and others may have stiff bristles that work to detangle hair gently.
I prefer working with brushes with natural bristles for daily use and synthetic ones for styling as a stylist.
 Kinds of Brushes for Healthy Hair
Natural fiber brushes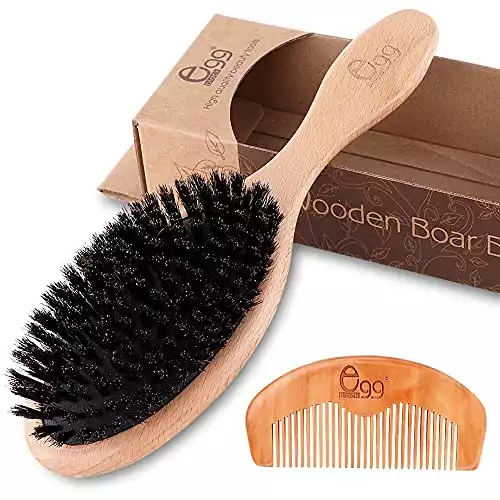 These brushes have bristles that come from organic sources and are more preferred with plastic bristles. Brushes with natural boar bristles are a favorite, and bamboo bristles.
Like one made from boar bristle, a natural bristle brush is excellent for improving blood flow to the scalp, smoothing hair, and distributing scalp oils along the entire hair shaft. They are great for vulnerable hair and help prevent hair loss as they are gentle on the scalp and hair.
Synthetic bristle brushes

Nylon bristles function similarly to natural bristle brushes. These are also heat-resistant bristles, perfect for a styling brush used in blow-drying.
Other nylon brushes have ball-tipped bristles that work gently with delicate strands and exfoliate the scalp. Nylon is gentle enough for damaged hair and helps to dry hair quickly.
Mixed bristle brushes
Combining the benefit of both kinds of bristles, these brushes help reduce breakage and help with hair health. The extra soft bristles combine natural fibers and synthetic ones for shiny locks.
A typical combination is nylon pins with boar bristles that glide together on your hair. The boar bristle lets the oils moisturize hair while the nylon pins smooth hair without snagging.
Paddle brushes
A paddle brush is great as a detangling brush for wet or dry use and is suitable for all hair types. It distributes the hair's natural oils from root to tip. It's great for a straight hair type as it smooths hair, creating sleek styles.
Most detangling brushes are in this shape and help long hair dry faster with a blow dryer. It's excellent to undo knotted hair from the ends to the scalp.
Round brushes
Though not recommended as a wet brush, a round brush is indispensable for styling hair. It helps tight curls and waves to have the right volume, prevent hair breakage, and gain natural shine. Have coarse hair? This brush can help you set a style without frizz, working as a teasing brush.
Wide-tooth comb
Although technically not a brush, a wide-toothed comb helps with healthy hair growth, along with the right brush. No matter your hair type, it detangles knots and is kinder to your hair follicles.
Thick hair is prone to tangles and benefits from a wide-tooth comb. After detangling, follow up with a paddle brush to distribute shine. Be extra careful in combing wet hair, though. Damp hair is elastic and needs extra care.
Brushing Tips for Healthy Hair
Now that you have an idea of how each brush contributes to your overall hair health let's get to the brushing techniques that keep your locks in the best condition. Here are a few of our tips:
When using a detangling brush, resist the urge to tug on your hair when unraveling tangles. We don't want breakage!

To enhance waves while blow-drying, wrap hair around the barrel of a round brush.

Soak your hairbrush in a mixture of water and vinegar for easy and cheap cleaning.

Don't use a boar bristles hairbrush when wet. The moisture damages the boar bristles.

Be extra careful when brushing curly hair. Brush too gently, and the frizz won't go away. Brush too hard, and your strands can break.
Final Thoughts
Shiny, healthy locks are achievable with the right hair tools. More importantly, the brushing technique holds the key to your tresses overall appearance and health.
Have fine hair and want to learn how to brush it better? Start by checking our picks for the best hair brush for fine hair, and start your hair journey.
Leah Williams
Leah Williams is the founder of Lucky Curl and has been in the hair care and styling industry for the last 15 years. Since then, she has developed incredible expertise and a deep understanding of how to treat and style the most difficult hair types and is passionate about sharing her knowledge with the readers of Lucky Curl.