You love your new perm. It's bouncy, shiny, and styled the way you like.
Now, you've got frizzy hair. Where did your tight curls go? You're not sure why it happened, only that you don't want it happening again!
In this article, I'll share stylist-approved tips and tricks on fixing frizzy perms. After reading this, I'm sure frizz will be a thing of the past!
Before embarking on a journey to fight frizz, it's necessary to know why frizz happens.
Frizz 101
Even naturally curly hair gets frizzy too. Frizz is a sign of dryness. When untreated, it could lead to hair breakage.
Chemically treated hair tends to get more frizz. The hair shaft gets reshaped during the perming process to form a curl. This chemical treatment is harsh to the hair surface, causing static and frizz.
How do I keep my perm from frizzing?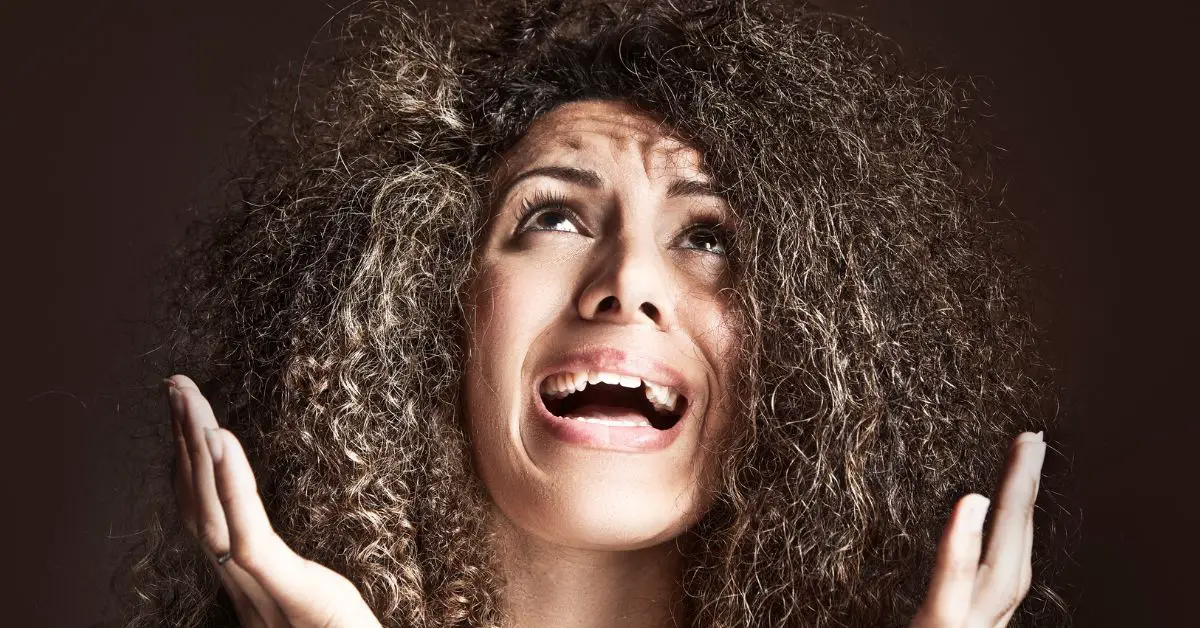 To tame frizz from your perm, you must balance providing enough moisture to your curls and not overdoing the conditioner (it will weigh your hair down and loosen your perm faster).
Getting a perm needs commitment, but worry not. These tips are easy to incorporate into your hair care routine. Do these tips to fix your frizzy perm ASAP!
Don't wash your hair immediately after perming.
Assuming you haven't washed your hair yet, wait for at least 48 hours before washing. Your hair stylist will usually give you this advice.  Heed this seriously if you don't want your permed hair to go flat!
Using warm water to wash your hair cleanses it of oil and dirt, but cheat opens up your hair cuticles. Hair becomes rough and frizzy, not to mention dry. To prevent this, rinse your perm with cold water.
A microfiber towel is a better tool to dry your hair than an ordinary towel. It absorbs water fast, so you don't need to rub it in your hair. Friction caused by towel-drying gets your hair frizzy.
Don't over-wash your hair, either! Shampooing once a week is usually enough for perms. Over-washing leads to dry hair and breakage.
Say you already washed your hair early.
Use shampoo and conditioner for curly hair.
Find products that mention "wavy," "curls," and "permed" in their description. For shampoo, you'll want something that will not dry out your hair and scalp but still get it cleaned. A light conditioner is excellent, too.
Hair masks, like the Hydrating Argan Oil Hair Mask and Deep Conditioner By Arvazallia give smooth curls and rehydrate hair after a perm. 
Use a deep conditioner.
Frizz sets in whenever there's not enough moisture in the hair, so a deep conditioning treatment is necessary. Olive oil is a great natural deep conditioner that's good for damaged hair. Coconut oil is another good option, too.
Apply coconut oil or olive oil to your hair and scalp. Let sit for 15 to 30 minutes, preferably covered with a shower cap. Deep conditioning helps prevent split ends, reduce frizz, and make your curls bouncy and beautiful.
Don't brush your hair.
Brushing your hair after getting a perm breaks the newly set bonds and leads to frizzy, loose waves. Combine your hair with your fingers or a wide-tooth comb while it is still wet.
A leave-in conditioner applied to damp hair locks in moisture as you air dry your hair.
Say no to heat styling.
Anything that involves a blow dryer, curling iron, or straightening will damage your hair. If you must style your hair, use a diffuser on the lowest heat setting and avoid touching your hair while it dries. Don't forget to use a heat protectant every time.
Let your hair air dry whenever you can. This step might be a challenge for those with thick hair or those always in a rush. However, air drying your curls keeps your hair healthy and curly.
Ditch the tight ponytail.
Tight hairstyles tug on your hair and cause breakage. When your permed hair is dry and frizzy, it's more likely to snap. Instead of a tight ponytail, try a loose bun or braid.
Wearing a silk scarf or satin pillowcase also helps to reduce friction while you sleep, so you wake up with smooth, frizz-free hair.
Don't get another chemical treatment too soon.
Having your hair permed exposes it to a harsh chemical process that may worsen if you go for a coloring treatment. The same goes if you're not satisfied with the outcome of your perm and think getting a perm again will improve your curls.
Wait for a few weeks to color your hair. It will allow your hair problems (frizz, lack of moisture) to subside at the very least.
Stylists recommend that only healthy hair undergoes the chemical process of coloring, so it's better to have it done at a salon. They can assess the best treatment, so your hair grows strong even after a perm or hair color.
Wrap up
I hope these tips help you get rid of frizzy hair for good. Remember, moisture and gentle care are keys to having beautiful, healthy permed hair. You can have the perfect curls you've always wanted with a little effort!
Check out our recommendations for the best products for permed hair.  These are all stylist-recommended, and I use them for clients in my salon.
Do you have other tips on keeping your perm from frizzing? Share them with us in the comments below!`
Leah Williams
Leah Williams is the founder of Lucky Curl and has been in the hair care and styling industry for the last 15 years. Since then, she has developed incredible expertise and a deep understanding of how to treat and style the most difficult hair types and is passionate about sharing her knowledge with the readers of Lucky Curl.