Many flat irons claim to straighten the hair in one pass but few live up to their promises. I know a lot of people with thick or coarse hair who just want something that gets the job done without swiping a flat iron down their mane several times. Not only is this time-consuming, but it also damages the hair. Is it really such a tall order to have a straightener that gets hot but doesn't fry your locks?
I came across multiple HSI Flat Iron reviews (there are thousands!) that claim this is the single-pass iron of their dreams. Find out if this cult fave is worth your coin in this HSI Flat Iron review.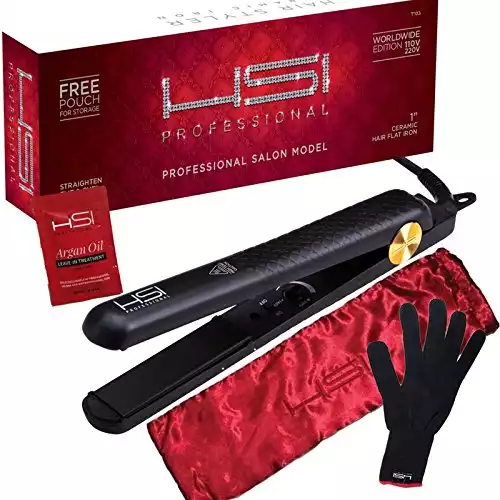 HSI Flat Iron Review
The HSI Professional Glider Ceramic Tourmaline Ionic Flat Iron is a ceramic tourmaline flat iron that promises to straighten, flip and curl hair. The HeatBalance sensors on the ceramic plates regulate the heat so that the HSI flat iron can evenly distribute heat, resulting in fewer passes.
The 1-inch plates on this professional flat iron use ionic technology that eliminates frizz and cuts down on styling time. You can adjust the temperature through a dial inside the clamps. The heat setting range is 140 to 450°F. It is dual voltage compatible and has a 360-degree swivel cord.
The HSI Flat Iron comes with an argan oil treatment, a style guide, a heat-protective glove, and a silk case.
Note that this is the first generation of the HSI Professional Glider Ceramic Tourmaline Ionic Flat Iron, which explains the reduced price. The updated versions have an automatic shutoff, digital controls, and longer plates but are more expensive.
This ceramic flat iron is for anyone who wants a versatile flat iron that heats up quickly and straightens hair without tugging or pulling at it. It's one of the best flat irons for shoppers who want a dual voltage flat iron that offers a lot of value for a reasonable price.
However, the HSI Professional does make a few sacrifices and is not for those who want a premium build and modern features such as digital controls.
Pros
Made of 1-inch wide ceramic tourmaline plates that heat up quickly
Multipurpose (can straighten, flip and curl)
Comes with multiple heat settings from 140 to 450°F
Dual voltage compatible and has a swivel cord
Comes with a glove, a travel-size argan oil treatment, a silk case, and a style guide
Cons
No automatic shutoff timer
A few users have mentioned that you have to squeeze the plates together to make them touch
The heat control knob is quite inaccessible and hard to read
Features & Benefits
Plates
The plates of the HSI Professional Glider hair straightener are 1-inch wide, perfect for most hair types. I find the narrow width helpful for straightening bangs, too. Unless you have super thick hair, you'll find the plate size more than serviceable for straightening.
The plates are coated with tourmaline-infused ceramic. While I would have preferred a genuine ceramic plate on the HSI flat iron, for the price, I can't complain and the plates actually heat up very well. Because it's made of ceramic, there are fewer hot spots so you get even results all throughout.
The HSI Professional Glider Ceramic Tourmaline Ionic Flat Iron comes with ionic technology, as its name suggests. This is a good feature to have because it helps your hair look shiny by locking moisture in the cuticles. Negative ions dry hair faster by countering the positive charge found in water. These ions reduce frizz and static and prevent moisture loss.
Heat Settings and Performance
The HSI flat iron has impressive performance with a temperature range of 140°F up to 450°F which makes it suitable for all hair types. It can straighten even coarse or curly hair without a hitch.
The heat settings reduce the risk of hair damage. Heat-up times are rapid-fire fast, allowing you to straighten your hair right away without waiting around too long.
The plates of the HSI Professional Glider hair straightener are filled with 8 HeatBalance microsensors. These regulate the temperature of the plates and assist in giving off even heat. The microsensors speed up hair styling time by reducing the number of passes need to achieve straight hair. I think this feature is great for people with vulnerable or damaged locks from rigorous hair styling.
While for some people this may be a single-pass hair straightener, there are reviews that have reported inconsistencies in heat. You may have to go over some sections multiple times if you have wavy or coarse hair.
The flat iron's barrel has a gentle curve on the edges. This shape allows you to curl your hair or flip the edges without leaving a crimped mark on the strands. Salon-quality styles are definitely achievable with the HSI Professional Flat Iron and its versatility makes it an all-occasions hair styling tool.
Straightening your hair will be pain-freei because the floating plates move as you glide the flat iron through the lengths of the hair, minimizing tugging or snagging.
Design and Ease of Use
The HSI Professional Ceramic Tourmaline Ionic Flat Iron has a simple yet functional design. The handle has a raised pattern that allows the user to hold it securely. The golden hinge is a nice touch that stands out from the matte black body of the flat iron.
The temperature control knob is tucked away inside the handle, next to the power switch. While this is a neat location to prevent accidental clicks, it's quite hard to change the temperature in the middle of styling.
I also wish the heat settings were more precise. Only the lowest and highest temperature is indicated and you kind of have to fumble around to get the right setting for your hair type.
Another downside of the HSI Ceramic Tourmaline Ionic Flat Iron is that the clamps down fully flatten on each other so you have to apply a bit of pressure so that the hair gets even heat coverage.
The build seems sturdy, giving peace of mind that the flat iron will last a long time. The hair straightener is lightweight so it's perfect if you have long hair that takes a long time to straighten. It's heavenly for the wrists, especially since it comes with a swivel cord. This makes the hair straightener easy to use. It doesn't tangle up and the length is just right. You can even use the flat iron without an extension cord.
Dual Voltage and Additional Features
The travel-sized flat iron is also dual voltage, which is great news for all you globe-trotters out there. It's capable of 110V to 220V so whatever continent you're on, this flat iron will work (adapter not included!).
The HSI Professional Glider sadly does not come with an automatic shutoff. This is quite a bummer, especially if you're a little scatterbrained and forget to turn off your straightener after using it. However, I don't think it's a dealbreaker, especially at this price point. You can also opt for one of HSI's higher-end models if an auto-shutoff is essential for you.
The flat iron comes with a travel-size argan oil bottle, a user manual, a heat-protective glove, and a red silk case for storage. I really like these freebies because they make the flat iron an even more compelling deal. Plus, that glove does come in handy to prevent burns.
Cost
The HSI Professional Glider has excellent build quality, extensive temperature settings, and a bunch of add-ons, all for a reasonable price. With the cost of this flat iron, you can buy two flat irons of similar quality. It's just quite astounding that it could offer this much value. And that is where its popularity lies. It just does everything you need in a flat iron at a price that doesn't make a dent in your wallet.
Social Proof
After doing a little sleuthing on the web, I found these positive reviews on the HSI Professional Glider. Here are the experiences of real users with this easy-to-use budget flat iron.


Alternatives
It's always important to do some comparison shopping before you buy any product. Here are very similar flat irons to the HSI Professional Glider and their benefits.
BaBylissPRO Nano Titanium-Plated Ionic Straightening Iron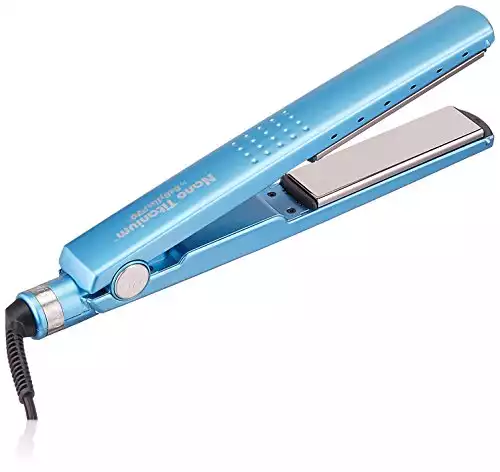 The plates of this flat iron from BaBylissPRO can maintain super high heat, thanks to its nano titanium components. The flat iron is rust-resistant and transfers heat efficiently, reducing the number of passes you have to make.
The temperature setting can go as high as 450F so it's great for all hair types, like the HSI Glider. It has heat-resistant Ryton housing and digital ionic technology. It's priced significantly higher than the HSI Glider, which is a downside.
Key Features
Made of nano titanium plates
Multiple heat settings up to 450F
Has digital ionic technology
More expensive than the HSI Professional Glider
Remington S5500 1″ Anti-Static Flat Iron
The Remington S5500 has 1-inch floating plates that glide down on the hair for snag-free styling. The ceramic plates are coated with titanium, a combo that straightens hair gently yet efficiently. I like that the plates are long so you can cover more sections at a time.
The flat iron uses anti-static technology for a more polished look. It heats up in 30 seconds and has a turbo boost function that cranks up the heat when you need it. There are 6 heat settings with a maximum of 410 degrees Fahrenheit. It comes with a swivel cord for easy straightening and digital controls.
Unlike the HSI Professional Glider, the flat iron has an automatic shutoff for peace of mind.
Key Features
1-inch floating plates made of ceramic with a titanium coating
Has long plates and a swivel cord
Quick heat up and 6 temperature settings up to 410F
Has an automatic shutoff
KIPOZI Pro Flat Iron Hair Straightener
The KIPOZI Pro Flat Iron looks quite similar to the HSI Professional Glider because of its slim matte black body and textured handle. It also has dual voltage and floating ceramic plates for gentle styling on the go.
With a heat-up time of 15 seconds, you can save so much time and the 1-inch plate can cover a lot of strands at a time. The curved edges allow the flat iron to double as a curler while the 60-minute auto shutoff gives you peace of mind.
The heat is adjustable from 180 to 450 degrees Fahrenheit. This is even more affordable than the HSI Professional Glider, so it's a good bang for your buck.
Key Features
1-inch ceramic floating plates
Heats up in 15 seconds
Has variable heat settings from 180 to 450F
Comes with an auto-shutoff and worldwide voltage
Things to Consider Before Buying a Flat Iron
A flat iron is the ultimate styling tool. It's great for everyday use and nearly all occasions. It enhances a corporate look and makes you look put together. For nights out, a flat iron can add chicness and pizzazz. You can even use it as a hair curler in a pinch.
A flat iron is also good for all hair types–coarse, curly, straight, fine, or wavy. If you have damaged hair, you have to be more careful when using it or abstain altogether, even for a few weeks. If your hair is in tip-top shape, though, here are some things you need to keep in mind when buying a flat iron.
Plate Material
For most people, a ceramic flat iron is the way to go. Ceramic is gentle on hair and distributes heat evenly throughout the surface of the plate. Some ceramic plates have a tourmaline coating or infusion which increases its negative ion output. Negative ion technology reduces heat damage and frizziness.
For hair that's hard to straighten or that has a very coarse texture, a titanium flat iron is the best option. Titanium plates heat up quickly and transfer heat very well.
Adjustable Temperature Settings
Look for a hair straightener with adjustable heat settings. The settings should have a good range of temperatures so you can start at the lowest effective heat level. Adjustable heat setttings reduce heat damage and give you more control when straightening.
Ionic Technology
Many flat irons use ionic technology in their plates. This technology uses negative ions to counter the positive charge found in dry or damaged hair. These ions also smoothen hair and tamp down frizz and static.
Ergonomic Design and Durability
A hair straightener with an ergonomic handle and swivel cord is easier to use and kinder on the wrists. Ideally, it should also be lightweight and durable. The controls should be clearly labeled and accessible.
Dual Voltage Function and Versatility
If you're planning to take a hair straightener with you on your travels, a dual voltage function is essential. A flat iron with curved edges can double as a curling iron for increased versatility.
Cost
Lastly, you need to consider your budget when buying a flat iron. There are good flat irons at all price levels. It all depends on how much you're willing to spend and what features are most valuable to you. The best flat iron will have the essentials at a reasonable price.
Conclusion
People with fine to normal hair looking for a one-pass hair straightener will love the HSI Glider. This is undoubtedly one of the most popular and inexpensive hair straighteners on the market and it's clear why.
It has a good range of temperature controls and more-than-capable ceramic plates filled with temperature-regulating microsensors. It effortlessly makes the hair straight in less time thanks to the ionic technology. It's travel-friendly and sturdy. You even get extras such as an argan oil treatment and a heat-protective glove.
For silky smooth hair on a budget, I highly recommend the HSI Glider.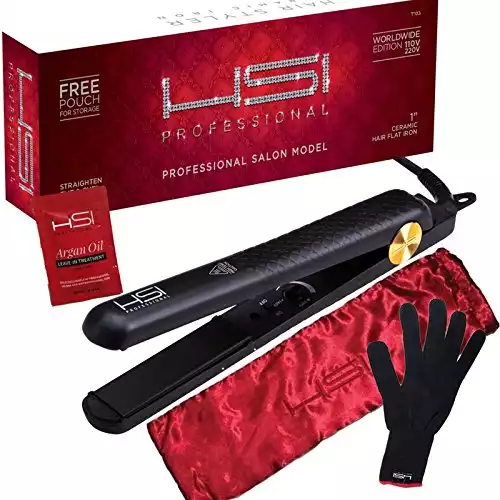 Leah Williams
Leah Williams is the founder of Lucky Curl and has been in the hair care and styling industry for the last 15 years. Since then, she has developed incredible expertise and a deep understanding of how to treat and style the most difficult hair types and is passionate about sharing her knowledge with the readers of Lucky Curl.