This is a review of the INFINITIPRO By Conair Tourmaline Ceramic Flat Iron.
As a practicing hairstylist with 15 years of experience in the biz and I review all sorts of hot tools to sift out the good from the bad. I will be giving an in-depth review of Conair's hair straightener to help you make your decision as a consumer.
I found the INFINITIPRO by Conair Flat Iron to be a surprising find at this price point. It's more than capable of turning hair into bone straight perfection. It holds its own against more expensive flat irons in the market.
The Conair hair straightener comes with some caveats, such as its too long plates and short cord, but if you just want a flat iron just for straightening, this is one of the best flat irons to get.
In this Conair INFINITIPRO Hair Straightener review, I'll discuss the features of the product and translate all the marketing speak into layman's terms. I will then compare the hair straightener to similar styling irons on the market and cast my verdict.
Heres what you need to know about this Conair hair straightener.
Conair Hair Straightener: INFINITIPRO Tourmaline Ceramic Flat Iron Review
The INFINITIPRO by Conair Tourmaline Ceramic Flat Iron will straighten your hair sans damage, thanks to its 30temperature options and tourmaline coating. It also has advanced ceramic technology and floating plates for even heat distribution without snags
Waiting time is reduced with its 15-second rapid heat up. Negative ions seal the cuticle for a frizz and static-free finish. Best of all, it's backed by a 5-year warranty, ensuring peace of mind.
This hair straightener is a great budget offering from Conair. It weighs only half a pound, making it easy to use. It glides on hair effortlessly.
The plate size and length may be a pro or con, depending on your needs. It makes it harder to curl the hair or flip the tips so it is limited in the variety of styles it can produce but it provides more coverage, which makes for quicker styling.
The straightener takes the guesswork out of straightening with multiple temperature options and effective heat retention. It leaves you with shiny results, which is a major plus.
Features of the INFINITIPRO by Conair Flat Iron
Plate Size
As a hairstylist, I'm particular about plate size. Products with narrow plates give you more control and precision while those with wide barrels can cover more strands at a time.
The Conair straightener has long plates with a 1-inch width. This allows you to tackle more sections at a time without sacrificing control.
The straightener, including the handle, is about 14 inches long while the plates are almost 5 inches long. While this can make for faster styling, it's also a bit difficult to maneuver, especially if you're using the flat iron as a curler or want flips on the ends.
The 1-inch straightener is great for creating tight curls easily with its narrow barrel. It can be used on all hair textures and lengths from short to long.
Tourmaline Ceramic
Another great feature of the INFINITIPRO by Conair Flat Iron is its tourmaline ceramic components. Ceramic flat irons are my go-to if I want gentle straightening without breakage.
The ceramic plates on the Conair hair straightener are coated with tourmaline, which is a crushed semiprecious stone that's a natural negative ion generator. It produces more negative ions than flat irons with ceramic alone, so it's an excellent material for preventing damage.
Hair that tends to get flyaways, frizzies, or static will benefit from a ceramic tourmaline straightener like the Conair. This material is also good for enhancing shine, especially if you have coarse hair.
Temperature Settings
One of my pet peeves when doing my hair is the waiting time after I turn on my straightener. I like to get right into straightening so I am partial to straighteners with quick heat up periods. The INFINITIPRO by Conair straightener heats up in just 15 seconds. It's a reliable option if you're always in a rush or lack patience.
There are 30 temperature options which caps at 455°F. That means it gets very hot and stays hot. If you have coarse and hard-to-tame locks, this is a feature to look for.
This is also good for damage-prone hair because it allows you to finetune the temperature to a gentle yet effective setting for your hair type.
The downside to the heat controls is the lack of temperature labels. It only indicates the maximum temperature on the knob, so you have to approximate the correct heat setting.
Floating Plates
One of the signs of a subpar straightener is snagging or tugging. Aside from being painful, the locks catching on the plates is damaging. Floating plates allow the straightener to move with your hair and maintain constant contact on the strands.
The Conair straightener has floating plates that minimize the risk of damage because they apply heat evenly throughout the lengths of the hair.
Safety Features
The styling iron comes with an automatic shutoff feature which ensures your safety in case you forget to turn off the appliance. Leaving hot tools lying on the sink on the counter will not only destroy the surface but also pose a fire hazard. Better to be safe than sorry and get hair styling tools with an automatic shutoff.
Ease of Use
The Conair INFINITIPRO flat iron is lightweight and therefore easy on the wrists and arms. This makes a lot of difference if you have very long or thick hair.
The 6-foot cord is quite short so you will have to stick close to the wall as you style your hair. I also wish the product has a digital readout display and clear temperature labels for every setting but I can't complain at this price point.
Industry-Leading Warranty Coverage
What makes the Conair straightener a very compelling buy is the generous 5-year warranty. Other brands that offer anything close to this is usually way more expensive. If you want more peace of mind, a good warranty coverage is a must.
Alternatives
Here are some comparable hair straighteners to the Conair INFINITIPRO flat iron. These are great alternatives in case the Conair isn't the right fit for you.
REVLON Perfect Straight Smooth Brilliance Ceramic Flat Iron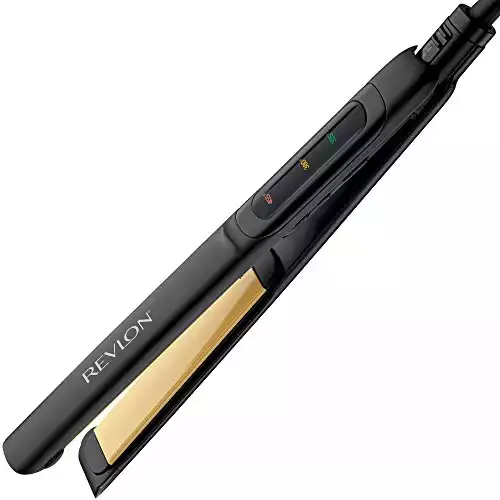 The Revlon Perfect Straight flat iron is a ceramic tourmaline flat iron that comes at a similar price point. Like the Conair straightener, this can reach high temperatures with a maximum of 455 degrees Fahrenheit. There are fewer temperature settings on the Revlon flat iron but it does come with a digital LED display and an automatic shutoff timer. If you're after silky smooth results, you will be happy with its 1-inch floating plates.
NITION Professional Salon Hair Straightener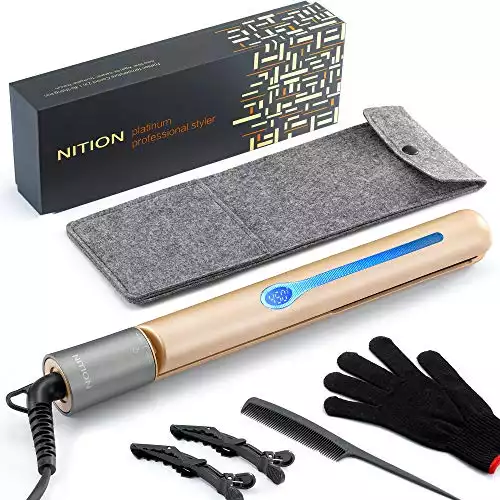 The NITION Flat Iron is a smooth operator with a button-free design. It has a ceramic-coated plate infused with tourmaline, argan oil, titanium and nano silver. This has the same damage protection and long plates as the Conair flat iron but you get precise temperature options and dual voltage compatibility.
HSI Professional Glider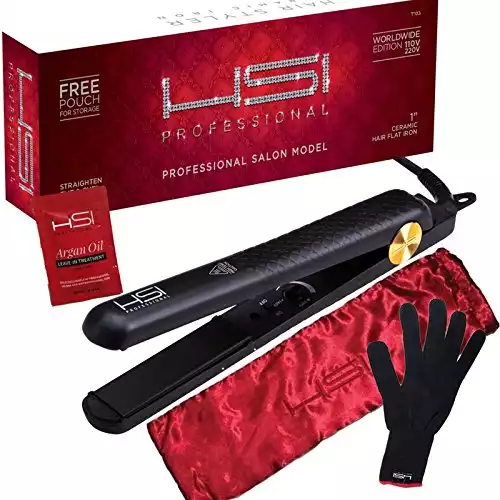 Another highly-rated ceramic tourmaline flat iron that comes at reasonable price is the HSI Professional Glider, made with ceramic plates embedded with temperature micro-sensors. It has variable heat settings up to 450 degrees Fahrenheit, dual voltage compatibility and a swivel cord. However, it lacks an automatic shutoff feature.
The Verdict
I recommend the INFINITIPRO by Conair Tourmaline Ceramic Flat Iron for people of all hair types looking for a high-quality ceramic straightener on a budget.
Although its long plates present a learning curve and the short cord can be cumbersome to use, this flat iron will give you smooth, frizz-free hair comparable to the results of more expensive straighteners.
The number of heat settings and maximum temperature is remarkable, as is the extensive warranty. The flat iron is lightweight, too, so it's suitable for those with thick and long hair.
If you are interested in this straightener, click here for more details.
Leah Williams
Leah Williams is the founder of Lucky Curl and has been in the hair care and styling industry for the last 15 years. Since then, she has developed incredible expertise and a deep understanding of how to treat and style the most difficult hair types and is passionate about sharing her knowledge with the readers of Lucky Curl.