This is a review of the Kardashian Beauty 1-Inch Hair Straightener.
While I am always a little skeptical celebrity-branded products, I was curious about hold this product holds up against professional brands.
It's important to note that the product is a little hard to get hold of. It's no longer in stock in Ulta and Walmart and I have seen it can often become out of stock on Amazon too.
With that in mind, I found the Kardashian Beauty Flat Iron to actually work quite well and had a few nice features. Was it the best hair straightener I have ever tried? No, but it serves its purpose it delivering smooth and straight hair.
In this review, you will learn about its best features and any downsides to it too so you will be able to make a smart choice when it comes to deciding to buy this straightener.
Read on for our Kardashian Hair Straightener Review.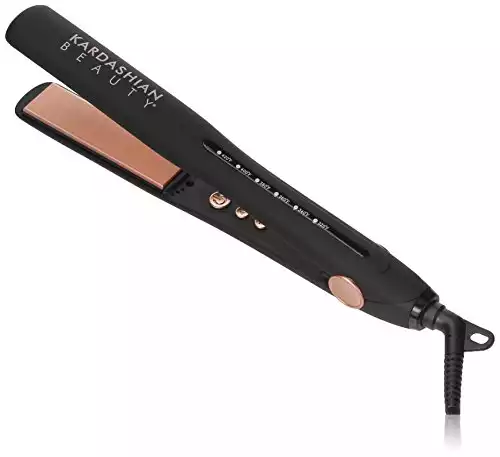 Kardashian Hair Straightener Review – 1 Inch Flat Iron
The Kardashian Beauty Flat Iron straightens each section of your hair quickly even with just a single pass of the heated plates. The 1″ ceramic plates heat up fast which means that you can get right into ironing out the curls, waves, or kinks in your strands as soon as possible. This flat iron does more since it also helps add more shine to your hair as well. The additional 4″ long plates also make it a versatile straightener since it can gather more hair strands.
What makes the Kardashian hair straightener good? It is the ceramic plates and the fact that they are 4″ longer which helped speed up the process for me. As an added bonus, the ceramic plates are infused with black seed oil that nourishes the strands to give them that extra shine. I have to tell you that my hair looked as if a pro did it afterward.
Also, this product comes color-coded so you will know what temperature is appropriate for specific hair types. For example, if you have fine hair, the colors will be white (360 degrees F) or blue (375 degrees F). No need to second guess what temperature is suitable for your mane. The highest temperature that you can get here is 420 degrees F which works well for those who have thick strands just like me. So, from having multiple temperature settings, this product is looking better than ever in my eyes since it shows its versatility when it comes to handling different kinds of mane.
Features
1″ Ceramic Plates
The 1″ ceramic plates add to the slim build of this flat iron making it easier to wield. The ceramic plating heats up quickly and evenly so that there are no hotspots that can burn your strands when used. The plates can lock on each section of your mane and can easily glide downwards without pulling at your strands. This minimizes breakage which helps keep frizz at bay too.
Aside from that, the extra-long plates on the Kardashian Beauty are worth mentioning too. The longer plates help speed up the straightening and styling process since the plates can clamp on more of your mane compared to others. This is beneficial for those who have thicker strands since you don't have to spend an hour just to get everything straightened out. This is one of the advantages of this product though since it works better on those who have thicker and longer mane. This doesn't mean that you can't use it on fine hair though, but it will be tough using on those with short hairstyles.
Temperature Settings
Another feature that the Kardashian Beauty Flat Iron has is the multiple temperature settings. If there is one thing that you should look for in a straightening tool is that it should have a heat setting. This product not only has this feature, but it is color-coded too so you can easily distinguish the temperature setting. So, here it goes:
Fine Hair – White (360 degrees F) and Blue (375 degrees F)
Medium Hair – Light Green (380 degrees F) and Dark Green (390 degrees F)
Coarse Hair – Orange (400 degrees F) and Red (420 degrees F)
I highly recommend that you figure out what kind of mane you have so that you will be able to choose the right amount of heat for it. Keep an eye on the color as this will tell you the plates' current temperature. Why is this important? You don't want to expose your strands to the wrong amount of heat as this can weaken them and lead to breakage in the long run.
Auto Shut-Off
One review that I came across about the Kardashian hair straightener is that it comes with an auto shut off feature. When it comes to hot tools like flat irons, you will definitely need the auto shut-off feature where the device powers itself down after a certain period has passed when it is left idle. I would say that this is useful to me as I tend to rush in the morning that sometimes I forget that my styling tools are still plugged in. It would be horrible if you ended up burning your vanity because you just forgot to turn off your flat iron.
Black Seed Oil
What else can you expect from this product? Well, this is the first time that I came across a straightener where the plates have been infused with black seed oil. Normally, the hair straighteners I came across before were simply plain old ceramic or a combination of titanium ceramic or even tourmaline too. This one, however, has plates that not only glide smoothly across your mane, but the black seed oil infused plates help with leaving your strands shiny. This adds to the overall look of your mane which I am sure you will approve of since a dull and lifeless strand is not that really a confidence booster, don't you think?
Basically, every time you use this product, not only will you be able to get that sleek hairstyle, but you are also making your mane shiny and healthy looking too.
Slim Body
The slim design of the Kardashian straightener is worth taking note of because it minimizes the occurrence of hand and arm fatigue. Let's face it, the bulky irons that we were using before actually made the styling process tedious unless you have someone do your mane for you every time you leave your house. Now the slim body of this flat iron is quite welcome especially when the handle comes with a soft grip design that gives you more control over the iron. You can straighten your strands, create curls or waves even. It is easier to wield which means that even beginners will have no trouble using it.
It is also worth noting that this straightening tool operates on dual voltage which means that you can bring it with you when you go traveling. It is lightweight, compact, and has dual voltage too as an added convenience.
Alternatives
Now that you have read my review about the Kardashian flat iron, you are probably thinking how you will be able to get your hands on one. Unfortunately, it is currently out of stock, but cheer up! There are alternatives that can help tide you over until the stocks become available once more. If you are considering other products, I would suggest that you check the ones below.
Formawell Beauty x Kendall Jenner Hair Straightener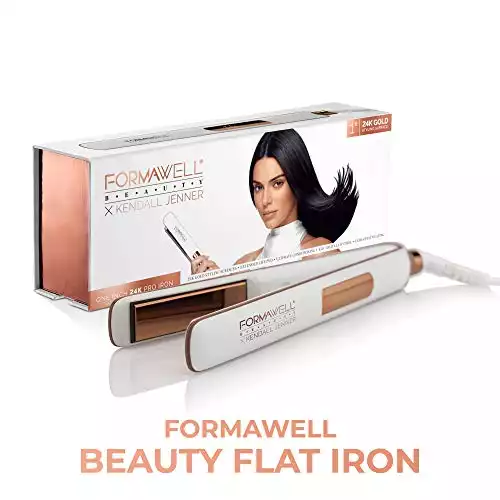 The Formawell Beauty x Kendall Jenner straightener is a fabulous looking straightening tool that will transform your mane from frizzy to straight with each glide of the plates. It comes with a negative ion technology that does a great job in taming those frizzy strands and flyaways. The 24K ionic-gold surface is the main feature of this product which is not surprising given that this is the main reason why you are getting that pro-like results every time you use it. It also comes with a digital LED screen that tells you how hot the plates are already, plus you don't have to wait that long before you can use it. Fortunately, it comes with an auto shut-off feature in case you forget to unplug it. Plus, it has an eight-foot non-tangle cord so you will have more freedom to move around while working on your mane.
Furiden Professional Hair Straightener
Another option for hair straighteners that you may want to look into is the one from Furiden. It is a modern-looking straightening tool with its sleek and rounded barrel with plates that do not pull or tug at your strands when in use. Rotating the bottom portion of the barrel allows you to select the temperature. The plates heat up in just a few seconds which helps reduce the waiting time considerably. It is durable, sturdy, and offers a comfortable grip, plus you can straighten or curl your strands based on your preferences. You will find that it is equipped with floating plates that allow the plates to follow your desired style for your mane without snagging or pulling. When you buy this product, you will also get a heat resistant glove, salon comb, a storage bag, and clips too.
ghd Classic Original IV Hair Straightener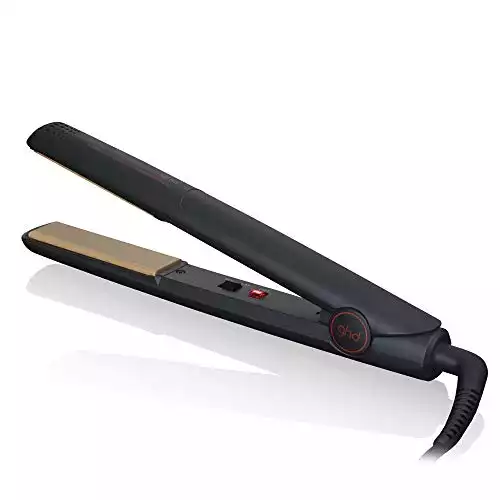 What other alternatives should you try out? The ghd Classic Original IV straightener deserves a mention here. This classic styling tool only has one temperature which is at 365 degrees Fahrenheit. This is the optimum temperature for ironing out different types of strands whether they are fine, medium, or even coarse. At this temperature, you won't have to worry about exposing your strands to extreme heat, but rather it will evenly heat up each section of your mane thus creating that salon-like results. In terms of design, the round barrel makes it easier for you to iron out your strands or create loose waves too by wrapping a section of your mane around the barrel. It only takes the plates 30 seconds to reach the highest temperature which saves you time. Who wants to spend more than a minute before they can use their styling tool, anyway? It is easier to achieve your desired look with this classic styling tool from ghd.
These are just a few suggested alternatives for the Kardashian Beauty straightener. They can serve you well too, but you need to weigh their features and prices too so you will know which can give you the best results for your strands.
Final Thoughts
The Kardashian hair straightener, which is under the brand CHI, leaves my hair smooth and shiny just like I came from the salon. The ceramic plates work wonders even on my mid-length thick mane that with every pass of this straightening iron, you can tell that it worked well and without any pulling on my strands happening at all. I love the shine on my mane which is much better compared to other flat irons out there.
What else is there to love about the Kardashian hair straightener? I like the concept of a color-coded heat setting here instead of a LED display since the color can be noticed easily. This is a versatile straightener since it can work on all kinds of hair, from fine to coarse without any difficulties. The four inches long plates are also useful in the sense that they can hold more strands than others.
The slim design of this hair straightener gives you a comfortable grip which lessens hand fatigue. It has an auto shut-off feature too for those instances when you forget to unplug it. Additionally, you will get a heat-protected glove that can prevent your fingers from getting burned when you style your mane. I find this helpful given that you can touch your strands safely while using the straightening tool.
Although getting the Kardashian Beauty Straightener comes highly recommended, it is currently out of stock. But don't you worry, you can still grab something similar to it. Get your mane straightened and styled like a pro with Formawell Beauty x Kendall Jenner One Inch 24K Gold Pro Flat Iron Hair Straightener and get salon-style results right in the comforts of your home.
Leah Williams
Leah Williams is the founder of Lucky Curl and has been in the hair care and styling industry for the last 15 years. Since then, she has developed incredible expertise and a deep understanding of how to treat and style the most difficult hair types and is passionate about sharing her knowledge with the readers of Lucky Curl.