This is a review of the Kipozi Professional Titanium Flat Iron.
I have been testing out several styling products on my mid-length thick mane to see which ones will give me the salon-like results. After all, these hair straighteners ought to give us that professional look, right? The flat iron Kipozi looked promising after reading some reviews, so I included it in my list of straighteners to try out.
I found the Kipozi Professional Titanium Flat Iron has a professional looking design with its sleek black body. It features an advanced ptc ceramic heater that guarantees even heating of your tresses to minimize damage. There is an adjustable heat setting installed as well to give you the option to choose the right amount of heat for your hair type. The highest temperature that you can get from this Kipozi hair straightener is 450 degrees Fahrenheit which works best on those who have thick strands. An auto shut-off feature is included as well to ensure your safety in case you do forget to unplug the product.
In this review, you will learn how Kipozi flat iron works, what its best features are, and how it fares on different hair types too. Will it be up to your standards? And what benefits you can get from it. I will share my experiences here and my impressions too, so if you need some help in choosing the best flat iron, you might want to stick around.
Get to know more about the Kipozi Flat Iron in this review and find other products that are like it as your alternative choices.
Kipozi Flat Iron – Professional Titanium Hair Straightener Review
Product Overview
The Kipozi Flat Iron is a 2-in-1 hair straightener that features ultra-smooth nano titanium plates that can heat up within a few seconds. This is a great option for those who are looking for a flat iron that can combat frizz and style their mane quickly. The plates do not corrode quickly since titanium is durable and can easily fight off the rust. This means that this product will last you for years if you care for it properly.
It comes with safety features such as a locking mechanism when storing it after use and the auto shut off too if you leave it idling for sixty minutes. Another plus to this model is that it has a temperature control setting wherein you can adjust the amount of heat that it produces. This is important in any styling tool since you need to keep your hair strands from getting burned. I like that it only takes 15 seconds for the plates to heat up to 380 degrees F which means that the styling time will be cut short.
Do I consider Kipozi to be a great flat iron? I would have to say that yes, it is. Right from the start, you will be impressed with its sleek and stylish design with its all matte black finish. The size of the barrel will fit your hand nicely so that you will have more control when wielding it. The titanium plates are quick to heat up and when you use them, they will simply glide on your hair while ironing the strands evenly.
Also, I like the fact that you can select the temperature on this model so that you will be able to use the appropriate heat for your hair type. It is great on fine to coarse hair, plus it can work as a straightener and curling iron too. How about that?
Features
What makes the brand Kipozi a great option for those who are in need of a flat/curling iron rolled into one? It is all about the features that it includes in their Kipozi products that's what. Here's what the Kipozi Flat Iron has in store for you.
1″ Nano Titanium Floating Plates
One of the features that you should expect to see on the Kipozi Flat Iron is that the 1″ plates are made from nano titanium that can heat up real quick. And it is not just the speed at which the plates heat up when you have plugged it in, but the nanotechnology can also tame and prevent frizz from forming. Like it was mentioned before, titanium is also a hardy material that can withstand corrosion so this is another plus to this product.
The 1″ plates are actually the perfect size for straightening or curling one's hair as it lets you adjust the angle of the plates to get the right style. It can work on those with fine strands and fragile hair too as well as thicker ones like mine.
It is worth mentioning that this product comes with floating ceramic plates which are helpful in preventing the straightener from pulling on your strands. This is a huge relief since there are some flat irons that have the tendency of trapping hair strands that cause them to break when you push the plates down a section of your hair.
Adjustable Temperature
Another feature that you are sure to love about this product is that it comes with an adjustable temperature setting. A digital display will tell you the current temperature that it is in, so you will know if it has reached the desired temperature. The lowest setting for this product is 170 degrees Fahrenheit while the highest that it can reach is 450 degrees Fahrenheit. With this temperature range, you can tell that Kipozi has made it a versatile product that anyone can use regardless of hair type.
Those who have thin or fragile strands can start with the lowest setting while for those who have thicker or coarse strands, the best amount of heat to get your mane straightened or curled is 450 degrees Fahrenheit. You don't even have to burn your finger on the plates just to see if they are hot already because the LCD digital display will already provide the information for you.
Locking Mechanism
Aside from being sleek looking, the Kipozi flat iron also comes with a safety lock mechanism for easy storage. This does come in handy especially when you are planning on bringing this tool with you on your travels. With its slim design, you can easily slip it into your luggage or hand carry without worrying about adding bulk to your bag.
Automatic Shut Off
Kipozi has also made sure that their hair straighteners come with another safety feature which is the automatic shut off. Basically, after sixty minutes of non use, the flat iron will automatically turn itself off for safety purposes. This comes in handy especially for those who are always in a rush in the morning and tend to forget that their styling tool is still turned on. Not only does this safety feature prevents fire from breaking out, but it also helps prolong your device too which is a win-win for me.
360 Degrees Swivel Cord
This hair straightener is also equipped with a 360 degrees swivel cord that prevents you from getting tangled up in its 8 feet cord. One of the advantages of this design is that it helps you reach the back of your head easily to tame those flyaways and frizz even.
Dual Voltage
What else is there to like about the Kipozi Professional Titanium Flat Iron? Well, aside from having nano titanium plates, it also comes with a dual voltage feature which is 100v-240V. This means that you will be able to use the Kipozi hair straightener outside the country since it can be plugged in safely.
Alternatives
The Kipozi 1 inch pro is great for all hair types, true, but if you are still in the market for other hair straighteners that will give you straight hair that looks like it was done in a salon, then why don't you try the following?
HSI Professional Glider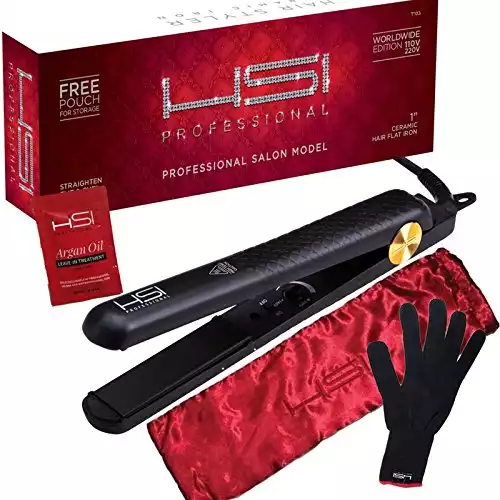 If you are looking for a professional flat iron that will give you salon-like results, the HSI professional glider can be the perfect fit for you. It sports tourmaline-infused ceramic plates that generate negative ions that not only tame frizz on your hair strands but also leave them shiny too to reveal healthy hair. The 3D floating ceramic plates allow you to choose how to style your mane without risking having your mane pulled at when using this professional glider. One of its best features is the HeatBalance technology that ensures that the plates are heated up evenly thus reducing possible damage on your strands. This is also the key as to why it is easier to straighten, curl, or even flip your mane with this product since the plates retain the same temperature all throughout its use. It has a 100 240v too plus an adjustable heat setting where you can go from 140 degrees Fahrenheit to 450 degrees Fahrenheit in a jiffy.
NITION Professional Salon Hair Straightener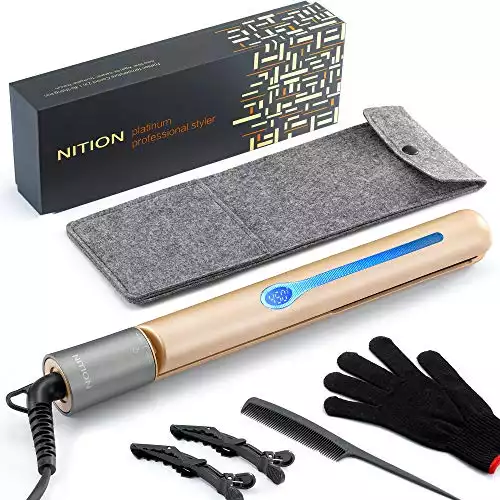 If you want to make sure that your hair will remain shiny and smooth and without any frizz when you straighten it, then investing in the NITION professional salon hair straightener comes highly recommended. What drew me to this brand is that it offers a 5-in-1 heating plates wherein they are coated with a combination of materials like nano silver, argan oil, ceramic, tourmaline, and titanium which means that it has all the elements needed not only to heat the plates fast, but also to protect your hair strands too. The 3D flexible heating plates allow you to angle the styling tool to create a new look. It comes with six temperature settings that you can choose with a rotating barrel at the bottom where the highest temperature that it can reach is 450 degrees Fahrenheit. It does come with an auto shut-off feature as well which is a plus as it protects you from any untoward incidents in case you forgot to turn it off. A heat-resistance glove is also included in the package so that you will be able to hold on to each section of your mane while straightening or curling it. It has a long cord that can rotate 360 degrees and comes with an anti-tangle design too. Basically, you will be able to reach the back of your head easily and without getting all tangled up with the cord. It has a dual voltage 100 240v too making it a great styling tool to bring with you during your travels.
BESTOPE Hair Straightener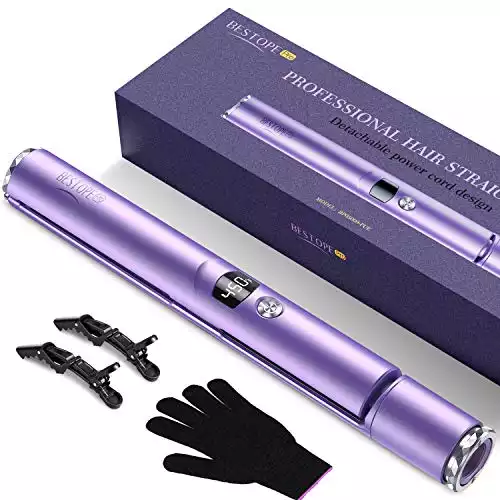 If you are looking for flat iron and curling iron in one, the BESTOPE hair straightener is another alternative to consider. It comes with six digital temperature settings that range from 265 degrees Fahrenheit to 450 degrees Fahrenheit meaning that this styling tool is quite versatile since it can be used on different hair types. You won't end up guessing how hot the plates are because the display is large enough for you to view whether you are using it or waiting for it to heat up. It is a one-inch hair iron with 3D floating plates that adjust accordingly thus minimizing your hair strands getting snagged as you iron or curl them. No need to worry about your hair becoming frizzy but rather expect that it will become smooth and shiny. The tourmaline ceramic plates can heat up in just 15 seconds and with their round design, you will be able to create different styles with them. I love the idea that the cord is detachable which improves its portability and with its dual voltage design, you will be able to bring it with you as you travel across the globe.
Summary
The Kipozi Professional Titanium Flat Iron is definitely one of the best flat irons that I have come across during my research. Starting with its sleek looking body in gorgeous matte black, I love that it comes with longer plates because it helps straighten my hair quickly. Who would have thought that it is easy to achieve that salon-like straight and shiny hair in the comforts of your home?
The advanced PTC ceramic heater feature ensures that the plates heat up evenly and also to help minimize damaging your hair strands. The two titanium plates get the job done of ironing your hair without you worrying about hotspots and because this material is resistant to corrosion, you will be able to keep this device for years. This gives it a good value for its price and the quality of the results too.
It comes with multiple heat settings, a locking mechanism, and an auto shut-off feature after sixty minutes of being in idle mode. What else can you want from a flat iron made by Kipozi?
Leah Williams
Leah Williams is the founder of Lucky Curl and has been in the hair care and styling industry for the last 15 years. Since then, she has developed incredible expertise and a deep understanding of how to treat and style the most difficult hair types and is passionate about sharing her knowledge with the readers of Lucky Curl.