On the search for the highest-rated L'ange hair styling products online? What's the best L'ange to add to your cart during checkout?
If you're loco over these styling tools then this Lange Lustre curling wand reviews and buying guide is for you!
Founded by Dalia Lange, the L'ange brand offers a fabulous (and ever-expanding!) range of hair care products and styling tools. If you are the type who loves serving different looks, you will love the styles you can create with the L'ange hot tools.
The name "L'ange" is the French word for Angel, a supernatural being known for its beauty, purity, and kindness, the very same qualities that the L'ange brand strives for. The brand aims to transform customers into a hair goddess with amazing, ethereal tresses! I cannot say I've become a hair goddess after road-testing these curlers but the brand's claim of creating heavenly hair is verified based on my own experience. 
Of all the items that L'ange has to offer, the hot tools are the most popular. Their curling wands are known for creating easy bombshell curls. Add the fact that the features, design, and performance are always top-notch!
Of course, our curling wand reviews won't be complete without our L'ange Lustre curling wand reviews. If you want to add a L'ange curling wand to your kit but have no idea which product is perfect for your hair type, check out the details below:
L'ange Curling Wand – 4 Best-Selling Curlers Reviewed
In this guide, we are reviewing the best-selling curling irons from the Lustré line. 
1. L'ange Hair Lustré Curling Wand Blush 1.25″ (32mm) Titanium
Want lustrous, bodacious curls that won't quit? Then the with L'ange Hair Lustré Curling Wand Blush 1.25″ (32mm) Titanium with 1.25-inch barrel should be right up your alley! I've searched for fabulous blush curling wands and I have to say, this item is the prettiest (it's a verified bestseller, no doubt because of the color).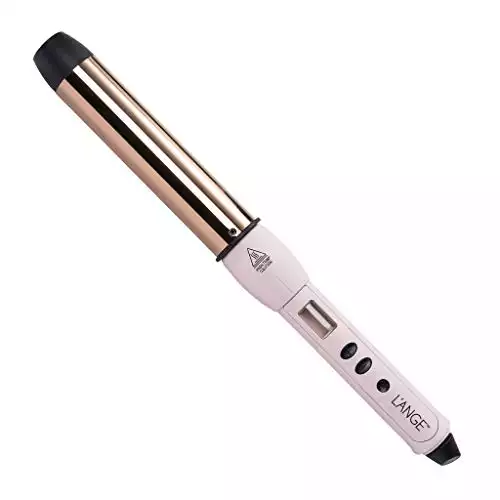 Since the curling wand is bigger, it will help you create larger, looser curls and waves. Use this product to create beachy waves, old Hollywood waves, voluminous curls, even messy, tousled waves. Also, the dainty blush color looks so gorgeous and trendy!
Because the barrel is more than an inch in diameter, the 32mm variant is best suited for users with long hair. It could work for people with shoulder-length hair but definitely not advisable if you have short hair like a pixie cut or a bob.
Just like the 25MM variant, the L'ange Hair Lustré Curling Wand Blush 1.25″ has a barrel made from pure titanium. The beauty of the metal material is that it heats up so fast. You don't have to spend hours styling your tresses at all. Watch out if you have delicate tresses though! Don't skip that heat shield serum because the barrel might be too hot for those with damage-prone tresses. If you want an easy breezing styling experience every morning, purchase this product.
If you have coarse hair then this curling hair tool is definitely worth getting. It will transform that hard to manage mane of yours into an amazing coif that won't quit. The ionic technology ensures that every strand is polished, giving the hair gorgeous high shine! You'll also enjoy the ergonomically designed handle. This product makes styling strain-free.
I have long hair so naturally, I recommend getting the bigger barrel over the skinnier one unless I am working on a hairstyle that needs more definition. I bought the 32mm variant because I feel like it works for my specific hair type and hair length the best! Still no regrets!
2. L'ange Hair Lustré Curling Wand White 1" (25mm) Titanium
If you're on the lookout for a sleek curling wand that curls the tresses in no time at all then look no further, the L'ange Hair Lustré Curling Wand in White 1″ (25mm) Titanium is practically made for you. This curling wand features a slim white body, rose gold titanium barrel and an ergonomically designed handle that stays nice and cool throughout the styling process. With this product, you could create a range of styles in a snap! It's amazing how easy it is to use so you'll definitely enjoy the styling experience.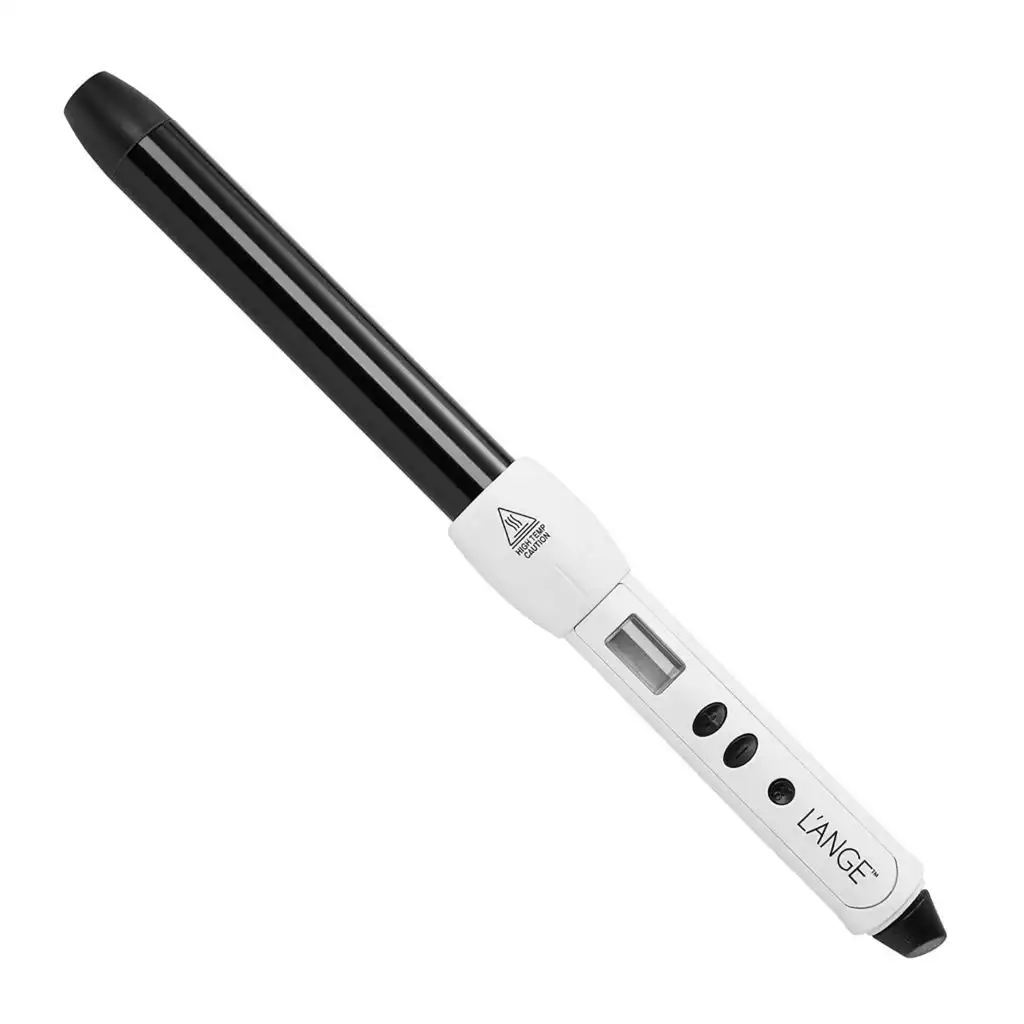 In all honesty, the featured functionality of the L'ange Hair Lustré Curling Wand White 1" Titanium is no different than that of the blush variant. The difference is the color, which might appeal more to some users who want a shiny white curling wand or who loves rose gold everything as I do!
As you might've guessed, I love this curling wand because it works exactly for my hair type. I have long hair and a weakness for bombshell curls and beachy waves. The larger barrel means I could create loose, voluminous waves that last from day till night. The secret, of course, is the titanium barrel, which reaches the ideal temperature to transform my hard-to-manage-mane into perfectly styled coif with high shine. The hairstyle is so long-lasting, my hair looks freshly styled hours after.
Although the titanium barrel could be too harsh for fine or thin hair, I find that this curler is much kinder to my tresses. I think it's because it only takes a couple of passes to tame my tresses. I don't get frizz or tangles and my hair feel hydrated and soft from start to finish. 
Of course, heat protectant are recommended. I never skip on heat protectants, which helps keep my coarse hair shiny and healthy. This is an amazing curling wand to purchase your hair type is similar to mine. Your tresses will never feel parched or brittle.
3. L'ange Hair Lustré Curling Wand Black 1.25″ (32mm) Ceramic
If your hair cannot withstand regular styling then you need a curling wand that applies gentle heat on the tresses. I'm glad that L'ange's Lustré line comes with ceramic curlers because not all people could use curlers with titanium heaters. This is one of the brand's highest rated curling wand!
L'ange Hair Lustré Curling Wand Black 1.25-inch (32mm) Ceramic
Achieve effortless curls with this silky, ceramic curling wand. The negative ion technology results in a glossy, smooth finish.
Medium to Long Hair
Medium to Thick Density Hair
Creating Loose Waves and Relaxed Curls
Buy from Amazon
We earn a commission if you click this link and make a purchase at no additional cost to you.
The L'ange Hair Lustré Curling Wand Black 1.25″ (32mm) Ceramic features a silky ceramic curling wand that curls the tresses quickly without risk of tangling and burning the hair. The curling wand has a smooth slip so styling is so easy, it's almost effortless. If you just don't have the extra time to style your hair in the morning, I would purchase this product in a heartbeat.
I'm also impressed by the long lasting curls. My hair's so unyielding that curls start to go limp by early afternoon. But with the Lustré curling tool, the curls look freshly curled from day to night. It's quite impressive considering how hard to manage my hair is. And since the ceramic material produces negative ions that smoothen the hair cuticles, I get the glossiest finish with this hair care tool!
The black variant comes in two sizes but the 1.25-inch is best suited for me because I have long, thick hair. If you cannot get enough of beachy waves and relaxed curls, this is the perfect size to get. If you have short to medium-length hair, add the 25mm variant to your morning beauty routine. The skinnier barrel makes it much easier to curl the hair close the base.
4. L'ange Hair Lustré Curling Wand Black 1″ (25mm) Ceramic
The last of our reviews feature the 1-inch or 25mm L'ange Hair Lustré Curling Iron in Black Ceramic variant, another verified bestseller. As with its larger sibling, the Lustré black curling tool features a ceramic curling iron as opposed to a titanium curling wand so it's much kinder on the hair compared to other curling irons from the Lustré line. It's also incredibly efficient, compact, and lightweight.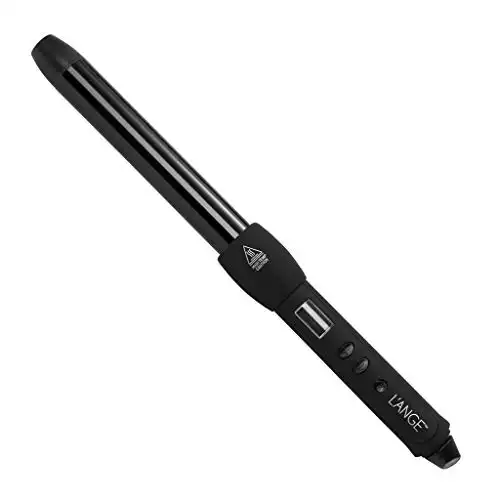 This size is perfect for anyone with short hair or those who love defined curls and waves. This is my go-to whenever I'm creating the perfect vintage curls, the Lustré black curling tool does a great job of curling every hair section to perfection without sucking the moisture from the hair. My tresses always feel hydrated and looks extra glossy and smooth with the Lustré black curling iron. The secret is, of course, the ceramic barrel and L'ange's advanced heating system, which seal the hair cuticle and boosts brilliance.
If you're the kind who craves for control, you will love the Lustré black curling iron's cool tip. All the items from the Lustré line come with a cool tip so you could really work the curler close to the roots without accidentally burning yourself in the process. If precision control and comfortable styling are important to you, purchase any items from the Lustré range.
You know I love curlers with a thicker barrel but if I'm traveling, I'd grab my more compact hot tools just because I hate lugging around an over-packed suitcase. I bought the 1-inch Lustré black curling iron specifically for traveling because it's so space-efficient. And with a 360-degree swivel cord + dual voltage, this item is truly made for people on the go. if you enjoy using a high-performance curler that could keep up with your changing style (and address), add this to your cart before you checkout!
Overview: L'ange Brand's 3 Main Hair Tool Lines
If you want to shop around for L'ange styling products, know that the brand has three different hot tool lines. Each item from every line come with features and technologies that are specific to the range they belong to:
Ondulé
Shop for the Ondulé line if you want to add an affordable, basic curling wand to your kit. This line is perfect for creating fast yet lasting curled look sans the frills. The brand is known for its pricey styling products but the Ondulé is the most affordable of all.

This product features a basic wand with temperature settings that could reach up to 410 degrees. Not bad for budget curlers. The beauty of this line is that you get basic features with simple, user-friendly designs. Because of the affordability, the Ondulé line earned a lot of customer raves. They are the perfect styling tools for newbies who can't get enough of gorgeous curls that last from day to night! I enjoy using the Ondulé curling wand just because of the stripped down features, which add to the easy operation of the curling wand.
Lustré
Now let's talk about the Lustré line, another range that generates a lot of customer love online. The Lustré is a step up from the Ondulé line. Essentially, the products from the Lustré line comes complete with technology driven features. The hi-tech features add to the price tag so this line is best for those who are willing to stretch their budget just a little bit for a curling wand.

Because they're pricier, the overall design and quality are far more superior than a basic L'ange curler. For more details on the features, search for the listed the features below.

The heat settings range from 170 to 450 degrees Fahrenheit so the curlers are suitable for all hair types. They work beautifully regardless if you have fine hair or coarse hair. On top of all the innovative features and fast heat up, the hot tools have a cool tip for precise control while styling. You will enjoy using a Lustré curling wand if you love experimenting with different looks. The added features make the curling wands so versatile.

Although the price seems hard to swallow at first, the Lustré curlers come with a range of add on features, including an auto-shutoff feature. Shop around for Lustré if you are a hair stylist who wants a high quality, feature-rich curling wands or someone who style her hair on a regular basis.
Aplatir
The Aplatir features a line of flat irons that moonlight as curlers. These high quality products combine innovative technology and select features such as rounded edges, precision floating plates, superior heating materials, and accurate temperature controls. The heaters are made from ceramic material so it curls or straightens the hair without frizz and tangles.
This line is all about the luster so expect high shine and brilliance hairstyle after hairstyle! It generated a lot of five star ratings from verified users online because of its versatile features and design!
Because the Aplatir line pulls double duty, it's more expensive than your average Lustré curler. But the lasting curls the curlers create along with the added features make the extra $$$ worth it. This will definitely complete a hairstylist's kit.
I would shop for Aplatir hot tools if I'm on the market for a multipurpose hot tool. I love versatile hot tools that pull double duty, I feel that I am getting more for my money. This makes the Aplatir line a fast favorite! You'll definitely enjoy this line if you're the kind of person who wants the best of everything.
Most of the curling wands from these lines come with a host of accessories. One of my favorites is the heat protective glove, which is quite useful if you're styling long, thick hair. I don't really like wearing a heat protectant glove while styling but this is one nifty accessory that made the styling process less of a pain.
Lustré Curlers Main Features
Wondering what features the Lustré curling wand has to offer? Check out the detailed list of features below:
Clip-Free Titanium Curling Wand or Ceramic Barrel  
1 inch to 1.24-inch barrel
Advance Heating System
Infra-Red Technology
Automatic Shut Off and a Cool Tip for Added Safety 
Barrel Repels Residues
6-Foot Swivel Cord
Dual Voltage Feature
Ergonomic Design
Adjustable Digital Temperature Control
The L'ange curling wand from the Lustré hair care line is available in three colors, blush, black, and white. Every color has two types of barrel sizes: 1 inch (25mm) and 1.25-inch (32mm).
Buying Guide: Factors to Consider Before Getting a Lustré Curling Wand
The L'ange Hair brand has a diverse selection of hot tools and each one is designed for a specific hair type. Because these curling irons aren't exactly cheap, we've listed down some of the factors that you have to take into consideration before choosing what kind of L'ange Hair hot tool to get:
​Material
If you've read our reviews above then you know that the Lustré line comes with two different types of heating material: titanium and ceramic. Titanium is best suited for coarse, thick hair because the material could reach high temperatures to tame the tresses. The high temps could also create longer-lasting curls. Titanium is also corrosion and stain resistant.
The downside is that titanium is incredibly drying so never skip your hair protecting serum. Also, metal tends to burn the tresses so titanium is not recommended for thin, delicate, damaged, or damage-prone hair. Heat protectant recommended!
I've no problems using curlers with titanium plates and in fact, titanium curling wands are a staple in my kit. But that's only because I have thick hair and I prep my hair carefully before curling my hair. I also deep condition my hair every week because I style my hair regularly. That said, I would choose a ceramic curler over a titanium curler because it's less damaging to the hair.
Ceramic is best if you have thin or damage-prone hair. This is a safe bet if you're afraid of accidentally burning your hair (who isn't?) because the material applies healthy, even heat. It's also the ideal material to get if you have chemically treated hair or hair that's prone to tangling.
Ceramic material is lightweight. Perhaps not as lightweight as titanium but it's light enough to prevent strain as you style your hair. Of course, there are times when ceramic doesn't' meet certain styling needs. There are people with hair that could not hold a curl and it will take a curler that could reach certain temperatures to style certain hair types.
Barrel Size
The size of the barrel is important because the kind of curls that you could create using a particular curler will depend on it. If you've checked out our reviews, you know that there are two sizes in the line, the 25mm and 32mm. The 25mm wand is ideal for most hair types, particularly those with shoulder-length hair or shorter. The size of the wand allows you to create longer-lasting curls because of the definition.The 32mm variant, on the other hand, is perfect for creating loose curls and relaxed waves. It's a great size for anyone with long hair like yours truly. Because the 32mm creates looser curls, the curls themselves don't last as long as tighter curls, which means you have to be absolutely sure that you want to wear your hair a certain way otherwise, the 32mm could feel limiting in terms of the hairstyles you could create with it.
Temperature
The L'ange Lustre Curling wand range is slightly more expensive than their other ranges but in turn comes with more features. The heat temperature ranges from 170-450 degrees. 410 degrees tends to be the ideal temp for most hair types, however, you will have the possibility to adjust the temperature to suit your tresses with the Lustre range.
Conclusion
As far as quality and design go, the Lustré hair curlers earn top marks in our book. There are curlers with more features out there but the L'ange brand is known for its durable and stylish designs. The Lustré line might not be as budget-friendly as the Ondule line but trust me; you will love the added features!
Leah Williams
Leah Williams is the founder of Lucky Curl and has been in the hair care and styling industry for the last 15 years. Since then, she has developed incredible expertise and a deep understanding of how to treat and style the most difficult hair types and is passionate about sharing her knowledge with the readers of Lucky Curl.