Styling my hair as quickly as possible has always been a challenge, especially after I have just taken a bath and need to rush to work. Short of waking up really early just to give my mane ample time to dry, I wasn't really keen on drying my hair with a blow dryer all the time. I had to find an alternative and one was presented to me after reading a Perfecter Fusion Styler Review. Read on to see if this hot air brush is right for you.
Things to Consider Before Buying a Hot Air Brush
Hair styling wasn't really my strongest suit, but I am convinced that, with the right styling product for wet hair, I may just get used to showing up with different looks at the office. I was surprised that, after reading a Perfecter Fusion Styler review that it was actually possible to dry and style hair at the same time. So, I did my own research and found that it was easier to narrow down my search if I have listed factors that I want my hot air brush to have. Here's what I have learned so far:
The size of the barrel should be the first thing that you look for in a hot styling device. Normally, hot air brushes come with 1 to 2 inches barrel size but you can reduce or increase the size depending on the type of hair that you have. If you have thick, long hair, you will need one that has a bigger barrel to accommodate your thick mane. On the other hand, if your mane is of average thickness and length, a one-inch barrel will suffice.
The type of material used for this styling product should also be considered. Most of the time you will see this brush made from ceramic because of its ability to conduct heat evenly. Then there is tourmaline because it prevents dryness from happening. It would be better if you choose a product that has these two elements since they can help style and protect your strands at the same time.
You should also consider a product that comes with heat settings since if the tool that you are using heats up quickly without giving you control, you might end up burning your strands because of it.
Presenting Calista Perfecter Fusion Styler
The Calista Perfecter Fusion Styler is a great product that promises faster styling time without damaging your hair strands. It dries, styles, and protects your strands from high heat while delivering quality and professional-looking results after use. It adds body, texture, and shine, all you will need for a great looking hair every time.
Pros:
Speeds up the drying and styling process.
Offers a good grip when holding the handle.
Prevents frizzy hair from happening.
Cons:
It is not ideal for those who have short, thin hair.
The drying time is not that different when using a blow dryer.
It can cause tangles when curling strands.
Features & Benefits
What makes the Perfecter Fusion Hair Styler the ideal choice for a hair dryer and curling iron at the same time? The Calista Perfecter Fusion Hair Styler comes with different features that are designed to make styling your wet and dry hair get done quickly.
Dual Heaters.
This design allows heat to be distributed evenly throughout the brush. This ensures that all strands are heated up evenly to minimize damage.
Nylon Teeth.
The soft bristles are evenly spaced to allow the strands to glide and prevent tangles at the same time. This also helps in protecting your mane from getting burned.
Pilot Lamp.
This tool also comes with a pilot lamp wherein a steady light indicates that you have reached the desired temperature. A blinking light should tell you that it is still heating up. This is a useful feature since you don't have to second guess whether the tool is hot already. Also, it comes with auto shut-off mode wherein the gadget automatically turns off after an hour of not in use. This helps prevent any untoward incidents at home.
Heat Settings.
The temperature settings here are pretty simple. You can choose from low which is at 356 degrees Fahrenheit to high which is at 392 degrees Fahrenheit. This is useful since the low setting will be appropriate for those who have thin to damaged hair, while the higher temperature can be used by those who have thick to coarse mane.
Material.
The material used in constructing the brush itself is made from ion ceramic that helps your hair remain shiny and smooth. Ceramic is a great material for hot tools because of its ability to disperse heat evenly. There are no hotspots to worry about at this point thanks to the even heating.
Versatile.
The versatility of the Perfecter Fusion Styler makes this a suitable styling product that can be used on both wet as well as already dry hair. You can even use it as a hair straightener or even a curling iron whichever you prefer.
Quick Heat.
This styling tool can reach your choice of temperature in just a few seconds which is why you don't have to worry about waiting long to start styling and drying your strands simultaneously. This does come in handy when you are in a rush but your strands are still wet.
Travel Case.
Another feature that you will love about this brand is that it comes with a thermal travel case so you can bring it with you whenever you go traveling. No need to look less your best because you can bring the Perfecter fusion styler with you wherever you go.
Plastic Handle and Body.
You will be happy to know that the fusion styler comes with a plastic handle as well as the body to prevent yourself from burning your hands.
Brush Detangle.
If you are worried about your strands getting tangled while styling, you will be happy to know that this product comes with a brush detangle feature. You can brush and curl your mane afterward.
Social Proof
Based on several Perfecter Fusion Styler reviews, this is indeed one of the best brushes in the market thanks to its numerous features. Of course, I wanted to read what others had to say and so far most of the customer reviews I came across were all high praises. This is a good indication that many are confident about this brand. Here are a few customer feedback about the product.



Alternatives
HOT TOOLS Professional 3/4" Hot Air Styling Brush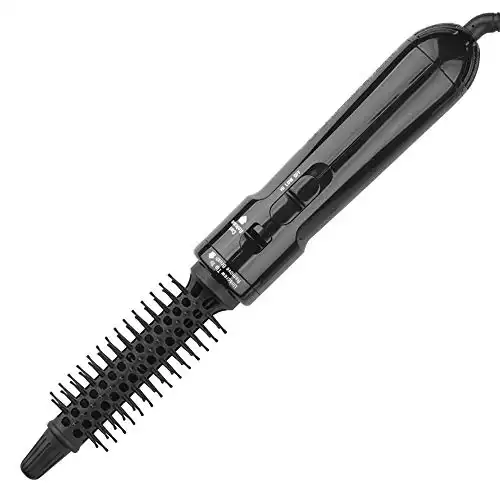 If you are looking for a versatile styler just like the Perfecter Fusion Styler, this is a good time to try Hot Tools Professional hot air styling brush. The body of the brush contains smaller vents that allow hot air to pass through. The ball tipped bristles are soft and can also help detangle your strands so you don't have to worry about damaging them unexpectedly. Another plus to this brand is that it comes with a curl release switch wherein it can be used to run more strands. Don't worry about your strands getting bunched up because the bristles on this hair styling product ensure that it will not happen.
It has a long swivel cord (thank goodness!) that prevents you from getting all tangled up. The doctor who was handling the product ensures that you won't be plagued with any untoward problems since the items are perfectly sealed. It comes with a 7-year guarantee so you can have your unit fixed or replaced in the event that it dies on you. You'll be happy to know that this stying brush can meet your expectations.
Pros:
Versatile styling heated brush ideal for all hair types.
Small vents in the body allow a faster drying process because they release steam.
Longer swivel cord for ease of use.
Cons:
It is made of cheap plastic.
The curls don't really last long.
The heat is not enough to dry, straighten, and curl hair.
Conair 2-in-1 Hot Air Curling Combo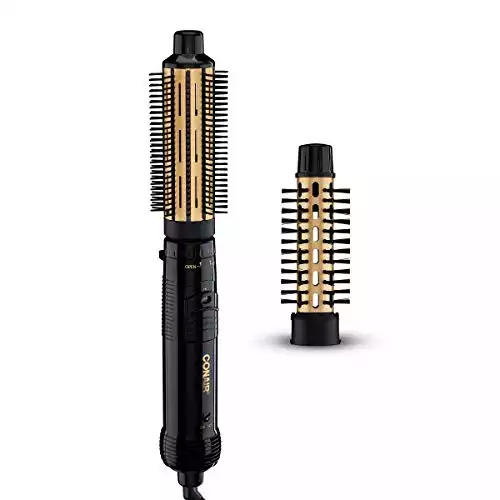 Conair 2-in-1 Hot Air Curling Combo
2-In-1 Styling Brush: This 300-watt brush includes interchangeable curling iron and brush attachments.
Safe and Easy Design: High and low heat settings, a built in safety stand and cool tip.
Dry and Style with One Tool: For smoothing and volumizing.
Buy from Amazon
We earn a commission if you click this link and make a purchase at no additional cost to you.
11/19/2023 02:30 pm GMT
If you are looking for a round brush that is easy to use that can help you dry your wet hair quickly, then try this curling combo from Conair. This 2-in-1 design lets you curl or straighten your mane at a much faster pace. However, this product is for helping make your hair have more volume since it can raise your strands from the roots to create that volumizing effect. This is only used for those with damp to dry hair thus shortening the hours you will have to spend to make your mane look like you have just been to the salon.
What else is there to like about Conair's offering for a round brush? Well, it has two interchangeable bodies which are for curling and straightening. You can simply replace the brush head depending on what style you want. This service makes it easier for you to quickly get out of the house looking great so your mane will look absolutely stunning. What else is there to like about this product? How about having a dual wattage meaning that this hair dryer and curling iron can be used on both 120 to 220 volts. You can actually bring it with you as go around and see the world or just revel in your own bathtub.
Pros:
This heated round brush speeds up how you manage your hair in the morning.
It helps create volume as you can start near the roots of your mane.
Interchangeable heads allow you to switch styles depending on your needs.
Cons:
It is a bit expensive.
The curls have a hard time holding on.
The attachments tend to fall off when not screwed in properly.
Jinri Hot Air Brush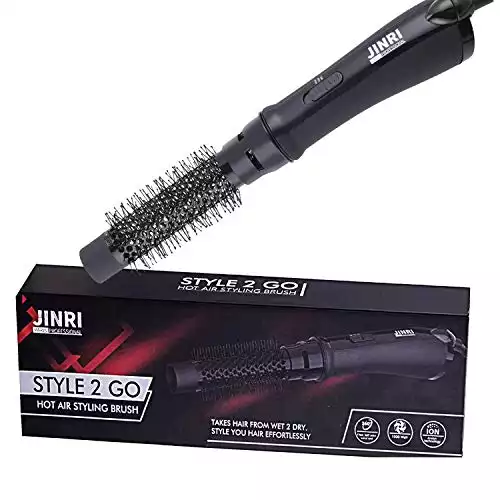 The Jinri hot air brush is another worthwhile alternative to the Perfecter Fusion Styler by Calista. How is this possible? Well, this equipment combines the functions of a dryer as well as straightener/curler iron in one that you will feel like you have been to the salon once you see the results. It also makes use of both ionic and ceramic tourmaline technology that not only evenly heats up the round brush, but also reduces the appearance of frizz thanks to the negative ions being produced by tourmaline. What you will get is hair that is smooth, shiny, and frizz-free without spending an hour over your mane.
In order to achieve this feat, Jinri is equipped with 1000 watts to deliver the right amount of power to dry and style your hair. You don't even have to feel worried about bringing the tool closer to your scalp as it will not burn it. Expect that this device will have two heat settings for added control as you give your mane its style for the day. What about tangles, you ask? The soft nylon bristles on this heated round brush will prevent your strands from getting tied into knots so there is less damage to worry about. And to top it all off, it has a 9 feet swivel cord which saves you from getting tangled around the cable.
Pros:
Versatile hot hair brush as it combines the functions of three tools in one.
1000 watts ensure that this product has the energy to dry and even provide curls or straighten one's mane.
Soft bristles prevent tangles from happening.
Cons:
It doesn't add volume.
The product doesn't last that long.
The handle was too large to get a good grip.
Conclusion
The Calista Perfecter Fusion Styler is hair equipment worth getting your hands on if you want to be able to style your hair quickly even when it is damp. The ionic ceramic technology heats up the brush evenly so that, as you brush your mane with it, you will see results fast. You won't be bothered by frizz or damaged strands because of it. The Perfecter Fusion Styler guarantees salon-like results and for its price, it is a good investment to consider. It would help if you read up on Perfecter Fusion Styler reviews so you will understand how others see this product and why it is worth considering when it comes to speeding up straightening and even curling your strands with it.
Leah Williams
Leah Williams is the founder of Lucky Curl and has been in the hair care and styling industry for the last 15 years. Since then, she has developed incredible expertise and a deep understanding of how to treat and style the most difficult hair types and is passionate about sharing her knowledge with the readers of Lucky Curl.