I wish I knew of dryer brushes when I was just dipping my toes in hairstyling, back when I had long, fine locks that frizzed with the slightest provocation. My morning routine had no room for maneuvering a flat iron in unison with a brush. I left the house in a rush with my tresses limp or damp. A hot air brush would have made a big difference, that's why I took a closer look at the Revlon one-step hair dryer and volumizer professional hot air brush.
Read on for our Revlon One Step Hair Dryer Review.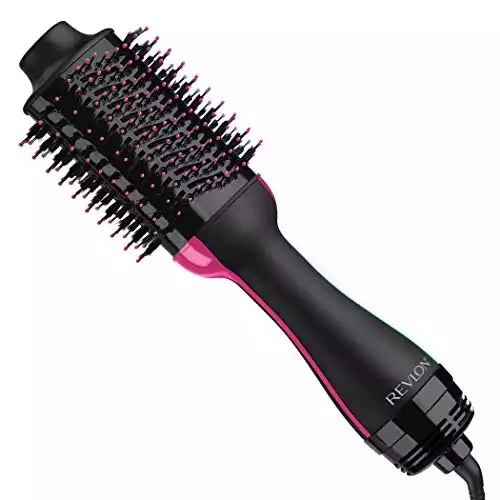 Revlon One-Step Hair Dryer And Volumizer Hot Air Brush
Style, Dry & Volumize Your Hair in One Step.
Unique Non-Detachable Oval Brush Design for Smoothing the Hair, while the round edges creates volume.
3 Heat/Speed Settings with Cool option for styling flexibility.
Buy from Amazon
We earn a commission if you click this link and make a purchase at no additional cost to you.
09/09/2023 05:30 pm GMT
Revlon One Step Hair Dryer Review
The Revlon One-Step Hair Dryer is the undisputed market leader in the category. The internet went bonkers over this product last year. It has over fifty thousand reviews on Amazon and countless reviews on various magazines and blogs.
Its claims are simple: it pledges to give volume and shine in one step. With the two-in-one dryer brush, you can supposedly recreate salon blowouts on your own with no hassles.
The Revlon One-Step is often compared to the Dyson Airwrap which comes at a much steeper price. The Dyson is slimmer with a longer handle. The Airwrap comes with a few attachments that transform it into a dryer, curler, and a larger barreled brush, to name a few options, while the Revlon has a non-detachable head.
Pros
it can help cut down on styling time

volumizes and dries in one step

affordable
Cons
has only two heat settings

it's not dual voltage

can get quite hot
Features & Benefits
Hot air brushes have been around for a long time but the Revlon One-Step Hair Dryer and Volumizer has captured the market in a way that we haven't seen before. Its mass appeal piqued my curiosity and I dissected every nook and cranny of this brush to find out why it became so popular.
Design
When you take the dryer and volumizer fresh out of the box, you'll realize just how huge it is. The handle is thick and the barrel of the brush itself is larger than my hand. Thankfully, it's not as heavy as it looks and doesn't give you an arm workout.
The oval brush has an uncommon design(but I'm sure it's spawned some copycats since). It's what you'd get if you merged a paddle brush with a round brush. The barrel has two sides that are longer and flatter with curved sides. It has an oval cross-section when viewed from the top.
The shape of the Revlon One-Step Hair Dryer Volumizer will help you get closer to the roots, smooth out locks, and make flicks on the ends. Because of its considerable size, it dries and styles hair fast.
The barrel is dotted with nylon pin and tufted bristles in closely spaced rows. It detangles locks without catching on knots. The brush has vents for airflow which helps dry hair even faster.
I was expecting the brush to have a rotating barrel but I can't complain because the fixed barrel efficiently dries and smooths strands.
Noise
When you turn on the device, you'll be greeted by a sound on par with a hairdryer's buzz. It's not quiet but it's not too loud, either. I actually find it soothing because I mostly zone out in a meditative state when straightening my hair.
Temperature Options
A rotating switch lets you pick how hot the air gets from the dryer. There are 2 heat/speed settings plus a cool option. Now, let me warn you, the high setting can get scorching. I recommend using the low setting to prevent heat damage.
As with other hot tools, don't use this on sopping wet hair and always apply a heat protectant. I wish the Revlon Dryer Volumizer hybrid could come with more heat settings to suit different hair types but the adjustability is still good. The cool setting is great for finishing off the hair and holding your style in place.
Ionic Technology
The product has ionic technology that removes frizz. I like that it comes with this feature because I don't want to sacrifice the health of my hair for a snazzy 'do. I think this tech works because I notice that the results from this are smoother than what I get with a normal brush and dryer and my hair does not feel fried. And don't get me started on how much body this gives my hair: volume for days.
Ease of Use
As for the user experience, the Revlon Dryer and Volumizer is really easy to hold because of how the handle is designed. The swivel cord measures 6 feet, which is enough for me. The styling process was fast (shorter than my usual regimen) and with practice, I can probably cut down even more.
Safety and Portability
The Revlon One-Step Hair Dryer comes with an ALCI Safety Plug which is reassuring. The dryer uses 110V only. It's a bit disappointing because you'll need to bring a converter if you travel. But for home use, this is perfectly fine.
Price
The dryer volumizer is priced at $49.99 for the black and pink version. It also comes in mint and turquoise. The product's real draw is how good it is for the price. It rivals more expensive brands and really delivers on its claims.
Social Proof
If you're looking for reviews on the Revlon hair dryer volumizer brush from everyday Janes, I've taken some testimonials of three believers in the power of this multitasking tool. From fine and thin to coarse and curly hair, the brush seems serviceable to a spectrum of hair types. The hype is indeed real.
Read about their experiences below.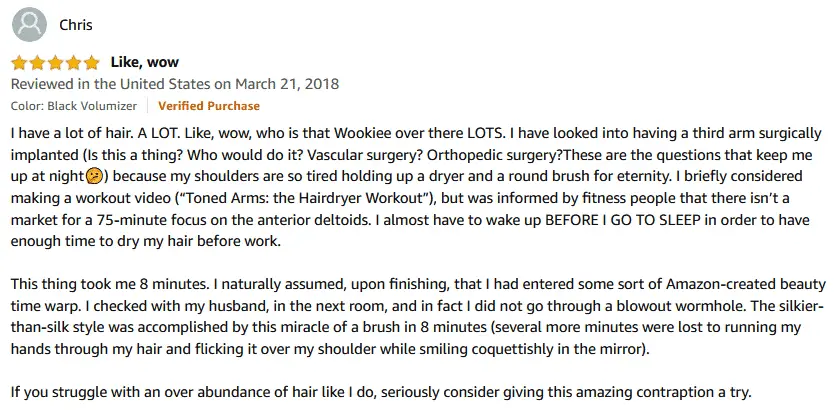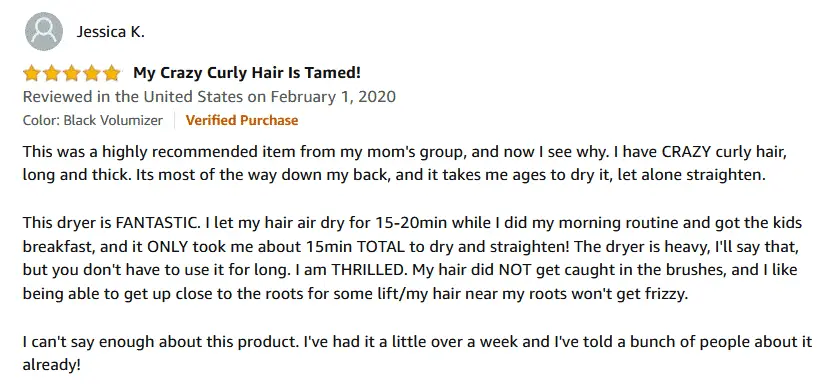 Alternatives
If you're not convinced of the Revlon's prowess, then these three hot air brushes may be up your alley. They have a different spin on the same hair tool and may fulfill some hair need not covered by the Revlon One-Step. Check out these promising dryer-brush hybrids.
HOT TOOLS Professional Charcoal Infused One Step Blowout, Part of the Volumizer Family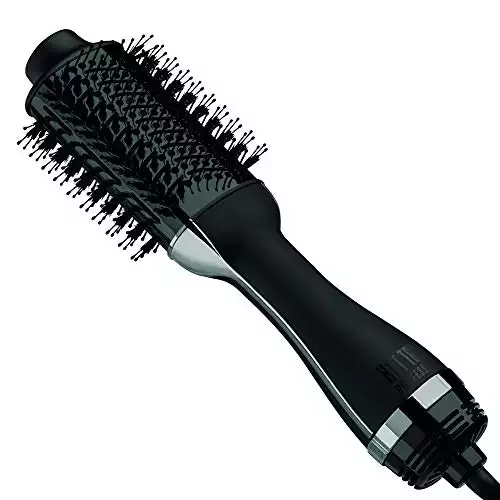 Hot Tools Professional Black Gold One Step Dryer & Volumizer
Easy, consistent and salon-quality styling
Expert-designed black gold styling surface
Lightweight design and Soft-Touch finish
Designed with an ALCI safety plug (required for U.S. hair dryers).
8ft. professional swivel cord
Buy from Amazon
We earn a commission if you click this link and make a purchase at no additional cost to you.
09/07/2023 01:30 pm GMT
While the Hot Tools Volumizer is structurally reminiscent of the Revlon One-Step, its brush has Boartech bristles infused with activated charcoal. For girls who commonly skip a shampoo, the charcoal is excellent for second-day hair. The brush is coated with titanium and ceramic and has a soft touch handle so you can dry your hair comfortably.
Hair Dryer Brush, Bongtai Hot Air Brush One Step Hair Dryer & Volumizer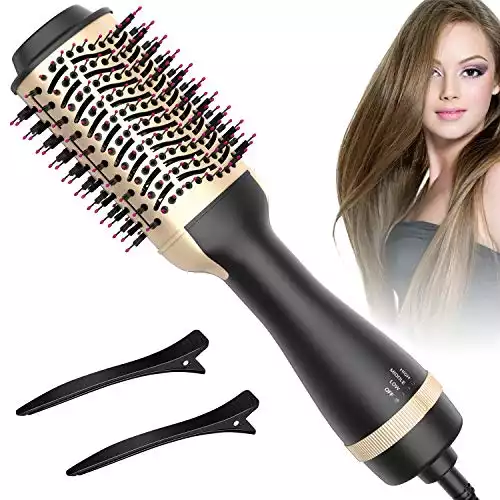 The Bongtai is the quiet frizz-tamer. It's the shortest brush on the list at 13 inches but the ceramic barrel (which is detachable, by the way) emits negative ions to give you soft, lustrous hair. The gold and black colorway is chic and it's filled with upgraded vents for noise control when in use.
Hair Dryer Brush – Hot Air Brush with ION Generator
The Hair Sensation Pro Dryer Brush is the underdog in the blower and styling tool arena. It's a blatant Revlon dupe down to the pink and black color choices but it comes at nearly half the price. Ceramic coating? Check. Ionic tech? Check. 3 heat settings? Tick, tick, tick. It's a budget workhorse that gets the job done.
To sum it up:
Hot Tools
3 heat settings (high setting is very hot)

made of titanium and ceramic

can get loud

longer swivel cord than the Revlon (9 feet)

has a soft touch handle

limited lifetime warranty
Bongtai
3 heat settings

ceramic material

upgraded vents reduce noise when in use

6 feet 360-degree cord

A bit hard to hold according to some reviews
Hair Sensation Pro
3 heat settings

brush has a ceramic coating

6 feet swivel cord

largest at 15 inches long

cool tip to prevent burns

handle is not ergonomic
Things to Consider Before Buying a Hot Air Brush
For the uninitiated, a hot air brush is a round brush with vents that allow hot air to blast through. It combines a hairdryer and a brush in one body. Hot air brushes claim to dry, style, and volumize in one step. There's little to no learning curve when using them, making this the ideal tool for beginners. These would also be perfect for you if you're looking for an everyday workhorse for your styling needs. However, if you want the same results you get from a flat or curling iron, you might be disappointed. Hot air brushes can't achieve the level of sleekness or the cascading waves you get from other hot tools.
Before buying a hot air brush, you need to consider a few things.
The size of the brush matters especially if you have long or short hair. For short strands, look for a small size so you can easily roll it through your locks.
The heating barrel is where the magic happens. A good barrel transfers heat efficiently and distributes it evenly on your locks.
An ergonomic handle is good to have in a brush that'll be a staple in your regular styling routine. Something that's easy to grip makes a tiny but noticeable difference in using a styling tool.
You'll want to look for a paddle brush if you prefer pin-straight hair. For waves and volume, a round brush will suffice.
The best one-step hairdryer will vary wildly depending on your hair type, length, and preferences in finish, as well as your experience in styling and how much time you usually spend in the mornings doing your locks. Read the fine print closely and compare products before you open your wallet.
Final Thoughts
If you think you can benefit from a shorter styling routine, the Revlon One-Step Hair Dryer and Volumizer is the tool for you. You can get the same results from a full-blown blowout with this.
And if you're a low-maintenance person who wants to look effortlessly stylish, I highly recommend it. It cuts down on the amount of time I blowdry and my hair is less frizzy and damaged. It's really easy to use, too, even if you need help in the coiffure department. It's like getting the no-makeup makeup look of hair with half the energy. Who doesn't want that?
To try it out yourself, you can purchase the Revlon dryer and volumizer here.
Leah Williams
Leah Williams is the founder of Lucky Curl and has been in the hair care and styling industry for the last 15 years. Since then, she has developed incredible expertise and a deep understanding of how to treat and style the most difficult hair types and is passionate about sharing her knowledge with the readers of Lucky Curl.