When it comes to flat irons, hair straighteners by Rusk are considered to be among the best. This is due to the fact that they were able to meet international standards in terms of quality thus giving the best results. If you want to straighten hair with salon-like results, investing in a Rusk hair straightener is worth it.
Rusk Hair Straightener – Top 3 Flat Irons Reviewed
The brand Rusk has certainly made a name for itself with its selection of hair straightening tools that are guaranteed to deliver professional results. But which one should you opt for? To help you understand better the different Rusk products, here is a review of the top three flat irons under this brand.
RUSK Engineering Heat Freak Str8 Iron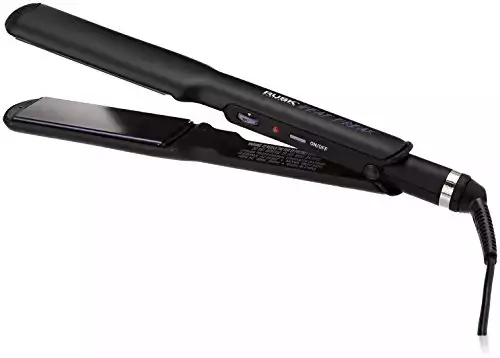 Rusk Engineering Heat Freak Str8 Iron comes with 1″ and 1 1/2″ inch ceramic tourmaline plates that can help make your hair straight in a matter of minutes. A single pass of the plates will provide you with straight strands quickly. It makes use of far infrared heat technology wherein the heat penetrates the strands themselves and heats them from within. On the other hand, if you are worried about seeing frizzy strands from forming, you'll be happy to know that using this flat iron will not damage your strands. What's even better is that this flat iron makes use of Sol Gel Technology to ensure that the plates heat up evenly and that they do not create frizz at the same time.
This Rusk Flat iron is a perfect example of how this styling tool can be used to fight frizz and even straighten your strands faster and without any noticeable tangles. Other features include a memory card wherein your latest action will be recommended. You can start at the crown of your mane. It would be better if you do leave space between the roots and the rest of your hair so as not to damage your scalp and even burn your mane too.
Pros
Ceramic tourmaline materials speed up the drying and styling at the same time.
Sol Gel technology utilizes the power of the ceramic and tourmaline to eliminate frizz.
You don't need to do multiple passes over each section of your hair.
Cons
This may not last you up to a year.
It doesn't heat up as promised. You will have to wait and see.
Customers are not too happy that the model doesn't seem to last long.
RUSK Engineering CTC Technology Professional Str8 Iron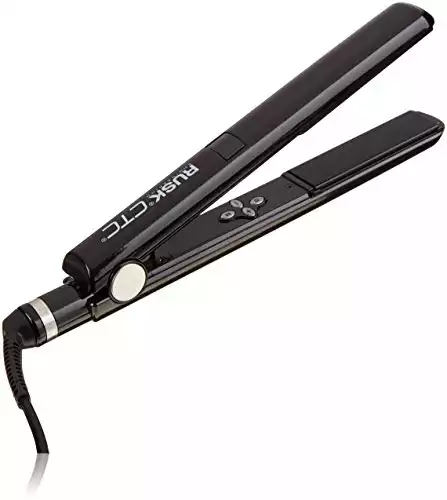 If you are looking for a Rusk flat iron that will give you professional-grade results, then the CTC technology professional Str8 iron is a great investment. What made this stand out is the fact that it can help eliminate frizz and other stray hairs that will ruin your overall look. This straightening tool speeds up the drying and styling process so there won't be any minute wasted especially when you are in a rush to get to work. You can change your current hairstyle to straight, curly, wavy, you name it, you will find that this tool can make them all happen.
The CTC technology not only prevents frizz from forming but also leaves the strands healthy and shiny too even after being exposed to heat. Aside from that, there is also the memory function wherein the previous controls can be used as it is. To use this straightener at home, bring the plate a bit closer to the roots of your mane then slide the plates toward the tips. A single pass should give you a better preview of what to expect with your mane.
Pros:
Straightening your hair with the professional Str8 will give you immediate results.
You can use it on all hair types and thicknesses too.
CTC technology stops the brittleness from forming while giving your mane that natural shine and smoothness to it.
Cons
The durability of this device is not that great as it will only last you for a year or less.
It is a bit pricey for a styling tool.
The heat is barely noticeable when used.
Rusk Engineering W8less Professional Ceramic and Tourmaline Str8 Iron
Another option that you can consider when you want to tame your frizzy hair is the W8less professional ceramic and tourmaline Str8 iron. This sol-gen technology is also helpful when it comes to your hair care. It fights off frizzy hair plus brittleness. Second, it leaves your hair looking great. And lastly, you will get a smooth, silky mane after each use. The combination of the Sol-Gen plus ceramic tourmaline delivers that professional-grade results that will be the envy of others. No need to worry about burning your mane because of its unique combination wherein it protects your hair from heat damage while styling your mane like a pro.
Who can use this straightening tool? Well, it does work on all hair types and it is perfect to use in a salon setting too as it can handle repeated use. Glide the plates on your carefully sectioned mane and you will see how quickly your hair straightens out. Fortunately, this model makes use of far-infrared heat meaning that the inside of your mane will be heated up without damaging the cuticle that protects it. You should start from the crown of your head all the way to the tips.
Pros:
Prevents the appearance of having frizzy strands.
The combination of ceramic and tourmaline plus its sol-gen technology should work in maintaining straight, shiny hair.
Easy to use straightener makes it possible to minimize the damage to your head and scalp.
Cons:
It may not give you the beachy waves look that you want.
The price is too high.
It keeps on pulling on your hair.
What's the Best Way to Use a Hair Straightener?
Straighteners are designed to provide users with a way to straighten hair strands without going to the salon. Although using a flat iron is pretty straightforward, it is not unusual that some will make a mistake when using it. That said, here are the steps that you need to follow:
Use a Conditioning Shampoo
Wash your mane with a conditioning shampoo that is appropriate for your hair type. For example, if you have thin strands, use one that has volumizing properties.
Blow Dry
Dry your hair using your towel first to remove excess water. After, you can blow dry starting from the roots all the way to the tips. Make sure that you comb properly and that you get rid of tangles too.
Heat Protectant
Do not forget to apply heat protectant on your strands prior to using hair straighteners. Do not apply on the roots as this can weigh your strands down.
Section Hair
While giving the hair protectant time to settle on your strands, you can work on sectioning your mane to make it easier when straightening.
Check Temperature
Set the temperature of your flat iron to the right setting based on your hair's length and type.
Start Straightening
Once the flat iron is at the right temperature, start a few inches from the roots. Glide the hot iron downwards to make your strands straight. Repeat this step with each section of your strand until you have done your entire head.
What to Look for In a Rusk Straightener
Styling your mane is one way to build up your confidence but which styling tool to get? If you plan on buying a Rusk flat iron, it would be better if you look for these features:
Heat Controls
A flat iron should come with temperature control for you to choose from based on the type of hair that you have. Usually, the temperature in a flat iron can range from 180 degrees Fahrenheit to 450 degrees Fahrenheit give or take. You will come across hair straighteners that only have an on and off feature, but this will not work well with all hair types. It would be more advantageous if you go for one that has multiple heat settings so that you will have better control over the heat.
Safety Feature
Since you will be using a styling tool that requires heat, you will need to look for one that comes with a safety feature such as auto shut off. This way, even when you accidentally left the straightening tool still plugged in, it will automatically turn off after a certain time has passed.
Material
Another factor that you should look into when shopping for a flat iron is the material it is made from. Most flat irons will be made with tourmaline, ceramic, and titanium. Ceramic is the most common option as this is known for heating up the plates in an even manner. On the other hand, tourmaline is typically chosen for its negative ion technology that prevents split ends, while titanium can withstand high heat. You can come across flat irons that combine any of the following materials for a tougher and more durable iron to straighten your strands with.
Plate Size
The size of the plate also matters when you shop for a flat iron. A flat iron with a 1-inch plate can work with all hair types, but it is best suited for those who have thin to medium thick strands. On the other hand, if you have a thick or coarse mane, then you can go with those irons that have bigger plates to speed up the straightening process.
Ergonomics
Since it will take a few minutes to get your hair straight, you will need to look for one that has an ergonomic design. This means that the handle should give you a comfortable grip to minimize hand fatigue.
Swivel Cord
It would be nice to have a hair straightener with a long swivel cord as this can prevent you from getting tangled while using it. Check flat irons with a swivel cord ranging from 6 feet and up.
Price
The price of the product must be considered as well since you will want a Rusk straightener that will give you the best value. Compare rates with others then weigh the pros and cons too to determine if the features meet your needs.
Final Thoughts
Now that you have an idea of the top three Rusk products in the market today, the question now is which one should you go for? Although all three are guaranteed to make your hair straight, smooth, and beautiful, you can start with the W8less Professional Ceramic Tourmaline Flat Iron. This unique combination helps you straighten and style your mane as you see fit without worrying about damaging the strands.
Leah Williams
Leah Williams is the founder of Lucky Curl and has been in the hair care and styling industry for the last 15 years. Since then, she has developed incredible expertise and a deep understanding of how to treat and style the most difficult hair types and is passionate about sharing her knowledge with the readers of Lucky Curl.