I'm always looking for the next big styling tool. With a plethora of flat iron brands on the market, the options are dizzying. It's hard to reinvent the flat iron but some brands, like Sedu Professional, have found a way to stand out. In this review, I'll discuss the pros and cons of their bestseller, the Sedu Flat Iron.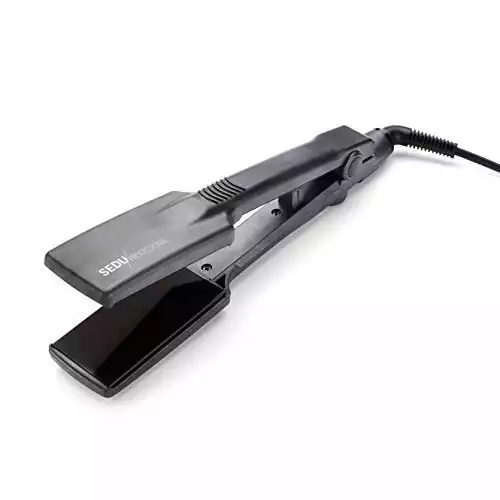 Sedu Flat Iron – 1 Inch Straightener Review
The Sedu Professional Classic Flat Iron is the top-selling offering from the hairstyling brand. It has 1 inch patented ultra-smooth ceramic plates equipped with tourmaline technology for a smooth and frizz-free finish. This can suit a wide range of hair types because of its multiple heat settings.
The Sedu Professional Flat Iron has an ergonomic design and a comfortable grip. The embedded plates help to align hair and the swivel cord makes it easy to use. It also comes with dual voltage and an automatic shutoff timer.
For peace of mind, the Sedu flat iron is backed by a 2-year warranty.
This product is best for damaged and fine hair because of its ceramic and tourmaline components. Because of the shape of the plates and the Sedu flat iron's form factor, this isn't for people looking for a flat iron that can double as a hair curler. For a more versatile option, you can check out the Sedu Revolution Styling Iron.
Pros
Has 1 inch ceramic tourmaline plates
Multiple temperature settings
Lightweight build and ergonomic design with a comfortable handle
Comes with dual voltage and an automatic shutoff
Backed by a 2-year warranty
Cons
The design of the flat iron makes the cord wear out easily
Lacks a plate guard for convenient storage
Not good for curling hair
Features & Benefits
Plates
I love how wide and smooth the plates are on the Sedu flat iron. The 1.5-inch size is perfect for going over large sections of hair and does save a chunk of styling time. This will be suitable for those with thick hair.
The plates are made of ceramic and infused with tourmaline for ionic benefits. That means it emits negative ions which seal the hair cuticle, thereby enhancing shine and removing frizz.
The ultra-smooth ceramic straightens hair gently and heats up quickly. I recommend this material for straightening frizzy, fine, damaged, or color-treated hair because it works so well and doesn't wreak havoc on the strands. Taming puffy hair in humid conditions is also a cinch with the Sedu flat iron and it only requires a few passes to get the job done.
Because of the shape of the flat iron, it's sadly not for curling the hair. If you do try to curl it, the curls may look very flat and uneven.
Temperature Settings and Performance
The flat iron comes with adjustable heat settings from 250°F to 410°F. Heat-up time is fast, around 30 seconds or so. Recovery time is also excellent because it cools down just as quickly as it heats up so you can store it after use without worrying about burning your case or bag.
If you have fine or damaged hair, make sure you use a setting that's 360°F and below. Whatever your hair type, you need to use a heat protectant before styling to preserve hair moisture.
The Sedu flat iron straightens hair effortlessly and makes it look smooth and shiny. Somehow, even with frequent use, it doesn't damage the hair, so it's one of the best flat irons, in my opinion, for people with damaged and color-treated hair.
Ease of Use
Though the aesthetics of the flat iron doesn't look as modern or sleek as others in its category, the design is quite functional. It makes for comfortable straightening because it's lightweight with an ergonomic handle. The embedded plates grip the hair effectively so the iron can glide down on the lengths of the hair.
There is a 9-foot long swivel cord attached to the flat iron but a lot of users have complained that it wears out easily. This affects the wiring of the device and once the cord breaks or frays, you have to hold the straightener at a certain angle for it to work.
This feature does affect the longevity of the flat iron, so it's quite a bummer since the device itself works very well.
Other Features
If you're looking for a travel-friendly flat iron, you're in luck because the Sedu straightener has dual voltage for worldwide use–no converters necessary. And since it's so lightweight and compact, it will fit your carry-on easily.
It also has an automatic shutoff timer, meaning it powers down after 60 minutes of non-use so you can style safely. This is one of the most useful features if you're a bit forgetful like me and gives you lots of peace of mind.
The Sedu flat iron is backed by a 2-year warranty and the price is quite reasonable for what you get. I only wish it also came with a plate guard or a pouch to store it safely after use but mostly, I have no complaints.
Social Proof
I was curious about others' experiences with the Sedu flat iron so I did a few Google searches which yielded these positive reviews. Here are some praises the straightener has garnered from long-time users.



Alternatives
KIPOZI Professional Titanium Flat Iron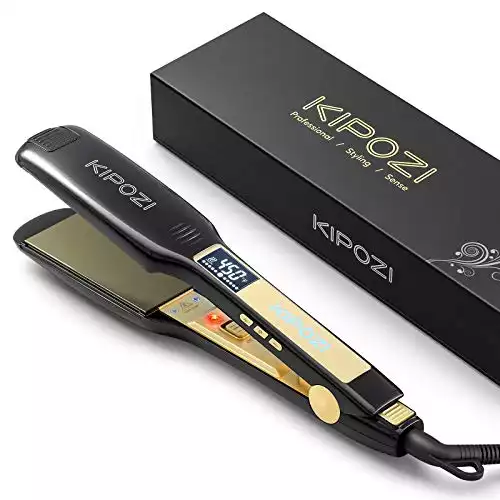 The KIPOZI flat iron has even wider plates than the Sedu's, at 1.75 inches. It has a similar look but it comes with titanium floating plates, which are best for coarse and curly hair. There are variable heat settings up to 450F and you can see the current temperature on the LCD display. This also has dual voltage and an automatic shutoff timer. I like the user interface on this one and it doesn't hurt that it's half the price of the Sedu flat iron.
Has titanium floating plates for powerful straightening
Multiple heat settings
Digital readout display
Clearly labeled controls and has an auto-shutoff and dual voltage
MONDAVA Professional Ceramic Tourmaline Hair Straightener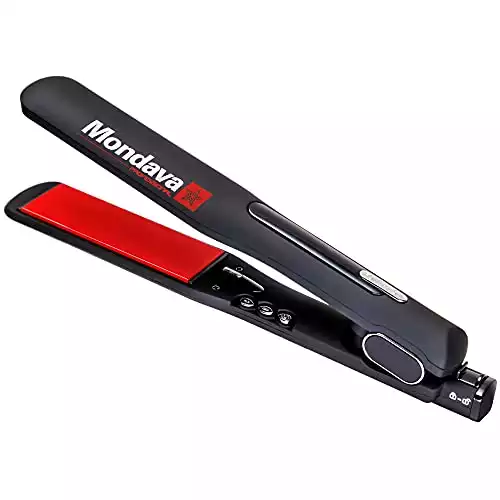 This is a ceramic tourmaline flat iron, like the Sedu, but it has a quicker heat up time (5 seconds)and uses Ionic Pulse Vibration Technology. It has a digital readout display and multiple heat settings. The flat iron straightens hair using gentle ceramic heat with negative ions. Aside from a swivel cord, dual voltage and an auto shutoff, this also comes with a bunch of freebies like a travel pouch and a heat-resistant glove.
Made of ceramic tourmaline plates
Uses Ionic Pulse Vibration Technology
Easy to use with a digital display and a swivel cord
Comes with an auto shutoff, dual voltage, and several freebies
Paul Mitchell Pro Tools Express Ion Smooth+ Ceramic Flat Iron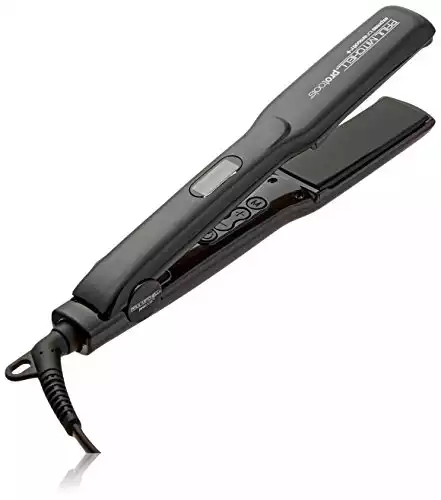 The Paul Mitchell Ceramic Flat Iron is fitted with 1.25-inch plates and comes in a sleek black finish. It has a 60-second heat up time and 5-second recovery time and can reach 410°F. It's versatile, too, because it can flip, curl, or straighten the hair with its rounded barrel. For convenience and fuss-free styling, it comes with dual voltage and an automatic shutoff feature. It can get quite close to the roots and is backed by a 1-year warranty.
Has 1.25-inch ceramic plates
Heats up in 60 seconds and can get as hot as 410°F
Can curl, flip or straighten hair
Has dual voltage and an auto shutoff feature
Things to Consider Before Buying a Flat Iron
Here are the things I keep in mind when checking out a straightener. These are the essentials, the must-have features that make hair styling a breeze.
Material
The first thing to consider is what type of material the flat iron is made out of. This can spell the difference between healthy or fried locks. If you have fine or damaged hair, a ceramic or tourmaline flat iron will be better for you due to its even heat distribution. If you have coarse or curly hair that's hard to manage, a titanium flat iron will glide through them effortlessly. It has excellent heat transfer and reaches the optimal temperature rapidly but it can be too harsh for vulnerable locks.
Heat Settings
Another way to prevent hair damage is to get a flat iron with a variety of temperature settings. It pays to go slow and start at the lowest effective heat setting so you can avoid drying out your hair.
Ease of Use
An ergonomic design does wonders in everyday usage so I always ensure that the handle is easy to hold with enough grip. A swivel cord makes maneuvering a flat iron simple and tangle-free. I also appreciate a digital readout display and well-placed dials or buttons.
Price
Lastly, I also take my budget into consideration when buying a flat iron. The best and the greatest doesn't have to cost an arm and a leg but be prepared to spend more for a high-quality product that will last you years of use.
Conclusion
The Sedu Professional Flat Iron is an ultra-lightweight device with wide 1.5-inch plates for fast hair styling. Its fans praise it for its reliability and smooth, long-lasting results.
The flat iron is best for damaged, color-treated or thick hair. It straightens like a dream and glides through hair.
There are options to adjust the temperature to suit your hair type. It also comes with nice-to-have features like dual voltage and an auto shutoff.
However, the quality of the flat iron is let down by its swivel cord. It's prone to wear and tear and thus compromises the longevity of the straightener. If the brand fixes this, this will be an automatic recommendation from me.
If you want to check out the Sedu Flat Iron, head on to this link for more details.
Leah Williams
Leah Williams is the founder of Lucky Curl and has been in the hair care and styling industry for the last 15 years. Since then, she has developed incredible expertise and a deep understanding of how to treat and style the most difficult hair types and is passionate about sharing her knowledge with the readers of Lucky Curl.