Straightening brushes are becoming ever popular as more people look for new, efficient and less damaging ways of straightening their hair. A straightening brush differs from a flat iron, in that it looks very much like a typical hair brush, however, it instead has heated bristles that straighten the hair as you brush.
When talking about straightening brushes, you may have heard of the Simply Straight ceramic brush as featured in recent TV commercials. Well, we wanted to see if this styling tool really lives up to the hype.
Read on for our Simply Straight ceramic brush review.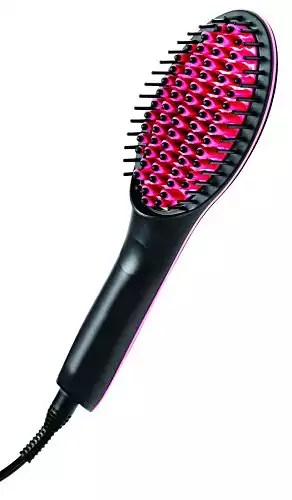 Simply Straight Ceramic Brush Review
Reading a review about the Simply Straight Ceramic Brush gave me insight on why straightening my hair with this product is a great idea. For starters, it is a ceramic straightening brush where ceramic is known for its ability to heat up quickly and evenly. It works well with any hair type which means that even if you have fine or thick hair, this will work well on you.
Pros:
Ceramic hair straightening brush heats up evenly.
It can reach up to 450 degrees Fahrenheit.
It can be used on different hair types.
Cons:
The bristles tend to pull on your strands.
It may not work on all hair types.
The heat settings are poorly placed on the handle.
Features and Benefits
What makes the Simply Straight Brush a better alternative to the flat iron? The reviews that I came across shed some light on why this hair straightening brush is a popular choice these days for straightening one's curly hair. From what I have read, these features are among its strongest points.
Ionic 3D ceramic bristles.
Ion technology is known for its ability to minimize frizz while the ceramic bristles ensure that your strands are heated evenly. This works well on curly hair or those that are prone to tangling since the bristles will glide smoothly while the plate heats the strands as they are straightened.
Lightweight.
Another feature that you will love about the Simply Straight ceramic hair brush is that it is lightweight. This is a huge relief since flat irons tend to be on the heavy side which can tire your hand. Since the overall brush is lightweight, you can brush your hair as needed without taking a break in between to rest your hands.
Heats up quickly.
If you are not a fan of waiting for your hot brush to reach the desired temperature, you'll be happy to know that the Simply Straight Brush will only take two minutes to reach 450 degrees Fahrenheit which is the hottest that you will get. At this temperature, you will get to have straight hair quickly.
Auto shut-off.
What else should you expect with the Simply Straight ceramic hair brush? It comes with an auto shut-off feature which is quite useful since it can prevent the product from overheating. If you have left your brush idle, it will turn off on its own after sixty minutes. This safety feature helps give you the confidence that it will not be the source of fire in your home since it turns off automatically.
LCD screen.
Another notable feature that I came across in a review of the Simply Straight brush is that it comes with an LCD screen. This monitor displays the current temperature of the ceramic hair straightening brush which comes in handy based on your hair type. You will find the screen on the handle of the brush for easy viewing.
Temperature control.
Among its popular features is its temperature control setting. Toggling the switch can help you find the appropriate amount of heat to use on your hair type. If you have thick hair, a higher temperature will work best while those who have thin hair should go for the midrange temperature to straighten your strands quickly.
Swivel cord.
The Simply Straight ceramic hair straightener also comes with a long swivel cord measuring six feet. This is long enough for you to move around while you straighten out the kinks on your strands. It also prevents you from getting tangled in the cord while moving around.
Easy to use.
Using Simply Straight doesn't take long for you to get a hang of it. It is not like the flat irons where you need to section your mane, or even have to clamp down on your strands while straightening them. With this brush, you simply brush your hair just like you used to and get a straighter mane in the process.
Social Proof
If you haven't read any reviews about the Simply Straight ceramic hair brush, you are missing out on what others are saying. From the ones I have read, most of its customers are pleased with the results, particularly those who have curly to wavy hair. Just to give you an idea of what they are saying, here are a few feedbacks from its users.


Alternatives to the Simply Straight Brush
The Simply Straight Ceramic Hair Straightening Brush does a great job of making wavy or curly hair straight with minimal effort on your part. But aside from this brand, are there any alternatives that will yield the same results. Since I wanted to straighten my hair, I did some research and read reviews and so far, these three are among the best hair straightening brush products to use as an alternative to the Simply Straight Brush.
TYMO Ionic Hair Straightener Brush
The TYMO ionic hair straightener brush stood out for me because of its unique features. For starters, it makes use of the air sandwich design where the strands are sandwiched between the black and purple bristles as they are dried and straightened out at the same time. The ionic technology used here aims to straighten your mane without drying it up. Dry hair is usually a problem with hair styling tools, but not this one. The bristles are evenly spaced out so you don't have to worry about tangles as you brush your mane with this hair straightener brush.
Other features worth pointing out is that this straightener comes with a faster metal ceramic heating mode that will cut back the time it takes to heat it up. Additionally, this device remembers your previous setting and it will use it the next time you straighten your mane with it. With regards to safety, this hair straightening brush comes with an anti-scald feature which is great if you have a sensitive scalp. Also, it can turn off automatically when it is in idle for too long thus preventing a fire from breaking out.
Pros:
Unique air sandwich design straightens and dries hair at the same time.
Ionic technology prevents frizz from forming.
Metal ceramic heating plates heat up evenly for faster styling time.
Cons:
Some users weren't happy with the brush.
It is a bit pricey fora hair straightening tool.
The bristles tend to tangle on coarse hair.
Revlon 2nd Day Hair Straightening Heated Styling Brush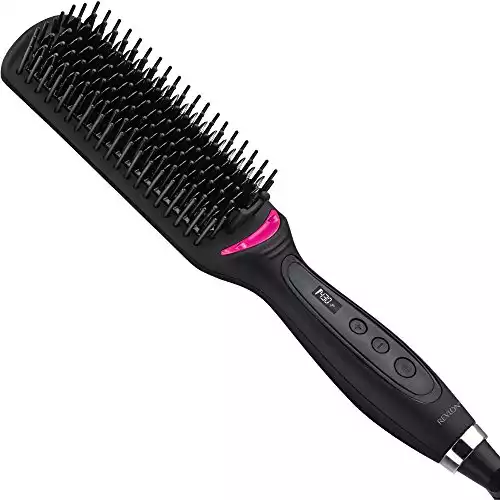 Revlon's own hair straightening heated styling brush is another option to consider if you want to have straight hair quickly. What drew me to this product is its multidimensional bristle and comb that glides smoothly in your mane while detangling knots and managing to get closer to the roots of your hair for that added lift. Even if you haven't washed your mane, you can still style it with this heated styling brush thanks to its ionic technology that prevents frizz from forming as you brush your hair with it. Additionally, the plate is ceramic coated which means that heat is evenly distributed throughout the bristles so that straightening your mane will be effortless.
This product comes with 10 temperature control settings that let you choose the right amount of heat based on your hair type. You will see the temperature displayed on the LCD screen on the handle. The on/off button is easy to toggle, plus it comes with an anti-tangle swivel cord too. The soft handle makes it easier to hold and it does help reduce the fatigue in your hand as you brush your hair straight.
Pros:
Multidimensional comb and bristles make it easier to detangle hair while straightening it.
Multiple heat settings give you control over the amount of heat to use on your hair type.
Can be used on second-day hair without causing frizz to appear.
Cons:
It makes ends appear split unless you roll the brush inwards as you reach the ends.
It takes a while to straighten your mane.
It may not work well with those who have thick, coarse hair.
ghd Glide Hot Brush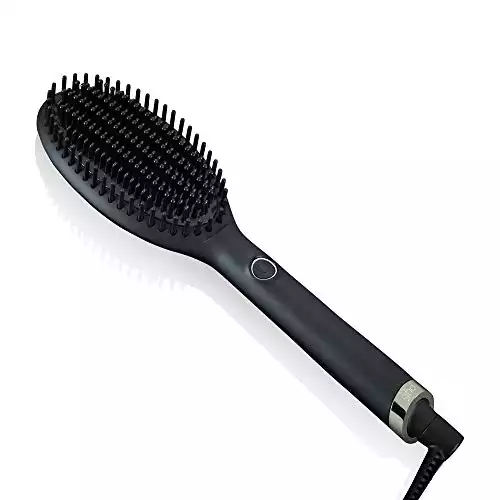 The ghd Glide hot brush is also another product to consider as an alternative to the Simply Straight ceramic hair brush because it delivers professional-looking straight hair. This is actually the brand's first-ever professional hair straightening brush that can put an end to dry and frizzy strands. What made it efficient in taming your second-day hair is its ceramic and ionic technology that heats up the brush evenly while smoothing out any frizzy sections of your mane. This hot brush heats up to 365 degrees Fahrenheit making it work with any hair type.
The combination of short and long bristles allow the brush to glide through your strands without pulling or tugging at your strands. You can brush large sections of your hair and will still get the same results. The handle is comfortable enough to hold plus it is lightweight too. No need to worry about straining your arm with this tool because it has a good weight to it that lets you comb your mane without getting tired.
Pros:
It combines short and long bristles for full combing sensation.
The combination of ceramic and ionic technology prevents frizzy hair.
Steady 365 degrees Fahrenheit makes it compatible with different hair types.
Cons:
It is too hot for some users.
It doesn't provide that flat sleek look.
There is no temperature adjustment.
Things to Consider Before Buying a Hot Brush
A hair straightening brush is a good alternative to traditional flat irons. Unlike the latter where you need to straighten your mane in sections, the hot brush lets you brush your hair like you normally do and reveal straighter looking mane. There are a few things that you should consider in a hair straightener brush and these are:
Bristles.
The bristles are important when choosing a hair straightener brush as the wrong one can pull at your strands and even break them. The same goes true with the material used for the tips of the bristles. For those with a sensitive scalp, your best bet is to look for nylon bristles while ball-tipped bristles are perfect for those who are dealing with tangled strands all the time.
Handle.
One thing that I wasn't fond of when using styling tools is that my hand and arm get tired after a while. This is something to take into account as well when you want to straighten your hair with a hot brush. Go for a product that has a comfortable grip so your hand won't get tired as you brush your mane straight.
Plates.
You should also consider the plates on the brush hair straightener that you are going to use since this is the one that heats up and helps straighten your mane. Most of the time, you get to choose between ceramic or even tourmaline plates which are known to heat up evenly and reduce frizz.
Shape.
The shape of the brush matters too and must be chosen based on your hair's length. If you have long hair, a rounded hair straightening brush is ideal for you. On the other hand, if you have short to medium-length mane, the flat brush is your best option.
Final Thoughts
Compared to the alternatives, you can see why the Simply Straight Ceramic Hair Straightening Brush is a great option for straightening your hair. With its ability to reach up to 450 degrees Fahrenheit in a few seconds plus the option to regulate the heat setting, it means that you have complete control over your styling based on the type of hair that you have. It also comes with an auto shut-off feature which is a must-have for any styling tool in case you forgot to turn it off. You only need to brush your wavy or curly hair with this to get that sleek, straight hair you have always wanted.
Leah Williams
Leah Williams is the founder of Lucky Curl and has been in the hair care and styling industry for the last 15 years. Since then, she has developed incredible expertise and a deep understanding of how to treat and style the most difficult hair types and is passionate about sharing her knowledge with the readers of Lucky Curl.