This is a review of the Andis 38330 Ceramic Press Hot Comb.
I know how hard it can be to straighten stubborn hair quickly and efficiently. I've had years of experiencing styling other people's hair and trying out hot tools. This gave me a keen eye for what works and what doesn't when it comes to hair styling. I want to help you make your decision on popular hair tools so you don't get buyer's remorse.
I was thoroughly impressed with the Andis High Heat Ceramic Press Hot Comb from its maximum heat capacity and extensive heat settings. On top of that, it's affordable and easy to use. It has features that I look for in heat styling devices, including a quick heat up and a swivel cord.
Up ahead are my detailed thoughts on the Andis Hot Comb and an in-depth look at its features. You'll find out which hair types are best suited for this comb and I'll also suggest some similar hot combs in case you're looking for an alternative or comparing it to other hot combs.
Let's get started.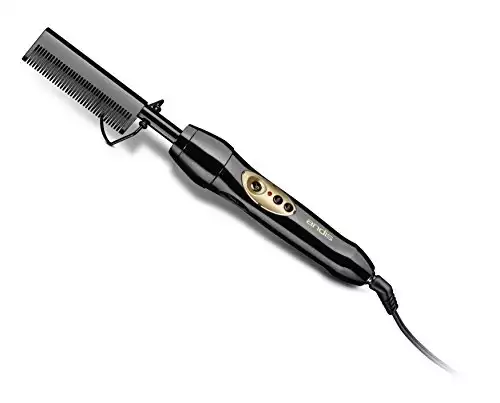 Andis 38330 Professional High Heat Ceramic Press Comb
CERAMIC HEAT COMB: A heated hair comb and Ceramic-coated combs uniformly conduct heat, lowering the danger of thermal damage and making hair smoother and healthier.
FAST- HEATING: The comb is made of ceramic metal, which transfers heat very quickly in 30 seconds. The comb handle is made of plastic to prevent burns, it has a 1.5-meter power cord, and it is simple...
AUTO SHUT FEATURE: The comb will automatically shut after 30 minutes of inactivity, ensuring your and your home's safety. Working on the dual voltage of 120/240 volts and 50/60 hertz.
SALON & HOME USE: The 360°swivel cord provides for a tangle-free style, and the sturdy grip handle and lightweight won't fatigue your wrists when used for extended periods. Gently press the hair,...
PRODUCT DETAILS This Andis Professional Heat Ceramic Press Comb is 10.5 x 1 x 1.5 inches, weighs 0.9 pounds, has a gloss black finish, a heat-up time of 30 seconds, and a 30-minute auto-off safety...
Buy from Amazon
We earn a commission if you click this link and make a purchase at no additional cost to you.
11/18/2023 04:00 am GMT
Andis Hot Comb – The 38330 Professional Press Comb Review
Andis is a US-based company that has been around for over 95 years. It started out as a brand that made tools for barbershops. Now a global brand with a presence in 90 countries, Andis makes all types of hair tools from trimmers to straighteners.
The Andis High Heat Ceramic Press Comb is a professional-quality styling comb made of ceramic. It heats up to 450F and can straighten all hair textures.
It always ranks high on our list of straightening combs because of its ergonomic and durable build and gentle yet effective materials.
The Andis High Heat Press Comb also offers a slew of other features that make it convenient to use anywhere. It has an automatic shut off, a tangle-free cord, and worldwide voltage capability, which is great for safety and travel.
Our Favorite Features
Here is our detailed review of the Andis 38330 High Heat Press Comb where you'll find all important details you must know about the product before adding it to your cart.
Material
The Andis high heat press comb is made of a ceramic-coated material and has a wide-tooth design. Ceramic is a gentle yet effective heating component which preserves moisture as it straightens. Ceramic hot tools are safe to use on all hair textures but it is particularly beneficial for damaged hair. They offer plenty of heat protection and has a lower chance of burning the locks.
Note that this electric comb is made of a ceramic coating, not pure ceramic. It can chip off over time, which may increase the chances of snagging. However, since the ceramic comb has wide teeth, it easily detangles the mane without the strands getting stuck.
Variable Heat Settings
The Andis High Heat Press Comb gives you a lot of temperature control with 20 variable heat settings. There is a suitable setting for every hair type and it covers nearly the entire spectrum. It can even reach 450 degrees Fahrenheit so it's a professional-grade device.
Several heat settings are ideal to prevent damage because you can turn down the heat if your locks are fine or damaged. If you need more heat to straighten, that's also easily available with a click of a button.
The Andis High Heat Press Comb gets hot quickly and has a fast 30-second heat up. Results may vary but the figure is a close estimate of real life use.
I also like that this comb has a high heat retention, meaning that it gets hot fast and stays hot as you straighten your hair.
Design and Build
The comb weighs a mere 1 pound. In the world of hot tools, that's almost feather light and you should have no problems with wrist or arm strain from holding up the comb for a long time. The comb has an ergonomic design and is easy to hold.
I also like that it comes with a tangle-free swivel cord which makes straightening hair at any angle not only possible but super easy. It also prevents that annoying tangling of wires you get when the cord is fixed in one position. The swivel cord moves with you and doesn't twist up.
Another design element is the built-in safety stand. This keeps your countertop and tables safe from melting or burning when you put down the comb in between styling sections of hair.
Safety Features
Auto Shut off
Another helpful feature that comes with the Andis High Heat Press Comb is its auto shut off timer. Not everyone will make use of this feature but it gives an extra layer of safety should you forget to turn off the comb. It's better to not need it and have it than not have it and need it, as they say. For sure, this has saved women unnecessary safety hazards at home.
Dual Voltage
Speaking of hazards, this electric comb is capable of worldwide voltage from 120/240V at 50/60 Hz. To put it simply, wherever you are in the world, you won't need a converter to use this electric comb safely. Not everyone has or wants to pack a converter when traveling so this is a huge perk for people who got bitten by the travel bug.
Hair Types
This press comb proves that press comb technology has come a long way from placing combs over a stove. It has all the features I feel are necessary in a styling comb from multiple temperature settings and worldwide voltage. And unlike an old school press comb, this won't leave a burnt smell.
Coarse Hair
When it comes to hair textures, I think this is great for nearly all kinds of hair, especially women of African-American or Asian descent with coarse and hard to straighten hair. It should also work for damaged or relaxed hair, as well as hair extensions.A word of caution: it gets really hot. You have to be careful with the heat controls and only use a gentle heat setting, to start with. For this reason, this isn't the best comb for people with very fine hair.
Beards
If you're a man who plans to use it for combing your beard, this is a good choice but lacks a silicone tip or other protective features.
Caveats
This ceramic press comb packs so many features so it makes the price worth it for me, but whether you find value in this is up to you. Check this out if you find the price palatable. If not, there are similar hot combs in the market.
A gripe some users have mentioned with this press comb is that it's almost too easy to hit the power button when using the device. This means it powers down midway then you have to wait for it to heat up again. You have to take care not to press it. I think if they moved it just a tiny bit, it would be perfect.
Alternatives
Looking for alternatives to the Andis Ceramic Press Comb? This section is a good way to start your search on the right foot.
Homfu Electric Hot Comb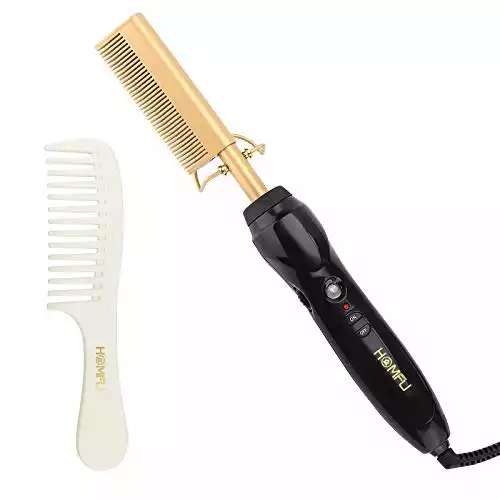 The Homfu Electric Comb is ceramic glazed and capable of high heat up to 450 ℉. This is suitable for African-American or coarse locks. It has a copper panel that conducts heat and it only takes a minute to warm up. There are only 5 temperature settings, which is a bit of a downside.
It has a burn-resistant cord and a safety stand built in near the handle. What sets it apart is its temperature lock feature which ensures you get even heat all throughout.
This also radiates negative ions which seal the hair cuticle and cut down frizz and static for a mirror-like finish.
You can also use this on your travels because of its dual voltage function. It is around the same price as the Andis so if you think the extra features are worth it, check this out.
Gold N Hot Professional Styling Comb

This press comb has wedge-shaped teeth which gives you more precision when styling. However, you have to detangle thoroughly before you use this.
The 24K gold-plated surface looks sleek but is functional. It retains heat very well. The styling comb is capable of 200F to 500F but some users say it does not reach that maximum temperature. I think it's for the best as anything above 420F is bad for your locks and cause the strands to burn.
This is equipped with an indicator light and a safety stand. The swivel cord is 8 feet long so you can style without an outlet close by.
Because of the design, it's a bit hard to reach the roots. It also lacks dual voltage. Users say that the heat up time is not as fast as they hoped but when it does heat up, it's excellent at straightening even the unruliest of hair.
Final Thoughts
This wraps up our in-depth review of the Andis 38330 Hot Comb, a ceramic-coated metal press comb with extensive heat settings and a high heat capacity. I was fairly impressed with its features. It's easy to use and simple yet effective. I think even beginners will love this press comb.
This tool should suit all hair types but it is particularly great for stubborn, coarse hair. It smooths and softens with every stroke and adds luster and shine.
Check out the Ceramic Press Comb if you're after frizz-free locks on the go. For more details, follow this link.
Leah Williams
Leah Williams is the founder of Lucky Curl and has been in the hair care and styling industry for the last 15 years. Since then, she has developed incredible expertise and a deep understanding of how to treat and style the most difficult hair types and is passionate about sharing her knowledge with the readers of Lucky Curl.