Let's face it: you're probably using the wrong brush for your hair type. It's a very underrated hair tool category that people should pay attention to.
Anyone with fine hair will understand the nuances of caring for and styling this hair type. It's essential to consider the hot tools you use on fine or thin hair and hairbrushes.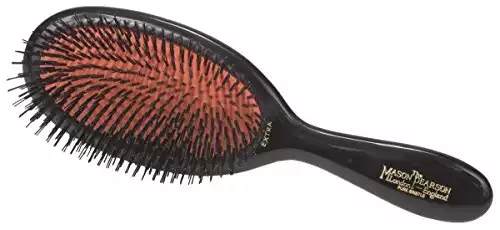 Pulling, snagging, and ultimately breakage are all consequences of using the wrong hairbrush for fine hair.
With this in mind, we have put together the following list to identify the best hair brush for fine hair:
6 of the Best Hair Brushes for Fine Hair
1. Mason Pearson Sensitive Boar Bristle Hairbrush
This list starts strong with the Mason Pearson Hairbrush, an English brand with some serious pedigree.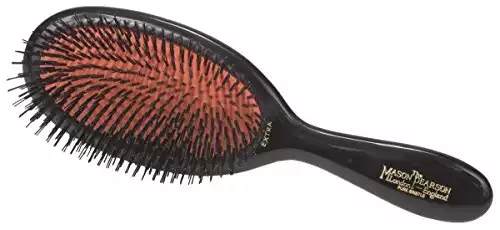 Mason Pearson is a brand over 100 years old, dating back to the Victorian Industrial Revolution. It's hard to reinvent the hairbrush, but this brand did. Mason Pearson invented a hair brush with a "pneumatic cushion," basically a soft cushion filled with air. The brush design itself looks simple, like the textbook definition of a hair brush. The rubber pad is excellent for smoothing out the hair without putting undue pressure on strands.
The premium-grade boar bristles are extra soft–suitable for fine hair and sensitive scalps. The hair brush detangles hair gently, while not pulling and tugging the hair (which can lead to hair breakage). In addition, the brush works to exfoliate the roots and in turn boost circulation and polishes hair strands effortlessly.
Now, it's easy to see the benefits of this product, but there's one glaring con, and that's the price. If you're asking, "What on earth can justify that expenditure?" I'm right there with you, but I learned this hair brush has a cult following for a reason. The hair brushes have been made by hand since their invention in 1885, and they last years and years.
If you're tired of brushing and still ending up with frizz, the Mason Pearson is your savior. It brushes your hair with the slightest hint of pressure, and yet somehow, your locks end up shiny from root to tip without the frizz.
If you want the Louis Vuitton of hairbrushes, Mason Pearson is a splurge you won't regret for fine or thin hair types.
Pros
its extra soft brush is made of premium boar bristles
an innovative cushion design transfers pressure well
makes hair shiny from scalp to ends
Cons
the price is above average for a brush like this
2. Crave Naturals Glide Thru Detangling Brush
If your tangles are becoming a significant pain to unravel, this may be a good hair brush for you. As the name implies, the Glide Thru Detangling Brush is made for working through tangles whether your hair is wet or dry. The bristles are beadless, which is more forgiving on the roots because it doesn't pull on knots. The multi-length bristles also unravel tangles without breaking your fine hair. A bonus is the bristles' flexibility, so you don't cause unwanted tension on fragile strands.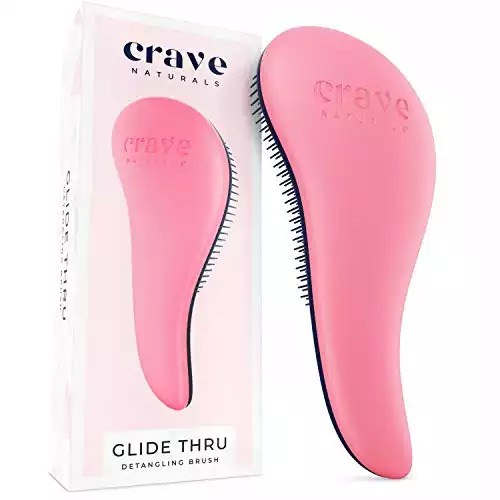 The hair brush fits nicely in the palm of your hand, making brushing easy. It's even marketed to those with little kids because of its ease of use. The Glide Thru comes in five colors: black, blue, pink, lavender, and mint green. The product is supposedly suited for all hair types, including curly hair. Still, I think those with thick hair would find this inefficient at combing their hair because the bristles are pretty short. For flat, fine hair, though, this would do a great job.
The shape of this detangling brush allows you to have more control over how much pressure you exert on your hair. This makes it a good choice for sensitive scalps. Because of the size of the hair brush and its gentleness, it may take you longer to comb your hair. It's very effective at gently detangling, but it's a hair brush that does not cover many areas per stroke.
Pros
detangles efficiently yet gently
can be used on wet hair
ergonomic handle
flexible and multi-length bristles are great for fine hair
Cons
covers smaller areas and may take time to go through your entire hair
not suitable for thick hair because of its shorter bristles
3. Osensia Ultra Small Round Brush for Women and Men
The Osensia Round Brush proves the adage "Appearances can be deceiving."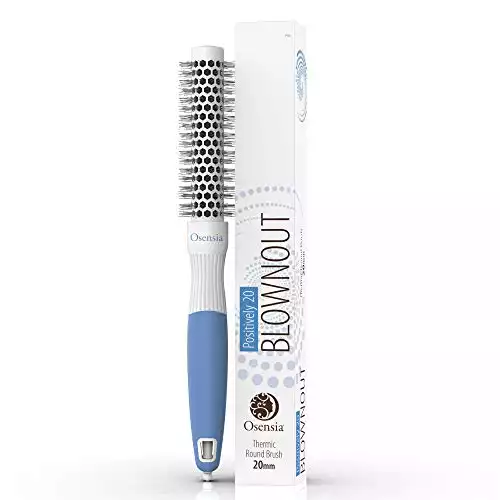 At first glance, the Osensia looks like it would be the farthest thing from gentle. Still, on the contrary, its metal bristles are extremely soft (as soft as metal can be). It has antistatic and antibacterial properties, which are a great feature of styling hair brushes.
Because of its round shape, it's great for adding volume to limp hair or creating waves. It can withstand high temperatures so that you can turn up the heat on your blow dryer. Its ceramic barrel emits ions to fight frizz while retaining heat well. It may retain heat a little too well, as some users have observed that the top of the brush gets very hot when styling. Keep this in mind, so you don't burn yourself accidentally.
Suppose you have trouble straightening or curling your hair with heavy hair brushes. In that case, I recommend the Osensia because it's a lightweight hair brush that won't feel like a dumbbell on your arm. The Osensia is a handy little round brush for getting into the root of the hair and creating lift. It's a good choice if you have bangs, too, because of its diameter.
The brush even has a sectioning tip embedded in the handle, so you don't have to reach for a separate comb to divide your hair. If you're a heat styling enthusiast with fine or thin hair, this is one of the best brushes for you. If you have thick hair, though, you'll need a barrel with a larger diameter. Fortunately, the Osensia Round Brush comes in several sizes.
Pros
gentle metal bristles detangle hair
the round barrel retains heat well and gives volume to fine hair
comes with a sectioning tip
Cons
the end of the brush gets hot when heat styling
4. GranNaturals Boar Bristle Hair Brush
If you want straight, shiny, but not greasy hair, the GranNaturals Boar Bristle Hair Brush is a great bargain.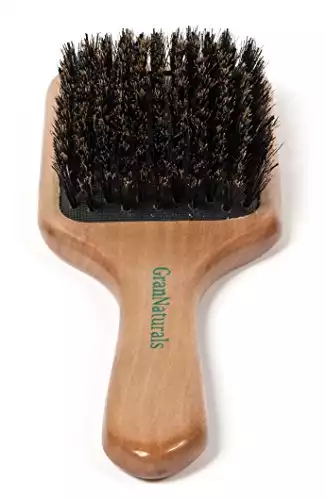 The boar bristles help eliminate sebum buildup on the roots. Despite the firmness of the bristles, they won't catch on your hair. For added sleekness, the paddle brush will give you lustrous locks. Pin-straight hair can be achieved easily with this brush shape because it has no sloped ends.
This would also be a great everyday hair brush for busy women. If you skip shampoos, the bristles' exfoliating and oil distribution abilities are perfect for avoiding that uncomfortable greasy look. The paddle's width also allows you to cover more hair–great if you're in a rush.
I think the wooden components will be durable. The brush feels sturdy in hand. It doesn't dig into the hair or yank out strands. Using this is quite relaxing too, like giving your head a massage.
This hair brush would not be ideal for those with thick hair because the brush won't sink in deep enough to stroke the roots. Because of that, this is an easy recommendation for those with thin, fine hair.
Pros
firm natural bristles distribute hair oils to the lengths of hair
large paddle brush can go through more hair in less time
the brush feels sturdy and durable
Cons
5. Boar Bristle Ceramic Round Brush by Care Me
If I could recommend a hair brush for women with long hair, this would be it.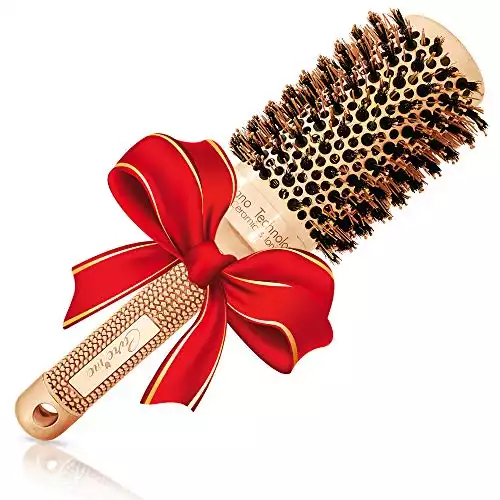 The Care Me Boar Bristle Ceramic Round Brush will untangle your hair like no other. Its 2-inch diameter is a dream for longer locks. It's made of 80% boar bristles and 20% nylon pins, so you simultaneously get untangled and glassy hair. Because of the ball tips on the nylon bristles, you'll find that this is gentle on your scalp. I personally hate it when a hair brush rakes through my roots. This won't.
The bristles are ion-infused, so every time you style, you'll reduce frizz and static. Speaking of styling, there's a honeycomb design to the ceramic barrel that allows better heat circulation. What that means for you is less drying time (50% according to Care Me's claims) and more minor havoc wreaked on your hair from too much heat.
Users have also oohed and aahed at how well the brush grips hair. And if you're a blow-drying enthusiast, then you want a hair brush that retains tension as you pull hair taut when styling.
The gold color makes this an eye-catching addition to your vanity. The rubber grip handle is easy to hold.
I would recommend this for long-haired women who like straight or wavy hairstyles. It's a good multitasker because it has both nylon and boar bristles. The round brush design makes this one of the best blow drying brushes for fine hair. I imagine this would fare well for everyday use because of its anti-static properties and large diameter.
Pros
the large diameter is perfect for long hair
bristles are a combination of boar hair and nylon
vented ceramic barrel is great for heat styling
Cons
not suitable for wet hair or short hair
6. Denman Soft Nylon and Boar Bristle Brush
The Denman brush has the reputation of the Mason Pearce Brush but at a much more affordable price.
This brush is really suited to fine hair, thanks to a combination of boar bristles and nylon bristles. The boar bristles work to gently distribute the natural oils of the hair and smooth the cuticle. The nylon bristles work to detangle and gently reset the style of the hair.
The Denman brush is renowned for its many benefits, including frizz reduction, gentle detangling, and adding shine and volume. The advantage of this brush for those with fine hair is the soft air-cushioned pad which allows for comfortable and snag-free styling.
The Denman Brush is super lightweight, sturdy, and very easy to use.
Pros
combination of soft nylon and boar bristles
ergonomic design
tackles various hair concerns
Cons
might be too soft for coarse hair
Tips for Choosing a Good Hair Brush
The Benefits of a Hair Brushing
Using the wrong hair brush can be a hairy ordeal, but a good hair brush feels like self-care: no tugging, no breakage, and of course, no tangles. But there are more benefits to hair brushing than meets the eye.
1. Brushing stimulates the scalp
When bristles contact your scalp, it stimulates the capillaries and increases circulation to the follicles. In turn, blood circulation delivers oxygen and essential nutrients to the hair follicles from where the hair grows.
2. Brushes give your hair shine.
Going over your hair with a brush distributes your scalp's natural oils better than a comb can. Natural bristle brushes do this best, spreading the oils from your scalp where it's concentrated to the ends of the hair where the moisture is needed the most.
3. Brushing cleanses your hair
The gunk in your hair and scalp is broken up and brushed out through the mechanical friction created by brushing. This is great for you because so many impurities build up on the hair, including residue from hair products, dirt, and old skin.
4. Brushing prevents hair loss.
This benefit is great for fine-haired folks whose hair is on the thinner side or those suffering from excess hair shedding. Brushing with a natural bristle brush, in particular, helps support the scalp's sebaceous glands. When an oily scalp goes unchecked, sebum can clog the hair and cause hair loss. With proper hair hygiene and treatment, this can go away. Don't overdo the brushing, though, because it can also cause significant hair fall.
What is the best brush for fine hair?
Determine your hair type and what results you want to achieve
Before finding the best brush for you, first determine your hair type. Fine hair has thin individual strands of hair. Thin hair, on the other hand, can be coarse or fine. Thinness refers to the density of the hair or how many strands there are on the head.
The best brush will depend on your hair density (thin or thick), if your hair is curly or straight, and what kind of results you want to achieve with your hair. Will you be styling your hair? If you have curls, will you retain your style or brush them out? Do you want to detangle hair? Do you want to increase hair volume? Do you want pin-straight locks?
Since fine hair can be vulnerable to breakage and tends to be limp and lifeless, you may want something gentle on your precious locks. If you're using a brush for everyday purposes, you'll want effective but delicate detangling properties.
Choose between natural bristles vs. synthetic bristles
For boosting shine and blood circulation, you can reach for synthetic bristle brushes or natural bristle brushes. They both have their pros and cons.
A boar bristle brush is a popular natural bristle brush that creates glossy strands while keeping the hair clean. The bristles are very flexible, thereby preventing hair breakage. They can also minimize frizz on hair. These brushes work well to remove dead hairs and distribute the scalp's natural oils.
Synthetic brushes are often made from plastic or nylon bristles. These are the MVP for detangling. They are great because, unlike natural bristles, they don't create static on the hair. When coupled with a good hairdryer, they can volumize and create bounce. Thick hair can benefit from a synthetic brush's superb detangling capabilities.
Whichever you opt for you, you will want to make sure the brush you choose has soft or flexible bristles to allow you to brush through without snagging or pulling.
Choose a good hair brush type for you
Aside from material, check a hairbrush's shape and structure.
A paddle brush is excellent for snarls and knots. They are safe to use on wet hair. If you have thick hair, they're a handy tool to make detangling faster. A paddle brush is the best choice if you like styling your hair straight because its exact shape lays hair flat.
If you're styling hair for blowouts or wish to create beach waves, a round brush is your BFF. They build volume for days, thanks to their circular shape. Round hair brushes often come with vents, which are great for quick drying and heat styling. And if you want extra polish, a ceramic round brush would be an excellent addition to your arsenal.
Is brushing your hair suitable for thinning hair?
Yes, regular brushing with a gentle hair brush is suitable for thinning hair. The stimulation does wonders for circulation, and the brushing itself will make your hair shiny. Proper circulation means more nutrients and oxygen, which promote healthy strands. However, there are no studies that prove brushing hair makes it grow faster.
To reap the benefits of hair brushing if you have thinning hair, choose a non-abrasive brush like a boar bristle brush. Something that has flexible bristles is best to prevent your hair from catching onto the bristles and snapping.
How often should you brush fine or thin hair?
Due to its tendency to tangle, fine hair should be brushed daily. Forgetting to brush can lead to the hair becoming knotted and ultimately breakage. Hair brushes with soft or flexible natural boar bristles work well on detangling fine hair.
Which is the Best Hair Brush for Fine Hair?
With such a good, well-rounded selection of brushes, it's hard to pick a clear winner.
Personally, I feel comfortable recommending the Denman Brush as one of the best brushes for fine hair. The various benefits, quality, and durability of the brush matched with its very affordable prices make it the best hair brush for fine hair, in my opinion.
If you are willing to splurge, the Mason Pearson brush would be my next pick, but the cost is unrealistic for most consumers. Overall, both are unique brushes depending on your budget.
Leah Williams
Leah Williams is the founder of Lucky Curl and has been in the hair care and styling industry for the last 15 years. Since then, she has developed incredible expertise and a deep understanding of how to treat and style the most difficult hair types and is passionate about sharing her knowledge with the readers of Lucky Curl.