Argan oil is rich in fatty acids, antioxidants, as well as vitamin E which is what makes it an amazing oil for hair. Amongst many benefits, it is used to promote healthy hair, protect against environmental damage and add shine and moisture to your hair. 
In this article we will cover 7 Argan Oil benefits for hair and review some of our favorite Argan Oil products.
What is Argan Oil?
Before we jump into the key benefits, here is a brief introduction to this popular oil. Argan oil is sourced from the kernels of the Argan trees. There are different ways to use Argan such as for cooking which is common in Morocco, but it can also be used for cosmetic purposes. As a matter of fact, pure Argan oil has numerous uses such for the skin, nails, and, of course, hair.
Argan Oil Benefits for Hair – 7 Reasons You Need This Oil
You have probably seen Argan oil being used a key ingredient in many popular hair care products. This is for good reason — the oil has a number of amazing benefits for the hair. Read on to discover them:
Adds Shine and Moisture to Your Mane
The beauty of using Argan oil for your hair is that it contains antioxidants essential fatty acids, vitamin E, the list goes on and on, all of which are known to help add moisture and shine to your hair strands. The best part? It won't make your strands look greasy which is a common issue whenever we use oil-based hair products. It has deep conditioning properties that get the oil where it is needed the most such as your scalp and your hair strands to lock in the moisture.
Boosts Growth of Healthy Hair
The phenols found in Argan oil help support as well as strengthen your mane while the antioxidant properties boost cell production. The vitamins that are present in this oil helps keep your scalp and mane healthy which is what we need the most. What does this all mean? Not only does applying Argan oil helps keep your hair and scalp healthy, it also enhances hair growth too. Expect to have a healthy looking mane when you make Argan oil the right hair oil for your hair type.
Protection Against Damage Caused by the Environment
Like it was mentioned before, exposing our hair to various elements as well as styling tools can leave our mane looking the worse for wear. Fortunately, the antioxidant properties that are present in Argan oil can help since it can provide protection against the elements and even the styling tools that you often you use.
Reduces Frizz and Flyaways
Using Argan oil for hair is actually good in the long run because the oil can help tame frizz and flyaways in a jiffy. When you use Argan oil, your mane will have that glossy finish to it which means that there will be no frizz or even split ends to bother you any more.
Provides Nourishment
What other Argan oil benefits for hair should you know of? How about the fact that when you use Argan oil for hair, you are delivering a much-needed nourishment to your hair strands and scalp? This is because of the presence of essential oils and fatty acids that are needed by dry and damaged mane. Aside from repairing dry and damaged strands, using this styling product can help you get healthy hair by keeping them soft, supple, and well nourished.
Contains Vitamin E
The vitamin E present in Argan oil is a good indication that this hair product is high in antioxidants that can fight off the effects of free radicals. This is also necessary for keeping frizz as well as split ends from forming.
Improve Hair Quality and Dye Retention
Another advantage to using this liquid gold is that it works well on those who have color treated or dyed their mane. It appears that using this product can help reduce dryness because of the chemicals used in the dye plus it also ensures that the color of your strands will last longer too.
A Guide To Buying Argan Oil Hair Products
Now you have discovered the benefits, heres what to look for when buying Argan oil hair products:
Color. One of the factors that you should take into consideration when shopping for hair Argan oil is its color. Pure Argan oil usually has a golden yellow hue to it. If you find one that has this pale yellow coloring, it is highly likely that it has already been mixed with other types of oils or that it has already been filtered. Unfortunately, this will affect its efficacy. Also, the real Argan oil has a smooth texture and should not be watery at all.
Potency. If you are looking for the best Argan oil, then you should factor in its potency when searching for one. Experts recommend that you use pure Argan oil if you want to reap the health benefits of this particular oil for your skin and hair. You should look for one that is labeled as 100 percent pure Argan oil. In products where this oil is mixed, take a look at the list of ingredients. Argan oil should be among the first few ingredients listed since it means that there is more of this ingredient in the product.
Scent. Another factor that can help you narrow down your choices for Argan oil is the scent. Pure Argan oil tends to have that nutty scent to it while a hand-pressed Argan oil may have different scents to it. Keep in mind that this oil should have a scent to it. If the one that you got has no hint of scent to it, it means that it has already been deodorized. Unfortunately, this means all the potential health benefits that you can get are greatly reduced.
Texture and Absorption. A 100 pure Argan oil should have a rich and weighty texture to it when applied rather than being lightweight or even slippery. If you got the latter, it means that there are other ingredients mixed into it that has affected its consistency and texture.
Packaging. Why is packaging important when shopping for this particular hair oil? Well, the it doesn't do well when it is exposed to direct sunlight since it can lose its potency. A high-grade Argan oil is usually packaged inside a dark colored bottle that prevents light from penetrating the contents.
A Quick Review of the Best Argan Oil Products to Try
It is understandable that you will want to get an Argan oil for your skin and hair, but with dozens of options to consider when shopping the beauty world for one, it may take some time before you land the right one for you. That said, we have rounded up three of the best Argan oil products that we have come across so far. Hopefully, these options may help you get started in your search for the best organic Argan oil to use on your hair.
Josie Maran 100 Pure Argan Oil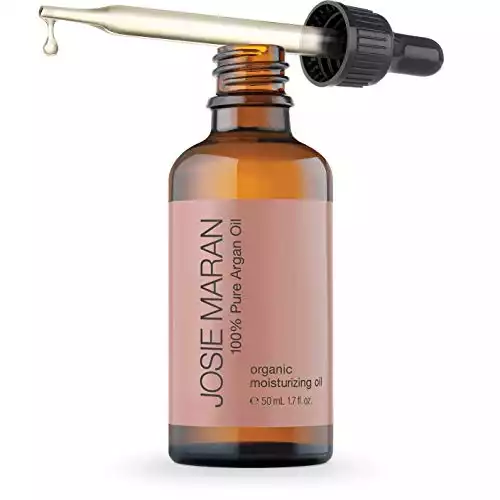 Josie Maran 100 Pure Argan Oil is among the most popular in the market because of its being a lightweight oil that can be used on your hair, skin, and nails. It is rich in vitamin E as well as omega fatty acids that can fight off free radicals while nourishing and enhancing your hair's overall health. Apply it on your hair and scalp to fight off dryness, frizz, as well as split ends. It can be used on all hair types too which is a plus.
If you will take a closer look at the content of this product, you will find that there are no dangerous chemicals like phthalates, parabens, or sulfates in it. It is 100 pure which means that you will be able to reap more of its benefits too. This is one of the purest Argan oil that you will find today that comes with kernel as well as Argania Spinosa oil as its key ingredients.
Pros:
It feels good on your hair, skin, and nails like it should.
It provides you with numerous benefits from your hair all the way to your skin.
It is high in vitamin E and even omega fatty acids which can counter the effects of free radicals.
Cons:
The smell isn't all that great.
There are some who complain that the texture of this oil is way too greasy for their use.
Poppy Austin Vegan Argan Oil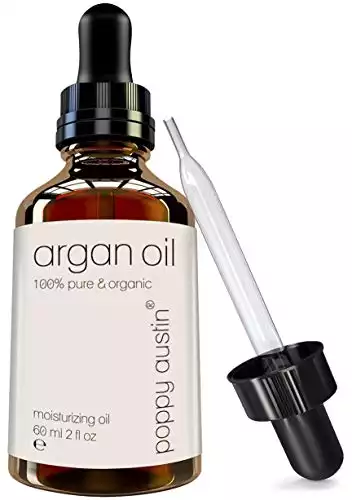 Another option to consider for a hair Argan oil product is from Poppy Austin. This vegan Argan oil is organic, refined, and cold-pressed plus it is not mixed with harsh chemicals like artificial color, aroma, or even paraben for that matter. Since it is a vegan type of Argan oil, you can expect that this product will be able to improve your hair, skin, and nails with repeated use.
When you use Argan oil on your hair strands, you will find that it will be smooth and silky to the touch. This is because the oil delivers hydration to the roots of your mane where they are needed the most. If you have frizzy or dry hair even, you will love Poppy Austin Vegan Argan Oil since it is capable of taming those wild strands of yours quickly. With regular application, you won't have to worry about seeing split ends on your mane.
Pros:
Maintaining healthy hair is a breeze when you use this hair oil.
Applying a few drops of Argan oil on your skin will leave it nourished and hdyrated.
It fights off frizz and split ends.
Cons:
It has a greasy texture to it which feels unusual.
It doesn't have a great smell to it.
It may not work well with others.
Pura D'OR Moisturizing Argan Oil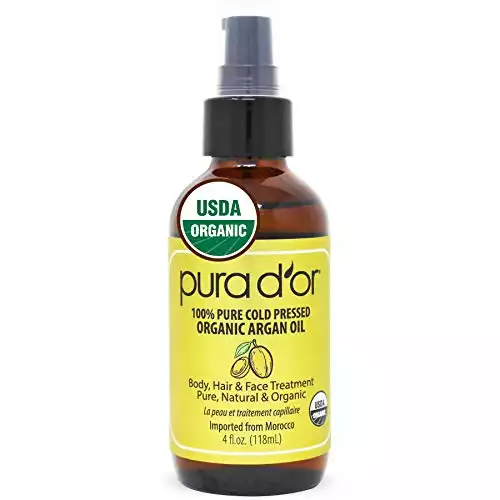 If you are looking for hair Argan Oil that can also benefit your skin, Pura D'OR is a good option to consider. This is an all-purpose Argan Oil hair product that can be used for skin and hair. Also, it is ideal for both men and women making it an all-around product that you should add to your daily routine. It is cold-pressed which means that the health benefits it contains are trapped inside and waiting for it to be applied where it is needed the most.
Other benefits associated with Pura D'OR are ability to fight off dryness, wrinkles, and other signs of aging too. There are no harsh chemicals added to the mix which means that this is quite safe to use on different skin and hair types.
Pros:
It can be used by both genders.
It enhances nail growth.
It leaves skin and hair healthy and well nourished.
Cons:
It is a bit expensive compared to others.
The smell isn't for everybody.
Wrap Up
Now that you now the benefits that are associated with using Argan oil, it will not be surprising that you will want one to add to your daily routine. Argan oil is rich in fatty acids, antioxidants, as well as vitamin E that this is one of the best oils that you can treat your hair, skin, and nails to. Regardless of whether you are looking for shampoo and conditioner containing this oil, or you are happy with using a pure version of Argan oil directly on your skin and hair, you can start your search with the brands mentioned above to see which one will work best for you.
Leah Williams
Leah Williams is the founder of Lucky Curl and has been in the hair care and styling industry for the last 15 years. Since then, she has developed incredible expertise and a deep understanding of how to treat and style the most difficult hair types and is passionate about sharing her knowledge with the readers of Lucky Curl.