Check out our picks for the Best Black Friday Curling Iron Deals here.
Are you on the search for the right curling iron tool for your hair type? When comparing tapered vs straight curling wand, which type of iron is the better curler? Back in the day, curling tools only came in the most basic designs. There wasn't really much of a choice save for a traditional straight barrel. These days, however, we're spoiled with options! We've got bubble wands, twisted barrels, skinny, tapered and even reverse tapered wands. Some of the shaped wands look gimmicky, others are really good at creating certain curls.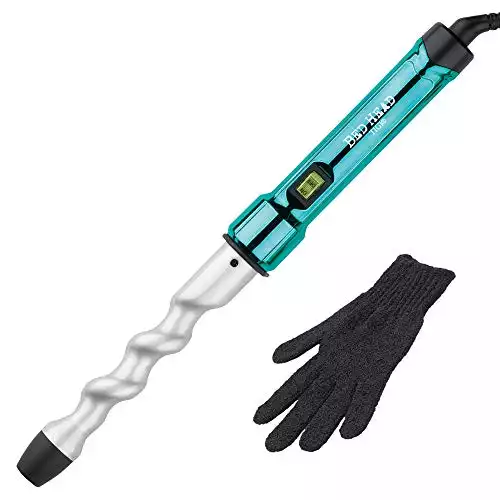 Two of the most popular styling products are those with tapered and straight barrels. I use both barrels on a fairly regular basis and I'd have a hard time choosing just one. I suppose the barrel that I would recommend for certain days will depend on the hairstyle or curl size that I'd like to get. But if you are unsure which of these products is better, you came to the right place. In our tapered vs straight curling wand guide, two of the most well-loved barrel shapes will go head to head. Which one will come on top? Read on to find out…
Tapered vs Straight Curling Wand: What's the Difference and Which One Should I Get?
Straight Barrel
Pros
Create large curls in uniform shape and size  
Polished, professional looking finish
Best suited for long and/or straight hair
Versatile and easy to use
Cons
Higher risk of burning the skin
Not suitable for users with short hair
Straight Barrel Curling Wand Recommendations
09/04/2023 09:30 am GMT
Tapered Barrel
Pros
Create curls in different sizes (tight to moderately sized curls)
Experiment with different looks
Best for users with short and long hair
Cons
Not suitable for creating uniform curls
Not recommended if you prefer large, relaxed waves and large curls
Tapered Barrel Curling Wand Recommendations
09/09/2023 08:30 am GMT
Cylindrical Curling Barrel with Built-In Clip
Pros
Effortless styling
Reduced risk of burning
Creates uniform-sized curls
Cons
Creases
Not as user-friendly as other barrel types
Cylindrical Curling Barrel with Built-In Clip Recommendations
09/03/2023 04:30 pm GMT
Curling Barrels by Types
Generally, there are 3 main types of curling wands, the standard cylindrical barrel with a built-in clip, a tapered barrel with a thick base that becomes narrower near the tip, and the regular cylindrical tip that has a uniform shape. Each of these curling tools creates different sized curls and they are used for different purposes.

If you are a newbie, I recommend sticking to the basic shape. Don't get me wrong, it's nice to treat yourself to a fancy, 7 or 10-in-1 hair curler set but you don't need the extra barrels if you are not so adventurous with your hairstyle or it's your first time styling your hair. However, the beauty of having different curling wand shapes is that you get more options. If you love wearing different hairstyles, continue your hunt for curling wands with different barrels. The interchangeable barrels will definitely get a lot of use. 
Cylindrical Curling Barrel with Built-in Clip
This is one of the earliest and most popular curling barrel styles because the built-in clip makes hair styling so easy and convenient. Essentially, this curling wand features a straight, cylindrical barrel with a clip on the front that you could open and close with your fingers. The beauty of having a build-in clip is that it holds the hair in place as you twist the curling wand. This helps you create curls that are consistent in size!
This wand style is best used for creating uniform-sized curls. The only caveat is that you might get the dreaded clip marks or creases if you continue curling without getting the position right, you will end up with uneven results! But once you get the hang of it, curling with a cylindrical barrel with a built-in clip should be easy peasy!
Personally, I highly suggest watching a few video tutorials and practicing your technique first before using curling wands with a cylindrical barrel for an important event! You can't deny the beauty of the curls you'll get from these curling wands but you'll need to practice to get the exact look that you are going for.
Straight Cylindrical Barrel
A straight cylindrical barrel lacks the clip that holds the hair in place while curling. Instead of clamping sections of hair before twisting the curler, you'll simply wrap your hair around the barrel, hold for a few seconds, then release.
Curling wands with a straight, cylindrical barrel are best for creating loose, large waves that could be brushed into relaxed waves. Because the barrel gives you more surface area for curling, you could curl your hair faster while making it easier to check the size of the curls with this styling tool. The beauty of a curling wand with a straight barrel is its versatility. The design is deceivingly simple yet it lets you create different looks. Search for a curler with a straight barrel if you want curls that are consistent in size.
Though the built-in clip is useful, I continue reaching for my regular clipless curler just because it's easier to use. But this is just a matter of personal preference. With a high heat setting, I tend to burn my fingers when I use regular styling products, which is the only thing that I'm wary of when using this kind of hot tool. Thankfully, most straight curlers come with a heat-protective glove for safely heated styling. If you don't mind wearing a heat protective glove, this should be no problem at all. When it comes to most styling products it's better to stay on the safe side and protect your hands.
If you are not used to this kind of curler, you might end up with a little "tail" at the end of each curl. It will be difficult to curl the entire length of your hair without wearing a protective glove but the tail should be less noticeable for everyday styling.
Tapered Barrel
Also known as a conical wand, the tapered curling wand has a wider base that gets narrow towards the top. The design of the barrel is quite versatile because you could create big and small curls alike using a single curler. If you wrap your hair near the base, you get large, voluminous curls. If you use the skinny tip, you get tighter, more defined curls.

This barrel type is ideal for users with short hair because the size of the barrel could get near the roots and pump up the volume. This is also a great curler to get if you're the kind who loves experimenting with different looks. It's not the best curler to get if you want uniform curls because the style of the barrel itself goes from thick to thin, creating spiral curls rather than uniform beach waves. I would search for curling irons with a conical barrel if I'm trying to create cascading curls like Conair. Brands like GHD, Conair, and Remington are known for their wider range of conical curling irons. GHD, in particular, has a lot of budget-friendly options.

The beauty of a conical curling wand is that it volumizes the hair. If your hair cannot hold a curl, if it goes flat by mid-morning, I highly suggest you go on a search for a quality curling wand with a conical barrel.
Conclusion: Choosing the Best Tool for You
When it comes right down to it, which is the best barrel design for your hair type? If you have thick hair or curly that refuses to cooperate or you are gunning for bold, bodacious curls, you need styling products with a straight barrel. This curler lets you curl your thick, long mane because the barrel is sized perfectly for long tresses. This is also a great barrel type to get if you are batty about the evenness of your curls. With this curler, the curls are uniform in size.
On the other hand, if you want to create a polished, professional-looking finish then go for a product that comes with a built-in clip. Using a curler with a built-in clip could take some practice but really, the results will blow you away. Yes, you might get a crease here and there but practice makes perfect.
Finally, if you love the look of curls that go from small to large, opt for the tapered wand. This barrel style is also perfect for users with short hair because the skinny barrel could get nearest to the hair strands for va-va-voom waves! The waves won't be uniform in size so you get natural-looking results.
Between the tapered and straight curling wand, choose the tapered barrel if you are planning to grow out your hair in the future or you love experimenting with different curls. A styling product with a tapered barrel allows you to create different curls and waves and it will work on most hair lengths. 
You can stick to a single curler if you are a newbie or if you are the type who doesn't really style her hair at all. A single curler is plenty versatile, especially if you chose a skinnier barrel. The barrel type and size should work for most hair lengths and hair types!
No need to get the priciest product either, unless you are a pro hairstylist who needs a feature-rich, heavy-duty workhorse. The price should not be the only deciding factor when shopping around for hair curlers. However, I would invest more $$$ if your styling tools get a lot of use just because of the added features and flexibility!
Also, consider the material of the curling iron. If your hair could stand heat, get a curling wand that's hot enough to reach the right temperature for longer-lasting curls. If the curling iron does not get hot enough, the hairstyle won't last. Curling irons made with titanium, for example, are perfect for those with thick, coarse hair. The material gets hot quickly, taming the tresses in no time at all. Ceramic could reach the same temperature as titanium but it does not get hot quickly. It will take about a minute or so.
Do note, however, that everyday styling leads to heat damage so choose a curling wand that's designed to reduce dryness, brittleness, or dullness. In addition, use a gentle curling iron, one that gets hot enough but isn't too damaging to the tresses. Giving your hair a rest from heat styling every week should also help in terms of keeping the hair healthy despite the frequent styling. Finally, never skip your heat protective products each time you style your hair.
Leah Williams
Leah Williams is the founder of Lucky Curl and has been in the hair care and styling industry for the last 15 years. Since then, she has developed incredible expertise and a deep understanding of how to treat and style the most difficult hair types and is passionate about sharing her knowledge with the readers of Lucky Curl.