At Lucky Curl, we LOVE a good quality styling tool, and the CHI brand is known for making some of the best in the market. Their best-selling iron, The CHI Original, has won several readers and hair stylist awards.
CHI offers a fantastic range of innovative flat irons, which we will be reviewing and recommending in this article to find the best chi flat iron out of the bunch.
Plus, in this article, we explain all the hype around CHI flat irons, compare it with other leading hair straightener brands and answer some frequently asked questions about CHI flat irons.
Read on to see our picks.
Description:




Best For Versatile Styling




Description:




Best for Thick & Long Hair




Description:




Best for Thin or Fine Hair




Description:




Best for Coarse or Curly Hair



09/04/2023 11:00 am GMT
8 of the Best CHI Flat Irons
Best Overall: CHI Original Ceramic Flat Iron
Of course, we're starting our list with the CHI brand's original product! Whether you are new to at-home hairstyling or style your hair regularly, this is one flat iron that you shouldn't be without, and I'll tell you why: It's the one that put the CHI brand on the map!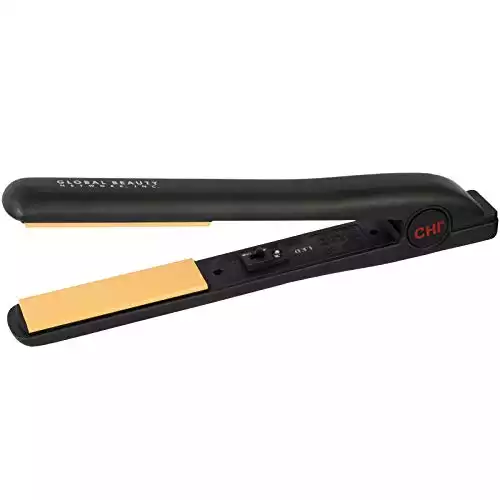 Product Features
Ceramic Heaters
Infrared Technology
Ionic Technology
Slim barrel for hair straightening and curling
Ergonomic design
Floating Plates Design
392° Non Adjustable Temperature
Flash Quick Heating Feature
The Chi Original Flat Iron uses advanced ceramic technology to create silky, shiny and frizz-free hair. The ceramic plates evenly distribute heat as you style and produce a deep penetrating infrared heat. The heat seeps deep within each hair strand, straightening or curling in seconds. The ceramic material also produces negative ions that add moisture and shine.
Overall, the CHI original flat iron is an excellent product to get if you are just starting to get into hairstyling if you need an essential workhorse of a hot tool. The original is the brand's flagship product, and it's a solid choice if you need an all-around styling tool that does it all.
Another thing we loved about the CHI Original is that it comes in so many different colours and patterns like All That Glitter, Manic Marble and Lavender Dreams.
The only con I can think of is the non-adjustable heat setting. The CHI original flat iron's temperature is only set to 392° F, which might not be hot enough for some. Still, having more temperature options would be nice, especially for users who love experimenting with different looks.
Most User-Friendly CHI Flat Iron: CHI Original Digital Ceramic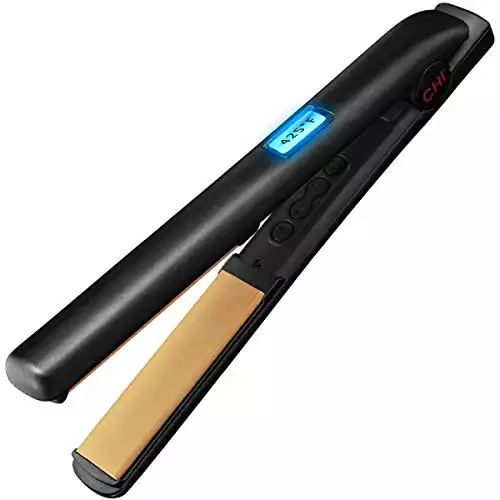 Our pick for the best user-friendly flat iron is the CHI Original Digital Ceramic straightener. The present heat settings are what convinced us this was the best user-friendly straightener. If you are a novice to hair styling, simply select the temp that's right for your hair and style away.
Product Features
Ceramic Heaters with advanced technology
60-second heat-up for ultra-quick styling
1 inch 1″ Ceramic Curved Floating Plates for better grip
Digital LCD Display
Preset heat settings tailored to every hair type
Heats up to 425°F
9 ft. (2.9 m) professional swivel cord
Buttons are placed on the inside of the iron to avoid accidentally turning them off mid-styling
With its advanced technology and 60-second heat-up time, this flat iron can help you achieve the looks you desire quickly and easily. The 1″ ceramic plates provide superior grip and glide through your hair without snagging, while the digital LCD display ensures accurate temperature control. Whether you're looking to create sleek, straight styles or playful curls, this flat iron can easily do it. Plus, it comes with preset heat settings for different hair types, so you can always get the perfect amount of heat for your hair.
Durable and ergonomically designed, this flat iron is a must-have for anyone who wants salon-quality results at home.
Best CHI Flat Iron For Versatile Styling: CHI Tourmaline Ceramic 3-in-1 Styling Iron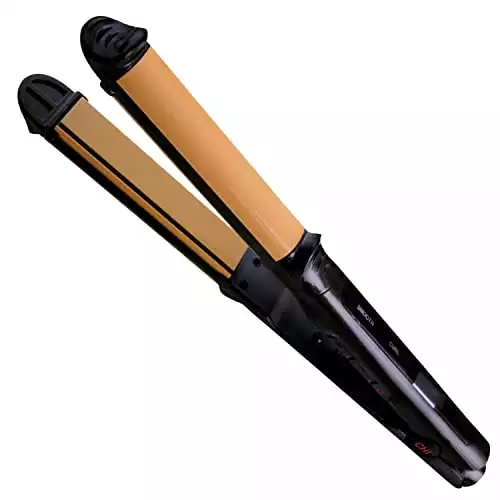 If you can't decide between wanting a flat iron or a curling iron, then why not have both? The CHI Tourmaline Ceramic 3-in-1 Styling Iron is a multi-functional hairstyling tool that will allow you to create numerous styles with ease.
Product Features
Plates designed longer than traditional irons
Smooth silicone strips on inner plate to grip hair and ensure smooth glide
1 hour automatic shut off
9 ft. (2.9 m) professional swivel cord
This versatile styling tool uses the latest innovative technology, combining Tourmaline Ceramic with even heat distribution to produce a high amount of negative ions and Far Infrared, which reduces static electricity for that perfect style. Hair is left smooth and silky with an exceptional shine.
In terms of styling functionality, it has 3 settings:
Smooth – for straightening hair
Curl – to create spiraled curls
Smooth and Curl – to create waves and textured styles
The 3/4″ flat Tourmaline Ceramic plates and 1″ rounded barrel make it easy to create a variety of styles, while the extended 4 1/4″ plates are 3/4″ longer than traditional irons, making it easier to style longer hair. Smooth silicone strips on the inner plate help grip hair and ensure a smooth glide, while the 1-hour automatic shut-off feature ensures safety. The dual voltage makes it convenient for travel, and the 9ft swivel cord provides greater flexibility when styling.
Best for Thick Hair & Long Hair: CHI G2 Ceramic and Titanium Straightening Hairstyling Iron
The G2 is second only in popularity to the CHI original flat iron. The G2 Ceramic and Titanium straightener is a no-nonsense styling product designed for professional salon use and is our pick for the best CHI flat iron for thick hair.
It's a favorite among hair stylists because of its outstanding performance and fabulous features. The G2 Ceramic and Titanium straighteners feature high-quality titanium heaters that are infused with ceramic material.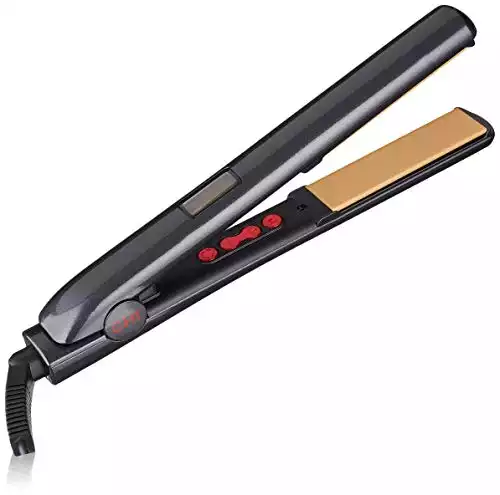 The titanium heater makes the G2 incredibly durable. The ceramic material produces negative ions that smoothen the hair cuticles, giving you smooth, frizz-free results that last. The curved edges of the barrel offer more flexibility as far as styling goes. You can experiment with this product and come out with great results every time.
Product Features
Titanium Heaters
Ceramic plates
Ionic Technology
Quick 40 Second Heat Feature
Large LCD
425°F Maximum Temperature
Floating Plates
Titanium heaters provide quick heat up to a max degree of 425°F, making it effective in styling thick and hard-to-straighten hair. The high heat and titanium material means that those with fine, thin or damaged hair may want to consider an alternative styler. In terms of design, I love the compact, slim make of this curler because it gives me optimum control when styling.
This flat iron also features a fast, sub-minute heat up so there is no downtime in the mornings when you're in a rush to style your hair. There are lots of room for customization too. The smart control lets you choose the ideal temperature for curling or straightening fine, coarse, and medium hair. It also features a sizeable digital display so you can always keep an eye on the temperature as you straighten your hair and prevent heat damage.
The G2 boasts an excellent balance of features and performance. However, it's not the most affordable flat iron out there, and this product is definitely one of the priciest CHI flat irons on this list. But if you feel like splurging and you want the best from CHI, you cannot go wrong with the G2.
Best for Frizzy Hair: CHI Air Pro Expert Classic Tourmaline Ceramic Flat Iron
If your hair is prone to frizz, if it's sensitive to heat, humidity, or is prone to damage, you need a flat iron that provides gentle, healthy heat to minimize the styling damage like this product. The CHI Ceramic Tourmaline Expert Flat Iron provides innovative technologies that transform delicate tresses sans the heat damage. This sleek, ergonomically designed flat iron features high-quality tourmaline-ceramic material.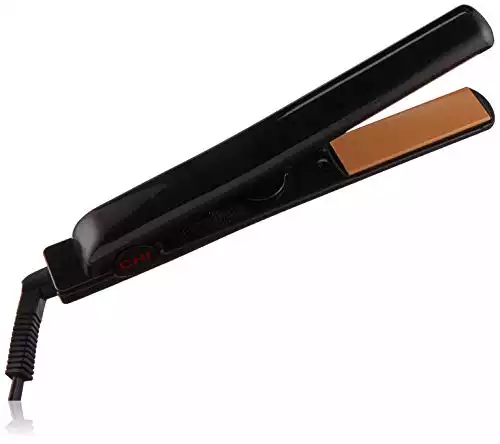 Product Features
Tourmaline-Ceramic Heaters
Double Ionic Technology
180°F to 410°F Maximum Temperature
Slim barrel for hair straightening and curling
Curved Floating Plates Design
Adjustable Temperature Dial
LED Indicator Light
30 Second Quick Heat Up
Dual Voltage
The tourmaline and ceramic material produce double the negative ions so your hair gets a healthy dose of gorgeous shine! This product banishes dullness and prevents hair breakage/split ends so your hair is not only looking fabulous; it's also stronger and less prone to damage.
I love the versatility of a skinny flat iron because you can straighten, curl or flip your hair with it and if you feel the same way then the CHI Air Pro Expert Classic Tourmaline Ceramic Flat Iron will give you the styling freedom you crave. It only takes 30 seconds to heat up so there's no waiting when styling in the morning. It heats up so fast and styling is so quick too so you get the work done in half the time.
Another feature that I love about the CHI Pro is the adjustable temperature dial. It makes customization so easy and convenient as you style your hair. This beauty has a temperature range of 180°F to 410°F so whether your hair is delicate or coarse if it's thick, thin, medium density, the CHI Expert Classic Tourmaline Ceramic Flat Iron will satisfy your styling needs.
My only gripe is that this product does not come with any safety features. Also, the temperature dial feels durable, but I won't be surprised if it breaks at some point, especially if your hot tools get a lot of use. Temperature dials are prone to damage, something to consider when looking for any hot tool.
Best for Thin Hair or Fine Hair: CHI Onyx Euro Shine Styler
When you're all about the high shine, you need a flat iron that restores the hair's natural brilliance while achieving incredibly soft and shiny hair. That's the kind of results you can expect from the CHI Onyx Euro Shine Styler!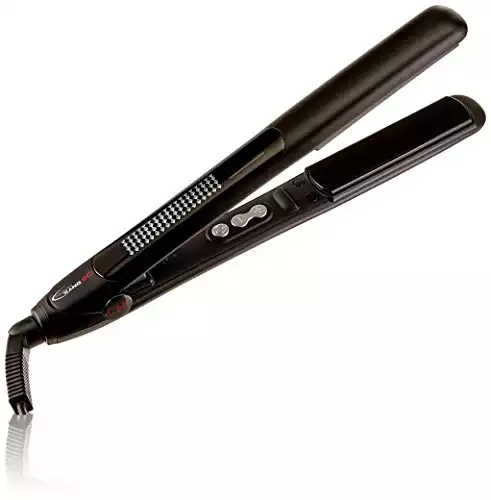 This versatile, all-black hot tool features an advanced ion generator that gives the hair amazing brilliance and life! The pair of onyx plates boast double the ionic power compared to other CHI hair straighteners. The sleek design means you can achieve beautifully straight hair or create curls, waves, or whatever hairstyle rocks your boat. Choose the lowest settings for those with thin fine hair.
Product Features
Double Ionic Technology
Floating Plate Design
Adjustable Heat Settings
Extra-long Ceramic Plates
Large LCD
LED Light Indicators
370°F – 450 °F Maximum Temperature
Each floating ceramic iron plate is about 4-inches long with beveled, rounded tips that offer "seamless rotation" for maximum versatility. Since the heating plates are longer than your average straightener, you can work on larger hair sections at a time, cutting the styling time in half! This flat iron is designed to be user-friendly; the LED neon light bar lets you keep an eye on the perfect temperature while the large temperature display lets you choose the ideal temperature according to your hair type, texture, and desired style.
Overall, the CHI Onyx Euro Shine Styler has all the fabulous features that you would expect in a high-end flat iron. The only downside is the price. This is a pretty expensive flat iron and if you are looking for a basic hot tool, look elsewhere. But if you want an investment piece that will serve you well for years, I think the CHI Onyx Euro Shine Styler is worth the price.
Best for Coarse Hair or Curly Hair: CHI Lava Infused Ceramic 1″ Straightening Hairstyling Iron
You read that right, CHI created a straightening hair styling iron that is infused with volcanic lava! What prompted them to come up with this wild idea? It seems that their goal here is to help style your hair with minimal heat while achieving your desired results. This way, you won't end up frying your hair strands when styling it. The CHI Ceramic Lava Infused Flat Iron is quite promising as the plates give off steady heat even at low settings to keep strands from getting burned.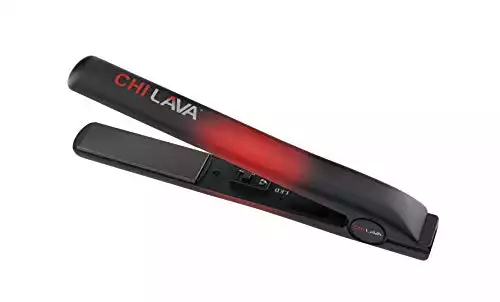 The unique combination of ceramic plating and lightweight body makes this ultra glideable on your hair strands so you don't end up with tangled, fried, or frizzy hair. Getting salon-like results have become easier when you choose this volcanic lava infused hair straightener from the leading brand!
Product Features
1" Volcanic Lava Ceramic Plates
Dual Voltage for International Traveling
11 ft cord
Quick Heat Up
395 ° F Maximum Temperature
The combination of volcanic lava and ceramic on the plates helps deliver that gentle but steady heat to your hair strands thus minimizing the risk of damaging your mane. If you are worried that you are constantly exposing your strands to high heat just to achieve a straight style, then this is a good time to switch to CHI Lava Infused Ceramic Hair Straightener.
Although it doesn't have the usual auto shut off features, or even a temperature control setting, you can still expect that the heat being produced by the volcanic lava powder mixed with ceramic will do the trick. I think that this is a safer way to get your mane styled with ease with each stroke of the extended plates.
Why volcanic lava, you ask? The volcanic lava powder provides durability while working as an effective conductor of heat. When mixed with ceramic, it creates ions that remove excess water molecules in your hair and at the same time, keep the cuticles sealed as well. This is the promise of this model from CHI.
Best for Travel: CHI Tech 3/4″ Travel Ceramic Hairstyling Iron
Those who love to travel or have on-the-go lifestyles don't have to compromise on perfectly styled and straight hair. The CHI solution is a 3/4″ Ceramic Hairstyling Iron, and you might guess is our top pick for the best CHI flat iron for travel.
You can expect the same CHI quality in a mini iron.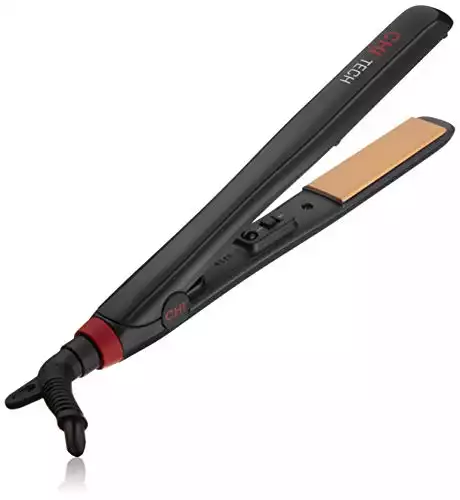 Product Features
3/4″ Ceramic Floating Plates
Dual Voltage
6.5ft (1.98 m) swivel cord
A convenient size for travel or on-the-go styling
30-second quick heat up
One of my favorite features of this flat iron, is the ceramic plates. We know that ceramic is one of the best plate materials when it comes to styling tools. The ceramic technology provides a consistent temperature and moist heat, resulting in shiny, straight and healthy hair.
The quick heat-up and dual voltage makes it a perfect companion for travel or touch-ups.
CHI Product Comparison
| | | | |
| --- | --- | --- | --- |
| | | | |
| | CHI Original Ceramic Flat Iron | | |
| | CHI Original Digital Ceramic | | |
| Best for Versatile Styling | CHI Tourmaline Ceramic 3-in-1 Styling Iron | | |
| Best for Thick and Long Hair | CHI G2 Ceramic and Titanium Hair Straightener | | |
| | CHI Air Pro Expert Classic Tourmaline Ceramic Flat Iron | | |
| Best for Thin or Fine Hair | CHI Onyx Euro Shine Styler | | |
| Best for Coarse or Curly Hair | CHI Lava Infused Ceramic Straightening Iron | | |
| | CHI Tech 3/4″ Travel Ceramic Hairstyling Iron | | |
CHI Flat Iron vs GHD Flat Iron
Two of the most popular hot tool brands in the beauty community are CHI and GHD. Both brands have been in the business for years although CHI had a 15-year head start. CHI and GHD offer a diverse selection of hair care and styling products.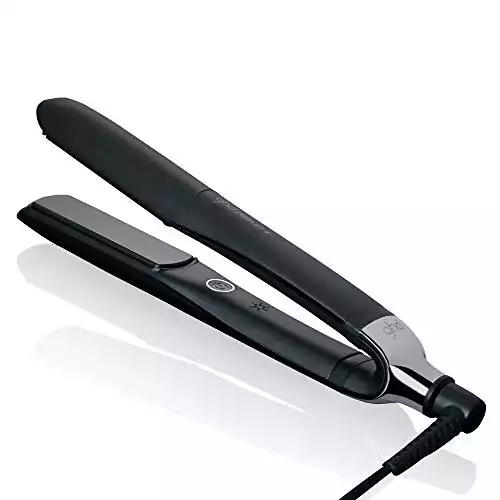 Generally, GHD flat irons are more expensive than CHI. If you want to splurge, opt for GHD products. CHI has a more diverse collection of hot tools and styling products. The brand has a great range of versatile flat irons like the original flat iron, which works for all hair types. If you want to shop for hair care products along with a flat iron, the choice is obvious.
GHD has a great selection of limited edition straighteners so if you're into these products or you want a specific model that can't be found anywhere else, opt for GHD. CHI flat irons are quite popular way before GHD came in the picture so if you're looking for a well-priced flat iron with standard features, CHI is your best bet.
In the end, your choice will depend on your styling needs, your hair type, and your budget so choose wisely!
What's to love about the CHI brand?
Before we get into the review, I wanted to briefly explain why this is a well-regarded styling tool brand:
The styling tools are made of high-quality materials, which means that they are sturdy and durable.
You will be spoiled for choices because you can choose from styling tools that are made from ceramic, tourmaline, titanium, or a combination of these elements.
These styling tools are designed to accommodate different hair types, from thin and curly, to thick.
They heat up real quick, so there is no need to wait for the flat iron to be ready for use.
They have an auto shut-off feature that comes in handy when you are in a rush to leave your home and forgot to unplug your flat iron.
What to Consider When Buying a CHI Flat Iron
Fast Heat Up
When you're caught in the morning rush or prepping for a last-minute night out, you want a flat iron that's as quick as you are. Look for CHI models that rev up in 30 seconds or less. But speed's not everything! Make sure your trusty tool not only heats up fast but holds onto that heat. Even heat distribution is a must-have to save your precious locks from unnecessary damage.
Material Matters: Ceramic vs. Titanium
The plate material can make or break your 'do. If you've got fine or straight hair that just needs a little polishing, ceramic plates are your go-to. They'll tame frizz and gift you that silky, smooth finish. For those of you with a thick mane that's got a mind of its own, reach for the titanium. Not only do they heat up quickly, but they also make your hair look voluminous and shiny.
The Magic of Negative Ions
What's better than a CHI flat iron that straightens? One that takes care of your hair while doing it! Enter negative ion technology. These wonder-workers lock in moisture, leaving your hair sleek and shiny. If you're all about versatility, look for a CHI iron that can curl, smooth, and straighten.
Customize Your Heat
Let's get personal! Your hair's unique and needs its own temp setting. Thick and rebellious hair may call for a higher heat setting—think around 430 °F. On the flip side, if your hair's on the finer, delicate side, dial it down to a cooler 300 °F.
The Bells and Whistles
Now, let's talk extras because who doesn't love a good bonus? First off, durability and user-friendliness are key. You don't want a straightener that gives up on you right before a big event. Go for CHI models with dual voltage so you can look fabulous even when you're globe-trotting. A swivel cord of at least 9 feet ensures you can move freely, and an auto-shut-off feature adds that extra layer of safety. Oh, and let's not forget weight—keep it light for those day-to-night transformations.
Wrap Up
CHI has been in the business for decades and it's one of the most trusted hair styling tools in the beauty industry. If you're treating yourself to a new flat iron, I highly suggest looking into CHI's extensive selection of flat irons!
From the original flat iron to the G2, you'll definitely find something that will satisfy your styling needs.
We hope this article helped you determine the best CHI flat iron for hair type and needs.
Leah Williams
Leah Williams is the founder of Lucky Curl and has been in the hair care and styling industry for the last 15 years. Since then, she has developed incredible expertise and a deep understanding of how to treat and style the most difficult hair types and is passionate about sharing her knowledge with the readers of Lucky Curl.