Anyone who's experienced hair damage knows that it's quite the ordeal. As someone who frequently styles her hair, heat damage also puts a dent in my styling routine because it limits the kind of tools I use and how much I can straighten my hair.
When my hair is fried and damaged, I usually reach for a ceramic tourmaline flat iron. After reading a few Royale Hair Straightener Reviews, I wanted to know more about their ceramic tourmaline straightener. So, I did some digging and checked if the Royale is a good and affordable tourmaline flat iron to add to my rotation. These are my findings and in-depth review of the Royale Hair Straightener.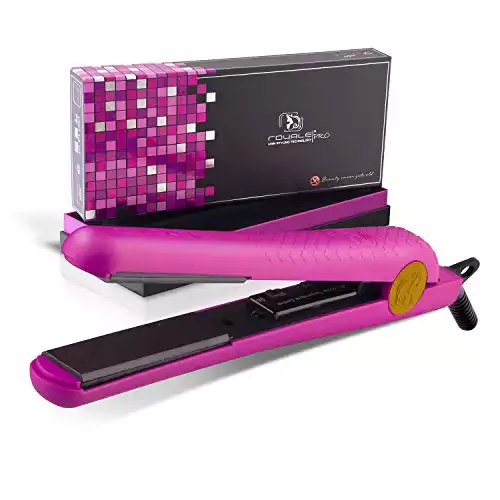 We earn a commission if you click this link and make a purchase at no additional cost to you.
Royale Hair Straightener Reviews
The meat of our review will focus on the Royale Soft Touch Classic Hair Straightener. This variant is in an eye-catching hot pink color. It's a ceramic tourmaline flat iron that's suitable for straightening damaged hair. It comes with two Royale Professional hair clips and a flat iron case.
The plates of the Royale Hair Straightener are 1-inch wide. These are made of ceramic infused with tourmaline and uses negative ion and nano silver technology. It has multiple heat settings and a swivel cord, plus a silicon handle for ease of use.
This is an improvement on the Royale Classic Hair Straightener, which lacks the soft touch rubber grip. It's a suitable flat iron for people with damaged or dry hair that needs more TLC.
The Royale ceramic tourmaline flat iron is also a great buy for bargain hunters because it has a slew of higher end features for a reasonable price.
However, if you need a hair straightener that's heavy-duty with digital controls and a stellar build quality, this isn't the best flat iron for you. The Royale flat iron also not for people with coarse and curly hair because the ceramic, while gentle, lacks the heat capacity that a titanium flat iron has.
Pros
Reduces frizz and seals the hair cuticle with negative ion technology
Has multiple temperature settings from 176° F to 450° F
Can double as a curler
Fitted with ceramic plates with nano silver technology
Has a rubberized grip and long swivel cord
Cons
Some users say it snags on the hair
The build quality is not great and the warranty details are not indicated
Slow heat up time
Features & Benefits
Plates
The plates of the Royale Soft Touch Classic Ceramic Tourmaline Ionic Flat Iron are made of 100 percent ceramic coated with tourmaline. They are 1-inch wide, best for straightening short to medium-length hair or making small to medium curls.
Users have reported that the ceramic plates on the ionic flat iron take a while to warm up. However, that's often a characteristic of ceramic.
On the upside, the Royale ionic flat iron will be gentle on the hair and have fewer hot or cold spots. Even temperature distribution is ensured with ceramic plates like these.
The Royale straightener minimizes hair damage, especially since it's also infused with tourmaline, a semiprecious stone that naturally emits negative ions. Negative ion technology smooths hair and tamps down frizz so your hair not only becomes straight but also shiny and healthy-looking.
Aside from negative ion technology, the Royale Soft Touch Classic flat iron also utilizes far infrared technology. This type of heat which helps retain moisture in the hair strand by heating it from the inside. It's a more efficient way to straighten hair because it cuts down on drying time drastically.
Temperature Settings and Performance
The Royale ionic flat iron comes with variable temperature settings from 176° F to 450° F. You can adjust the settings using a temperature dial located inside of the handle, next to the power switch. These are clearly labeled for convenience.
With its threshold of 450° F, the Royale ceramic tourmaline flat iron can straighten all type of hair from fine to coarse. Since the temperature can be adjusted to a very low level, it can minimize heat damage on vulnerable locks.
It's also a versatile hair styling tool because of its rounded edges. It can be used as a curling iron in a pinch. The barrel is a bit narrow so you do have the option of making small to medium curls.
Do note that some users have reported that the Royale flat iron sometimes tugs or snags on the hair when straightening. Another review mentioned that it also doesn't get as hot as advertised, which isn't ideal if you have coarse hair.
Ease of Use
The standout feature of the Royale Soft Touch Classic Flat Iron is its rubberized grip. The handle stays cold to the touch even as the plates heat up. It also gives you more control when straightening your hair.
The Royale styling iron also has floating plates that move with your hair. While in theory this is great for reducing snags, there are reviews that have stated the contrary.
I appreciated the 8-foot swivel cord because it does make styling a breeze when you're far from a power outlet. It also reduces tangling, which is always a plus, in my book.
The design of the Royale flat iron, overall, is ergonomic and looks well-thought out. I just wish that the build quality was better for the price. The flat iron is particularly vulnerable to damage from drops. The soft touch handle helps prevent that but should it slip from your hand or get knocked off the counter, it may damage the item irreparably.
Royale USA does mention that it offers a 5-year unconditional warranty but I haven't found any details for this particular product, which makes me a bit hesitant to recommend it wholeheartedly.
Other Features
This flat iron uses a nano silver technology which provides an anti-bacterial and anti-microbial effect that inhibits the growth of harmful particles. You can find nano silver technology in food containers, refrigerators, shavers, and even subways. This can eliminate harmful bacteria that can grow on the plates especially after it accumulates oil and hair styling product residue.
The straightener also comes with dual voltage from 110v to 240v, a major plus at this price point. This makes styling on-the-go fuss-free wherever you find yourself in the world.
Social Proof
Before I cast my verdict, I looked for user reviews on the Royale Soft Touch Classic hair straightener. These are some of the praises it has received.

Alternatives
Take a look at these alternatives to the Royale Classic flat iron that may be more up your alley.
HSI Professional Glider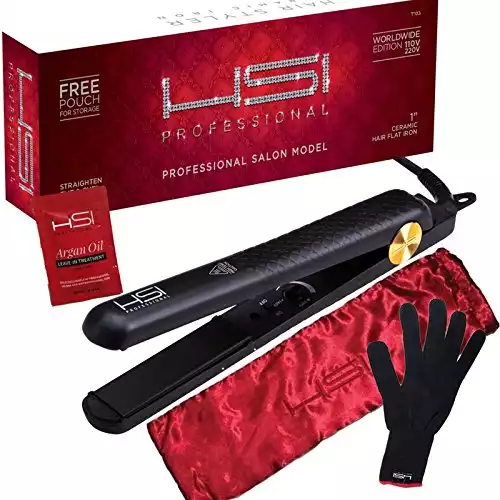 We earn a commission if you click this link and make a purchase at no additional cost to you.
The HSI flat iron can be used to straighten, flip, or curl your hair. It has ceramic plates with microsensors that regulate the temperatureof the flat iron. The plates are coated with tourmaline to boost shine and fight frizz. With a temperature range of 140 to 450°F, you have full control of how much heat you put on your hair. It's also dual voltage, like the Royale flat iron. This is a more affordable product with a bunch of freebies that make it an even more enticing deal.
A ceramic tourmaline flat iron
Variable temperature settings from 140 to 450°F
Dual voltage
More affordable than the Royale flat iron
KIPOZI Pro Flat Iron
We earn a commission if you click this link and make a purchase at no additional cost to you.
The KIPOZi Pro Flat Iron is a product that has a similar form factor to the Royale Classic Flat Iron but it's in a matte black color. It's fitted with floating ceramic plates with a temperature range of 180℉ to 450℉, suitable for all hair types. The 1-inch plate and the flat iron's curved barrel is good for straightening and curling hair. The flat iron also comes with dual voltage and an auto shutoff timer. It's considerably more affordable than the Royale so it's one of the best budget contenders, but a few users have commented that the plates sometimes snag and take a while to warm up.
A ceramic flat iron with floating plates
Variable temperature settings from 180℉ to 450℉
Can be used for curling and straightening
Has dual voltage and an automatic shutoff
ghd Classic Original IV Hair Straightener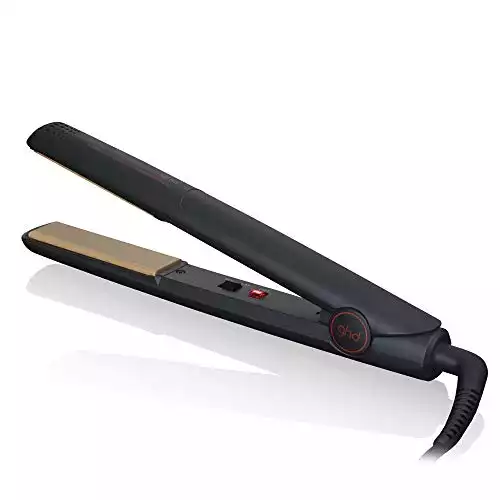 We earn a commission if you click this link and make a purchase at no additional cost to you.
The ghd Classic is a chic-looking ceramic flat iron with a consistent temperature of 365ºF which is the optimal temperature for straightening hair, according to ghd. It's equipped with a rounded barrel and floating plates that glide on the locks. It heats up in 30 seconds and shuts down automatically after 30 minutes of non-use. It also had dual voltage, a swivel cord and a protective plate guard. However, this flat iron does cost more than the Royale Classic and it lacks temperature controls.
A ceramic flat iron with a consistent temperature setting of 365ºF
Has a rounded barrel and floating plates
Quick heat up time and powers down automatically after 30 minutes of non-use
Has dual voltage, a plate guard and a swivel cord
Things to Consider Before Buying a Hair Straightener
Here are some pointers to guide you before buying a hair straightener. While there are various features to look at, these are the main things to consider.
Material
You should pick a hair straightener with a plate material that suits your hair type. Ceramic plates offer gentle and even heat, which is good for people with fine or damaged hair. Ceramic plates that are coated with tourmaline have a higher negative ion output, which means it emits more negative ions which seal the cuticle and make hair smooth and frizz-free.
A titanium hair straightener is best for coarse hair that's hard to curl because of its rapid heat up and efficient heat transfer. This material gets really hot so it's not recommended for compromised hair.
Heat Settings
With options to switch up the temperature on your hair straightener, you can avoid heat damage. Look for variable heat controls so you can tailor fit the temperature to your hair type. Make sure you straighten hair but not dehydrate it, because that will only exacerbate frizz and damage.
Ease of Use
You're more likely to reach for a hair straightener if it's easy to use. You can often tell if a straightener will give you fuss-free straightening if it has a light weight, a swivel cord, a grippy handle, and floating plates, among many others. I also like hair straighteners with an automatic shutoff feature and dual voltage for safety and convenience.
Price
Lastly, before you choose a flat iron, decide on how much you're willing to shell out for it. There are a variety of hair straighteners on the market for every budget so this can help you narrow it down. Otherwise, you might be too overwhelmed. Look for a flat iron that gives great value compared to other options in its category.
Final Thoughts
So, is the Royale Soft Touch Classic Flat Iron a good candidate for straightening damaged hair? In my opinion, it does the job quite well because it emits negative ions from its ceramic tourmaline plates. I like the wide range of temperature settings and the fact that it can go as low as 176° F, so it be very gentle on vulnerable tresses. I like the antibacterial nano silver technology and the soft touch silicon handle, too.
You do get a ton of good features for the price but what makes me hesitant to recommend this is the lack of information on warranty and the subpar build quality. I wish it was more resistant to drops, chips, and cracks.
But it's a solid choice for styling hair that has been fried or chemically-treated and it has a pretty affordable price for a tourmaline ceramic straightener.
Check out the Royale Hair Straightener here.
Leah Williams
Leah Williams is the founder of Lucky Curl and has been in the hair care and styling industry for the last 15 years. Since then, she has developed incredible expertise and a deep understanding of how to treat and style the most difficult hair types and is passionate about sharing her knowledge with the readers of Lucky Curl.