We all love a sleek, relaxed hairstyle especially when the occasion calls for it! With the right flat iron, anyone can create silky smooth, relaxed hair at home. But for natural hair that's curly or coarse, you will need a flat iron that could reach the ideal temperature to create this kind of hairstyle.
With that in mind, we have sourced 5 amazing straighteners to find the best flat iron for relaxed hair.
Best Flat Iron for Relaxed Hair – 5 Top-Rated Straighteners
HSI Professional Glider – Product Review
We are starting our list of the best flat irons for a sleek, relaxed look with an old favorite, the HSI Professional Glider. The HSI Professional Glider may look like a regular hair straightener with its rather vanilla design but it's one of the best flat irons to get if your natural hair is fragile but hard to manage. This straightening iron combines ionic technology, infrared technology, and temperature micro-sensors to gently yet effectively straighten every hair strand.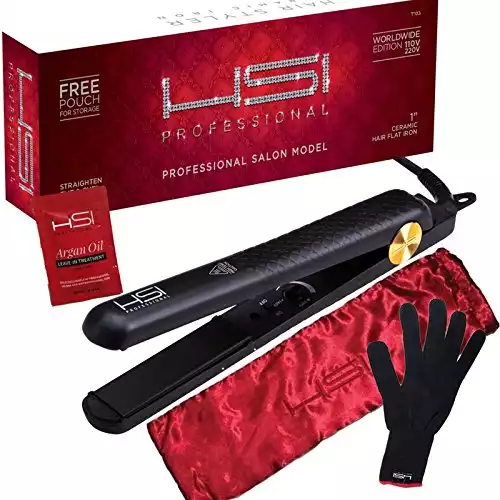 The ceramic plates were infused with tourmaline crystals to produce double the negative ions. Negative ions straighten and polish the hair without dryness and split ends! The tourmaline ceramic plates give this hair straightener the smoothest styling surface for a snag-free finish sans heat damage.
Meanwhile, infrared heat deeply penetrates the hair strands to increase the life of your hairstyle. Since the tourmaline ceramic plates are quite rounded and skinny, the HSI Professional Glider could be used to create loose curls and waves too! This hair straightener is ideal for all hair types, including thick hair, thin hair, and damage-prone hair!
The only caveat is that that the tourmaline ceramic plates are not as durable as say, titanium plates. This doesn't mean that the flat iron will shatter into a million pieces once you drop it on the floor. However, one has to be careful with the HSI Professional Glider during styling just to be on the safe side. Also, it's worth noting that this flat iron doesn't have an auto-shutoff feature. This may not be a deal-breaker for some but it's a useful feature that would've made the HSI Professional Glider an even better travel hot tool.
We liked
High-quality ceramic tourmaline plates
Multipurpose design: straightens, flips, and curls the hair
Adjustable heat settings
Reduces frizz and thermal damage
Dual voltage
Swivel cord
We didn't like
Fragile heating plates
No auto-shutoff feature
BaBylissPRO Nano Titanium Styler – Product Review
If you want to transform your thick hair or afro hair into silky straight hair, you won't find a better flat iron than the BaBylissPRO Nano Titanium Styler. It earned some of the highest raves on Amazon.com for a reason. This flat iron is one of the best hot tools for taming thick to wooly locks!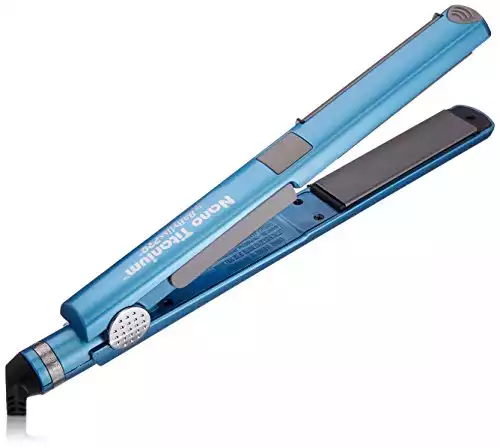 This sleek and compact hair straightener features the revolutionary Sol-Gel technology that speeds up the styling time without causing heat damage to the tresses. The Sol-Gel technology gives the titanium plates a much smoother surface for a snag-free glide.
The BaBylissPRO Nano Titanium Styler has slim ceramic-coated titanium plates so you can create defined curls and waves apart from straightening your hair with it. Not the cheapest flat iron on the market but think of it this way: it's like you're getting three hot tools for the price of one. This styling tool offers 3 heat settings: 340°F, 400°F, 450°F. It also comes with side heating plates to boost hair shine and body.
This hot tool heats up quickly because titanium can reach the maximum temperature in seconds. Most ceramic and ceramic tourmaline flat irons will take 30 seconds or so to heat up. Not the BaBylissPRO Nano Titanium Styler, it heats up in 15 seconds or less. Although it gets hot really quickly, you won't feel it. The flat iron comes with rubberized thumb rest, a cool tip, and a robust Ryton housing for comfortable styling!
The best part? This one is ideal for traveling too! It has a swivel cord and dual voltage feature. With this flat iron, you can finally live your jet setting lifestyle to the fullest and have the best hairstyles while at it. My only gripe is that the heat settings aren't as extensive as other hair straighteners from the same line. For an expensive flat iron, I would love to see the brand expanding the heat settings a little more than 3 levels.
We liked
Sol-Gel nano titanium and ceramic plates
 Multipurpose design: straightens, flips, and curls the hair
3 heat settings
Side heating plates create body and curl
Rubberized thumb rest, cool tip and handle for optimum comfort
Travel-friendly design and features
We didn't like
Expensive
Limited Heat Settings
BIO IONIC Onepass Straightening Iron – Product Review
Repeatedly exposing the tresses to high heat increases the risk of thermal damage. This leads to dry, brittle, and dull tresses! That's why it's so important to find gentle hot tools that straighten your hair without sucking all the moisture out! Unfortunately, most hot tools depend on high heat to tame the tresses. One exception to this is the BIO IONIC Onepass Straightening Iron.
Best Seller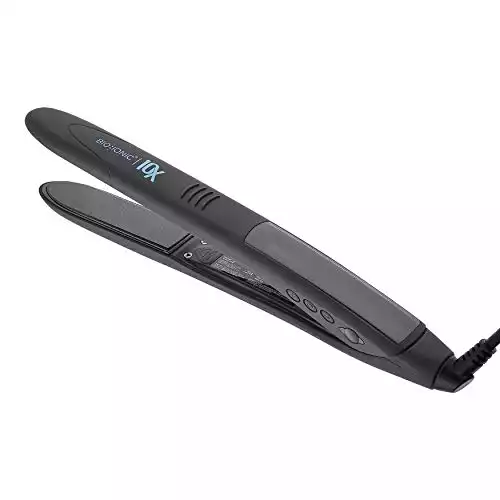 If your natural hair is extra delicate, if it's already parched and needs a lot of TLC, use this. The BIO IONIC Onepass Straightening Iron has a couple of cushion bioceramic plates that were infused with nano-ionic mineral to gently yet effectively relax curly or wavy hair in just a couple of passes. With this hair straightener, you don't have to go over the same hair section several times to achieve a high-shine, smooth finish. Just a couple of passes are all you need to style every hair section, which speeds up the styling time.
Apart from the cushion nano-ionic mineral-infused bioceramic plates, the OnePass also features silicone speed strips that cut the styling time even shorter. The silicone strips are a unique feature of the brand. The strips impart a high shine while ensuring that the hair lies completely flat for optimal infrared heat penetration. All these add brilliance and shine to the tresses while minimizing frizz and dullness.
The OnePass tames natural hair sans the wrist strain. The ergonomically designed flat iron will straighten your hair in the most comfortable way possible. Just make sure to perfect your technique to get the most out of this flat iron.
Overall, OnePass is one of the best hair straightening tools for achieving the perfectly relaxed finish that you crave. The only downside is that the silicone strips will take regular cleaning. The buildup of styling products has to be cleared several times per month to make sure that the flat iron works the way it should!
Personally, that's no biggie because I clean my styling tools several times a month anyway. If you're not doing the same, you should because the performance of your hot tools may be affected if it's grimy.
We liked
Faster styling time 
Produces negative ions for a smooth finish
Infrared heat for longer-lasting hairstyles
NanoIonic mineral hydrates dry, damaged hair
Travel-friendly design and features
Instant heat recovery feature
We didn't like
Expensive
Will require regular cleaning because of the silicone strips
CHI G2 Ceramic and Titanium Straightening Flat Iron – Product Review
Do you have thick hair or coarse hair that's easily damaged by heat styling? If you are looking for the one flat iron that could tame your tresses and protect your hair from thermal damage, use the CHI G2! CHI is known for its affordable hair straightener but the brand is also putting out some of the best high-end flat irons for natural hair, like the G2!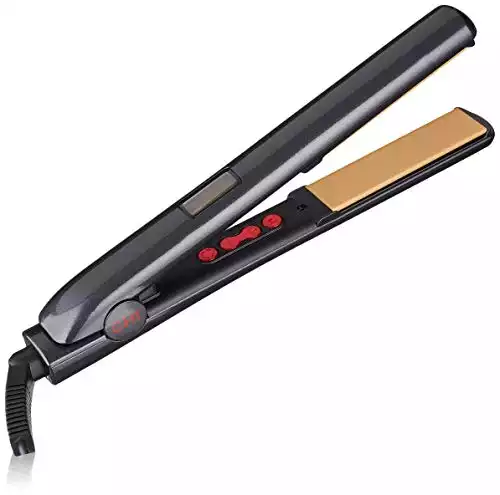 The CHI G2 is one of the best flat iron to use if your hair is prone to frizz. It features a combination of titanium and ceramic that heat up to the maximum temperature within seconds. It's ergonomically designed so you will never feel any strain as you straighten your natural hair or thick hair.
Because the plates are made from durable titanium, this one won't take several passes to straighten the hair. Just a couple of passes is all that it takes to tame even the frizziest, coarsest tresses. The G2 also comes with a range of useful features and advanced technologies that make styling so easy and gentle!
The ceramic-infused titanium material produces double the negative ions, leaving the hair shiny and silky smooth for longer. This flat iron offers superior performance, able to take on small and big styling jobs alike. The G2 also comes with full customization options, an all-digital display, and floating plates, all of which help you create the sleekest hairstyles.
Although lightweight and compact, the G2 is built like a tank. Titanium alloy is quite durable but the infusion of ceramic material to the metal improves the durability and life of the titanium alloy even further. No more worrying about dropping your flat iron by accident and picking the pieces off the floor! With the G2, you get high-quality performance and design in one sleek, lightweight package.
If you are looking for the best flat iron for coarse or thick hair, this is an excellent flat iron to use. However, the G2 is a little pricier than your average flat iron because it's part of CHI's high-end line of hot tools. Also, this flat iron may not be the best choice if you have fine hair just because the titanium material could prove too hot to handle for some hair type!
We liked
Full temperature customization
60-minute auto-shutoff feature
Durable ceramic-coated titanium plates
40-second heat-up
Upgraded floating plate design
Stylish, ergonomic design
Ideal for traveling
We didn't like
Expensive
May not be ideal for users with thin or fine hair
FURIDEN Revolutionary One Step Straightener and Styler – Product Review
The FURIDEN Revolutionary One Step straightener and Styler is a compact, ceramic tourmaline flat iron that's designed for users on the go. It's light, compact, and it comes with loads of features that will optimize your styling experience!
The FURIDEN Revolutionary One Step straightener and Styler features an innovative switch design so there's no physical button to switch the device on and off. This may be a good thing or a bad thing but I'll tell you right now that this flat iron is user-friendly and beginner-friendly.
Just rotate the styler clockwise to adjust the temperature and you're good to go. The FURIDEN hair styler is fitted with MCH, a new heating standard for hair tools. The MCH heaters are energy-efficient, durable, and the heat lasts longer too. What's more, the heaters will reach the ideal temperature in 15 seconds or less. Because it only takes a couple of passes to straighten the hair, the FURIDEN hair styler minimizes thermal damage.
If you are looking for a multipurpose hot tool then the FURIDEN hair styler is the best flat iron for you. The flat iron's body is round in shape so it can create curls and waves too. This is the kind of flat iron that will get a lot of use in your kit. Whether you style your hair regularly or you are a professional hairstylist who needs a hot tool that can keep up with your rigorous schedule, this will be an excellent addition to your kit.
Overall, the FURIDEN hair iron is an excellent hot tool that will work on most hair types but is best suited for those with fine hair. The operation will take some getting used to but it's easy to use. However, the MCH heaters could dry the hair out so deep conditioning your tresses at least twice a month is a must. Don't skip on your heat protective products too!
We liked
Heats up in 15 seconds or less
4 Customizable heat settings
Multipurpose design: straightens, flips, and curls the hair
High-quality body and material
Ideal for traveling
With groundbreaking directional switch design
We didn't like
Not as easy to use as some flat irons
Increases the risk of hair dryness
What Temperature Should Your Flat Iron Relaxed Hair?
This will depend on your hair type. If your hair is fine, delicate, if it's prone to damage or it's color-treated, you don't want to subject your tresses to high heat so keep the setting on low. If your hair is normal or medium in thickness, opt for mid-high setting, around 350-380 degrees Fahrenheit.
For those with thick hair, wooly tresses, or generally hard to manage hair, use the highest setting (380 to 450 degrees F) but iron your hair with care! Again, never skip your heat protective products because natural hair tends to burn easily. Also, your hair care products will minimize the risk of dryness, dullness, and splitting, which are common for people who style their hair regularly.
Can Your Flat Iron Relax Hair?
With the right flat iron, you can achieve a sleek relaxed look. However, the hairstyle won't be permanent, it will only last for a few hours. To make the hairstyle permanent, you have to get the right treatment for it.
Is Titanium or Ceramic Better for Hair?
This will depend on your hair type because using titanium straightening iron and ceramic iron have their own benefits and drawbacks. The general rule is that titanium straightening iron is best if your hair could take the heat. Because the material could reach high heat in seconds, titanium is ideal for those with thick, coarse, or extra wooly tresses. If your hair is fragile, if it's thin, delicate, or if it's prone to heat damage, I would stick to a gentler ceramic iron. The material could reach high levels of heat but it's far gentler than a titanium hair straightening tool.
What Flat Iron is Best for Black Hair?
A flat iron that comes with a wide range of heat settings is your best bet for natural black hair. Black hair may look resilient but it's quite the opposite for most users. Since black hair is often styled, it's much more prone to thermal heat, dryness, and weakness!So always choose a hair tool that lets you adjust the temperature from the lowest to highest. This will give you all the options according to your hair needs. A hot tool with adjustable heat settings is quite versatile too, it will work on most hair types!
Conclusion
Looking for the perfect hair straightening tool to achieve a shiny relaxed look? The hair tools that we've outlined above will work on all hair types. However, these products are highly recommended for those with black hair or naturally curly tresses! Which ones are your favorite? Sound off below! Add your comment, name, email, website, etc. on the comment section and let's discuss!
Leah Williams
Leah Williams is the founder of Lucky Curl and has been in the hair care and styling industry for the last 15 years. Since then, she has developed incredible expertise and a deep understanding of how to treat and style the most difficult hair types and is passionate about sharing her knowledge with the readers of Lucky Curl.