Curly hair is a thing of a beauty and an object of envy for many. But lots of curly-haired folks also want glassy, straight hair from time to time. To help you flatten those curls safely, these are some contenders for the best flat iron for curly hair.
Best Flat Iron for Curly Hair – 5 Top-Rated Styling Tools 
HSI Professional Glider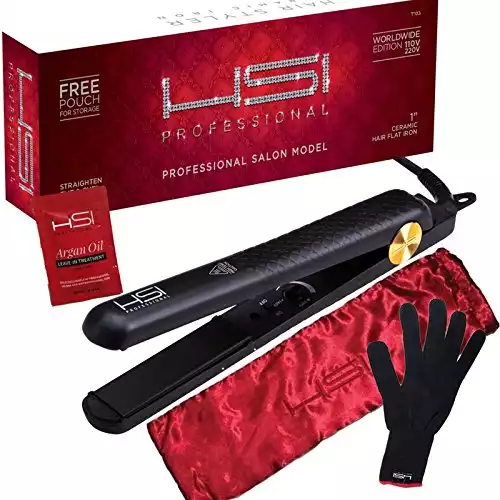 I'm telling you now: this could be your next holy grail flat iron. The HSI Professional Glider is a hair straightener that will get your hair from curly to straight in the shortest time. It might look unassuming, save for the gold hinge, but the plates are actually tourmaline ceramic which emits negative ions. The results? Smooth and shiny hair. It's a sweet deal for the price.
The floating plates surf the lengths of your hair, going over any unevenness with ease. At 1 inch, the ceramic plates are the perfect size for getting close to the hairline. The 8 microsensors embedded in the flat iron distribute heat evenly. Less styling time, less damage. Did I mention it comes with an argan oil hair treatment and a silk case for storage?
The HSI Professional flat iron has a fast heat-up time. With a dial, you can choose temperature settings from 140F to as high as 450F. It comes at a reasonable weight too (only 1 pound) so styling won't be a chore.
Be warned: this flat iron gets really hot. Take some precautions and make sure to build up the temperature slowly.
This is one of the best flat irons for thin or frizzy hair due to the tourmaline ceramic component. Sadly, there's no automatic shutoff for this so you have to remember to plug it off. At 1 inch, this is also not my personal pick for very thick or coarse hair.
Pros
Straightens curly hair easily with few passes

Tourmaline ceramic removes frizz and protects from heat damage

Equipped with 8 micro-sensors to control heat

Adjustable heat settings
Cons
Remington Wet2Straight Flat Iron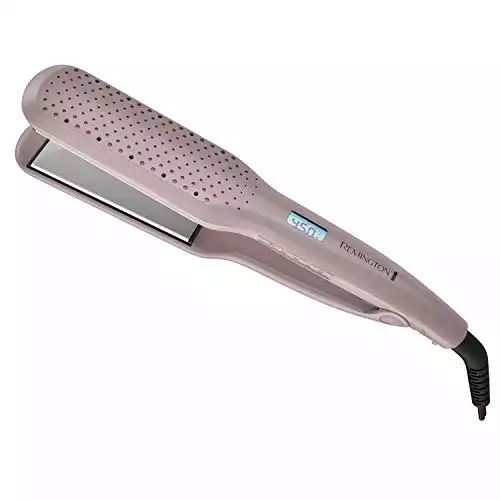 Remington Wet 2 Straight Flat Iron
Ceramic plates
Heats up in just 30 seconds
Steam Vents - distinctive steam vents allow you to start styling right out of the shower
Salon-Quality heat - provides up to 420 degrees of professional-grade heat
Buy Now
We earn a commission if you click this link and make a purchase at no additional cost to you.
08/30/2023 10:30 pm GMT
The Remington Wet2Straight Flat Iron seems too good to be true. At this price, I did not expect steam vents. The flat iron is supposedly made for wet or dry hair and claims to straighten without blowdrying. With ceramic and titanium plates, you get the efficiency of titanium with the even and gentle heat distribution of ceramic.
It comes in 1.75-inch and 1-inch options and if you spring for the wider one, you'll smoothen more hair in fewer passes. With 30 heat settings, there's something for you, whatever your hair type.
This hair straightener heats up rapidly but I can sleep easy knowing this thing shuts off after an hour of idle time.
If your hair is damaged or dry, I don't think this would be the product for you because applying heat to vulnerable damp hair will wreck your cuticle further and may cause irreparable damage. This would be awesome for thick and stubborn hair to get it from wet to straight hair without blowdrying, as the name suggests.
This is the best flat iron for those who don't have the time to fiddle with a blowdryer before straightening and want to skip a step or two. The steam helps to dry hair even more. Working professionals and stressed students will benefit greatly from a flat iron like this.
Pros
Quick heat up

Steam vents dry hair quickly, eliminating the need for a dryer

Made from a ceramic and titanium plate
Cons
The handle can get quite hot when styling
KIPOZI Professional Hair Straightener
If you flatten your hair on the regular, one of the best flat irons for you is the KIPOZI Professional Hair Straightener. This flat iron is best for those who want superior results, whatever your hair condition.
At 1.61 pounds this is quite hefty but the 1.75-inch, extra wide floating titanium plates more than make up for it. The flat iron covers more surface area quickly. It has three heat settings which can save you from options overload. There's something for every hair type. The KIPOZI flat iron also has something called intelligent safety temperature reduction feature, which is just a fancy way of saying it protects your hair from getting fried.
This hair straightener promises versatile styling with no tugging and the perfectly aligned titanium plates are a testament to that. The LCD display is easy to read. I love that it has dual voltage and the 8-feet swivel cord really makes getting to the nooks and crannies of your head a breeze.
This flat iron would be an excellent choice for thick, coarse hair. The titanium is heavy-duty and the 1.75-inch floating plates will halve your straightening time. The effects will withstand most conditions, even humidity. If you want salon-quality performance, the KIPOZI is the easiest flat iron to recommend.
Pros
Durable because of the titanium plates

Straightens hair fast

Has intelligent temperature reduction
Cons
Not ideal for thin or fragile hair
Furiden Professional Hair Straightener
If you want an aesthetically pleasing flat iron that doesn't skimp on performance, this may be one of the best flat irons for you. The Furiden Hair Straightener is a sleek and modern flat iron made with tourmaline ceramic floating plates that bend from side to side to avoid snagging your curly hair.
The ceramic plates, at 1-inch, are good enough if your hair is thin, though the plates are on the shorter side as well, lengthwise. There are 5 temperature settings to choose from (250F to 450F). You may be surprised at how fast this thing heats up.
The 360-degree 8-feet swivel cord makes curling or straightening easy. Because of its circular design, this is a flat iron that doubles as a curler, too. There's a latch for locking the straightener in place and an auto-shutoff feature, which never hurts. This flat iron is dual voltage, too, so you can take it wherever you go without any hiccups.
The ceramic plates glide through hair and though these can get hot, they won't singe your hair. You can thank the ceramic tourmaline for that.
Though this flat iron is a good all-rounder, the plates don't fully close, leaving a gap. Those with fine hair are better off with another straightener.
Pros
Chic design

Great for both straightening and curling

Adjustable heat settings
Cons
A slight gap between the ceramic plates make this not the best choice for fine hair

The plates are on the shorter side
BaBylissPRO Porcelain Ceramic Straightening Iron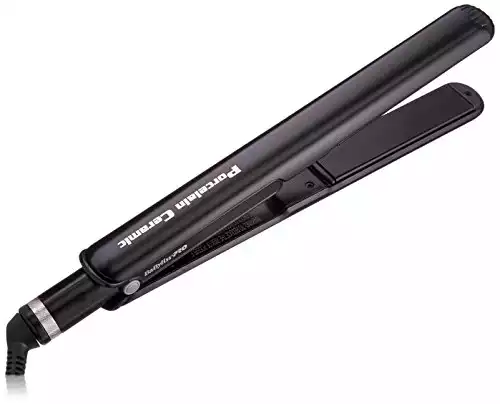 The BaBylissPRO Porcelain Ceramic flat iron is light as a feather. I cannot stress enough how light it is. It's so light you might wonder if it has missing parts. But don't worry, this straightener is the full package.
The BaBylissPRO flat iron is a sleek, black, curl-skimming machine. The porcelain ceramic is a good choice because it heats up very evenly. It's consistent, with no hot or cold spots. It gets hot quickly and if you turn it off for an arm break, it recovers in a jiffy.
The longer plates make it easy to reach crevices of my scalp where the sun doesn't shine. I think the retro-style analog heat controls are actually a good choice because sometimes digital displays can malfunction.
This is one of the best flat irons for fine hair because of the porcelain ceramic, which emits negative ions for lustrous locks. This flat iron really does offer great quality for less. If you're looking for professional-grade results at a price point that you can live with, try the BaBylissPRO.
But there's a caveat. Coarse-haired girls will need to find a better option (read: titanium plates) because this one is not a flat iron suited for you. On a lesser note, the lightness of this straightener makes me worry about dropping it. I don't know if the porcelain can survive a fall. If you're careful, though, I think this baby flat iron can last you years and years.
Pros
Great heat distribution

Adjustable heat settings

Lightweight

Long plates
Cons
Not ideal for coarse hair
Choosing the Best Flat Iron for Curly Hair
What are the advantages/benefits of flat iron on curly hair?
We know that curly hair can be more prone to damage, and while that's true, flat irons can still be a good investment. Here are some benefits you may not know of.
It can save you money.
The flat iron is a good DIY tool that can save you frequent trips to the salon. It's a worthwhile purchase if you're looking to take things in your own hands and save money.
It's better than chemical straightening.
Chemical straighteners are chockful of harsh chemicals that can do a number on your precious hair. A flat iron, on the other hand, can preserve your hair moisture and natural texture.
It's great for colored hair.
Dyed hair will benefit from flat iron styling because it doesn't fade your color as chemical straighteners do. If you want your highlights to look snatched, skip the funky chemicals and go for an old fashioned straightener.
It doesn't damage your roots.
Your roots are protected because you often start straightening a few inches away from the scalp. With a good heat protectant, you don't have to worry about heat damage on the rest of your hair either.
It flattens stray hairs.
A hair straightener can smooth down those annoying baby hairs and strands that stick out so you get a polished look. These handy tools definitely do more than straighten hair.
A flat iron is multifunctional.
Apart from straightening, you can use it to revive limp curls or add waves to your hair.
Which hair straightener is best for curly hair?
Hair Type
Curly hair comes in all forms and to pick the best flat iron for you, consider your hair type and texture, first and foremost.
Your hair can be wavy (type 2 hair), curly (type 3 hair), or coiled (type 4). It can also fall under fine or coarse hair. These classifications are not one size fits all and your hair can fall in a spectrum in between these types.
Material
Ceramic flat irons are a crowd favorite for home styling because they give off heat evenly and they protect our hair's cuticle from fraying, which is an indicator of damage. A ceramic flat iron is perfect for fine hair or hair that straightens easily.
Titanium flat irons are salon-quality straighteners that transfer heat quickly. These can have hair protective properties, too, but they can be more damaging because they can get hot spots. Titanium flat irons are perfect for coarse or hard-to-straighten hair. For afro-textured hair, stay away from titanium plates because they can be too harsh on natural, fine hair.
Plate Width
A 2-inch plate is great for straightening lots of hair. If you have thick hair, choose a wider plate so you don't spend upwards of an hour just going over your curls.
Get a 1-inch plate if you have thinner hair or want to straighten close to the scalp. Getting near the roots gives a seamless finish.
Hairstylists recommend getting both kinds of widths (narrow and wide) for daily styling so you have more flexibility. But if that sounds too excessive for you, choose a width that suits you best.
Adjustable Heat Settings
I often prefer a straightener with different temperature settings. For curly hair, the ability to customize heat levels is essential. You want to get something high enough to do the job but you also don't want to fry your hair.
What's the best way to use a flat iron on curly hair?
Shampoo and condition your hair well.
Get a shampoo and conditioner that's on the moisturizing side, to prep your hair well for the heat (and possible damage). If you use heavy products on your curls often, make sure to use a clarifying shampoo to rinse the gunk out thoroughly. Use your own discretion to find something that fulfills your own curly hair needs.
Apply heat protectant and blow-dry.
Let your hair dry roughly 80% before you heat it up. Spritz enough heat protectant on your hair, taking care not to overapply as that can weigh down hair. With a vented brush, blow dry your hair section by section. Remember to point the nozzle down the length of the strands to enhance shine.
Section hair
Make the styling process easier by dividing your hair into sections. The thicker the hair, the more sections you need. If you don't have the time nor hair clips for this, a cheat is to put your hair up in a ponytail and take a few chunks of hair out as you go.
Flat iron section by section
Grab a manageable portion of hair that you can straighten in one pass. Place your brush close to the root, leaving space for the flat iron. Thread the hair straightener next to or close to the scalp, then brush through the hair. The flat iron will slide down the hair as if chasing after the brush.
Choose a temperature between 290 and 350 degrees, to start. Adjust the heat according to how your hair reacts.
Use a finisher
Distribute a finishing product all over the hair. If you want to hold your 'do in place, use a hair spray. For added shine and moisture, serum or oil is a good choice.
To see this in action, watch this video.
The Verdict
Smooth, straight hair need not be the stuff of dreams for curly-haired women with these hair straighteners. And because curly hair is not one-size-fits-all, it's important to go through a flat iron's claims to determine if it will be good for your tresses.
My pick of the litter is the KIPOZI Professional Hair Straightener simply because I think it's the bee's knees, ankles, and toes. Hyperbole aside, it's made of durable and effective titanium plates that come in an extra-wide size for going through loads of strands quickly. It has a heat reduction feature that I really appreciate, giving my locks extra protection from damage. The KIPOZI is filled with all the essential features I need in a flat iron and gets rid of all the fluff. If you struggle with curls that are hard to unsnarl, a tool like this will make styling feel like walking on clouds.
Leah Williams
Leah Williams is the founder of Lucky Curl and has been in the hair care and styling industry for the last 15 years. Since then, she has developed incredible expertise and a deep understanding of how to treat and style the most difficult hair types and is passionate about sharing her knowledge with the readers of Lucky Curl.