We love a good 2-in-1 product: convertible backpacks, foundation concealers, laptop-tablets, and exfoliator cleansers, to name a few. You get more features and you save more in the process. That's why I'm a big fan of 2-in-1 curling and flat irons. I've rounded up top rated straighteners to find the best flat iron for curling hair.
Best Flat Iron for Curling Hair – 5 Top Straighteners Reviewed
T3 – SinglePass Hair Straightener
While this is pricey investment, it promises to supply even heat without overexposing hair and pledges to style hair in one pass. These are pretty hefty claims if you ask me. Once I tried the styling iron out, I found the 1-inch plates ideal for my curling needs. These are custom blend ceramic plates and are beveled for flexibility. I found it didn't snag on my hair and was overall comfortable to use.
This straightening iron has five adjustable temperature settings. It goes from 260F to 410F, meaning it can get pretty hot but not as hot as other hair straighteners I've used before. I liked the 360 swivel cord, as well as the weight of the straightening iron(only 7.8 oz). The T3 SinglePass Straightener has an automatic converter for the voltage of the device, which is a nifty feature. It also has a 1-hour auto-shutoff mechanism.
Overall, I found this styling iron effortless to use. This is one of the best flat irons for uncomplicated use. If you have thin hair, you will appreciate the beveled plates. I just wished the materials felt more luxurious. The price tag is also not for those on a budget.
Pros
Easy to use

One button for on and off. The display indicates the temperature.

Floating plates grip hair easily

Lightweight
Cons
Build quality does not feel impressive for the price

Thicker cord than usual can feel clunky

The price
KIPOZI Hair Straightener, 2 in 1 Straightener and Curling Iron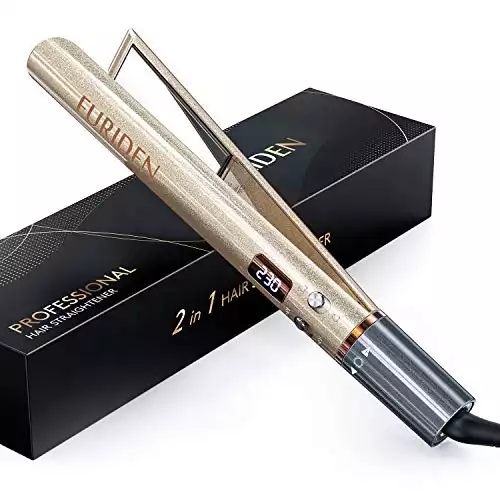 The KIPOZI Hair Straightener is a flat iron that's a treat for the eyes. Touted as a 2-in-1 straightener and curling iron, it has a slim pink body that has a unique twist-and-pull feature that unlocks the device. It has a cylindrical shape with rounded edges, perfectly suited to curl your hair with. The sleek pink casing houses nano titanium 3D floating plates that are 1 inch wide. I also love that it heats up in 30 seconds and has adjustable heat settings. It's designed for travel, too, because it has a dual voltage of 100-240V.
A bonus feature is it automatically shuts down the flat iron after 90 minutes of idle time. It comes with some useful add-ons like a pouch, gloves, and a handful of hair tools. This is the best flat iron for people who want something chic yet functional. The titanium plates also make this suitable for coarse or curly hair.
There are some caveats to this styling iron. It won't be good for long hair because its plates are too short. The clamp needs to be held down with a heavier grip, making this flat iron a bit cumbersome. Because of the luxe components, it can also be heavier than the typical flat iron.
Pros
Great design with rounded edges

Nano titanium plates are good for those with coarse or curly hair

Travel-friendly

Heat-up time of 30 seconds
Cons
Can be difficult to maneuver as the clamp needs more force than normal to hold down hair

Heavy and can be difficult to use for beginners
NITION Pro Hair Straightener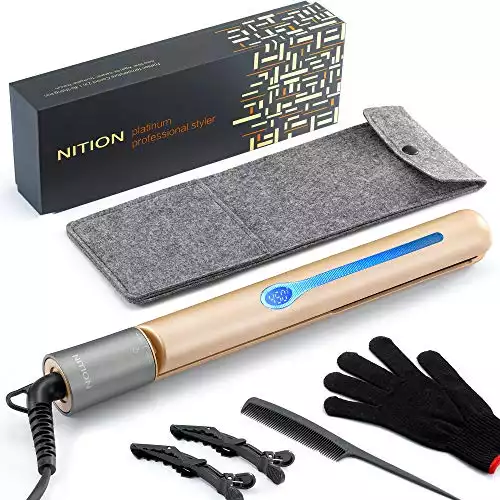 If you want even more features, go for this 5-in-1 ceramic flat iron. It has a ceramic-coated heating plate that is steeped in nanosilver, argan oil, tourmaline, and titanium. For those who can't decide between ceramic and titanium plates, this may be the best flat iron for you. The tourmaline, in particular, is good because it produces negative ions that fight frizz and static.
The ceramic-titanium plates of the straightening iron are 1 inch in width, ideal for curling, while the flat iron itself is 11.4 inches long. This is one of the best flat irons for curling long hair or hair that doesn't hold a curl because of the length of the barrel.
What's unique about this styling iron is it's completely buttonless. You rotate the bottom of the straightener to choose from 6 temperature settings and to turn the flat iron on and off. This straightening iron is good for on-the-go curling as well because it has a dual voltage (100V-240V). The straightener comes with a travel pouch, a burn protection glove, a comb, and hairclips.
I appreciate the 360-degree swivel and the 9-feet long cord which is good when your mirror is far from the electric outlet. In addition to the knick-knacks that are included with the package, the flat iron also comes with velcro straps and a hanging hook.
A disadvantage I found with this straightener is its temperature controls. The twist feature to choose a heat setting is clunky because when you set it to a lower temperature, you can accidentally switch off the flat iron.
Pros
lightweight

easy to hold

fast heat-up time

good for long hair or hair types that don't hold a curl well
Cons
a finicky temperature dial
HSI Professional Glider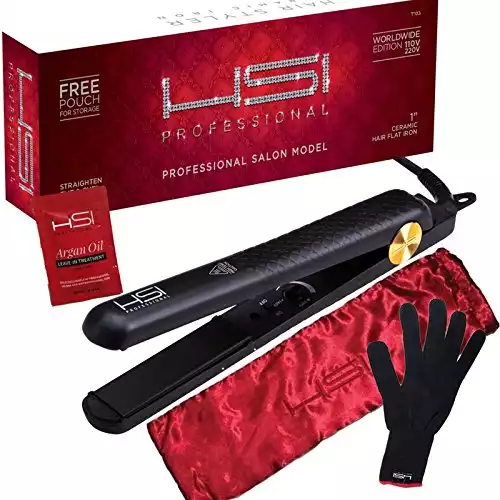 The HSI Professional Glider is one of the best hot tools to include in your styling arsenal. It has ceramic plates infused with tourmaline which emits negative ions for shiny and silky hair. Its plates are 1-inch wide, the recommended size for easy curling for most hair types. The HSI flat iron is good for bangs too.
Apart from ceramic tourmaline, the plates are permeated with microsensors that adjust the straightener's temperature automatically. The results? Fewer passes on your precious hair.
The styling iron is dual voltage, supporting anything in the 110V-220V range. The cord swivels 360 degrees for extra flexibility when curling. It's difficult to tangle or damage the cord, even if you try.
The adjustable temperature settings range from 140F to 450F. A con is the lack of a display. It can be tiresome to decipher what temperature you are on with this straightener. The HSI Glider is also slightly heavy at 1 pound and has a boxier shape than the other straighteners for hair in this list.
This is one of the best flat irons for those with frizzy hair because of the ceramic tourmaline plates. It's good for managing the frizz and static and achieving glassy curls.
Pros
holds down hair evenly

even heat distribution

ceramic tourmaline plates minimize heat damage
Cons
no temperature indicator on the dial

slightly heavy

boxy shape
BaBylissPRO Porcelain Ceramic Straightening Iron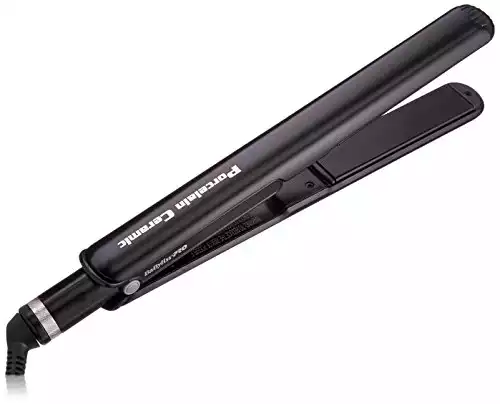 The BaBylissPRO straightener has an elegant black design and weighs only 12.8 ounces. It covers a lot of hair with a 12-inch barrel length. The longer plates can shave off minutes from your styling time. That's not to mention the instant heat up and recovery of this sleek styling iron. These features are especially convenient for thick hair.
The plates of the straightener are 1 inch long and made of porcelain ceramic. The styling iron has porcelain ceramic technology which produces far-infrared heat. This is gentler on hair than other types of heat. The ceramic porcelain plates of the straightener distribute heat evenly without hot spots and emit negative ions for that coveted glassy hair look. A dial allows you to set the temperature easily, up to 450F. I found this does not get in the way of my curling or straightening sessions and is placed in a good location on the iron.
What this flat iron lacks that is a common feature in most flat irons I've seen is an auto-off capability. While this may seem like an element you can do without, for me it's really helpful when I'm in a rush in the mornings. If I were to nitpick a little more, I'd say the design could be better, and compared to the other options on this list, it's not as premium-looking. But at $59.99, you get the essentials that are in the best flat irons.
Pros
rounded edges

adjustable temperature

lightweight
Cons
no auto-off function

design is not as premium-looking as the other options
Things to Consider When Buying a Flat Iron for Curling Hair
Can you curl with any flat iron?
If you're still doubting it, yes, it's easy to create curls using a flat iron. I honestly could not tell the difference between waves made with a curling iron and a straightener. Oftentimes, the effects of curling with a flat iron are more natural–lustrous and bouncy waves, not spherical ringlets. The style also stays in place for a longer time, compared to when I used a curling iron. I estimate it lasts around 12-14 hours.
Of course, the key is to pick a good flat iron that serves a dual purpose and is excellent at both straightening and curling hair. Not all flat irons are good for curling so it's important to choose one that's designed for achieving sleek hair and making waves.
How to Choose the Best Flat Iron for Curling
Not all flat irons are made equal. Some make uneven curls and some are just too hard to work with. At first glance, a certain flat iron may seem like an exceptional pick for curling but when it comes to the nitty-gritty, you'll realize that it has let you down.
So what qualities do you keep your eyes peeled for when shopping for a curling flat?
Look for the appropriate plate width on the barrel. Arguably, the best width for most people is 1 inch and below. Any wider than that and you won't be able to form curls. The waves will be too loose and drift into nonexistence over time.
Secondly, you'll need a round body on your iron. A flat edge makes square waves, which I personally don't like. You want luscious spirals on your hair, not a polygon.
Next, you need to think about ease of use when looking for a curling flat iron. After all, if a straightener is too laborious or finicky to use, curling your hair would be a chore. I always want an ergonomic handle on a flat iron, whether for curling or straightening. To curl your hair effortlessly, a comfortable grip is important. Take into consideration how much longer curling your hair takes than to straightening it. A lightweight straightener would also be ideal.
Lastly, I look for adjustable heat settings in a flat iron for curling. Sometimes, you need high heat when you curl your hair for the waves to stay in place, especially if you have thick hair. Coarse or curly hair will benefit from the extra heat.
What's better: ceramic or titanium flat iron?
The question comes up again and again: ceramic or titanium? More importantly, which one does the job better if you want to curl your hair?
Ceramic flat irons are known for their gentle effects on hair. They have even heat distribution which protects locks from damage. You'll be safe from singed hair if you use ceramic flat irons. Avoid ceramic-coated plates and reach for those with fully ceramic plates instead. A ceramic coating can peel off and cause snags.
Titanium plates, on the other hand, can reach higher temperatures quickly and transfer more heat than ceramic. You can see a lot of titanium flat irons in salons as they are durable.
The most suitable flat iron for you is dependent on your hair type. If you have finer or easy-to-curl hair, a ceramic flat iron will meet your needs. If you have coarser, more stubborn hair, opt for a titanium flat iron to cut styling time. A ceramic tourmaline hair straightener can be great for all hair types.
How to use a flat iron when curling hair
Curling hair with a flat iron certainly takes practice to get right. You have to be careful not to burn yourself from the high heat. You also need to practice clamping down the iron with control. But once you have these steps down pat, it will be like running on autopilot.
First, use a heat protectant on the middle and ends of your hair. This is important whether you have thin or thick hair. Don't forget to thoroughly dry your locks. Wet or damp hair will not hold a curl. You can also use a mousse and blow dry your mane to add more volume before curling.
Divide your hair into sections with hair clips. Take a small section of your hair, about 1 inch in width or so. Clamp down on it with the flat iron and wrap your hair once around the barrel. Rotate the flat iron away from you in a half-circle until the lock of hair falls down straight at the end of the barrel. Hold the hair in place for a few seconds then slide down the flat iron on the length of the hair. Arrange the twisted section of hair so it stays in the desired shape. Experiment with holding the hair towards you and away from you. Mix and match so the waves look more undone.
Here's a video to see this process in action.
The Verdict
There you go: the 5 best flat irons for curling hair. The price points vary but there's something on this list for all hair types. Curling hair used to take loads of trial and error but the right hot tools make it painless. You don't have to burn yourself to get good curls with a flat iron!
To end this roundup, I have to pick the best of the best. The flat iron that ticks all the boxes, for me, is the T3 Single Pass Hair Straightener. I chose it because it is the lightest option on the list at 7.8 oz and it doesn't sacrifice style for efficiency. It has 1-inch plates which are the best width for curling and a rounded barrel for natural-looking waves. I loved how easy it is to use (no snags!) with its floating plates and swivel cord. I appreciated that I can adjust the heat easily and read the temperature on the flat iron's display. It was overall the best user experience for me. That coupled with the flat iron's slick aesthetics makes the T3 SinglePass the winner of the best flat iron for curling.
Leah Williams
Leah Williams is the founder of Lucky Curl and has been in the hair care and styling industry for the last 15 years. Since then, she has developed incredible expertise and a deep understanding of how to treat and style the most difficult hair types and is passionate about sharing her knowledge with the readers of Lucky Curl.