I have always wanted to have a hair straightener that can give me sleek and smooth results, but most of the time, I end up with dry, frizzy hair because of all the static happening between the plates! I really wanted to achieve salon-like straight hair, but I don't know how. That is until I came across the Remington S5500 review and I wished that this came out sooner.
Read on to see if this flat iron is right for you.
Remington S5500 Review – Best Features and Benefits
The Remington S5500 is an anti static hair straightener that provides you with a fast and convenient way of achieving a professionally straightened mane without going to the salon. It sports 1″ floating plates that glide effortlessly. Its anti static technology ensures that you won't end up with frizz or fly away every time you iron your strands. The titanium coating supports faster heating which is a plus if you want to speed up your styling time.
Features and Benefits
What makes the Remington S5500 a good choice when you are in need of a straightening product? Based on the reviews that I have read, the s5500 comes with several features that are found to be useful in achieving that sleek, smooth, and static-free straight hair.
Ceramic Plates
The 1′" ceramic floating plates are perfect for ironing out the waves or curls on your mane easily as they simply glide across your strands. The plates are long too which means that you will be able to iron more hair than usual thus speeding up the time it takes to finish styling your long or short mane. Another plus to using ceramic plates is that they heat up evenly which means that there are no hotspots for you to worry about.
Anti Static Technology
Thanks to the anti static capabilities of this straightening iron, your hair will be frizz-free after. Every strand will fall into place thus giving you that salon-quality mane. This is one of the features that caught my eye when I was reading reviews about Remington.
Titanium Coating
The titanium coating on the ceramic plates helps them reach a high temperature without getting damaged. This is because titanium is known to be capable of withstanding high heat making it a useful ingredient in many styling tools. After all, you don't want to end up with burnt strands because of uneven heating between the plates.
30 Second Heat Up
What else can you expect from Remington S5500? Another plus to this device is the fact that the plates can reach the highest setting in half a minute. This is convenient especially when you are in a rush. I am glad that there is this technology included otherwise I will have to wake up real early just to get my mane straight.
Digital Controls
No need to second guess what the temperature is when using this flat iron since the digital screen will already tell you how hot the plates are currently. This is convenient as opposed to touching the heated plates to determine if it is at the right temperature or not. The screen is clear enough to read the numbers even while you are using it.
Auto Shut Off
The Remington S5500 digital also has your safety in mind with its auto shut off feature that is a must-have in my book. As the name suggests, this styling tool will turn off on its own after it is left idling for an hour at least. This feature does give me a sense of peace knowing that if I do forget about removing it from the plug, it will turn off on its own thus preventing those unwanted accidents.
Swivel Cord
Don't you just hate it when the cord on your styling tool isn't moving that much? Or that it is just a few feet long? I do! From the reviews that I have read about the Remington S5500, it comes with a 360 degrees swivel cord so that, no matter which way you turn it, the cord will not get tangled up at all.
Temperature Settings
The Remington S55000 comes with 6 heat settings that range from 310 degrees Fahrenheit to 410 degrees Fahrenheit. I think that having this feature is useful since it means that the flat iron can be used on all hair types. This is much better than having just a fixed setting because it may not work with everyone's mane such as thin or fragile strands. Being able to control the amount of heat coming from this tool will guarantee safety.
Social Proof
If you are wondering which ceramic hair straightener to purchase, I think the reviews from these customers are good indicators that you will get good value for your money. After all, the 1 inch floating plates combined with multiple heat control settings can mean more versatility for this product compared to others.



Alternatives
Aside from Remington S5500, what other straighteners should you consider? If you are looking for a good quality ceramic straightener, the following options are worth checking out.
Conair Double Ceramic Flat Iron

If you have been browsing Amazon com, chances are you have come across the Conair Double Ceramic Flat Iron at one point. This isn't a bad option if you are looking for a multipurpose tool because not only will this device iron out those kinks from your strands, but you can also wrap a section of your mane around it to create loose beach waves. The double ceramic coated plates ensure that your strands will be evenly heated to prevent frizz from forming. And speaking of plates, they are longer compared to your ordinary flat iron, but unlike the Remington S5500 digital, this only has 5 control settings for heating up the floating plates.
Aside from that, the design and build of this ceramic straightener speak volumes of how professional looking it is. On top of that, the handle is comfortable to hold on to and has a 5 feet long swivel cord as well. It does make ironing your mane more convenient given that the long design allows you to style quickly and evenly.
Pros:
Double ceramic coating ensures that the plates heat up your strands evenly.
5 control settings make this unit work on various types of hair.
LED display makes it easier to determine how hot the plates are.
Cons:
The plates do not really touch one another when in use.
The handle heats up as well.
It may not work well on those who have curly strands.
KIPOZI 1 Inch Hair Straightener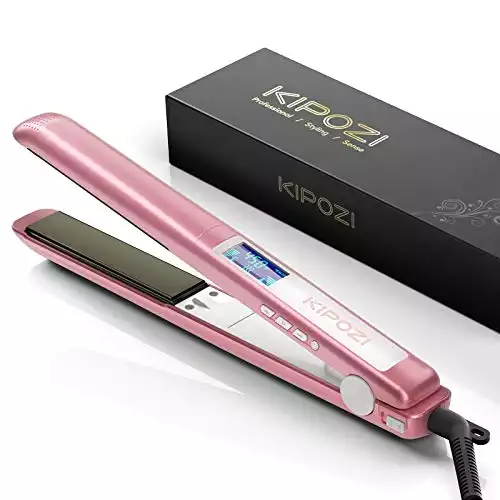 The first thing that you will appreciate about the KIPOZI brand is that this 1 inch straightener can help you achieve that sleek and smooth strands in just a few minutes. You don't even require multiple passes with this product which is definitely a time saver not to mention that it also saves your strands from being exposed to too much hot air. The temp can be reduced or raised depending on your preferences which is a plus since you will have more control. If you are looking for a flat and curling iron in one, this is a good choice already since with this device, you will also be able to create those soft waves. This is thanks to the rounded body that it has that lets you wrap your mane around it while heating up.
What else is there to like about the KIPOZI? Well, it has a lightweight body making it easier to wield. It also comes with a dual voltage which does come in handy since you don't want to buy another styling tool for that. Let us not forget that it has an auto shut off feature as well where it will turn itself off after an hour of not being used. This added safety precaution is certainly welcome especially when you have the tendency of forgetting to style your mane.
Pros:
You only need a single pass to start straightening your mane.
It can pass off as a straightening tool and a curling iron at the same time.
Auto shut off adds another layer of protection
Cons:
It has a tendency to pull at your mane.
It may not work well on those who have thick, coarse hair.
it tends to leave that burnt plastic scent in the air after a while.
HSI Professional Glider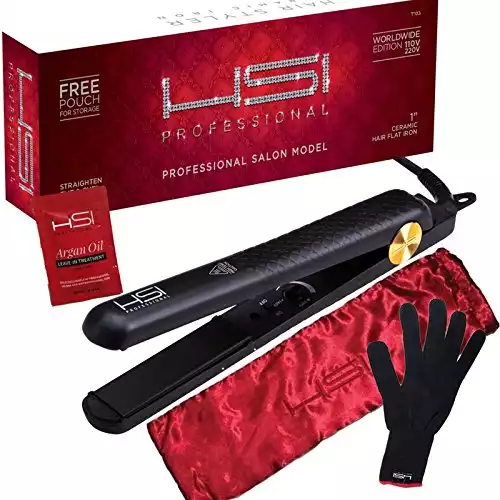 The HSI Professional Glider is designed to help you create multiple looks with just a single tool. You can straighten, curl, or even flip your mane, whichever you prefer. It works on all kinds of mane from thin to thick, wavy to curly to kinky. What you got in your hands is indeed a professional styling tool that generates extreme temps on fragile strands. Another reason why this is also a popular choice is because of the micro sensors that have been integrated into the body to ensure that the heat is directed into the plates is at the right temp only.
The combination of tourmaline and ceramic creates a powerful straightener and curling product in just a single body. If you will be checking its temp, you will find that the lowest is at 140 degrees Fahrenheit while the highest is at 450 degrees Fahrenheit. Its dual voltage is a treat too since you can simply plug it and you are good to go. And, if you are sporting bangs, you'll be pleased to know that you can now style it too.
Pros:
You can do different styles here from straight to curls to waves.
The micro sensors determine if the plates are still hot while in use.
The ceramic and tourmaline materials create a tool that can handle high heat without damaging the strands on your mane.
Cons:
You will have to squeeze the handles so that the plates will touch each other.
It doesn't last that long.
It doesn't get hot which makes it difficult to style long thick hair.
Things to Consider Before Buying a Flat Iron
A flat iron is the best tool to use if you want to iron out the kinks on your mane for a more uniform look. Depending on the size and features, this hot tool can be used on all kinds of hair as well as length. But what should you look for when you want to buy a hair straightener for yourself?
Hair Type
The first thing that you need to consider when shopping for a flat iron is your hair type. Do you have thin, thick, coarse, curly, or wavy hair? Determining what kind of hair you have, will give you a better idea of the amount of heat that can be used safely on your strands. For example, if you have thick, coarse strands, you can use the highest setting which is up to 450 degrees Fahrenheit.
Heat Setting
Another factor that you should look into is whether the styling tool has a temperature control setting. There are two types of temperature control settings available in straighteners and these are fixed and adjustable. In fixed, you only have low and high heat while adjustable means that you will be able to choose what temperature to use on your mane.
Heating Technology
You should also consider heating technology or materials used. Normally, when you buy a styling tool like a hair straightener it will be made from ceramic, tourmaline, titanium, or a combination of two materials or all of them for that matter. Consider what it is that you are looking for in a straightening tool so that you will be able to choose the right material or heating technology.
Conclusion
Based on the reviews about the Remington S5500, this product is a must-have for anyone who wishes that they can style their mane like a pro. I love the idea that the rounded edges of the styling tool were designed as such just so you can create lovely waves with it. Simply wrap a section of your mane around it, then wait for a couple of seconds before releasing. It protects your strands and it also automatically shuts down when it has been idle for an hour. I think that this is the perfect choice for those who were like me and wants to finally create the best look with just one hot tool.
Leah Williams
Leah Williams is the founder of Lucky Curl and has been in the hair care and styling industry for the last 15 years. Since then, she has developed incredible expertise and a deep understanding of how to treat and style the most difficult hair types and is passionate about sharing her knowledge with the readers of Lucky Curl.