Thick hair is so nice to look at when it's luscious, glossy, and soft but I know from experience that it's a nightmare to style. Styling that takes most people 15 minutes take about 30 minutes or so! I generally opt soft waves and beachy curls, but do love a pin-straight style on occasion. To get the look, I always reach for my trusty flat iron.
I do have my favorites but finding a suitable flat iron my thick hair used to be a struggle. I've bought the wrong products then and wasted so much money. With that in mind, we've put together some of our favorite straighteners to find the best flat iron for thick hair.
Best Flat Iron for Thick Hair – 7 Top-Rated Straighteners
CHI Air Expert Classic Tourmaline Ceramic Flat Iron
KIPOZI Pro Nano-Titanium Flat Iron
Remington S8598S Flat Iron
BaBylissPRO Nano Titanium-Plated Ionic Straightening Iron
XTAVA Professional Infrared Hair Straightener
HSI Professional Glider
NITION Professional Hair Straightener
1. CHI Air Expert Classic Tourmaline Ceramic Flat Iron
I say why get a flat iron that could only straighten unmanageable tresses when you can get a hot tool that lets you create wavy, curly hairstyles too? That's exactly what the CHI Air Expert Classic Tourmaline Ceramic Flat Iron is all about! Don't let the compact size and simple design fool you, this flat iron is one of the highest rated on the market.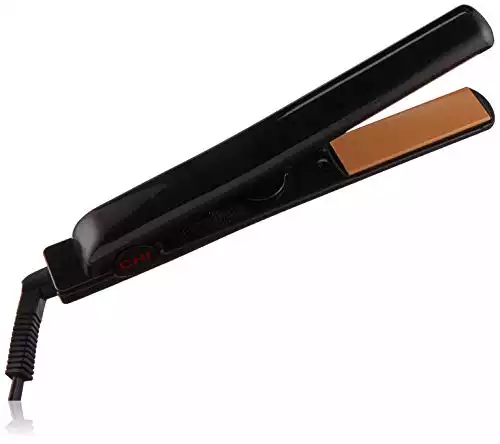 The Air Expert owes its popularity to its fantastic quality, the gentle heated plates as well as the versatile design. This hair straightener features a pair of tourmaline-ceramic plates, giving you the smoothest styling experience glide after glide.
Thicker hair types may need higher heat to tame but if the heat is too high, there's a good chance that you'll scorch the mane. The plate material produces double the negative ions to polish the hair cuticles, leaving the locks smooth, glossy, soft, and healthy. It comes with adjustable heat setting with a max temperature of 450 degrees. Ceramic and tourmaline are incredibly gentle on the hair so there is less chance of damaging your crowning glory with it. The heat distribution is also nice and even, giving you consistent, professional quality finish each and every time.
The only caveat is the price. The Air Expert is one of the priciest flat irons out there and it's certainly the most expensive on our list. But if you really need all the help you could get to tame your unyielding mane, you simply cannot go wrong with this one.
2. KIPOZI Pro Nano-Titanium Flat Iron
The KIPOZI brand may be one of the newer hot tool brands in the business but they delivered some consistently good-quality flat irons. The KIPOZI Pro Nano is a hair styling tool that boasts of titanium material. Titanium is one of the most expensive flat iron materials for good reason —  titanium plates heat up faster and maintain a higher temperature when styling. This makes them suited to thicker hair types, and hair protectant a must!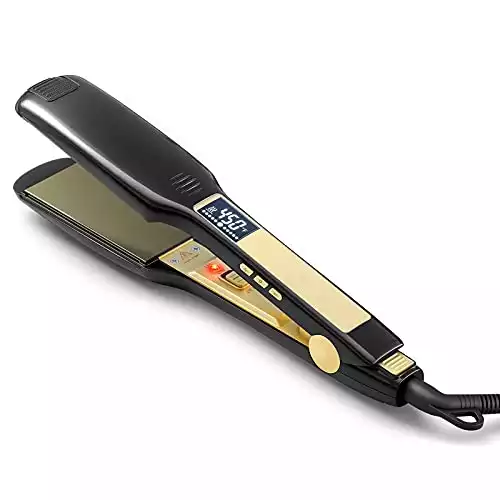 Featuring a sleek design and a shimmery champagne gold colorway, the KIPOZI PRO Nano eliminates frizz, flyaway, and dull-looking hair. The titanium material heats up quickly so there is no downtime in the mornings. It's not the best material to use if you have thin hair strands but the plates are coated with PTC ceramic. Both materials produce negative ions that boost hair shine and brilliance, leaving the mane strong, soft, silky and more importantly, healthy looking. That said, it's best to keep an eye on the temperature even if your hair is thick and coarse just to avoid scorching.
Keeping an eye on the temperature is easy because the Pro Nano has a sizable LCD. You can check the heat at a glance. The floating ceramic plates design ensures no hot spots for a consistent finish. When it comes to the temperature range, this flat iron has 3 different heat settings: 270℉, 350℉ and 410℉. This straightener is reasonably priced yet it comes with a host of useful features including auto-shut off, swivel cord, heat recovery, and quick heat up feature.
3. Remington S8598S Flat Iron
The Remington S8598S is designed for users with frizz and static prone hair. It promises to be gentle on the tresses but efficient in taming the most uncooperative mane. It boasts of the brand's proprietary SmartPRO sensor technology that automatically adjusts the temperature based on the hair's moisture level. Thanks to this hi-tech hot tool, you get uncompromising, customized experience each and every time.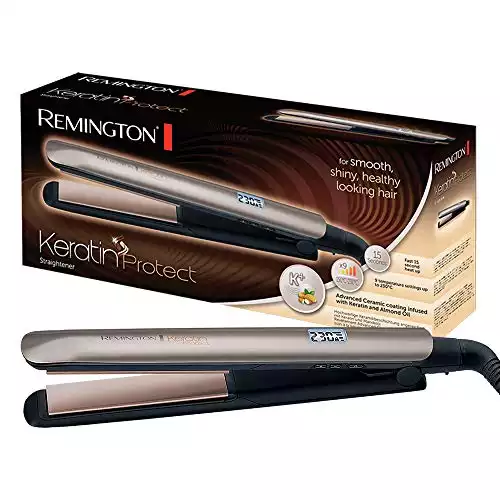 Because the heat is adjusted according to your needs, there's less damage to the locks. And if your hair is so dry it's dull and prone to breakage, don't fret. The S8598S' floating ceramic plates are infused with hydrating keratin and almond oil. These micro-conditioners boosts the brilliance of the hair without the oily, grimy residue! My hair always feels shiny and healthy whenever I use the S8598S despite the regular straightening. I daresay it's the best hair straightener for those with dry to extra dry hair.
The S8598S offers 5 heat settings and a quick heat-up feature. It reaches the ideal temperature in 15 seconds or less so you get to the styling as soon as your hair is nice and dry! The S8598S reaches a maximum temperature of 450 degrees, perfect for controlling unmanageable locks. Thanks to the high heat, the S8598S gives long-lasting results too.
I love the price point, for a smart hair styler, the S8598S is priced reasonably. One thing though, this straightening iron gets hot really quickly so use with care so you don't end up scorching your mane.
4. BaBylissPRO Nano Titanium-Plated Ionic Straightening Iron
The BaBylissPRO brand seems to specialize on hard to manage hair and this list isn't complete without giving props to the brand's Pro Nano titanium plated hair styler. This compact and efficient straightening tool comes with a pair of titanium plates that gets hot real fast, able to tame even the most rebellious hair.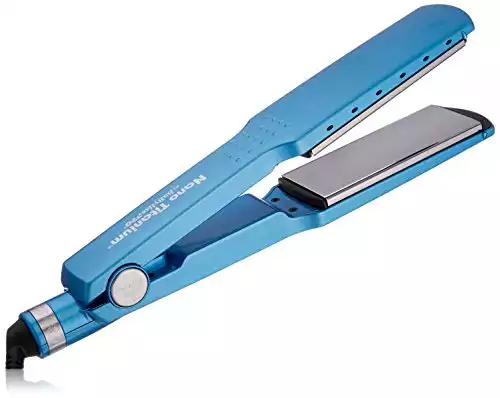 The design of the PRO Nano is pretty robust, it's the kind of hair tool that could survive heavy duty use splendidly. If you are clumsy or you are a professional hairstylist who needs a sturdy flat iron that could take a beating on a daily basis, this device is built like a tank.
Although the PRO Nano could work on all hair types, I think this will work better for those with unruly, wooly long hair. The coated titanium plates produce negative ions that add shine and brilliance to every hair strands while the ceramic technology minimizes the risk of scorching. You'd have to keep an eye on the temperature, however, if your hair is thin or medium in thickness.
If you love the look of sleek, pin-straight locks that lie very flat, you will love the PRO Nano. The size of the titanium plates are just right to get near the base of the hair strands, giving you the sleekest, smoothest finish that lasts. The stay-cool Ryton housing offers comfortable handling so you can control the hair styler precisely. It has dual voltage so it's perfectly travel-friendly.
The LED temperature settings reaches a maximum temperature of 450°F. The adjustable temperature settings makes the PRO Nano ideal for all hair types. But the heat and nano ionic technology works best on coarse locks that are a nightmare to style. This is not the best choice if your hair is prone to heat damage. You have to keep an eye on the temperature so you don't end up burning your mane.
5. XTAVA Professional Infrared Hair Straightener
Infrared heat penetrates more deeply so the hairstyle lasts longer. With the XTAVA Professional Infrared straightener, you'll never have to worry about your unruly, thick hair ever again. This hair styler will whip even the most stubborn mane into shape using infrared heat while leaving the hair unbelievably soft, smooth, and glossy!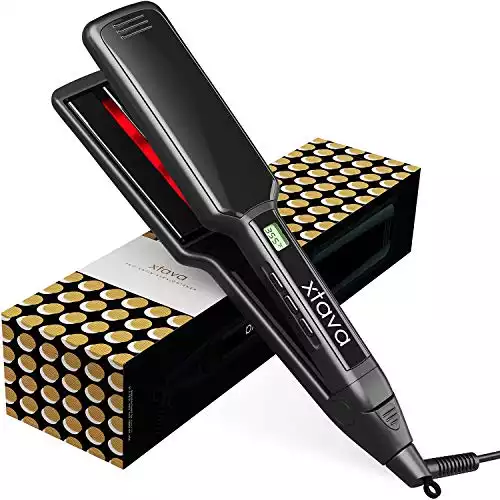 It features two extra wide ceramic-tourmaline plates that are set in a floating design. The floating design ensures optimal contact between the ceramic plates and the tresses. The plate materials are so smooth, there's no snagging or tangling at all. The hair just glides through.
The XTAVA Professional Infrared straightening iron comes with 10 heat settings. It is also fitted with a large LCD so you can keep an eye on the temperature, very useful if your hair is prone to heat damage. The adjustable temperature setting ranges between 265°F and 445°F so it is ideal for all hair types.
If you are always in a hurry, you will find the rapid heat up technology really useful! This tech allows the flat iron to reach the ideal temperature quickly. It also shuts off after an hour on idle. Despite the extra wide plates, the XTAVA Professional Infrared straightening iron is quite compact and travel-friendly. It also comes with dual voltage, swivel cord, and a lock-feature, which are all useful while traveling.
6. HSI Professional Glider
The HSI Professional Glider is one of the most feature-rich styling tools on the market. It's designed for people with thick hair that's prone to frizz and static. The plate materials are tourmaline-ceramic, which provide the smoothest glide every time! It's just a joy to use.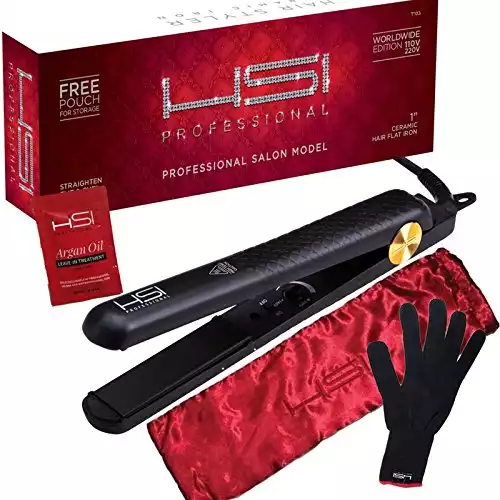 The design of the HSI Professional Glider is decidedly simple yet it packs quite a punch. For one thing, it's incredibly travel-friendly. If you are going somewhere and you need your hair to be in its best behavior, travel with this baby. Second, the slim and rounded plates let you create waves and curls. It's a hair straightener and a curler in one dinky device.
The quality is also impeccable, the Glider comes with a host of useful features that will make hairstyling a breeze. It comes with micro sensors that regulate the temperature, protecting the hair from damage. The ceramic and tourmaline crystals apply gentle, even heat to the tresses for a long-lasting, professional finish. The heat settings are adjustable so it's ideal for all hair types.
It's also reasonably priced and is perfect for newbies and professional hairstylists alike. The only thing I noticed is that the controls are situated inside the Glider's handle, which makes adjusting pretty cumbersome if you're using it for the first time. But once you get used to it, you can adjust the setting with one hand. 
7. NITION Professional Hair Straightener
We are rounding up our list of the best flat iron for thick hair with the NITION Professional Salon Hair Straightener. If you're crazy about straight hair, this is a fantastic hot tool to invest your coins in. Such a stunner with its gold color body with electric blue accent. This hot tool has a titanium ceramic-coated heating plate that's infused with nano silver, tourmaline, and argan oil. It gets hot really fast but it doesn't leave the hair parched and dull.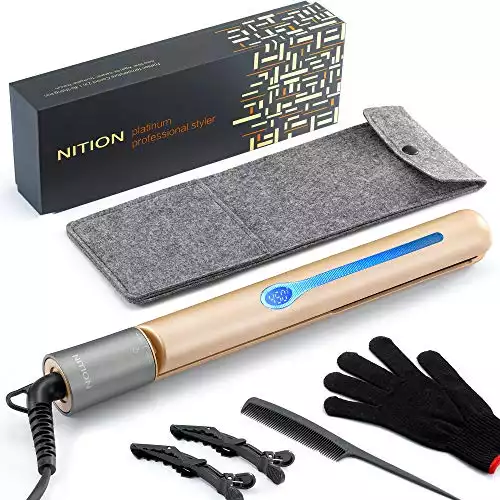 Because of the titanium plates, the hair is straightened quickly and efficiently with zero frizz and flyaways. The ceramic coating ensures a snag-free experience while the argan oil keeps the hair healthy and shiny despite the repeated styling. The electric blue accent isn't just there for aesthetic, it's actually the temperature display! The temperature display is quite sizable so you can really see how hot the NITION hair straightener is. Perfect when you need to control the heat of the flat iron and prevent heat damage.
One feature that sets the NITION hair straightener apart is the one step operation. This device does not come with physical buttons. To operate, you have to revolving the end of the straightener. Rotate the straightener clockwise to turn it on and then rotate counterclockwise to adjust the temperature and to shut it off. It will take a lot of practice to control this hot tool but once you get the hang of it, it will make hairstyling a breeze. And yes, it does an amazing job of leaving the hair straight as an arrow.
Overall, I love the sleek design, the dual voltage, the golden body, and of course, the fabulous finish. The only thing that I've noticed is that there is the risk of accidentally turning this device on because of the lack of an actual on/off button. You have to check and re-check if you've turned this off, which might be off-putting for some users. 
How to Choose the Best Flat Iron for Thick Hair
What is a Good Flat iron for Thick Hair?
The best flat iron for thick hair should reach at least 380 degrees F to relax the hydrogen bonds of the tresses. A hot tool that could not reach the ideal temperature isn't recommended for thicker hair types because it is simply not hot enough. You could end up gliding the straightener again and again, which increases the risk of heat damage.
I have thick tresses myself and in my experience, using a flat iron that's designed specifically for my hair type works the best for me. The flat iron could reach the ideal temperature so styling is easy and efficient. I don't have to worry too much about scorching my hair because it will only take a couple of passes to tame my mane. That being said, never skip the hair protective products even if your hair is wooly and thick!
Is Titanium or Ceramic Better for Thick Hair?
Contrary to popular belief, ceramic could reach the same temperature as titanium albeit slower. So technically, either of these flat iron materials will work for those with thick hair. As an added bonus, both of these materials could produce negative ions that polish the hair cuticles, giving you glossy, vibrant results. I suppose the choice between these plate materials will boil down to personal preference.
If say, you are always rushing in the morning, you'd get better results with a titanium flat iron because the material could reach the ideal temperature in a few seconds. But always keep tabs on the temperature because you might end up burning your tresses due to the high heat. That said, I don't recommend this flat iron material if you have fine hair!
Ceramic material can reach high temps but it will take a literal hot minute to do it so be patient! Ceramic plates do a great job of evenly distributing heat meaning you will make up for lost time while styling. As always, heat protective product should always be used when styling with flat irons with ceramic plates! This flat iron material is recommended for those with delicate or fine hair too.
Are Wide Plate Straighteners Better for Thick Hair?
Yes, flat irons with a wide plate are better for those with thick hair because these hot tools cover more ground, so to speak. Styling takes forever and a day if you have thick hair and flat irons with wide plates cut the styling time in half. I would recommend flat irons with wide plates for people with shoulder length to very long hair. If your hair is short, you'd get better results with skinnier flat irons because you can control these hot tools better.
Which CHI Straightener is the Best for Thick Hair?
The CHI brand is best known for its wide array of hair tools but the best one for thick hair is the CHI Air Expert Classic Tourmaline Ceramic hair straightener. It's the first one on our list for a reason! It's a great hot tool for heavy duty styling that's why it's one of the most preferred hot tools by professional hairstylists. Yet the ceramic plates can be so gentle, it could work even for those with a delicate mane.
This flat iron is also packed with groundbreaking technology that improves hair health. A bit expensive for what it is but if you need a high-performing flat iron that comes with bleeding technology and innovative features, it's money well spent.
Other flat irons from the Chi brand to consider include the G2, CHI Original Flat Iron, and the CHI Pro Gold Flat Iron.
Conclusion
Hopefully our reviews will help those with thicker hair types find the perfect flat iron. Any favorites from our list? If you are on the hunt for a flat iron, don't fall for the splashy advertising and check the features. You want to make sure that you are getting a product that will work for your specific hair type. There's so many people who falls for false advertising and ends up wasting their money on a hot tool that don't get hot enough to tame their coarse hair!
Leah Williams
Leah Williams is the founder of Lucky Curl and has been in the hair care and styling industry for the last 15 years. Since then, she has developed incredible expertise and a deep understanding of how to treat and style the most difficult hair types and is passionate about sharing her knowledge with the readers of Lucky Curl.