I've been burned by countless flat irons in the past—literally and figuratively. These straighteners promised me the world including but not limited to zero heat damage, glass-smooth straight hair, and several years of use. I learned it's best to go simple, even with flat irons, and that's exactly what the HerStyler promises to do. In this Herstyler Flat Iron review, we'll look at the pros and cons of the product and whether it's worth the buy.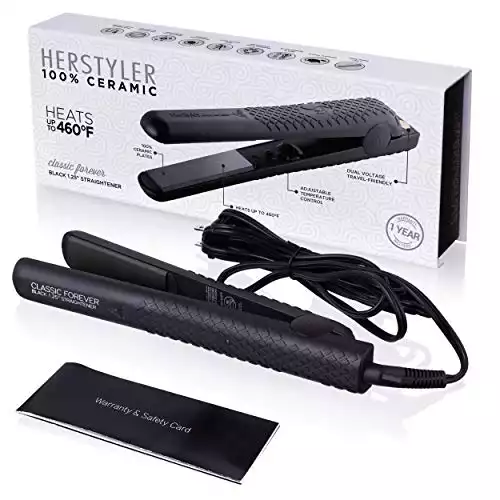 Presenting the Herstyler Flat Iron
The Herstyler Forever is a dual voltage hair straightener with 1.25 inch ceramic plates. It's available in only one color, the sleek Onyx Black. It features a negative ion technology that fights frizz and smooths down the hair. You'll get adjustable heat settings up to 460 degrees Fahrenheit.
This travel-friendly flat iron has a swivel cord and weighs just over a pound. It advertises an impressive 30-second heat up time. The temperature is controlled by a manual dial and there's a power switch next to it inside of the handle.
The Herstyler flat iron is best for people on a budget looking for an effective hair straightener. It's also a good travel flat for any hair type.
We'll go in-depth, feature by feature, in this review to see if the Herstyler flat iron holds its own against more expensive flat irons.
Pros
The Herstyler flat iron is budget-friendly hair straightener that has custom heat settings up to a toasty 460 degrees Fahrenheit
The ergonomic handle design makes it easy to use
Very lightweight and travel-friendly
The ceramic plates emits negative ions and far infrared energy to prevent heat damage
The plate width is 1.25 inches, which makes this a good curling flat iron
Cons
Hair can snag on the edges of the hair straightener
Build quality cannot compare to more expensive flat irons
Does not have an automatic shutdown feature
Features & Benefits
Plates
The Herstyler flat iron is fitted with ceramic plates that heat hair gently yet effectively. Ceramic is known for even heat distribution. Ample heat distribution prevents moisture loss which leads to more frizz and damage in the long run.
However, the plates in the Herstyler flat iron have a ceramic coating and aren't pure ceramic. It won't distribute heat as evenly as ceramic plates but the ceramic-coated metal will heat up fast.
The 1.25-plates make straightening and curling a breeze. I think the width is ideal so you cover more sections and create better curls. However, thick hair will take longer to style so if you want quick styling, there are better options.
Heat Settings
The HerStyler flat iron has a quick heat up time of 30 seconds, give or take, and you can adjust the temperature with a dial. It heats up to 460 degrees Fahrenheit which is more than enough for most people, even those with coarse hair.
Unfortunately, the hair straightener doesn't have an auto-shutoff but for the price, it isn't a dealbreaker.
Negative Ion and Infrared Technology
The hair straightener emits negative ions which cancel out the positive ions found in water. By neutralizing this, the negative ions dry the hair faster and polishes the hair cuticle. This process banishes frizz and static so your hair has a pin-straight finish.
The HerStyler Forever also uses infrared technology which is simpler than it sounds. Infrared rays penetrate the hair and can heat strands from the inside, further cutting down on hair styling time.
Design and Build Quality
The Herstyler has an all-black body with a swivel cord. It feels good to hold and grippy, thanks to the ridged pattern on the handle. The base of the styler prevents your hands from slipping.
Maybe due to its affordability, compromises were made in the build quality. It doesn't have the weight and premium feel of more expensive hair straighteners. The Herstyler flat iron feels a bit plasticky and fragile. If you take care not to drop it, which won't be an issue with its anti-slip handle, it should last you a long time.
Performance and Ease of Use
The power switch and temperature knob can be found inside the handle. The knob has a label of 180 degrees Fahrenheit on one end and 460 degrees Fahrenheit on the other. Unfortunately, you won't know the precise temperature in between those two settings. Just roll the dial and adjust accordingly.
A small complaint with the Herstyler flat iron is the awkward position of the temperature controls. Since it's inside the handle, it sits right next to the plates. If you're not careful, you can burn your fingers.
I loved the quick heat up time and the flat iron definitely straightens hair easily. You'll end up with smooth, frizz-free hair that will give a touch of finesse to your appearance whether you're going for a casual night out or a formal business event.
Though the Herstyler flat iron has a swivel cord that makes twisting and turning the barrel at odd angles possible, the plates do not glide as smoothly as I hoped. Some hair strands can snag between the plates.
Compactness
The Herstyler flat iron can slip easily into a bag or luggage since it's lightweight and compact. It even has dual voltage, good for European vacations and trips to America, or any other timezone for that matter.
Best for
People who want a lightweight dual voltage flat iron to take on trips
All hair types from fine to coarse but people with thick hair may find it less effective
Women looking for a budget hair straightener that nails down the basics and does the job quickly
Heat damaged or frizzy hair, which can benefit the most from the negative ion technology
Social Proof
Even with its flaws, the Herstyler Forever has garnered rave reviews because of its reliability and economical price. I think it's one of the best flat irons you can buy in its category. But don't take my word for it! Take it from the satisfied users of the Herstyler flat iron.

Alternatives
HSI Professional Glider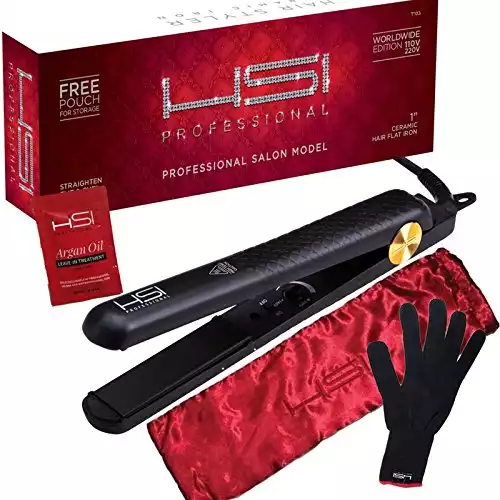 This ceramic hair straightener from HSI is a bit of a step up in price from the Herstyler hair straightener but with the hike in cost comes more features. There are microsensors in the ceramic plates for temperature regulation. You can adjust the heat settings from 140 degrees to 450 degrees Fahrenheit. The curved edges and 1-inch plate width means this can double as a curling iron. This is also dual voltage like the Herstyler but it tacks on a 1-year warranty and an argan oil along with the hair straightener.
A ceramic dual voltage hair straightener
Has microsensors that distribute heat evenly
Heat settings from 140 to 450F
Good for curling hair
Comes with a 1-year warranty and argan oil
KIPOZI Pro Flat Iron Hair Straightener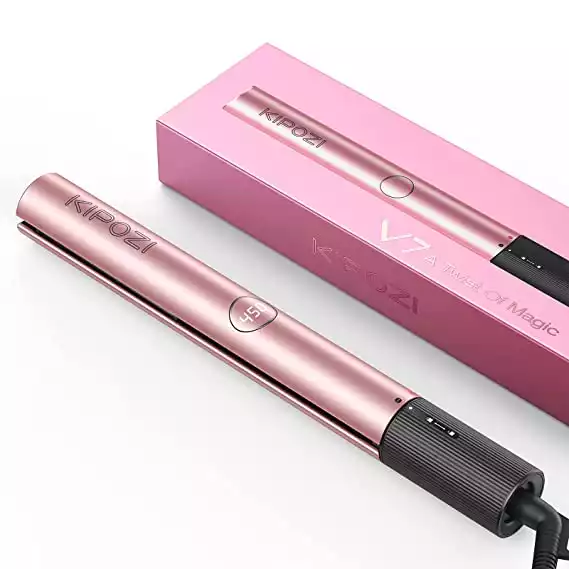 This 2-in-1 curling hair straightener and curler has 1-inch 3D floating ceramic plates, resulting in fewer snags. At a similar price point to the Herstyler, you get temperature controls between 180 to 450F, good for all hair types. Unike the Herstyler, this hair straightener has an automatic shutoff after 60 minutes. The dual voltage flat iron has an ergonomic grip and negative ion technology, as well as quick 15-second heat up time.
An affordable curling and straightening iron
Has floating ceramic plates for fewer snags
Heat settings from 180F to 450F
Comes with an auto shutoff
Dual voltage
Emits negative ions and is easy to hold
15-second heat up
HAI GOLD CONVERTABLE Professional Flat Iron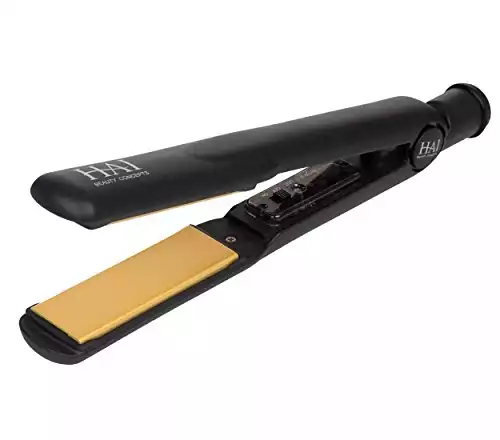 This ceramic tourmaline hair straightener from Hai is the one to get if you have a higher budget and your main concern is heat damage. Like the Herstyler, this has 1.25-inch plates and negative ion technology that conditions hair. The non-stick gold precision plates heat up quickly and use far infrared energy for faster styling. Unlike the Herstyler, you get an automatic shutoff. The heat settings go up to 450F but it doesn't go to a very low temperature, with a base setting of 250F. It's also not dual voltage.
A ceramic tourmaline hair straightener with 1.25 inch plates
Emits negative ions for moisturized hair
Has non-stick plates that use far infrared energy
Has an auto shutoff after 60 minutes
Temperature range of 250F to 450F
Not dual voltage
A more expensive hair straightener
Things to Consider Before Buying a Flat Iron
A flat iron adds polish to an ordinary look whatever your hair type is. With the right hair straightener, you can achieve a smooth, satiny finish effortlessly. A good straightener will heat up quickly and last years.
It's also a versatile tool that can be used as a curling iron and to refine blowouts.
Hair straightening isn't just for women with a lot of time in their hands. The best hair straightener will do the work for you, leaving you with salon-worthy looks in minutes.
I firmly believe a flat iron is a must-have tool in your hair styling arsenal. People who mainly want to volumize their hair or get beach waves may be better off with a dedicated curling iron or hot airbrush to save time.
Here are some tips when shopping for flat irons.
The flat iron material makes a difference.
Ceramic flat irons are less prone to hot spots. They're also gentler on damaged hair, especially those with tourmaline infusions. For women with more resilient or coarse hair, titanium flat irons are excellent options. They have a quick heat up time and good heat distribution.
Multiple heat settings prevent fried hair.
Adjustable temperature allows you to start at the lowest effective setting so you don't get heat damage. Don't crank it up to the hottest setting right away to prevent overdrying your hair.
The flat iron must be easy to use.
Pay attention to the design, especially the handle and the controls of the straightener. An intuitive interface and a swivel cord make a huge difference in ease of use.
A globe trotter needs a dual voltage flat iron.
If you plan to take your hair straightener with you on your travels, a dual voltage flat iron will give you the most bang for your buck. It won't blow up and catch fire when plugged into foreign electric systems.
Final Thoughts
The Herstyler has all the basics you need in a hair straightener which makes it one of the best options for a budget flat iron. The ceramic plates straighten hair efficiently without overdrying it. The Herstyler hair straightener is easy to use thanks to a patterned base design.
For an affordable price, you'll get infrared heat technology and ionic functions. There's also a good range of heat settings and a fast heat up period. As a bonus, the Herstyler flat iron is incredibly lightweight and has dual voltage, the perfect combo for a travel flat iron.
If this is exactly what you're looking for in a hair straightener, make sure to check out the Herstyler Flat Iron.
Leah Williams
Leah Williams is the founder of Lucky Curl and has been in the hair care and styling industry for the last 15 years. Since then, she has developed incredible expertise and a deep understanding of how to treat and style the most difficult hair types and is passionate about sharing her knowledge with the readers of Lucky Curl.