Flat iron vs hot comb, which works better for your hair type? If you are like most people, you probably style your hair on a fairly regular basis. And if you love options, you're probably on the hunt for different straightening products to complete your kit! Two of the most popular hair straighteners are flat irons and hot combs.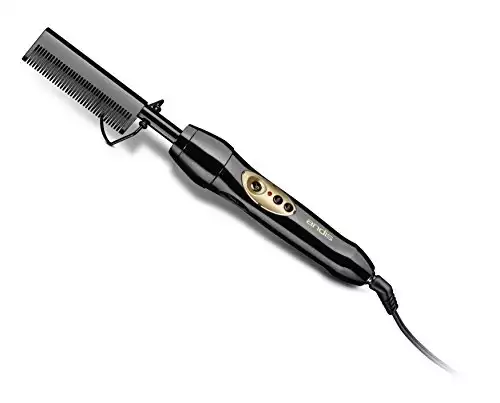 Andis 38330 Professional High Heat Ceramic Press Comb
CERAMIC HEAT COMB: A heated hair comb and Ceramic-coated combs uniformly conduct heat, lowering the danger of thermal damage and making hair smoother and healthier.
FAST- HEATING: The comb is made of ceramic metal, which transfers heat very quickly in 30 seconds. The comb handle is made of plastic to prevent burns, it has a 1.5-meter power cord, and it is simple...
AUTO SHUT FEATURE: The comb will automatically shut after 30 minutes of inactivity, ensuring your and your home's safety. Working on the dual voltage of 120/240 volts and 50/60 hertz.
SALON & HOME USE: The 360°swivel cord provides for a tangle-free style, and the sturdy grip handle and lightweight won't fatigue your wrists when used for extended periods. Gently press the hair,...
PRODUCT DETAILS This Andis Professional Heat Ceramic Press Comb is 10.5 x 1 x 1.5 inches, weighs 0.9 pounds, has a gloss black finish, a heat-up time of 30 seconds, and a 30-minute auto-off safety...
Buy from Amazon
We earn a commission if you click this link and make a purchase at no additional cost to you.
11/11/2023 01:30 am GMT
Although these devices work similarly, they look nothing alike. So how are these tools different and what are their pros and cons? More importantly, which straightening product is better for your hair? In this guide, we are pitting flat iron against hot comb to help you make the best decision.
What is the Best Hot Comb for Black Hair?
1. Andis High Heat Ceramic Press Comb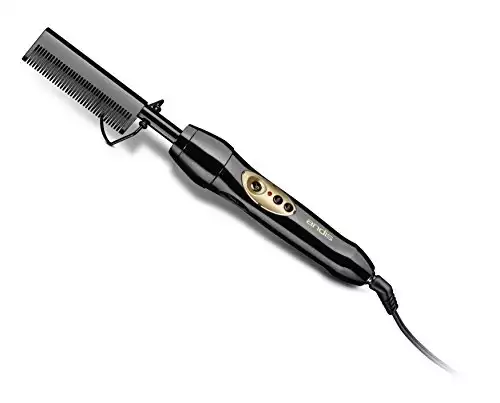 Product Review
If your hair is coarse, hard to manage, or if it's tightly curled, this is the best straightening comb for you. This device heats up to 450°F, able to tame even the most stubborn tresses. It comes with 20 variable heat settings and heats up in 30 seconds so there's no waiting around to get gorgeous straight hair! The Andis High Heat press comb is also made from plated ceramic material that produces negative ions to add brilliance and shine to every hair strand. I would recommend this to anyone with thick, long hair that won't stay put.
We Liked
Ergonomic design
Auto shutoff feature
Swivel cord
Lightweight and compact
Ideal for all hair types
30-second heat up
We Didn't Like
Expensive
Awkward controls placement
2. Gold N Hot Professional Pressing Comb

Product Review
This golden straightening tool features a unique wedge-shaped steel comb teeth for utmost control. The Gold n' Hot Professional pressing comb is a great hot comb for afro hair because it boasts a groundbreaking high heat retention technology for a long-lasting finish that shines with life! It also comes with a heat-resistant handle so you can tame and straighten your tresses with ease. The MTR Multi-Temp Regulator lets you adjust to the ideal temperature for customized results. Although this straightening tool is best for all types of hair, I'd recommend this for those with wavy, kinky, and thick hair that's resistant to styling. The material and the high heat could prove too harsh for those with thin, damaged, or damage-prone tresses.
We Liked
Built-in Safety Stand
Protective Sleeve
Swivel Cord
Light alerts
Ergonomic design
Compact and travel friendly
We Didn't Like
Not beginner-friendly
Temperature does not reach 500 degrees as advertised
3. DAN Technology Ceramic Hot Comb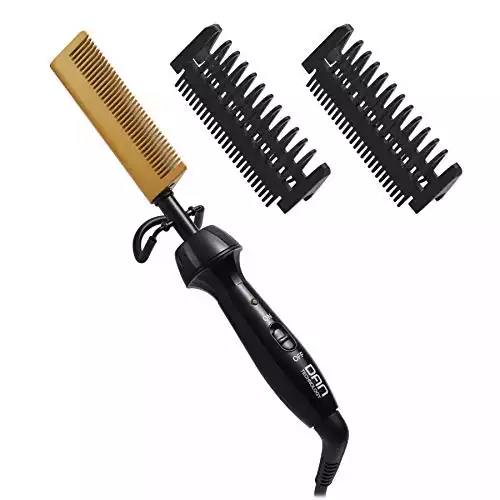 Product Review
A compact straightening comb with a classic design to style long hair or short hair! This straightening tool comes with a 30-second instant heat-up feature and ultra-hot technology to leave hair straightened and silky smooth! The temperature is fixed at 450°C and can not be changed. Great for international travelers though is that it adjusts automatically to local voltage.
We Liked
Stylish design, with ceramic coating
30 heat settings for all types of hair types incl. very thick hair
Auto adjustment to local voltage (100V – 240V)
Lightweight and compact
30-second heat up to 450°F
4. Homfu Electric Hot Comb for Hair Straightening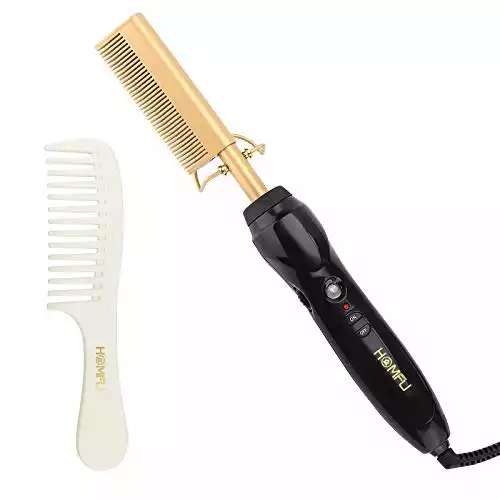 Product Review
This hot comb delivers even heat, leaves your hair/beard shiny, soft, and straight after a few combs. With 450 ℉ maximum heat, it enables you to straighten your hair/beard in a few minutes. Great for travelers is the 100V-240V dual voltage and its lightweight. The 4.9 ft swivel cord allows 360 degrees styling action. The heated comb transmits uniform ceramic heat without any damage to the hair.
We Liked
Stylish design with ceramic coating
20 heat settings for all types of hair types incl. very thick hair
Auto adjustment to local voltage (100V – 240V)
Lightweight
We Didn't Like
Pre-heat takes about 60 seconds which is slowest compared to the other models
5. Kentucky Maid Double Press Comb

Product Review
This non-electric product is a double press comb that's designed for heavy-duty, professional use. The comb is made from fine brass material with copper spacers. The brass and copper heating materials apply even, consistent heat to every hair strand, giving you lasting, shiny results. It's a great tool for afro hair because it will straighten the most stubborn tresses. Copper and brass happen to be excellent heat conductors and these materials prevent overheating and heat damage!
We Liked
Can be heated over stove
Compact and lightweight
Practical to use
Does not require electricity to use
Ideal for all hair types
Excellent material quality
We Didn't Like
Works slower than electric hot combs
Does not cool down immediately
What are the key differences between a flat Iron vs hot comb?
While I favor a flat iron just because I'm used to straightening my hair with it, I do switch to heated combs from time to time. In my experience, these tools have their similarities, differences, and of course, advantages and disadvantages. But before we get to that, let's talk about each of these devices and what they do.
A flat iron features a pair of heated plates that when pressed together, straighten the tresses. The device works by relaxing the hydrogen bonds of the hair strands. The material of the plates could be ceramic, ceramic-tourmaline, titanium, or Teflon coated. Flat irons are popular because these devices are easy to use. The process is shorter because hair straighteners work within seconds.
What are hot combs used for?
A heated comb works the same way as a flat iron, it straightens the tresses but instead of a clamp, it has a tooth comb that heats up. As the comb heats up, it relaxes the hydrogen bonds of the hair strands. To straighten the tresses, let the comb glide through the dry hair strands. Since the comb could get nearer to the hair roots compared to a regular flat iron, the straightened hair is flatter, sleeker.
Hot combs are often used for unruly tresses, kinky or curly hair as well as African American hair. Because the hair lies flat when straightened with a heated comb, this device is quite popular among black users. There are two types of hot combs, electric straightening comb and stove hot comb. The latter is heated up on the stove before combing through the tresses. Electric hot combs tend to be more efficient option as you can essentially plug in and go.
Flat Iron and Hot Comb Comparison
Now that you know the key differences between a flat iron and hot combs, let's go over to the comparison between these straightening tools.
Styling Time
Both devices heat up in seconds but electric hot combs will heat up much faster than a flat iron. However, you have to prep your hair for straightening with a heated comb and this will add up to the styling time. Also, while the tool works faster than a hair straightener, it will take several passes to get pin-straight results. Granted, there is no need to divide your hair into sections when using a hot comb so the entire process won't take you 20 minutes to complete.
A flat iron does not require much as far as hair prepping goes as long as you are starting with dry hair. You'll have to divide your hair into sections, however, to achieve even results.
User Experience
A hot comb is popular among users with thick hair because of the pin-straight, consistent results. Since the hot comb could get near the base of the hair strands, the hairstyle lies flatter, giving the hair a sleeker appearance.
However, it's hard to use this device on curly and/or kinky hair. The tooth comb could snag into the hair strands, which increases the risk of hair breakage and damage (not great hair care!). In my experience, a hot comb works great for those with wavy natural hair.
A flat iron works on most hair types but it's especially useful if you have coarse, thick, and unruly hair. It will also work splendidly for African-American hair. Since you are just pressing and gliding the flat iron, you are not pulling your hair so it's less damaging to the tresses. What you should be careful about is the temperature.
Flat irons tend to heat up quickly especially if the plates are made from titanium. In my experience, my hair doesn't feel brittle and rough nor does it look dull because I pile on the hair protective products prior to styling. As long as you've prepped your hair beforehand and don't use on wet hair, you will get great results with a flat iron.
Styling Tool Features
Features will vary depending on the brand and price point of the electric hot combs and the hair straightener. I do find that flat irons come with more features than a hot comb but the latter comes with more accessories or attachments. Both devices come with adjustable heat settings, swivel cord, universal voltage, and safety features. However, the features of the flat irons are more extensive.
Some hot combs come with multiple attachments that you could swap depending on the hairstyle that you are going for. These attachments add a layer of flexibility to the device.
Also, consistent temperature control is a very important feature for hair products to many of us. Some hair styling tools with underdeveloped heat technology struggle to keep or even reach a specific temperature level. Ultimately, this is an important safety feature for your hair during the styling process.
Some flat irons have skinnier, rounder clamp so you could create curls and waves with it. This is an awesome feature because it's like getting two products for the price of one. We all love a good bargain! The materials also vary, some are made with titanium, ceramic-coated titanium, ceramic, and ceramic tourmaline plates so you have more choices.
Skills
I find that both hot tools are easy to use and this pretty much boils down to personal preference. A straightening comb allows for quick use and doesn't require much prep unless your hair is extra wooly, straightening your hair is much like combing your tresses repeatedly until you get the results you want. You don't have to be a professional hairstylist to use it – you can get salon quality results at home. That said, don't use pressing combs if you are wearing a weave.
A flat iron is just as easy to use, just press and glide until your hair is nice and straight. It will take more time to prep your hair (dry the hair completely, add your favorite styling products, and divide the hair into sections) but again, it doesn't take a lot to get great results with flat irons. Flat irons could be used if you are wearing a weave so it's a convenient choice if you love experimenting with different hairstyles.
Daily Usage
Are hot combs good for your hair?
While it is not advisable to use either of these hot tools on the daily but if you style your hair fairly regularly, opt for the straightening comb. Pressing combs are gentler on the tresses compared to a regular flat iron. But you have to avoid tangles so the hot comb won't cause the tresses to break! It is always advised to start by using a brush before any hair care product.
Flat irons can be gentle too as long as the plate material is ceramic or tourmaline-ceramic. Titanium flat irons might prove too harsh for those with thin or damaged hair. I love ceramic tourmaline flat irons because the materials produce negative ions that leave the hair silky soft and smooth.
Quality and hair care should always be a consideration when choosing any hair straightening product.
Your Hair Type
A hot comb is best used for thin to medium density hair. It's a great hair straightener if you have short to medium length hair, wavy hair or naturally straight tresses. A hot comb is also recommended if your hair is prone to damage, if it's color-treated or if it's delicate. Just be sure to let the hot comb do the work and never yank it to avoid breakage.
A flat iron is best if you have medium to thick density hair. It will work on most hair types and depending on the width of the plates, they could work on short to very short hair too. If your natural hair is coarse, unruly, wooly, or it could not hold a hairstyle for too long, a flat iron is the better choice. It will work on the most rebellious mane, even kinky and curly thick hair tresses.
Conclusion​
Which is tool is better for your hair? They make look different but hot combs and flat irons work similarly! If your natural hair is hard to manage, if it's thick and unruly, you'd get better results from a flat iron. But if your natural hair is sensitive to heat damage, if it's naturally straight and doesn't need much to stay pin-straight, you cannot go wrong with a hot comb.
Apart from your hair type, choose the hot tool that you are most comfortable using. If it makes styling quicker, choose the hair straightener that's easiest to work with.
Leah Williams
Leah Williams is the founder of Lucky Curl and has been in the hair care and styling industry for the last 15 years. Since then, she has developed incredible expertise and a deep understanding of how to treat and style the most difficult hair types and is passionate about sharing her knowledge with the readers of Lucky Curl.