If you're someone who loves a multi-purpose hair tool, you will be delighted to discover the Remington Wet 2 Straight Flat Iron.
As the name suggests, this flat iron can be used to straighten damp hair, unlike most traditional hair straightener models which can often damage wet or damp hair.
Below, we have provided an in-depth review on the best features and benefits of this popular straightener and whether we think its worth getting. Read on to see the full review.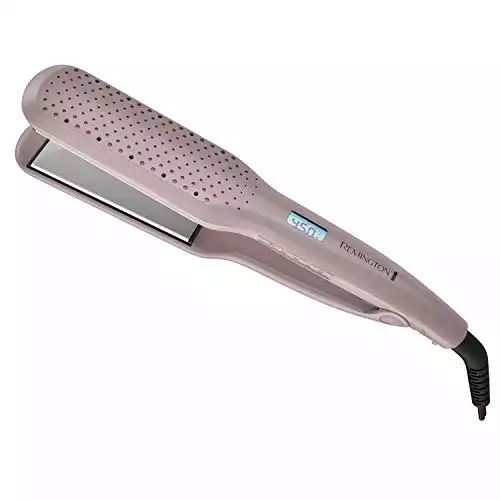 Remington Wet 2 Straight Flat Iron
Ceramic plates
Heats up in just 30 seconds
Steam Vents - distinctive steam vents allow you to start styling right out of the shower
Salon-Quality heat - provides up to 420 degrees of professional-grade heat
Buy Now
We earn a commission if you click this link and make a purchase at no additional cost to you.
12/01/2023 06:30 pm GMT
Remington Wet 2 Straight Flat Iron – Expert Review
Exposing wet hair on high heat from a flat iron may cause heat damage unless the tool that you are using is specifically designed for wet and damp hair like Remington's Wet 2 Straight styling product. The first thing that I liked about Remington's straightening tool is that it comes with air vents on the panel which removes excess water on damp hair to minimize damage. Think of this tool as a blow dryer and flat iron in one.
It has different heat settings to test out with the highest setting reaching up to 420 degrees Fahrenheit which is useful if you have thick, dry hair that you want to style. It ha a combination of ceramic titanium plates that deliver even heating on the strands to give the best results. What's more, it has a wet-dry indicator which can tell you whether the temperature is suitable for dry or wet hair.
Features and Benefits To Consider
Remington flat iron for wet dry hair comes with several features that do come with benefits on our hair. Here are a few features that I think are worth focusing on.
Unique Steam Vents


This straightening tool from Remington comes with unique steam vents along the plates to help let excess water from the hair to escape. I like this design because it assures us that the plates will not fry our wet hair when styling it. Another reason why these vents are put in place is that they speed up the drying and even styling process.

Ceramic Titanium Iron


Its ceramic titanium plates are the perfect combination for heating up hair strands with ease. Ceramic is known to produce even temperatures while titanium can withstand high heat. This is why this straightening tool can straighten out fine to thick, coarse hair without any trouble. And because of the smooth surface of the titanium coating, there won't be any tugging or pulling of the hair when gliding the plates on each section of your hair.

Comes with High Heat


Another feature worth noting here is that the highest temperature that these plates can go to is up to 420 degrees Fahrenheit. If you need extra help with taming your wild, frizzy hair, this is it.

Wet Dry Styling Indicator


I like that this hair straightening tool comes with a wet and dry styling indicator that lights up based on the current temperature. If the light turns green it means that the temperature is set for wet hair while the amber light indicates that the setting is ideal for dry hair. No need to guess whether the temperature for your hair is suitable for dry or wet anymore which helps with minimizing heat damage.

30 Heat Settings


One feature that really caught my eye here is the fact that this tool to straighten hair comes with 30 temperature settings! I think that this is the first time I encountered a flat iron that has this range of heat settings on it. Since this tool is designed to be used on both dry to wet strands, I think it is only right that the company gave us the ability to configure the heat setting feature based on the current condition of our strands.

Auto Shut-off


This flat iron also has an auto shut-off feature which is an added safety feature to it. Basically, this tool, when left unattended, turns off after a certain time. I think this is handy because it prevents accidental fires. I can't imagine what would happen if I forget my iron still running especially when I am rushing to work.

2 Year Warranty


Remington offers a warranty for their flat iron which is important in case the unit got broken. I have 2 full years then to test this product out which I am grateful for. I think every straightening iron should have a good warranty in place. I feel relief that I have an option to send it back in case this didn't work.
 I like the fact that this styling tool works like a blow dryer and straightener in one. This saves me time and money because now I can do away with my blow dryer. Also, since regular use of blow dryer can damage my hair, I think this is a great replacement because it comes with temperature setting and ceramic titanium plates too which lessen hair damage too.
I think that the company made a useful product for those who need a straightening tool that can work on dry, damp, or wet strands.
Customer Feedback
I made it a point to search for what others had to say about this tool and here's what I came across:
One customer was surprised that she was able to style her hair even when it was damp.

Another liked that her damp hair dried up quickly with the combination of ceramic titanium plates and vents on the tool.
Alternatives to Consider
Aside from this wet 2 straight iron, I have also come across three options that you can consider too.
Remington S9520 Pro 2″ Pearl Ceramic Flat Iron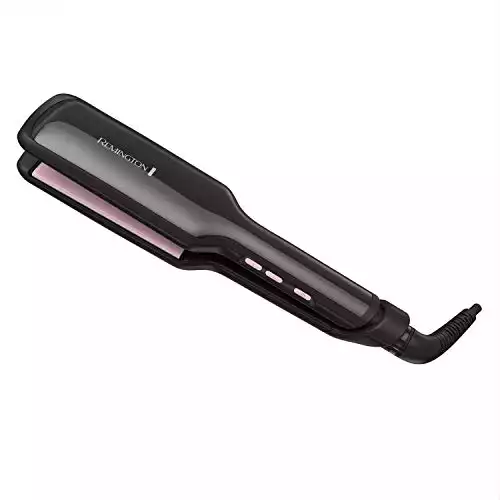 Remington Pearl Ceramic Flat Iron
450°F Salon High Heat - Achieve professional results with the Remington flat iron at home with the 450°F salon high heat.
30 Second Heat Up - Style almost instantly with the rapid 30 second heat up feature.
1" Floating Plates - The 1" ceramic floating plates give you full styling control while staying in constant contact with your hair for a smooth, effortless glide.
Pearl Pro Ceramic Technology - Ceramic with real crushed pearls for a smooth, easy glide.
Auto Shut Off - The 60 minute auto shut off gives you added peace of mind with every use.
Buy Now
We earn a commission if you click this link and make a purchase at no additional cost to you.
12/02/2023 05:30 pm GMT
This styling tool has more ceramic content to its 2-inch plates which minimizes frizz when used. The plates are infused with pearl ceramic which can sustain high temperatures. Compared to the previous model, this tool can reach up to 450 degrees Fahrenheit which reaches in just 15 seconds. It has a temperature lock so the unit won't go into a low setting or vice versa.
Another difference is that this product comes with an LCD display where the temperature is indicated. I think that this is a handy feature because it removes the guessing game on your part. It does have an auto shut-off which is a great safety measure for those who may have forgotten to turn the device off. You can get this for $27.92 in the market.
KIPOZI Professional Titanium Straightener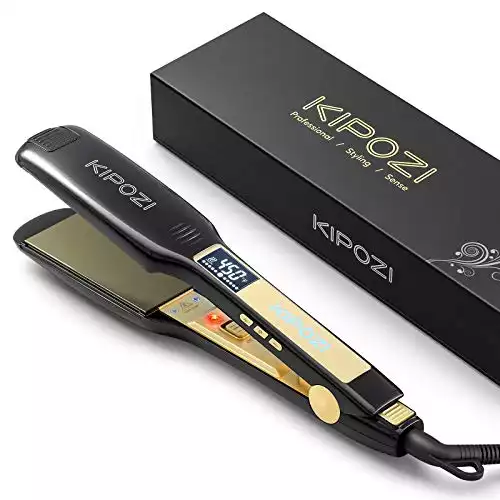 KIPOZI has this gorgeous feel to it because of its design. It is equipped with titanium plating that delivers higher heat and I did not have any difficulties pressing them down on my hair. Again, this is not ideal for styling damp or wet strands. However, I recommend this for those with thick, curly, or wavy hair because its high heat can tame your hair without any hitch. There won't be any frizz or damage to your strands to worry about.
It also has an LCD display where you can check the current temperature of the tool, plus three buttons for adjusting the temperature. What's more, I like that the cord is long and that it has an auto world voltage too. It is currently priced at $37.06.
HSI Professional Glider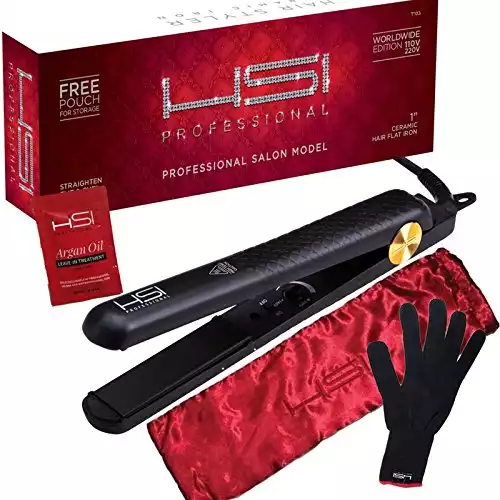 Among the styles that you can do with this glider from HSI are straight, curly, and wavy. The plates are made from ceramic and tourmaline which delivers shiny, and frizz-free strands. One of its best features is its micro-sensors which can help regulate the temperature on the plates. This prevents overheating which is essential in protecting one's hair. The temperature settings range from 140 to 450 degrees Fahrenheit which I think is great for different hair types.
Another plus to HSI's straightening tool is that it is portable because it has dual-voltage. It has a 360-degree swivel cord which makes it easier to manipulate the straightener when styling your mane. This cost $39.89 which is a bit higher compared to the others.
If you are looking for a quick styling tool that can help straighten your strands real quick, these three are worthy options. Although two of them will be pricier, they can deliver salon-style results.
What to Consider Before Buying a Flat Iron
If you are like me who styles her hair every morning, you know how important it is to invest in the right product. I made a lot of mistakes when buying a straightening iron. And because I want to spare you the trouble, I have rounded up a few factors that you should consider before purchasing one.
Hair Texture
The first thing that you should consider when purchasing a styling tool for straightening is the type of hair that you have. If you have thick, coarse hair that you want to straighten, you need an iron that has high heat settings to achieve the style that you want. On the other hand, a low setting is perfect for those with fine or fragile locks.
Temperature Settings
It is always a good idea to purchase a styling product that comes with a temperature setting to help you choose the right temperature for your hair. The amount of heat that strands can sustain depends on its type. A flat iron that has a single heat setting is not advised if you have fine or thick hair.
Size
The size of the plates does play a part in determining the appropriate hair styling tool to use straighten your hair. As a general rule, flat irons that have 1-inch plates are best suited for those with short hair. On the other hand, medium-sized plates measuring about 1.5 inches can work well for short and medium-length strands. If you have long and thick hair, the best option for you is flat irons that have 2 inches to 2.5 inches length of plates. They will be able to accommodate the thickness of the strands easily.
Using these factors, I was able to discover Remington Wet 2 Straight Iron. Aside from handling my wet hair, it also has suitable heat to it that gets the job done of making my strands salon straight with minimal effort on my part. I like that this tool can be used on various hair types thanks to its heat setting feature.
Final Thoughts
If you are in a rush to style damp or wet strands using a straightening tool, Remington has the answer. Its ceramic and titanium plates deliver even heating that can reach up to 420 degrees Fahrenheit without any hitch. The vents on the panel allow excess water to escape to minimize hair damage, plus it is cheap too.
To know more about the Wet 2 Straight Hair Straightener from Remington, click here.
Leah Williams
Leah Williams is the founder of Lucky Curl and has been in the hair care and styling industry for the last 15 years. Since then, she has developed incredible expertise and a deep understanding of how to treat and style the most difficult hair types and is passionate about sharing her knowledge with the readers of Lucky Curl.