I consider myself a stickler for safety. I look both sides before I cross the street, I keep flammable objects away from the stove, and I fill my bathroom floor with non-slip mats.
My safety precautions extend to heat styling tools as well. Despite years of using hot tools without a hitch, I'm still slightly paranoid about leaving them on for extended periods or (gasp) forgetting to turn them off.
That's why I really prefer a flat iron with auto shut off. It brings me a sense of calm equal to hours of mindful meditation.
The Lovani Titanium Flat Iron is one such straightener that ticks off the safety box but what else does it have to offer hairstyling enthusiasts? Find out up ahead, along with other similar flat irons I recommend you check out.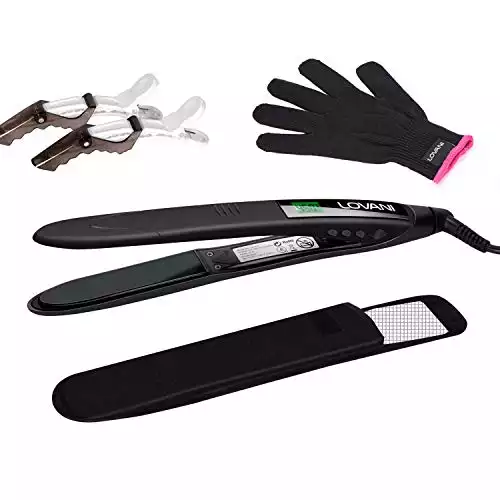 The No. 1 Flat Iron with Auto Shut Off: Lovani Titanium Flat Iron
The Lovani Hair Straightener is a titanium flat iron with an auto shutoff feature. It has 1-inch extra-long nano-titanium plates with rapid 30-second heat up time. The temperature setting is adjustable from 265 to 450 degrees Fahrenheit. Because it's capable of high heat, you can halve your styling time. The heat is indicated on the LCD display prominently placed near the handle.
It's fitted with an MCH Heater that gives even heat distribution. There are buttons to increase and decrease the temperature and to turn the device on and off. The plates, the brand says, have a no-gap design.
The straightening iron comes with an 8.2 feet salon-length power cord with a 360-degree swivel for effortless operation. It automatically shuts off after 60 minutes of idle time. The components are plastic and metal but the design looks elegant and upscale, despite the budget-friendly price point.
The hair straightener is capable of dual voltage from 100V to 240V, making it travel-friendly. The setting changes automatically to suit your current region.
The Lovani Hair Straightener comes with a canvas protective case with a heat resistant interior for safe storage. The case is also water-proof and dust-proof. The flat iron also comes with a heat-resistant glove and 2 hair clips.
This is a good hair straightener for people who want something that's easy to use. The buttons are accessible and it's not in an awkward location where you can press it accidentally.
The plates are quite long so you can straighten more hair at a time. It glides through the strands with little to no snags. The tips have a curve so you can get close to the roots or curl the hair.
This isn't the best choice for very coarse hair. It will take a few passes to fully straighten type 4 locks or African-American hair. I won't recommend it for very curly hair either because the temperature tends to fluctuate and it takes a while for it to heat back up.
Pros
Has 1-inch nano titanium plates that transfer heat quickly
Adjustable heat from 265 to 450F, handy if you need a high heat level to straighten your hair
Easy to use with a long swivel cord and LED display readout
Great for travel because it's dual voltage
Has an automatic shutoff and long plates
Cons
This hair straightener isn't suitable for coarse or very curly hair
Features & Benefits
Plates
The plates on the Lovani Titanium Hair Straightener are 1 inch wide and 4.5 inches long. The width is what you'd find on most flat irons but the length of these nano titanium plates is longer than average. What this means for the user is that the hair straightener has the ability to get closer to the roots and offer precise styling.
The plate width is suitable for all hair types, except very thick ones. If you have thick, long hair, you'll be happier with a wider plate. Aside from the extra-long plates, I love that the hair straightener has a curved narrow tip. This can straighten bangs and small sections of hair.
The flat iron closes fully at the tip but has a gap in between the handle and the end of the barrel. This lets you feed more pieces of hair at a time but it does mean you have to squeeze harder to get the plates to hold on to the hair. Combined with the long plates, this makes for faster styling with fewer passes.
The shape of the barrel allows you to curl your hair, making this a versatile 2-in-1 curling and straightening flat iron.
Temperature Controls and Performance
The Lovani Hair Straightener heats up quickly. It takes 30 seconds or so to reach your desired temperature. You can choose from a range of heat options from 265 to 450 degrees Fahrenheit. It helps to adjust the heat to your hair type in order to prevent frying your locks.
This flat iron uses an MCH heater, which stands for metal-ceramic heater. It has an edge over PCT heaters (positive temperature coefficient) because it's efficient, energy-saving and quick-heating.
The best flat irons use a dual MCH heater, meaning it has a heater on each plate. This makes heat recovery and retention better. However, it's unclear whether the Lovani straightener uses a single or a dual MCH heating system.
Something the brand calls Black Mirror Titanium Heating Technology powers this flat iron. It gently straightens or curls hair and reduces frizz and static. The hair straightener uses far infrared heat to dry hair from the inside out, which makes hair smooth quicker. It even emits negative ions to condition hair and make it soft and lustrous.
While the Lovani Hair Straightener does heat up quickly to the desired temperature, some users have found that it doesn't retain heat very well. This is disadvantageous for straightening coarse or curly hair where you need constant high heat.
The hair straightener is also slow to recover the ideal temperature. It's not a one-pass straightening iron if you have a type 4 hair type or African-American hair.
Ease of Use
The handle of the Lovani hair straightener has ridges to make it easier to grip. This anti-slip design makes it safe, even if you are a bit clumsy.
The LED temperature readout sits beside the handle so you are updated on each temperature change. I love that the buttons are located on the side of the handle where you can easily access it without any accidental clicks.
The flat iron is easy to use because weighs only 1.45 pounds and has an extra-long swivel cord. Your arms will not tire out and straightening the back of your head is a cinch.
The cord is 8.2 feet long, which is more than enough for most users, in my opinion. You won't need an extension cord or style too close to the bathroom sink. The cord resists tangling and allows you to straighten or curl your hair from any angle.
The flat iron also comes with a heat-resistant pouch. You can store the hair straightener immediately after use without waiting for it to cool down because of the heat-resistant lining in the canvas pouch. This storage case comes in handy when you're far from a heat-resistant surface because you can just tuck the flat iron inside as you straighten your hair.
The heat-resistant case is water-proof and dust-proof. It has an elastic handle and a power cable holder. With your purchase, you'll also receive 2 hair clips and a heat-protective glove.
Safety and Portability
This is a dual voltage flat iron with an automatic shutoff. You can style with it anywhere in the world, as long as it's within a range of 100 to 240V. The flat iron converts to the local voltage automatically, too, so you only need to plug it in and it takes care of the rest for you.
For safety, the Lovani flat iron shuts off after 60 minutes when you're not using it. The auto shutoff function gives you extra peace of mind in the event that you forget about unplugging it or turning it off.
At only 13.8 inches long and 4.5 inches wide, this is a very portable flat iron that's great for travel.
Social Proof
The Lovani Flat Iron has earned some fans who love it for its sleek look, ultra-long plates, and affordable price. Here's what they have to say about this salon-quality product.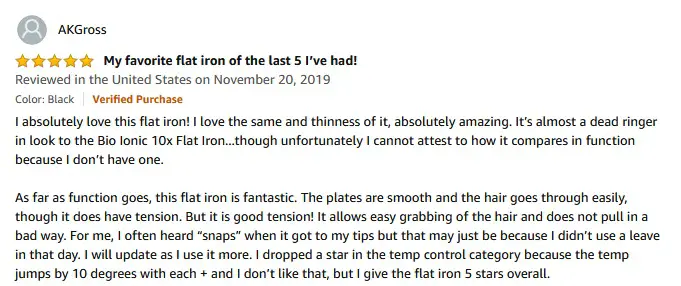 Alternatives
VANESSA Flat Iron Hair Straightener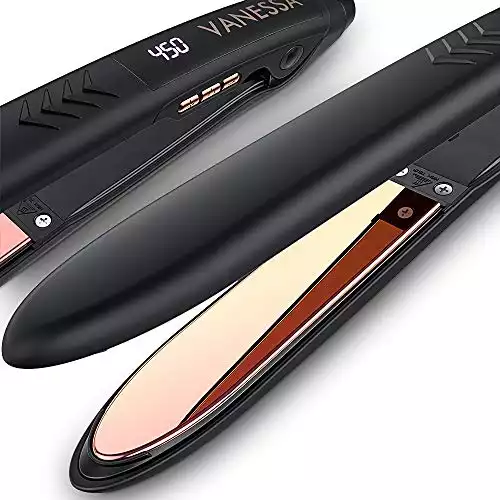 Like The Lovani Flat Iron, the Vanessa Hair Straightener has titanium plates and an elegant design. It has a matte black finish and tapered ends (so it can double as a curling iron). The temperature is adjustable from 265 to 450 degrees Fahrenheit, which is exactly what you find in the Lovani Flat Iron.
The ionic technology it comes with helps you achieve salon-quality results as it turns hair from frizzy to shiny. The Vanessa flat iron has a unique digital readout that's hidden in the handle that's visible only when turned on. This comes with a swivel cord, dual voltage, and an automatic shutoff timer, but it heats up in 15 seconds, which is faster than the Lovani flat iron.
Titanium flat iron with an elegant design
Can also be used as a curling iron
Adjustable heat settings
Has an automatic shutoff and dual voltage
Heats up quicker than the Lovani flat iron
HSI Professional Glider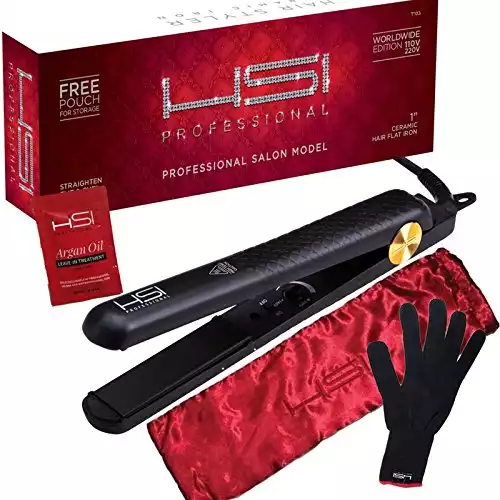 The HSI Professional Glider straightener is a dual-purpose flat iron, like the Lovani flat iron but it uses tourmaline ceramic plates, instead of titanium. The 1-inch plates have microsensors for temperature regulation. The heat can be adjusted from 140 to 450F. The lower heat setting can be beneficial if you have fragile or damaged hair.
The HSI Professional flat iron is also capable of dual voltage. It comes with a pouch, glove, and an argan oil treatment. However, this does not have an automatic shutoff feature. It gets hot enough to straighten curly and coarse hair.
The build quality is a bit subpar on the HSI Professional and the design looks dated but it gives great value for the price.
An affordable dual-purpose flat iron
Has 1-inch tourmaline ceramic plates
Has variable temperature settings from 140F to 450F, a lower base setting than the Lovani flat iron
Comes with a pouch, a glove, and argan oil
No automatic shutoff feature and has a more dated design
AmoVee Nano Titanium Flat Iron
This is another straightener that looks eerily similar to the Lovani with its curved handle, black finish, and tapered ends. The plates are made of nano titanium capable of high heat. These emit negative ions that condition hair and prevent heat damage.
You can change the heat level by choosing from a temperature between 265 to 450 degrees Fahrenheit. It heats up in just 15 seconds. It has dual voltage, a swivel cord, and a 1-hour automatic shutoff.
For heat protection, it has a silicone sleeve and a cool tip. A small downside with this flat iron is that its plates don't fully close when squeezed together.
Nano titanium plates that taper at the end for precision styling
Has ionic functions to help you get lustrous hair
Adjustable temperature settings up to 450F
Has dual voltage, a swivel cord, and 1-hour automatic shutoff
The plates have a gap when squeezed together
Things to Consider Before Buying a Flat Iron
I'm a simple gal when it comes to flat irons. I can go over a product page quite quickly and determine whether a hair straightener is for me. These are my top considerations when deciding what styling iron to buy.
Material
If you're choosing between titanium, ceramic, or tourmaline, you should check your hair type first. The components of a flat iron barrel make a difference. Trust me, they're not just marketing buzzwords!
Ceramic hair straighteners are best for fine hair. It has gentle heat and natural ionic technology that provides healthy-looking shine.
Got frizzy or coarse hair? If your hair is hard to tame, go for titanium hair straighteners. This is top-notch when it comes to transferring heat to the strands. It's heavy-duty and gives instant results.
The new kid on the block is tourmaline ceramic hair straighteners, which are made from a semiprecious stone. It beats ceramic hair straighteners in ionic production and that's important because negative ions fight frizz and seal the cuticle. A tourmaline ceramic flat iron is great for anyone who is looking to reduce heat damage.
Plate Size
Size matters when it comes to flat iron plates. Plates come in quarter inch increases. The most common size is one inch.
Small plates (1 inch or narrower) are handy when curling your hair with a flat iron or straightening short hair. You'll need something wider, around 1.5 to 2 inches if you have long or thick hair to reduce styling time.
Heat Settings
More isn't always better when it comes straightening your hair. Heat controls help reduce damage to your locks.
Always start with a gentle setting and refuse the temptation to crank it up right away. And whatever your hair type, do not go beyond 450 degrees Fahrenheit. Your hair will thank you.
Ease of Use
It's the little things that make a hair straightener a pleasure to use. From an easy-to-grip handle, clearly labeled and clicky buttons, and a digital readout display–the details add up.
I always appreciate a long swivel cord that allows me to twist the flat iron and style the back of my hair conveniently.
Safety and Portability
While things like an auto-shutoff timer and dual voltage aren't absolute essentials, I file them under the "nice-to-have" list. Without these features, a hair straightener becomes a bit fussier. If you're someone who likes to style and go without thinking of power converters or double-checking whether you've unplugged your straightener, these are must-haves.
Conclusion
If you're anything like me and are concerned about safety, you need a straightening iron with an auto-shut off. As they say, better safe than sorry.
The Lovani titanium flat iron is one of the best flat irons with an auto-shut off function if you're on a strict budget. You usually only get more upscale features like this when you shell out more. But as this review has proven, you can have quality features for a reasonable price.
Plus, straightening is a breeze with the curved edges of the barrel and its infrared heating technology that featuring MCH heaters. The auto shutoff straightening iron is has an intuitive interface and an ergonomic handle. You even get a swivel cord and couple of freebies when you buy it.
Definitely check out the Lovani Auto Shut Off Titanium Hair Straightener if any of these qualities float your boat. As always, I wish you happy (and safe) styling!
Leah Williams
Leah Williams is the founder of Lucky Curl and has been in the hair care and styling industry for the last 15 years. Since then, she has developed incredible expertise and a deep understanding of how to treat and style the most difficult hair types and is passionate about sharing her knowledge with the readers of Lucky Curl.