I had this impression that all flat irons are the same until a friend pointed out to me that titanium flat irons were much better for my hair. I was surprised by this statement because it means that I have been missing out on the right styling tool for my curly hair! That said, I have made it a quest to find the best titanium flat iron for my personal use.
Best Titanium Flat Iron – 5 Hair Straighteners Reviewed
Since titanium straighteners for hair appear to have more benefits compared to a ceramic flat iron, I have taken it upon myself to test out a few products. Here's my list of the best titanium flat irons so far.
BaBylissPRO Nano Titanium Straightening Iron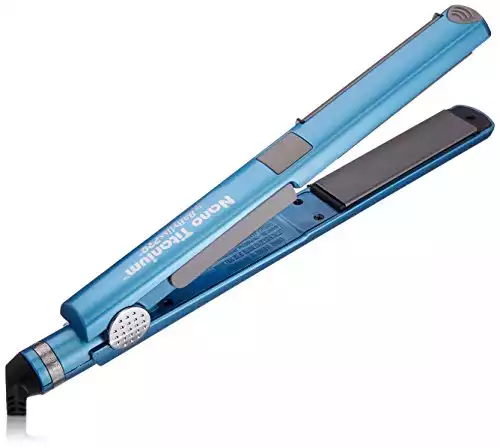 One of my pet peeves when it comes to using flat irons is that my hands feel tired after a while that I have to put down my flat iron for a while before proceeding to the next section of my hair. Usually, the bulky design is what is causing my hand fatigue, but not with BaByliss. Its ultra-thin nano titanium design is lightweight and can straighten my hair fast with minimal effort on my part. This hair straightener performs fast as it heats up real quick and it is a breeze to glide the plates on my hair. There is no tugging on my hair strands too which is great. I loved that it has even heat to it so I am getting amazing results with it.
Pros: 
The nano titanium technology protects hair from getting damaged from the heat.

The titanium plates are quick to reach high temperatures which reduces waiting time.

I find this titanium flat iron to be versatile in its use because aside from being a regular hair straightener, I can also use it to create beachy waves too.
Cons:
A customer complained that this titanium hair straightener only lasted a few months before it broke down completely.

Another user noticed that the titanium plates did not have a good hold on her hair and that she had to clamp down hard just to straighten her hair.

A reviewer stated that her hair was damaged after using this titanium flat iron.
Remington Wet2Straight Flat Iron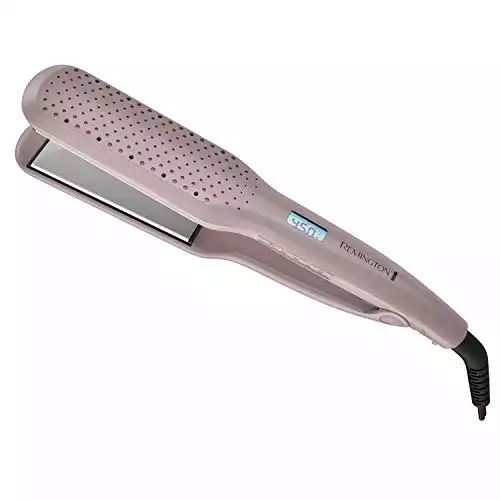 Remington Wet 2 Straight Flat Iron
Ceramic plates
Heats up in just 30 seconds
Steam Vents - distinctive steam vents allow you to start styling right out of the shower
Salon-Quality heat - provides up to 420 degrees of professional-grade heat
Buy Now
We earn a commission if you click this link and make a purchase at no additional cost to you.
09/21/2023 12:30 pm GMT
Since I am looking for the best flat iron to use, I have decided to add this product on the list because there are days when I need a hair straightener that will work even on wet hair. I think you will agree with me that sometimes we need to rush to leave the house but often end up being late because we had to wait until our hair is damp before running a flat iron on it. Well, Remington delivers a hair straightener that has vents around the handle to help release the steam from when the straightening iron passes through damp hair. It feels like your giving your wet hair a blow dry while straightening it out at the same time.
Pros: 
It comes with unique vents that allow steam to dissipate to prevent damaging wet hair.

It reaches up to 420 degrees Fahrenheit in just a minute.

I like that it has a styling indicator so you can differentiate when it is ready for wet hair or dry hair without you guessing.
Cons: 
One user commented that the hair straightener did not work very well on her damp hair that she ended up burning a section with it.

Another reviewer complained that using this titanium flat iron left a smell of burnt hair in the bathroom which she had a hard time getting rid of.

A customer mentioned that using this straightener was painful as it tugged at her hair whenever she used it.
CROC Classic Nano-Titanium Flat Iron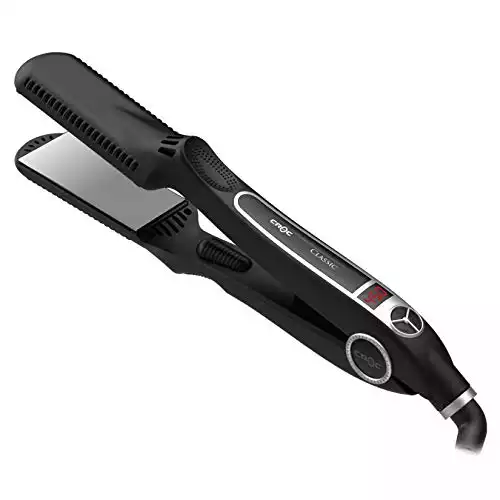 A flat iron like this nano titanium hair straightener looks like a professional hair styling tool with its sleek design. I was impressed with how ergonomic its design is that it indicates that this is going to be easy to handle. The floating plate feature that it offers makes it more wieldable especially for thicker hair. I am all for using a titanium hair straightener that will make styling my hair an enjoyable experience. Its flat irons that are made from titanium heat up fast thus minimizing the waiting time needed before this tool is used. If you are searching for an iron flat tool to style your hair, I suggest that you try this one.
Pros: 
Its ergonomic design makes styling your hair an enjoyable experience because it is not that hard on the hands.

This straightener makes use of floating titanium irons which tend to be more flexible in terms of straightening one's hair.

I like that this flat iron is not expensive at all.
Cons: 
It is not as durable as expected as it tends to break when dropped as some customers have noticed.

It doesn't last long compared to others and it tends to turn off without warning and not turn on again.

One user's review claimed that it did not straighten her hair and that it pulled on hair instead.
CHI PRO G2 Digital Titanium Flat Iron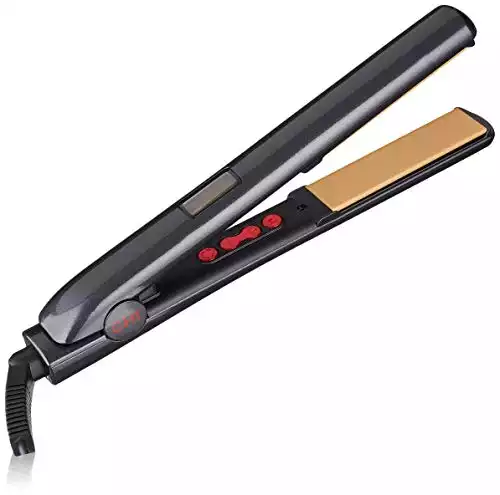 CHI is already a familiar brand as they have made a name for themselves when it comes to creating titanium flat irons ideal for various hair types. What I love about this titanium flat iron is the fact that I can style my hair any way I like. It makes use of both ceramic and titanium at the same time which means that we can expect that this styling iron will be able to deliver good results. So far, I am liking how it works on my hair because I get fast results. Another plus here is that it has a digital display which can indicate how hot the straightener is already.
Pros: 
The digital display makes it clear how hot the flat iron is already so you don't burn your fingers when touching it.

It has a dual voltage which means that you can bring it with you and not worry about not being able to use it because of voltage issues.

I like that it has a long cord attached to it so that I can easily reach behind me without any trouble.
Cons:
One user noticed that this product did not last long compared to other CHI products.

Many users have complained that it shuts off on its own within a few months of regular use.

Another reviewer burnt her fingers on this flat iron.
KIPOZI 1 Inch Pro Titanium Flat Iron
Titanium flat irons are usually ideal for different hair types and KIPOZI is no exception. I like that this styling iron does not cause heat damage to my hair whenever I use it. The titanium plating can reach a high temperature in a few seconds and guarantees less frizz when running it on your hair. Another thing that I like about this product is that it's titanium material prevents buildup from occurring even after years of use. It has an automatic time off after 90 minutes of being idle.
Pros:
I like that this straightener can reach 450 degrees Fahrenheit real quick so less waiting time for me.

It comes with a 360-degree swivel cord which prevents the cord from becoming twisted.

It has a wide heating feature making it ideal for all hair types.
Cons:
One customer complained that the straightener did not even last her a year before it broke completely.

The highest temperature can burn the fingers unexpectedly.

Some users did not like the fact that they had paid a good sum for a product that does not work very well.
A Guide to Buying a Titanium Flat Iron
Benefits of Titanium Flat Iron vs Other Materials
I was curious about the various hair straighteners being sold in stores that I tried one that has ceramic plates and one that has titanium plates. I noticed that the titanium-based hair straightener offered more benefits. Here are a few worth mentioning:
Less hair damage.


One of the problems that I had when using a flat iron is that I got my hair fried at some point. I never liked how my hair looked frizzy afterward. When I switched to a straightening iron made from titanium, I noticed that there was less damage which was great!

Heats up fast.


Another thing that I like about using titanium flat irons is that they tend to heat up faster. This means that no more long waiting time for me every morning.

Prevents frizz.


My hair tends to end up with frizz whenever I use a styling tool, but this straightener saved me from it.

Even heat.


Another advantage of titanium plates is that the temperature remains even through and through. This means that there are no hotspots to worry about that may lead to burnt or damaged hair strands.

Durable.


Titanium flat irons appear to be more durable and can last years compared to ceramic. Also, titanium can withstand being dropped on the floor which is a plus. The problem with ceramic is that it tends to get chipped.
Which is Better Titanium or Ceramic Flat Iron?
I asked my hairstylist what types of flat irons they are using in the salon. She said that they have ceramic and titanium, I then decided to see how these two vary from one another.
Heat transfer.


Although both titanium and ceramic plates can heat up quickly, based on my observation and on customer reviews, I learned that titanium plates tend to reach a higher temperature faster compared to plates made from ceramic. Also, titanium can 

support higher temperatures

 which means that if you need extra heating for your hair type, titanium is a good choice.

Frizz.


Women with thick, curly hair often have to deal with frizz whenever they straighten their locks. Both titanium and ceramic can reduce frizz because of the negative ions that the plates emit, but it appears that titanium works better since it has more negative ions being produced.

Hair type.


In terms of suitability for types of hair, ceramic works better for thin and fragile hair. Using titanium on this type of hair may cause damage. On the other hand, titanium works perfectly for thick and coarse hair because the high temperature can help straighten easily.

Hot spots.


Hot spots occur when the plates do not heat evenly. Both plates don't have any trouble with creating heat in an even manner which makes them useful for styling the hair.

Heat settings.


These hair straighteners come with heat settings which control the temperature. I noticed that these tools need a few seconds to switch temperature, but the titanium straighteners seem to bounce back faster.
How to Choose the Best Titanium Hair Straightener
You might be leaning towards buying a titanium flat iron but how will you know which one to get? Here are a few tips that I want to share that helped me land the right product.
Temperature control.


When searching for a titanium flat iron, you should look for one that has a temperature control feature. This will enable you to adjust the heat setting based on your hair type.

Plate size and shape.


You will notice that the plates for flat irons tend to vary. Rounded plates are versatile in creating various styles such as straight, wavy, and curly. Straight plates are recommended for those who want to achieve straight hair. On the other hand, the size of the plates does matter. A 2″ wide plates are suitable for those who have long straight hair because it reduces the number of passes on your hair.

Technology.


There are flat irons that are equipped with additional technology such as far infrared which is designed to heat up the plates using radiant heat. This way, the strands of the hair are heated up from within rather than outside thus minimizing damage to it.

Floating plates.


If you want a flat iron that can be wielded easily, look for one that has floating plates. This feature makes it easier for the plates to have better contact on the hair while heating it up. I like that flat irons that have floating plates are more versatile when ironing my hair.
The Verdict
I have thought long and hard on deciding which one is the best for me, and from what I have listed above regarding the categories to look for in a flat iron, my winner is CROC Classic Nano-Titanium Flat Iron. Why? Aside from its professional design, I like that the vents included in the body of the flat iron manage to release the excess steam from my hair as I straighten it. It does work like a charm when it comes to giving my wet hair a blow dry while styling it at the same time.
For its price, I think that I am getting a good value already because this flat iron works with all hair types. I can use it not only to straighten my hair but also to add more waves and curls without suffering from frizz. I bet that you will also enjoy using this flat iron to style your hair.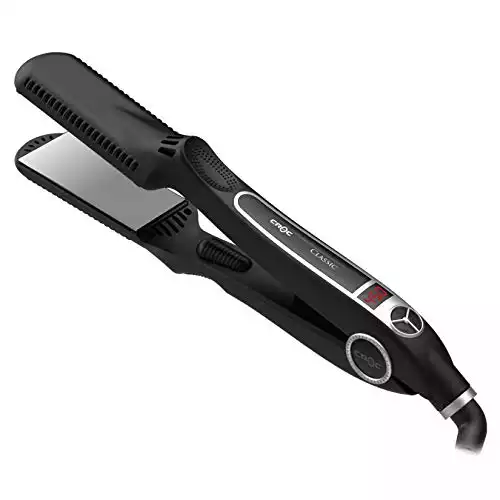 Leah Williams
Leah Williams is the founder of Lucky Curl and has been in the hair care and styling industry for the last 15 years. Since then, she has developed incredible expertise and a deep understanding of how to treat and style the most difficult hair types and is passionate about sharing her knowledge with the readers of Lucky Curl.