I've had my share of shoddy flat irons, the kind that are hard to use and end up frying your hair. Not only did they destroy my locks, but they would also break after a few uses. I was always on the hunt for a replacement, one that would last and keep my hair healthy and shiny. It was important to me because I wanted my hairstyling time to be effortless yet impactful. Perhaps something like the Bio Ionic 10x Styling Iron would have cured my woes. Let's take a look at how this flat iron stands out from the rest.
Best Seller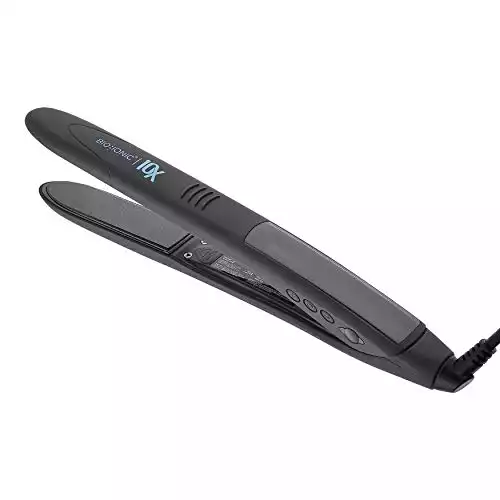 Things to consider before buying a flat iron
A flat iron is a good tool to keep handy for all sorts of occasions, from everyday errands to glitzy events. You might want to buy a flat iron if you have trouble managing your hair with creams or gels alone or if you want to achieve salon-like results for less. All hair types will benefit from this styling tool.
A flat iron should not fry your hair. If you've been burned before by a flat, you know how annoying it can be to deal with it.
Secondly, I want a flat iron that's intuitive to use. It shouldn't make styling a chore. A temperature readout is a must for me, as is customizable heat. I find that these features prevent that dreaded singing of hair that can happen when you get overzealous with the flat.
I want a flat iron to be effective. It should straighten my hair quickly but gently. I usually look for an ionic function or something with ceramic in the components because it's what suits my hair best.
For safety, I like my flat iron to automatically turn off when not in use. I have a lot on my mind sometimes and I forget to plug it off, so this feature is a literal lifesaver.
Going along the themes of usability, I prefer something with a long cord that swivels. Above 6 feet is good. This helps me use the flat iron without an extension cord. Along with a dual voltage function, a swivel cord makes the flat iron easy to use when traveling.
Lastly, I appreciate the ability to also curl my hair with a flat iron. I love a good 2-in-1 device. It keeps things simple on my vanity and I get more use out of a single product.
Presenting the Bio Ionic 10x Pro Styling Iron
The Bio Ionic 10x Pro Styling Iron is a vibrating straightener with 1-inch plates. It claims not to tug or pull on hair while straightening. It uses sonic vibration technology similar to the ones found in your skincare devices. The Bio Ionic 10x presses on hair and wiggles on it, thereby applying consistent contact and pressure on the entire length of the hair. It promises to straighten the hair in 10 minutes. The product comes with a black heat protective glove.
This is a flat iron made for those who want premium design and top-of-the-line features. It is great for people with straight to wavy hair. It can be used for straightening and curling.
Pros
Has an ergonomic, soft-touch handle
Has vibrating ceramic plates infused with volcanic minerals that give off moisturizing heat
Has adjustable heat settings with a temperature readout
Shuts off automatically when not in use
Has a long cord
Cons
Is expensive
Not suitable for thick or coarse curly hair
Some users have noted that the vibrations do not work on their hair
Features & Benefits
Design
The 10x Pro Styling Iron is quite the looker. It's all-black with curved edges. The branding is prominently placed near the rounded tips of the flat iron. It has a soft touch handle that's easy to hold. The temperature is displayed digitally near the handle while the controls are housed in the inner part of the iron, which prevents accidental clicks when in use. The flat iron weighs 10 oz without the cord, a little over half a pound. It's lightweight and feels good on the hand.
Plates
The plates are the star feature of the 10x Pro Styling Iron. It has both natural ionic technology and the brand's own Volcanic Rock MX. Natural volcanic rock infuses the plates for high shine and high performance. The natural volcanic rock combined with the brand's proprietary mineral complex delivers moisturizing heat that seals in moisture and locks the cuticle while cutting down on styling time. The flat iron emits negative ions so you end up with a smooth, satiny finish.
What really makes this Bio Ionic 10x Pro flat iron stand out is its vibrating plates that supposedly style hair in 10 minutes. They're made of something called the BioCeramic MCH Heater, which might mean the brand's own custom ceramic. Whatever it is, this bioceramic gives off far-infrared heat which penetrates into the hair shaft, drying strands from the inside. What this means is quicker straightening with less heat and less damage.
The ceramic plates move as they glide on your mane. They do this shuffle so your hair comes in contact with the plates the whole time, instead of some strands floating away, which is the case for some flat irons. These sonic vibrations, as they're called, supposedly reduce styling time because they can cover more hair at once. While logically this makes sense, I think for some hair types the vibrating plates will not work as much. If you have curly or thick hair, you might want to temper your expectations. For straight and wavy hair that's on the thinner side, the vibration tech will definitely work.
I love that the plates are 1-inch wide. That, in tandem with the rounded tips, means I can get close to the roots. Pixie cuts and bobs will benefit a lot from this feature. If you like curling your tresses with a flat iron, the Bio Ionic 10x Pro Styling Iron is a good candidate for a 2-in-1 straightener.
Using the Styling Iron
To prevent heat damage, customizable temperature options are a must in a good styling flat. I've definitely burned my hair too many times while straightening it and I blame it on subpar flat irons. The Bio Ionic 10x Pro Styling Iron, thankfully, has a range of heat settings to pick from. It can go as hot as 450F. You can control it digitally (no knobs) and the temperature is displayed clearly on the flat iron. It's convenient because you always know how much heat you're putting on your locks.
Other Features
I personally like a flat iron with an automatic shutoff. The Bio Ionic turns off after an hour when not in use. That makes me less anxious about forgetting and leaving it unattended. The flat iron has a swivel cord that's 9 feet long—an impressive feature that I always look for because it adds to ease of use.
An add-on that's also good to have is dual voltage. The Bio Ionic 10x Pro can handle 120-220V. A very handy feature for jet setting and work trips.
When you buy this flat iron, you'll get a 5-year warranty for any defects and malfunctions. I will note though that the user has to shoulder the shipping fee to Bio Ionic if any issues arise. Just a tiny buyer beware note if you are going to make the splurge.
Overall, I find the Bio Ionic 10x Pro will suit most people. The features are top shelf and I'm sure this flat iron will protect and nourish the mane. That price tag is also as premium as it gets and whether you're willing to take that leap is up to you.
Social Proof
I made my way through the usual suspects on the interwebs, looking for reviews on the Bio Ionic 10x Pro Styling Iron, and I've come across some ardent fans of the product. Here they are.


Alternatives
If the reviews leave you wanting or if the 10x Pro doesn't float your boat, I got you. Here are some flat irons that might just do the trick. Check them out for a more in-depth view of the flat iron.
ghd Platinum+ Hair Straightener, Ceramic Flat Iron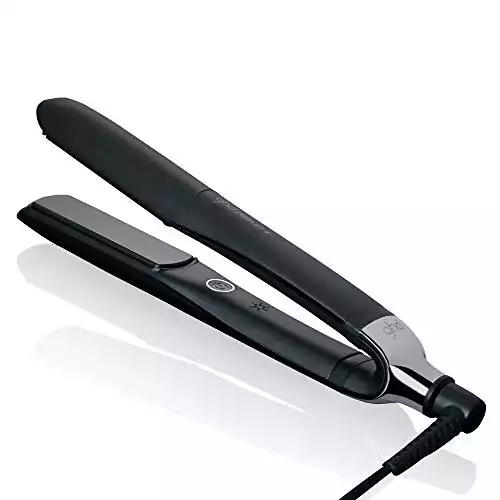 This is yet another premium option with the same all-black body as the 10x Pro. It's also a ceramic flat iron. The ghd Platinum+ is touted as the first smart straightener, so-called because it has predictive technology that adapts to what your hair needs. It also has dual voltage and an automatic sleep mode, as well as a 9-foot cord that swivels. However, this flat iron maintains a temperature of 365F and has no other heat settings. It comes in cobalt blue and white if black is too somber for you.
HOT TOOLS Professional Black Gold Micro-Shine Flat Iron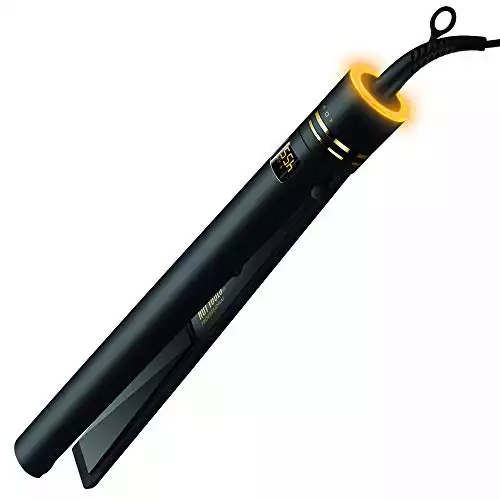 Like the 10x Pro, the Hot Tools Professional Black Gold Flat Iron is a good 2-in-1 device but at half the cost. It has a digital readout and customizable heat settings. The plates are a combination of titanium and ceramic with the brand's Black Gold finish. It means you get shinier locks and fewer snags with every pass. It has a rapid heat up technology. The rounded edges and floating plates give you more options and control when styling. This also has a swivel cord (8 feet) and a soft touch finish like the Bio Ionic. The dual voltage makes this travel-friendly but the rotating dial might be a finicky feature for some people.
RUSK Engineering CTC Technology Professional Straight Iron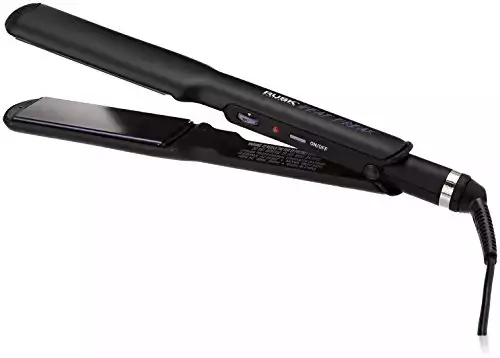 The Rusk gets the basics right and if you're looking for a simple flat iron that works, this could be for you. It has ceramic plates infused with titanium for efficient and even heating. The Sol Gel technology helps the straightener glide on hair without damaging it. The 1-inch plates can get close to the roots. However since the design is boxy, you may find it hard to get waves and curls with this. It has customizable heat settings up to 450F and a memory function that remembers the heat you left off with. Unlike the Bio Ionic, the Rusk Professional Flat Iron does not have a dual voltage or an automatic shut off. The warranty caps at 2 years.
Conclusion
I know the frustration that comes with trying out product after product and shelling out hard-earned money only to end up with something that breaks or just doesn't do the job. If only I just bought the flat iron that I wanted in the first place but deemed too expensive, I would have saved so much more and had less fried locks to show for it.
So obviously, I'm a fan of the Bio Ionic 10x Pro Styling Iron. The natural volcanic minerals sound so woo but perhaps they actually benefit the hair in some mysterious way I don't understand. The vibrations do cover more strands as you straighten it. The build quality is excellent. It feels durable and all the features don't feel gimmicky to me. It certainly is worth investing in good hair. And that's my not-so-hot take on this styling iron.
Leah Williams
Leah Williams is the founder of Lucky Curl and has been in the hair care and styling industry for the last 15 years. Since then, she has developed incredible expertise and a deep understanding of how to treat and style the most difficult hair types and is passionate about sharing her knowledge with the readers of Lucky Curl.